Torta Red velvet, una de mis favoritas para celebrar San Valentin (ESP/ENG)
La red Velvet como su nombre lo indica es una torta de color rojo intenso, suave y esponjosa, con crema a base de queso crema dulce y deliciosa. Esta torta es famosa y reconocida desde la segunda guerra mundial, por su peculiar sabor suave a chocolate y espectacular color ha pasado de generación en generación marcando tendencia entre los comensales, sobre todos los amantes de la buena pastelería.
En Venezuela particularmente este tipo de torta de vitrina es una de las más afamadas, teniendo pocas variantes sobre todo en su color, en mi particular me parece fabulosa para expresar el amor es por eso que vengo por aquí hoy con esta receta para la pongamos en práctica para celebrar próximo san Valentín.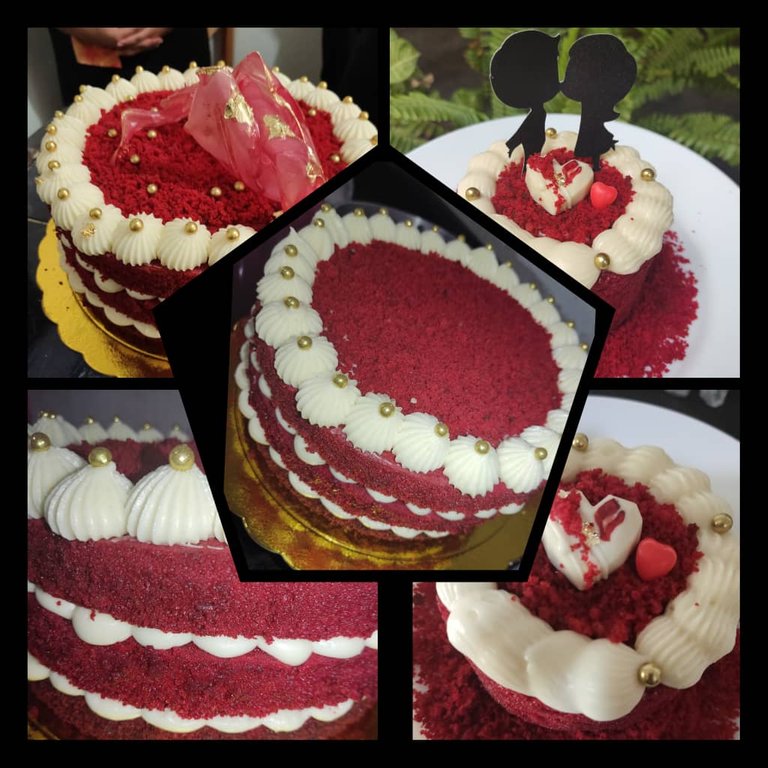 **Red velvet**

- 300 gr harina de trigo todo uso
- 1 cucharadita polvo para hornear
- 3 huevos
- 350 ml leche entera
- 375 gr azúcar
- 8 gr cacao en polvo
- 175 gr margarina sin sal a temperatura ambiente
- 3 cucharaditas colorante rojo alimentario
- 1 cucharadita esencia de vainilla+ unas gotas para el relleno y cobertura
- 1 cucharadita sal, 20 ml zumo de limón
- ¼ cucharadita bicarbonato de sodio
- 2 cucharadas vinagre de manzana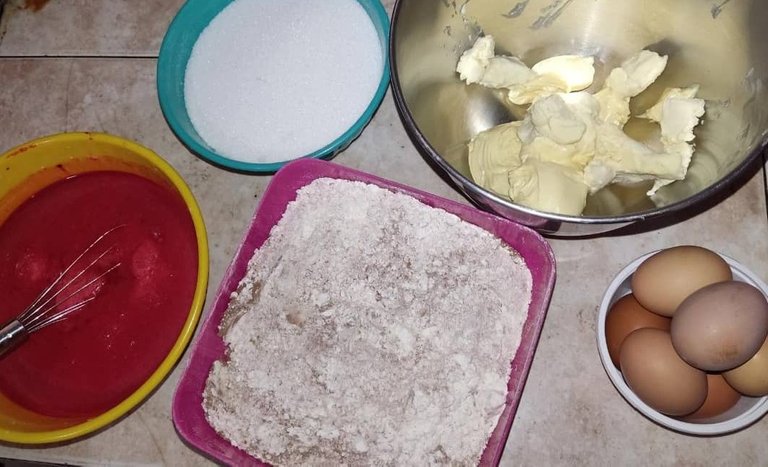 Preparación del bizcocho
Primero que nada, engrasar, empapelar, engrasar y enharinar un molde desmontable de 22 cm de diámetro reservar.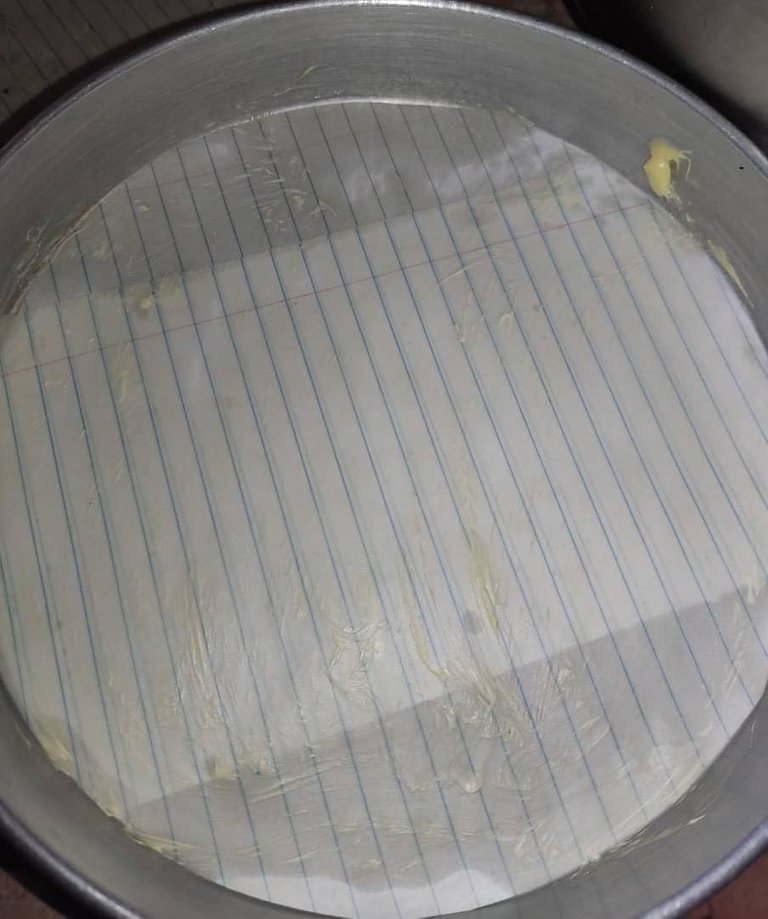 A continuación, En un bol añadir la leche el limón y el colorante, mezcle y reserve. En otro bol, tamice la harina, el polvo para hornear, la sal y el cacao. En otro envase batir la mantequilla y el azúcar e incorpore la vainilla. Seguidamente incorporaremos uno a uno los huevos sin dejar de batir por unos minutos.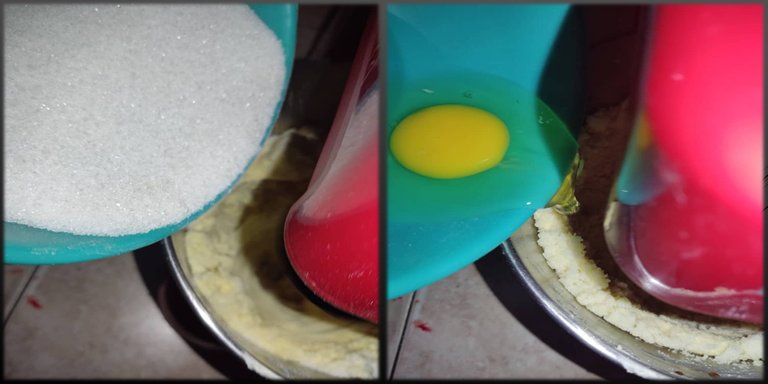 A esta mezcla ir añadiendo de manera alterna los ingredientes secos, incorpore los ingredientes y los líquidos, batir hasta crear una mezcla homogénea. El color rojo obtenido no debe ser tan oscuro para obtener un color hermoso rojo terciopelo. Ahora bien, batir hasta incorporar todos los ingredientes, vacíe la mezcla en el molde lleve al horno a 180ºC por 50 a 60 minutos aproximadamente. Yo utilicé 3 planchas de 22 cm por 4cm, así que distribuí la mezcla en partes iguales en cada uno de los moldes.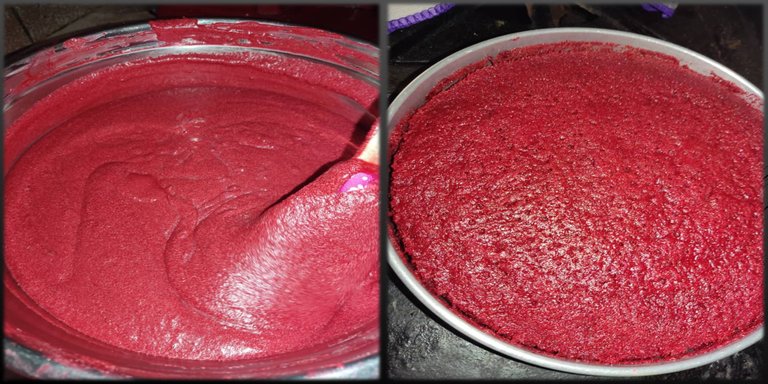 Para la crema de relleno y cobertura utilizaremos.
250 gr queso mascarpone o queso crema, 400 gr queso blanco cremoso para untar, 150 gr azúcar glass.
Preparación del relleno:
Mezclar todos los ingredientes.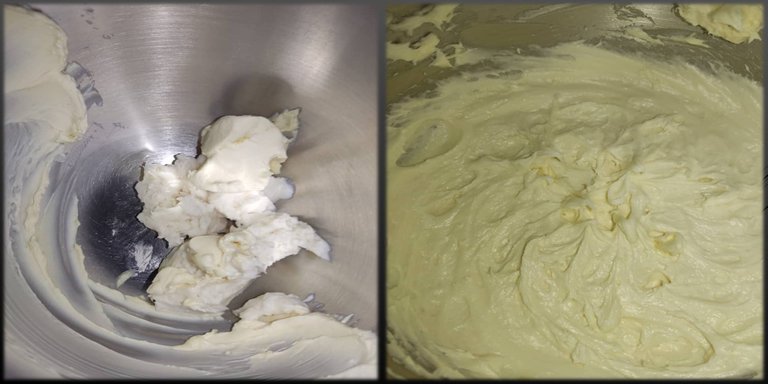 Retirar nuestra torta del horno, desmoldar dejar enfriar sobre una rejilla, envolver en papel films, guardar en la nevera por 12 horas preferiblemente. Rellenar cubrir laterales y parte superior del pastel.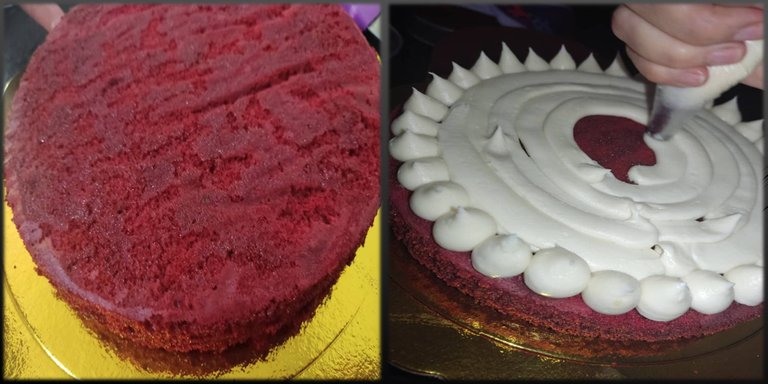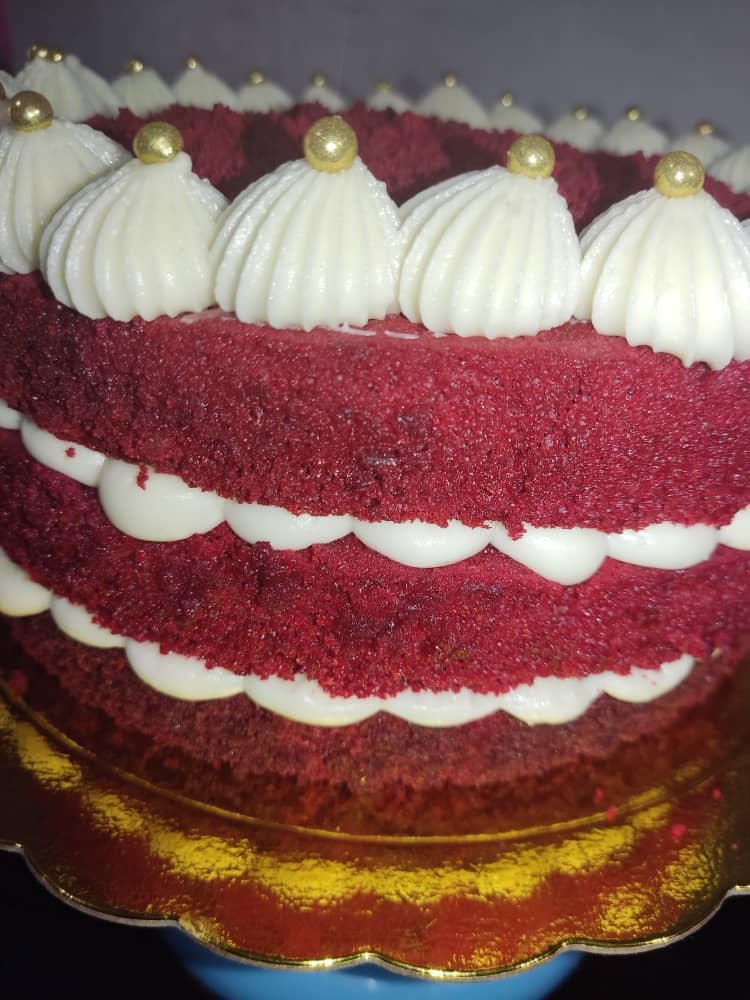 Elaboración de la cobertura:(Opcional).
1. Fundir el chocolate, dejar enfriar, batir el queso mascarpone, incorporar el chocolate fundido hasta conseguir una mezcla homogénea.
2. En una manga pastelera con boquilla rizada, colocar un hilo de colorante rojo con la ayuda de un palillo de altura, agregar la mezcla y decorar el pastel
El resultado final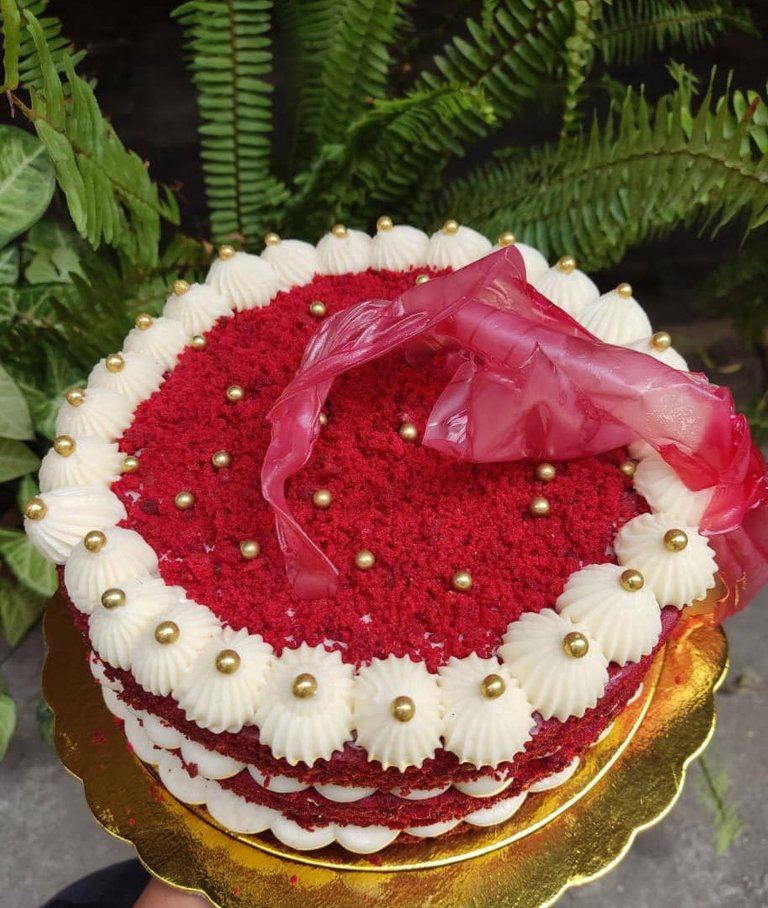 Todas las imágenes son de mi propiedad, tomadas con la cámara de mi teléfono Poco X3 Pro y otras están publicadas en mis Instagram personal Valeria.sweet.and.cake. Traducido con https://www.deepl.com/es/translator

English
Red Velvet, as its name suggests, is a deep red cake, soft and fluffy, with a sweet and delicious cream cheese based cream. This cake is famous and recognized since World War II, for its peculiar soft chocolate flavor and spectacular color has passed from generation to generation setting trends among diners, especially lovers of good pastries.
In Venezuela particularly this type of showcase cake is one of the most famous, having few variants especially in its color, in my particular I find it fabulous to express love that's why I come here today with this recipe to put it into practice to celebrate Valentine's Day.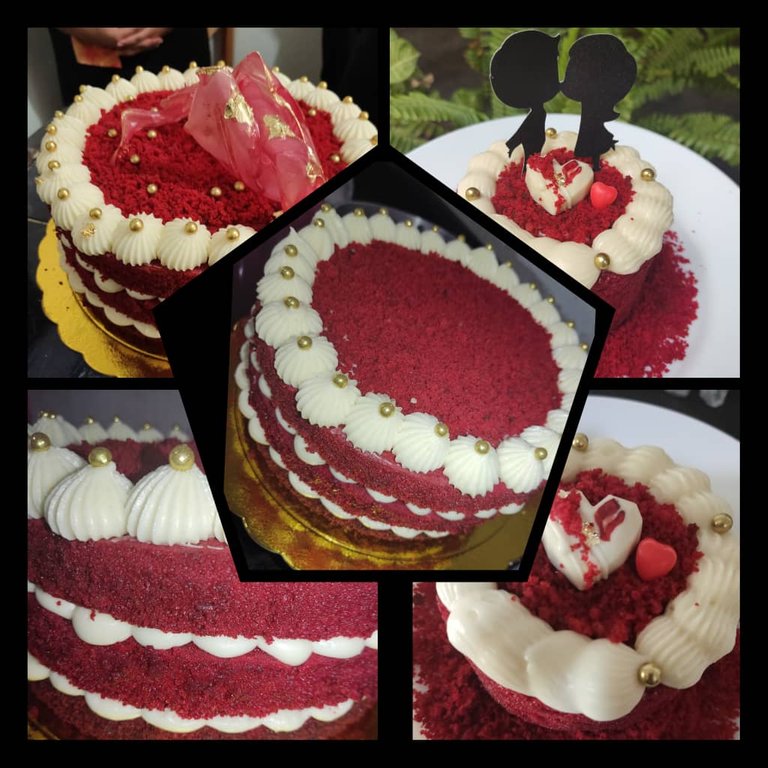 **Red velvet**

- 300 gr all-purpose wheat flour
- 1 teaspoon baking powder
- 3 eggs
- 350 ml whole milk
- 375 gr sugar
- 8 gr cocoa powder
- 175 gr unsalted margarine at room temperature
- 3 teaspoons red food coloring
- 1 teaspoon vanilla essence + a few drops for filling and topping
- 1 teaspoon salt, 20 ml lemon juice
- ¼ teaspoon baking soda
- 2 tablespoons apple cider vinegar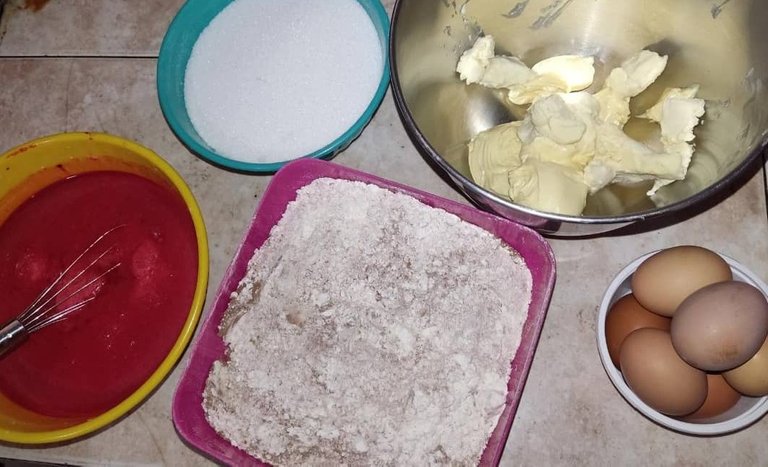 Preparation of the sponge cake
First of all, grease, paper, grease and flour a 22 cm diameter springform pan and set aside.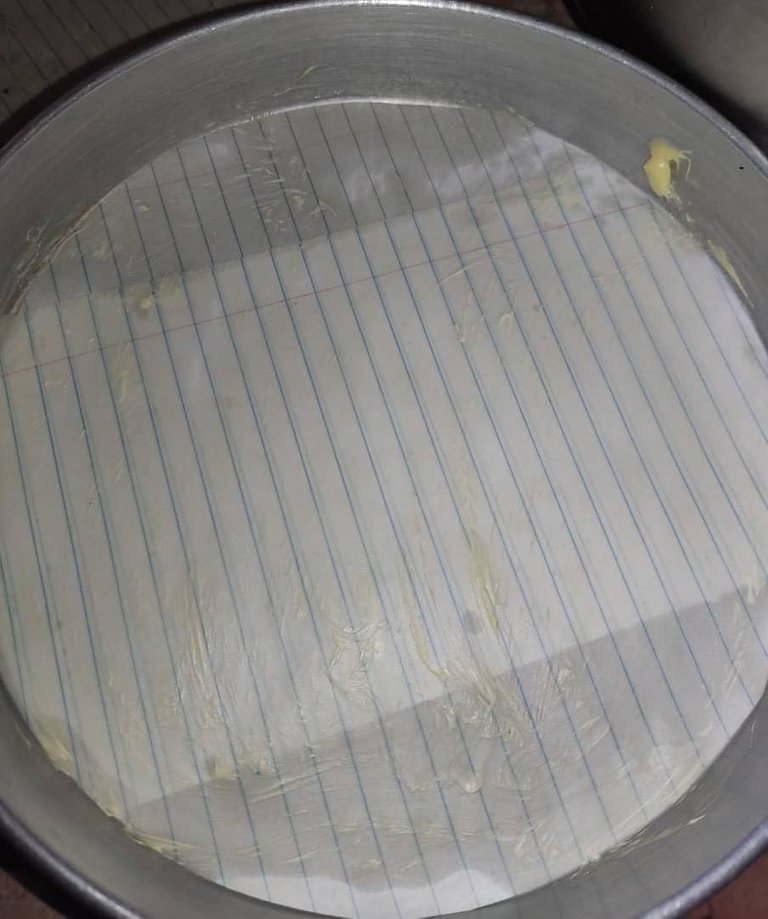 Next, in a bowl add the milk, lemon and food coloring, mix and set aside. In another bowl, sift the flour, baking powder, salt and cocoa. In another bowl beat the butter and sugar and incorporate the vanilla. Then add the eggs one by one while whisking for a few minutes.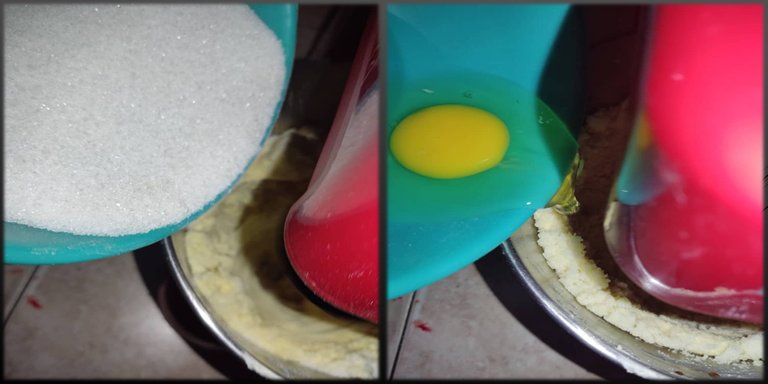 To this mixture add alternately the dry ingredients, incorporate the ingredients and liquids, beat until a homogeneous mixture is created. The red color obtained should not be too dark to obtain a beautiful red velvet color. Now beat until all the ingredients are incorporated, pour the mixture into the mold and bake in the oven at 180ºC for approximately 50 to 60 minutes. I used 3 plates of 22 cm by 4cm, so I distributed the mixture in equal parts in each of the molds.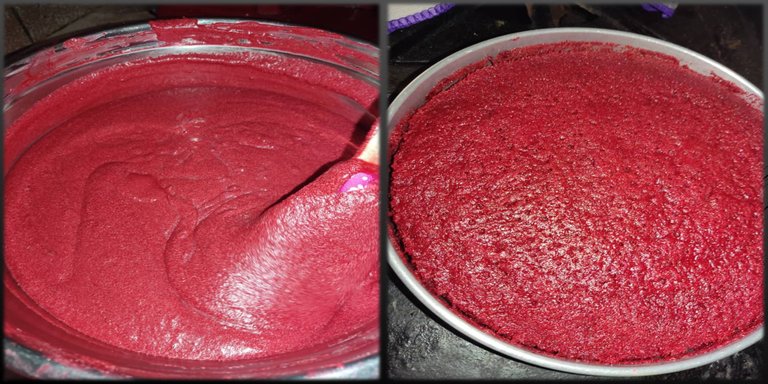 For the filling and topping cream we will use.
250 gr mascarpone or cream cheese, 400 gr creamy white cheese spread, 150 gr powdered sugar.
Preparation of the filling:
Mix all ingredients.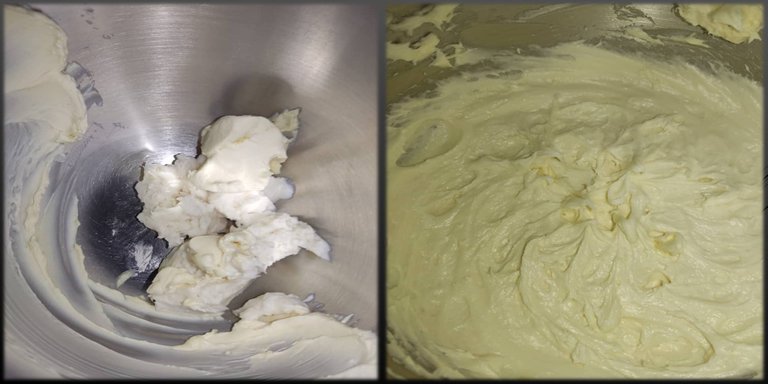 Remove our cake from the oven, unmold and let cool on a wire rack, wrap in plastic wrap, store in the refrigerator for 12 hours preferably. Fill the sides and top of the cake.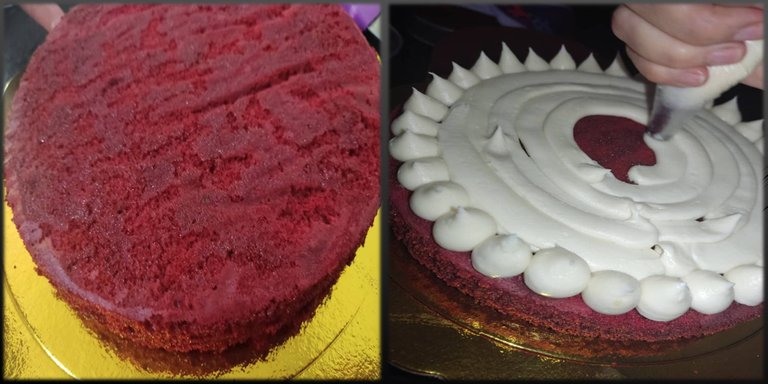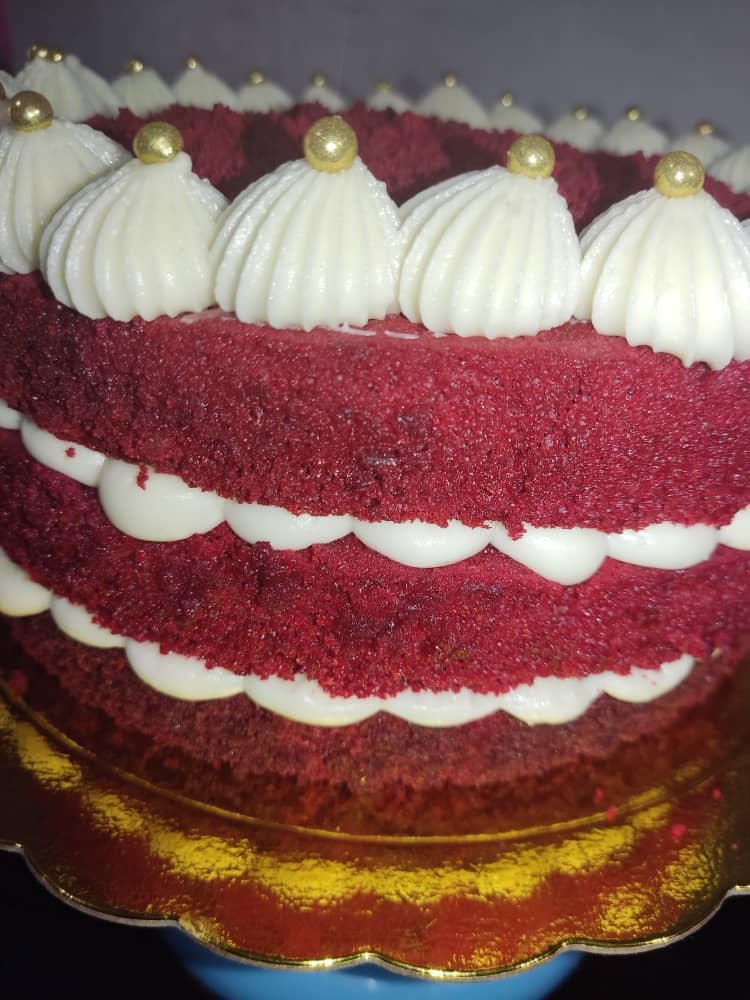 Elaboration of the coverage:(Optional).
1. Melt the chocolate, let it cool, beat the mascarpone cheese, stir in the melted chocolate until a homogeneous mixture is obtained.
2. In a piping bag with curly nozzle, place a thread of red coloring with the help of a toothpick, add the mixture and decorate the cake.
The final result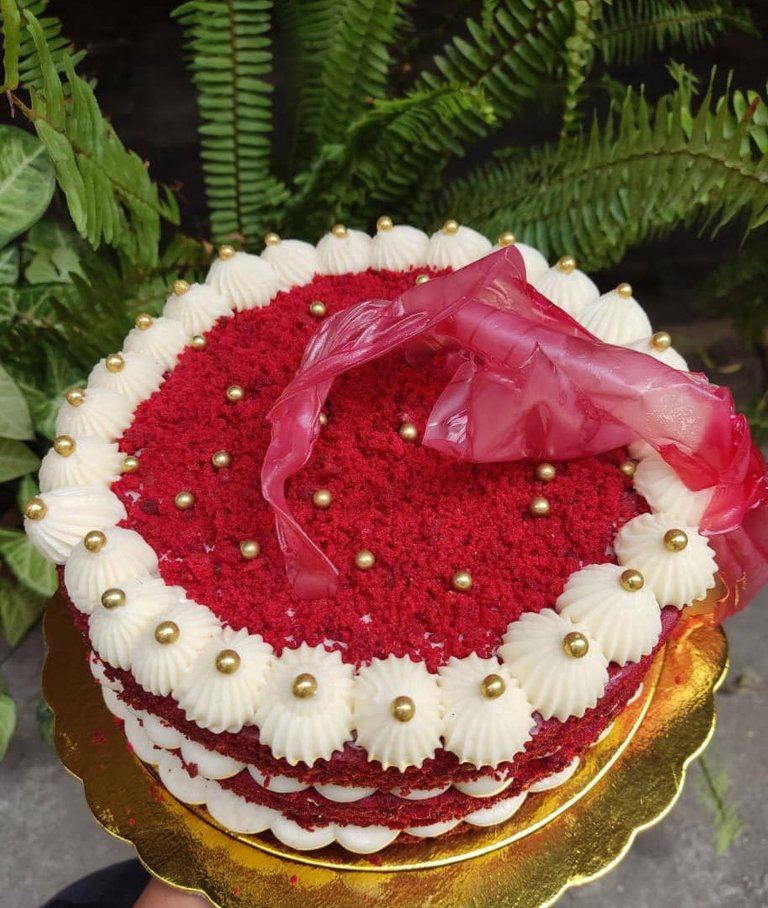 All images are my own, taken with my Poco X3 Pro phone camera and others are posted on my personal Instagram Valeria.sweet.and.cake. Translated with https://www.deepl.com/es/translator

---
---