Fault line Cake o torta con grieta, decora con técnica vitange (ESP/ENG)
El fault line cake o torta con grieta es una tendencia que nació aproximadamente en el 2019 y desde ahí se ha mantenido en vigencia, por su elegancia y singularidad, está se puede realizar de 2 maneras con 3 ponqués como lo hice yo en esta oportunidad, 2 del mismo tamaño y uno más pequeño, o realizando la termina con un ponqué alto dando el efecto con la crema la cuál debe ser una crema bastante pastosa y resistente para obtener los resultados que deseamos, en mi caso está no me gusta mucho por la gran cantidad de crema que se debe utilizar. El efecto en la falla o grieta se puede realizar con crema, springlers, papel de arroz impreso, galletas entre muchas otras opciones.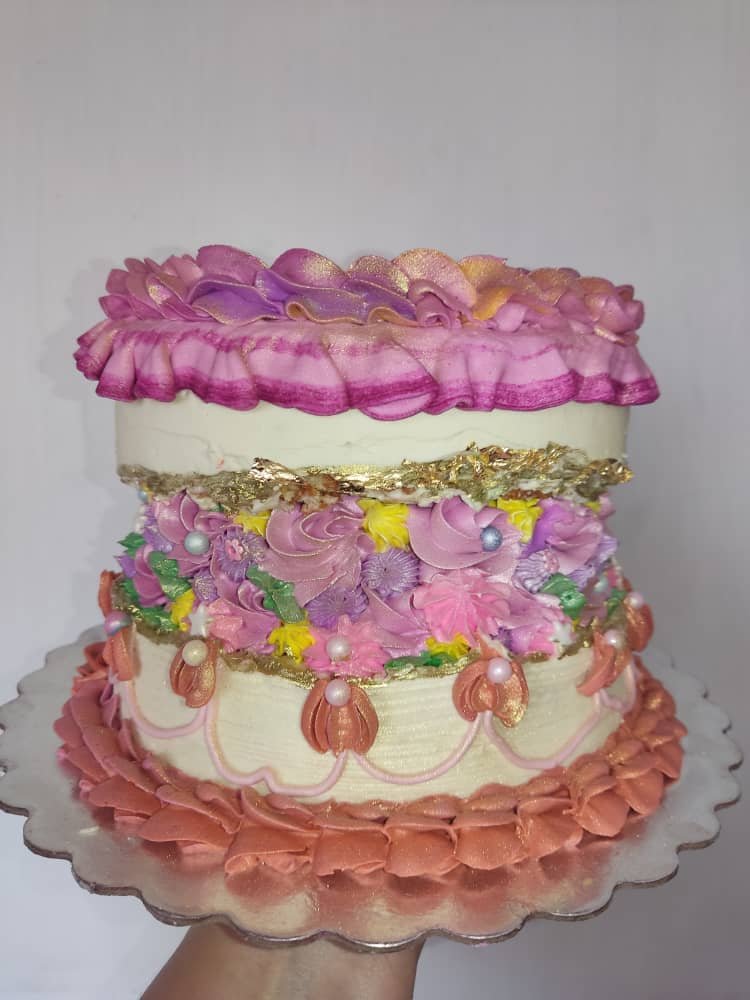 Para esta torta, realice unos ponqués de naranja bastante esponjosos y suaves, un buttercream clásico en el cuál utilice la misma cantidad de materia grasa (mantequilla sin sal le da mejor sabor y consistencia además de que obtiene un color más blanco) que, de azúcar impalpable, un poquito de esencia de mantecado, leche condensada y chocolate blanco fundido súper deliciosa esa combinación de sabores. Decorando en colores pasteles con una técnica vitange, muy al estilo de años 50 que, en los últimos tiempos, sobre todo desde que comenzó la pandemia, empezó a marcar tendencia, por si majestuosidad.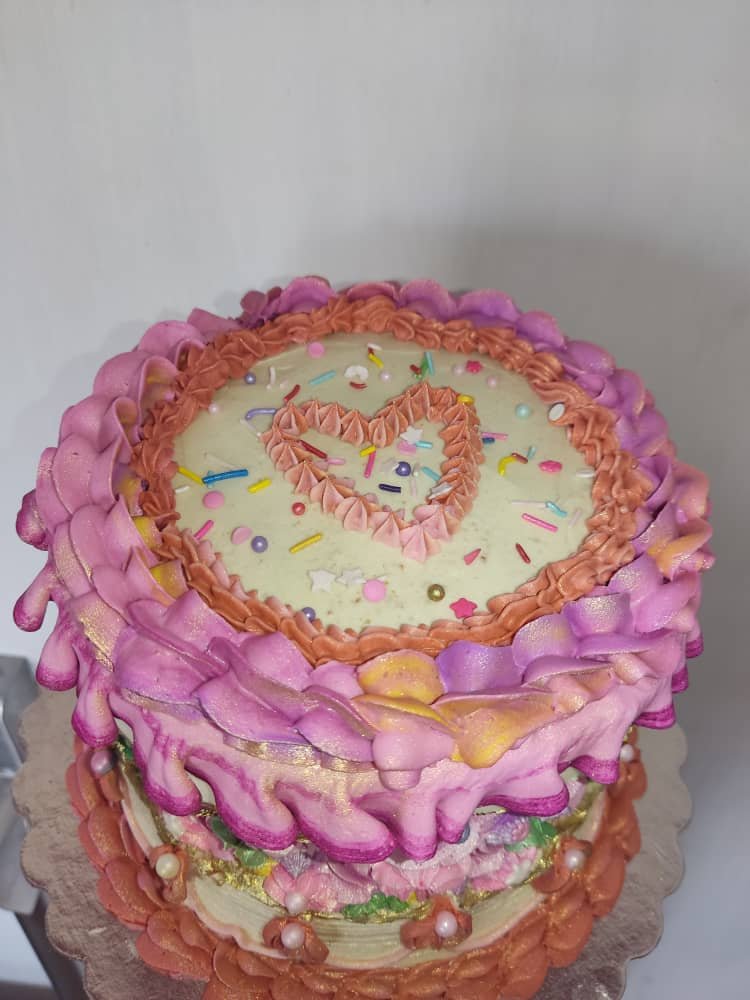 Para el montaje de la fault line cake utilice.
2 ponqué de 18 cm de sabor de tu preferencia.
1 ponqué de 16 cm.
1 kg de buttercream.
4 Pitillos o popotes gruesos.
1 capato o plato para colocar la torta.
Colorante líquido.
Springlers.
Fault line cake
**Paso a paso**
Primero que nada, colocaremos un poco de crema en nuestro plato de torta y colocaremos nuestro ponqué esto no permitirá que la torta se resbale.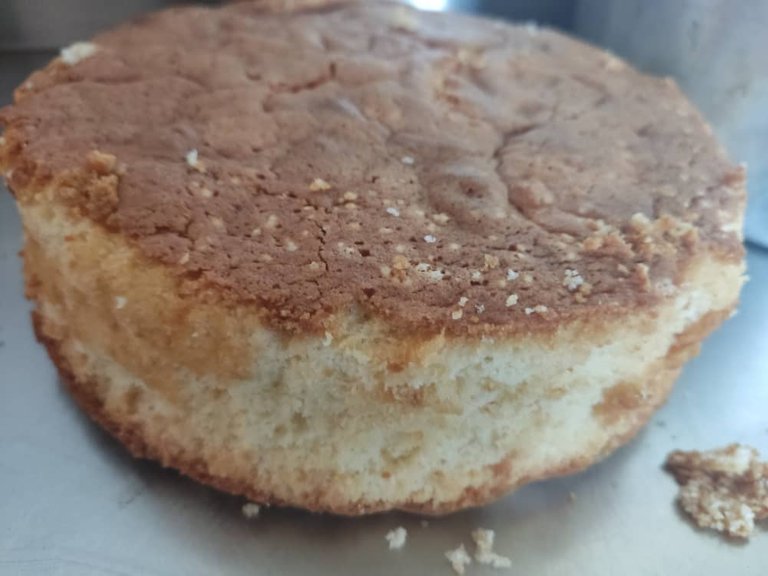 Luego procedemos a cubrir el ponqué con una capa fina de la crema, para hacer una capa recoge migajas que nos permita un acabado más prolijo e impecable, y llevamos a la nevera por 15 minutos, para que está tome consistencia firme. Seguidamente, colocaremos la siguiente capa de buttercream y alisamos.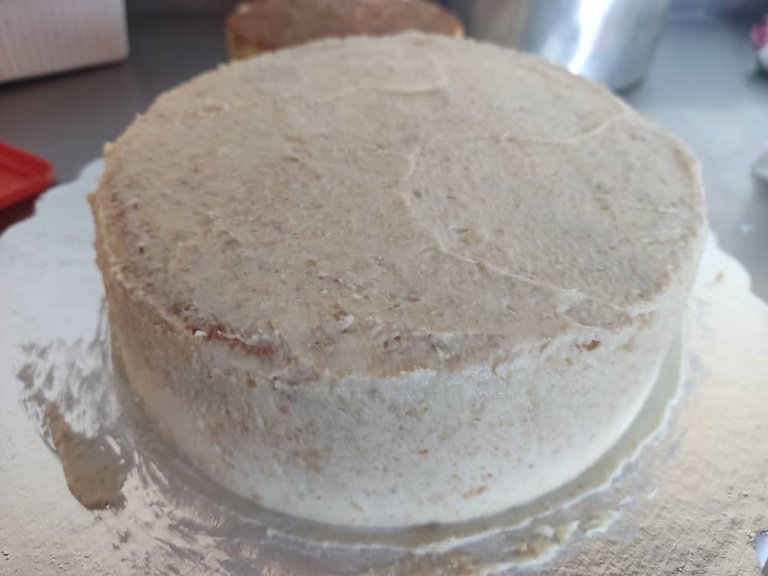 Ahora, procedemos a colocar el siguiente ponqué, que sería el de menor tamaño tratamos de ubicarlo lo más centrado posible. Podemos rellenar entre un ponqué y otro con la crema de nuestra preferencia.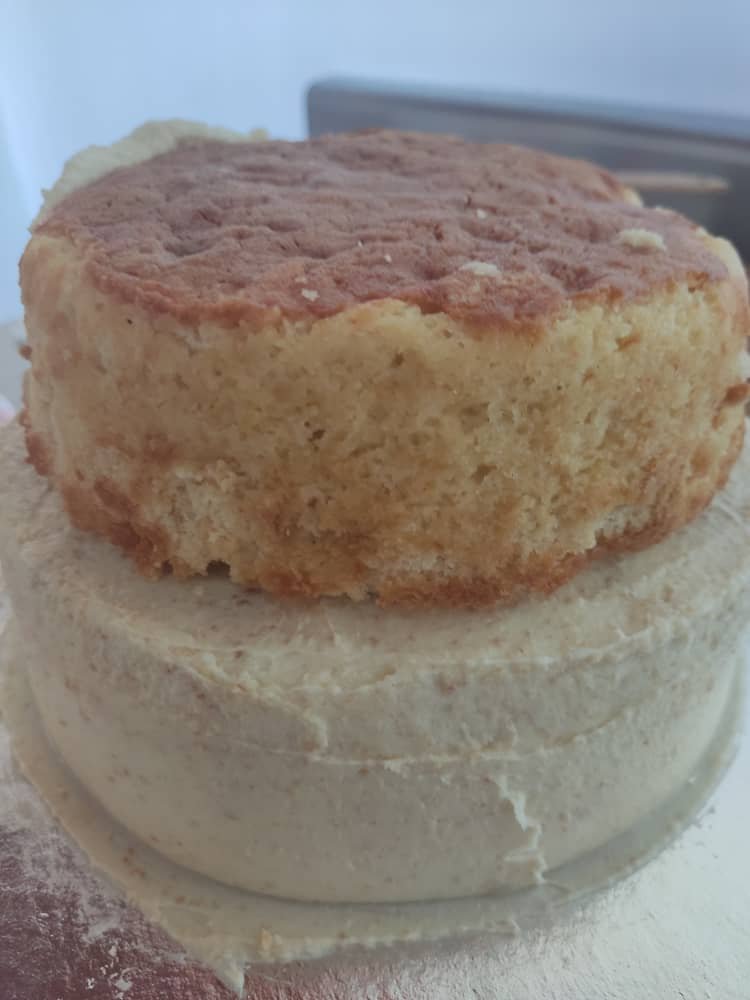 En este paso vamos a realizar de nuevo la técnica de la recoge migajas y llevamos a la nevera por 15 minutos. luego de este tiempo procedemos a colocar los popotes de forma centrada, para dar firmeza y estabilidad a la torta. A continuación, realizamos el decorado de la grieta, yo pinte el buttercream en varios tonos y lo coloque en diferentes mangas con distintas boquillas, y realice muchas florecitas y hojas.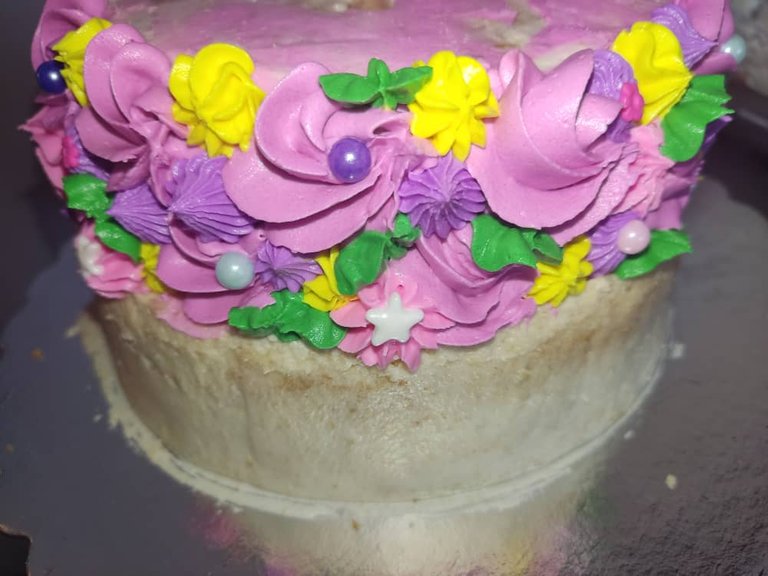 Ahora, colocamos el ultimo ponqué en la parte de arriba previamente ya con la capa recoge migajas, y ya tenemos nuestra torta ensamblada.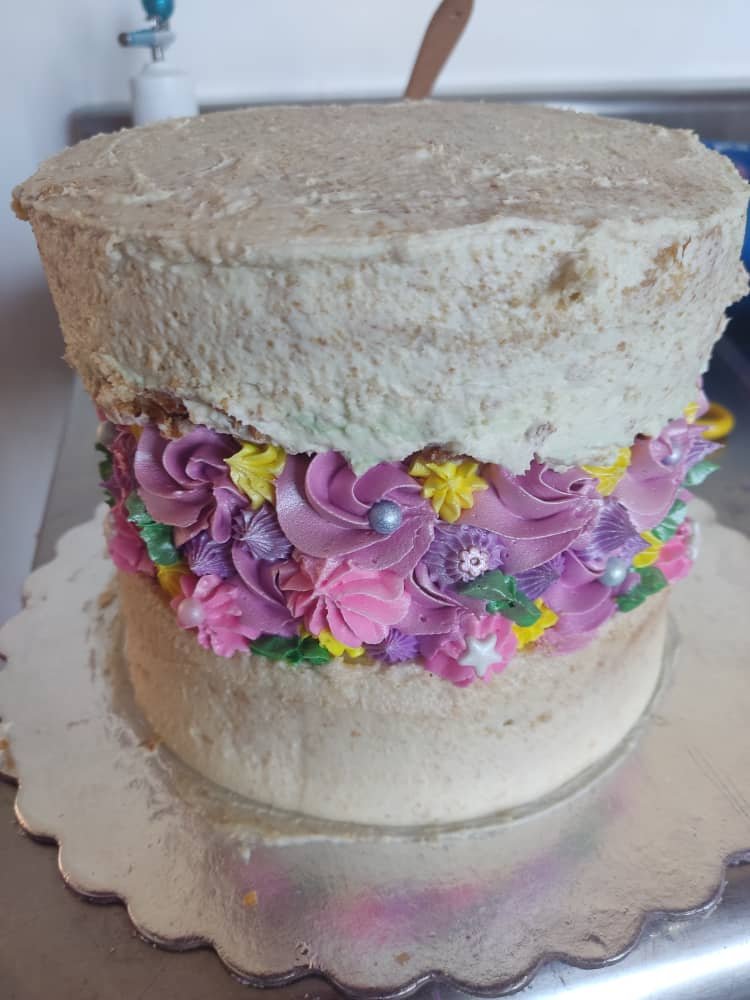 A continuación, procedemos a decorar con una capa de crema gruesa y alisamos, para la técnica vitange, utilice el mismo buttercream con boquillas pequeñas de faralao, 1M, 2B entre otras eso es a nuestro gusta, detalles con matizado dorado, springlers y brillantina.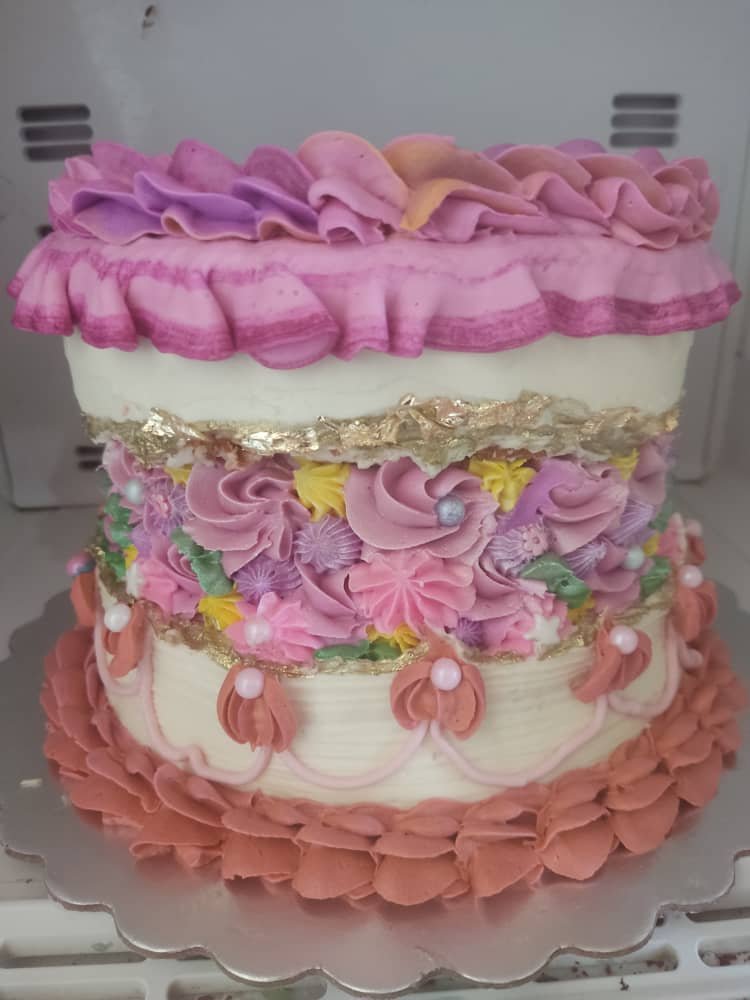 Luego de cortarla así quedo.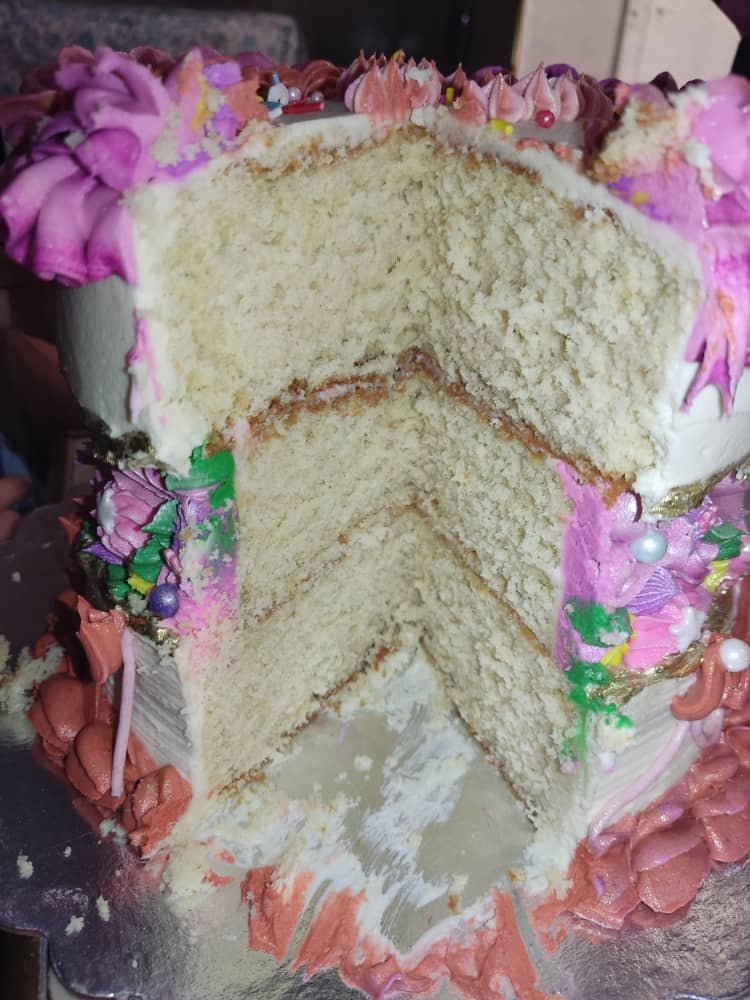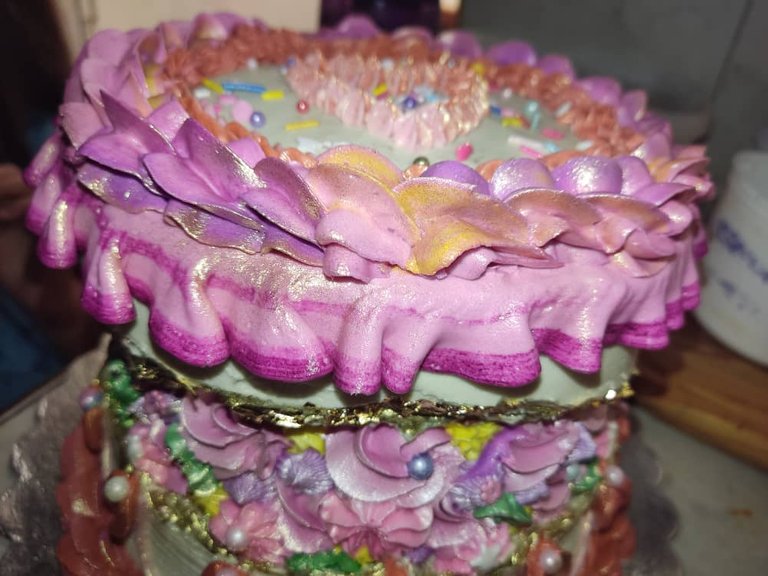 Todas las imágenes son de mi propiedad, tomadas con la cámara de mi teléfono Poco X3 Pro y otras están publicadas en mis Instagram personal Valeria.sweet.and.cake. Traducido con https://www.deepl.com/es/translator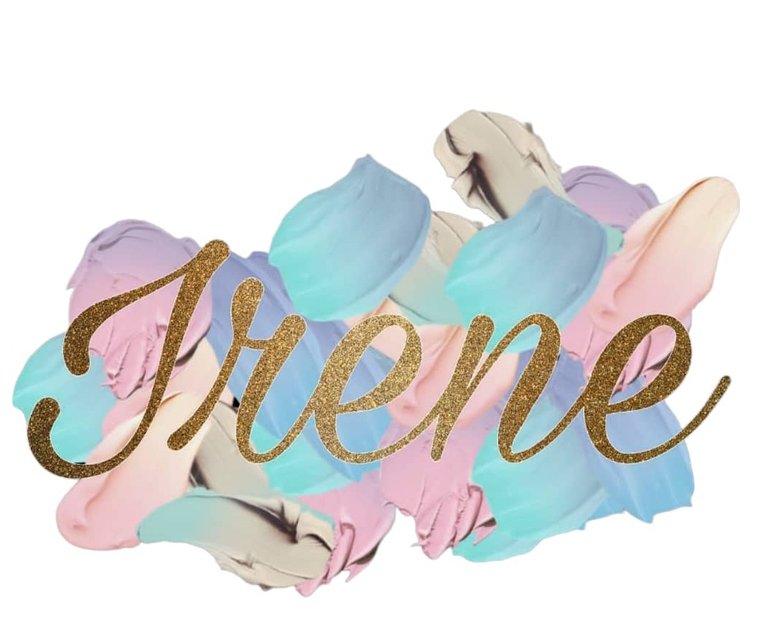 English
The fault line cake or cake with crack is a trend that was born approximately in 2019 and since then has remained in force, for its elegance and uniqueness, it can be done in 2 ways with 3 cakes as I did this time, 2 of the same size and one smaller, or making the end with a high cake giving the effect with the cream which should be a fairly pasty and resistant cream to get the results we want, in my case I do not like it much for the large amount of cream to be used. The effect on the flaw or crack can be done with cream, springlers, printed rice paper, cookies among many other options.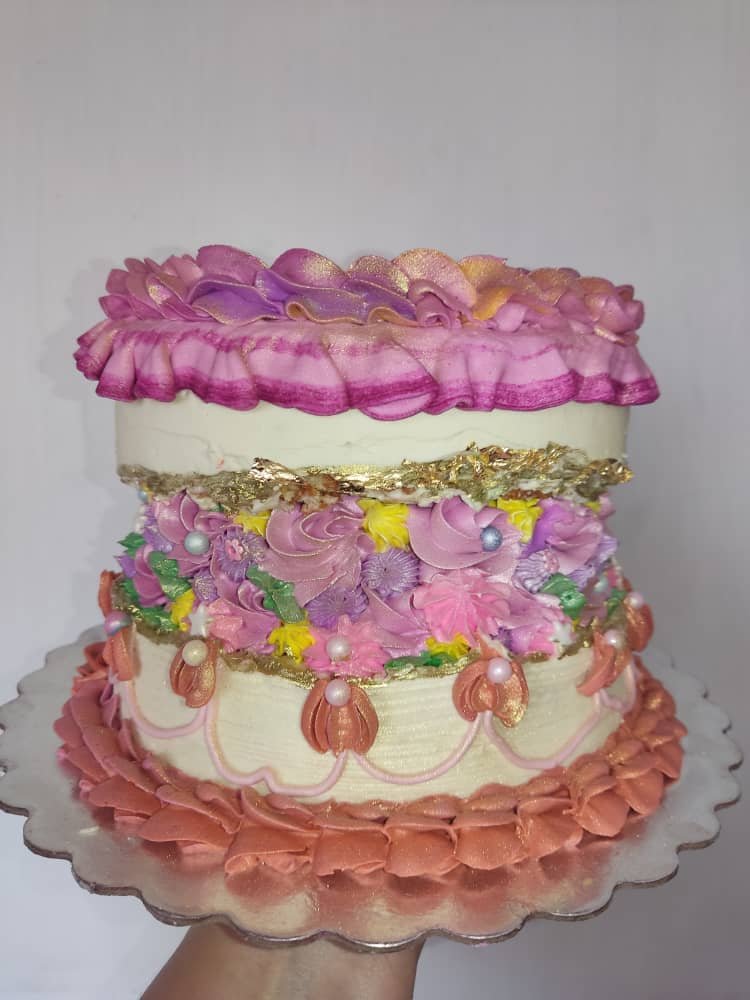 For this cake, I made some very fluffy and soft orange cakes, a classic buttercream in which I used the same amount of fat (unsalted butter gives it a better flavor and consistency as well as a whiter color) as well as impalpable sugar, a little bit of buttercream essence, condensed milk and super delicious melted white chocolate that combination of flavors. Decorating in pastel colors with a vitange technique, very 50's style that, in recent times, especially since the pandemic began, began to set a trend, because of its majesty.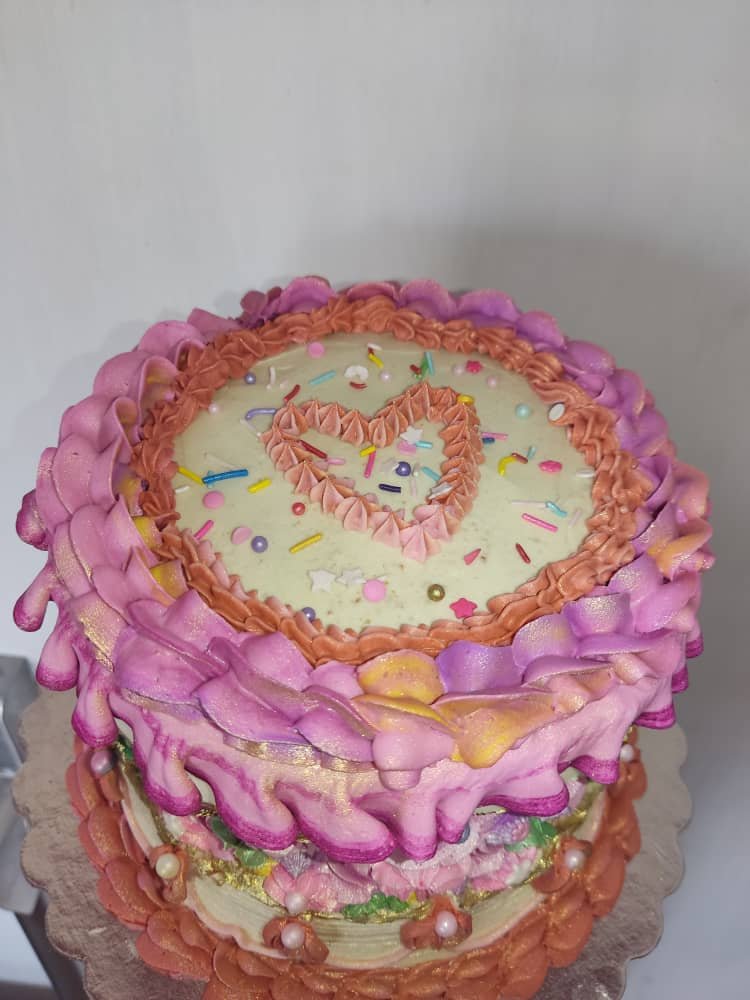 For the assembly of the fault line cake use.
2 18 cm cakes in the flavor of your choice.
1 cake of 16 cm.
1 kg de buttercream.
4 straws or thick straws.
1 capato or plate to place the cake.
Liquid dye.
Springlers.
Fault line cake
**Step by step**
First of all, we will put some cream on our cake plate and place our cake on it, this will not allow the cake to slip.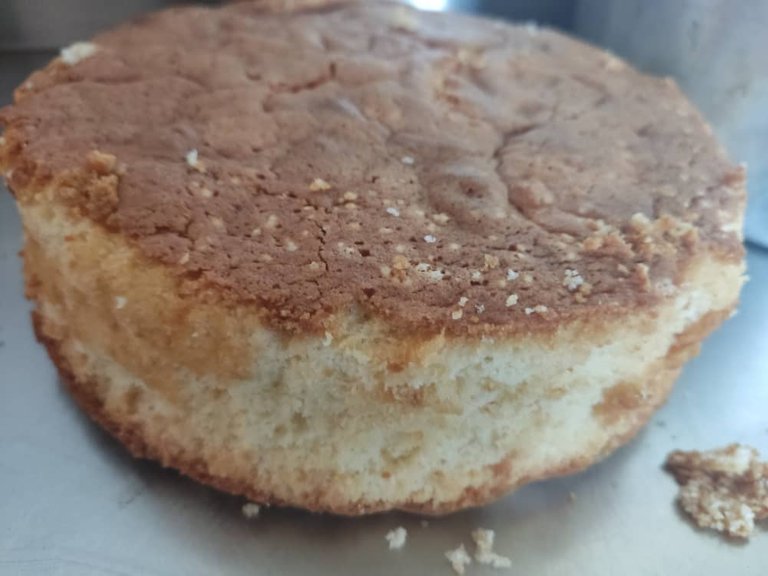 Then we proceed to cover the cake with a thin layer of the cream, to make a layer of crumbs that allows us a more neat and impeccable finish, and we take it to the refrigerator for 15 minutes, so that it takes firm consistency. Next, place the next layer of buttercream and smooth it out.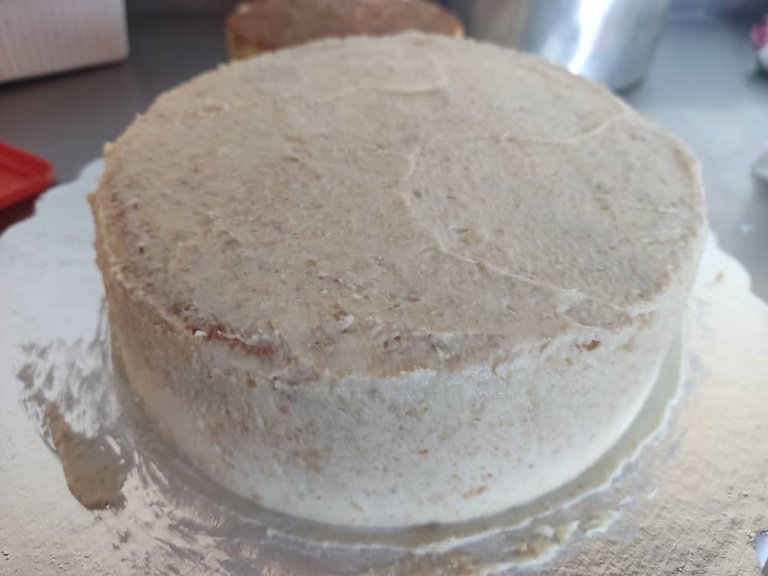 Now, we proceed to place the next cake, which would be the smallest one, trying to place it as centered as possible. We can fill between one cake and another with the cream of our preference.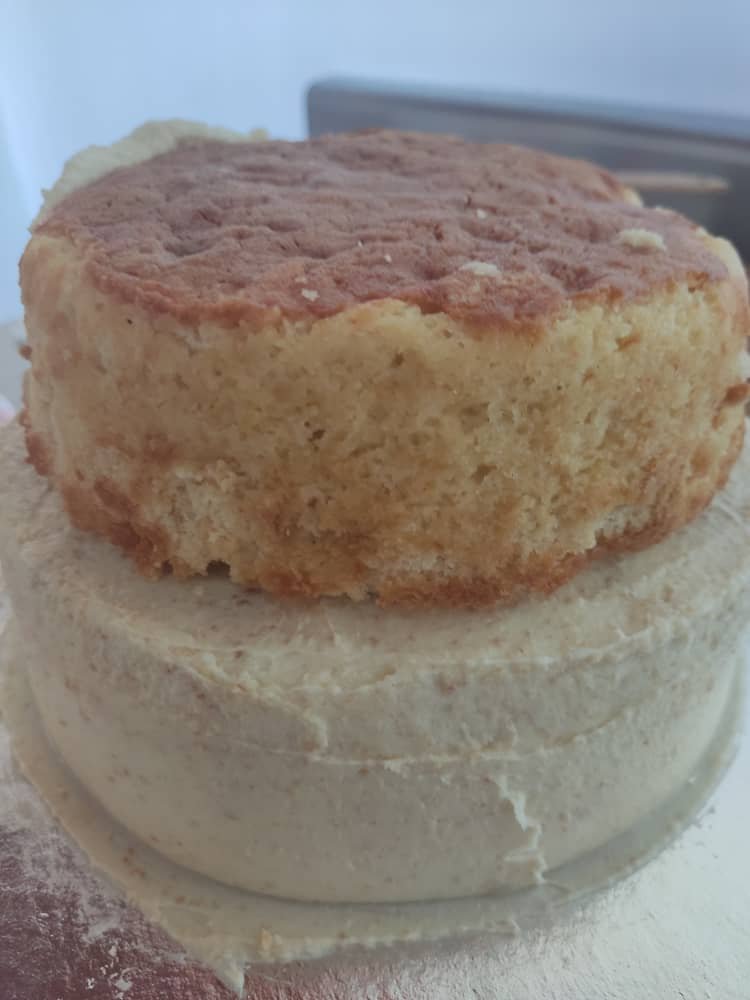 In this step we are going to perform again the technique of the crumb picker and take it to the refrigerator for 15 minutes. after this time we proceed to place the straws in a centered way, to give firmness and stability to the cake. Next, we decorate the crack, I painted the buttercream in various shades and put it in different sleeves with different nozzles, and made many little flowers and leaves.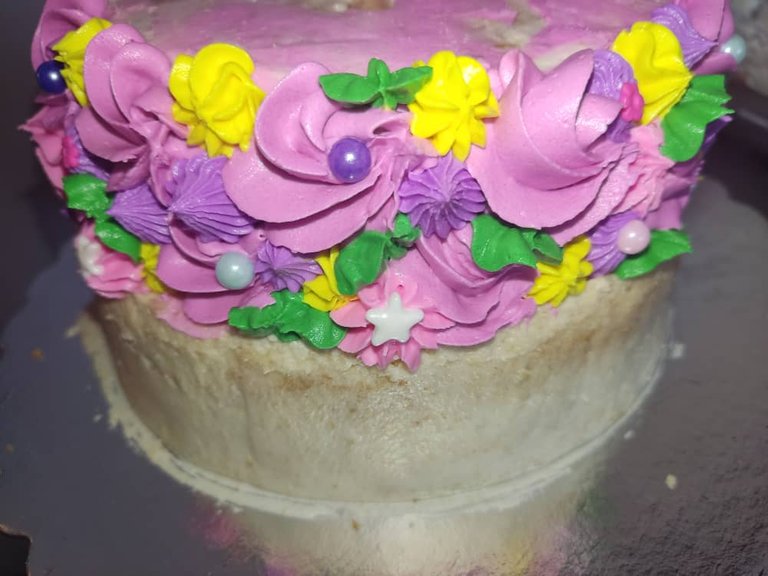 Now, place the last cake on top with the crumb topping, and we have our cake assembled.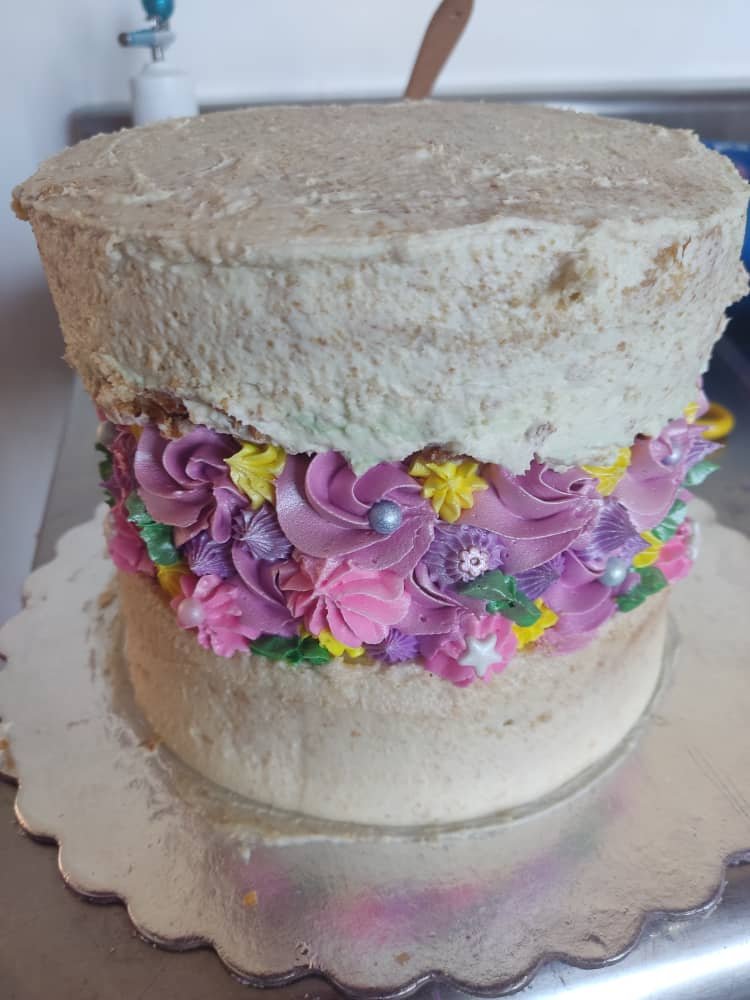 Then we proceed to decorate with a layer of thick cream and smooth, for the vitange technique, use the same buttercream with small nozzles of faralao, 1M, 2B among others that is to our liking, details with golden shading, springlers and glitter.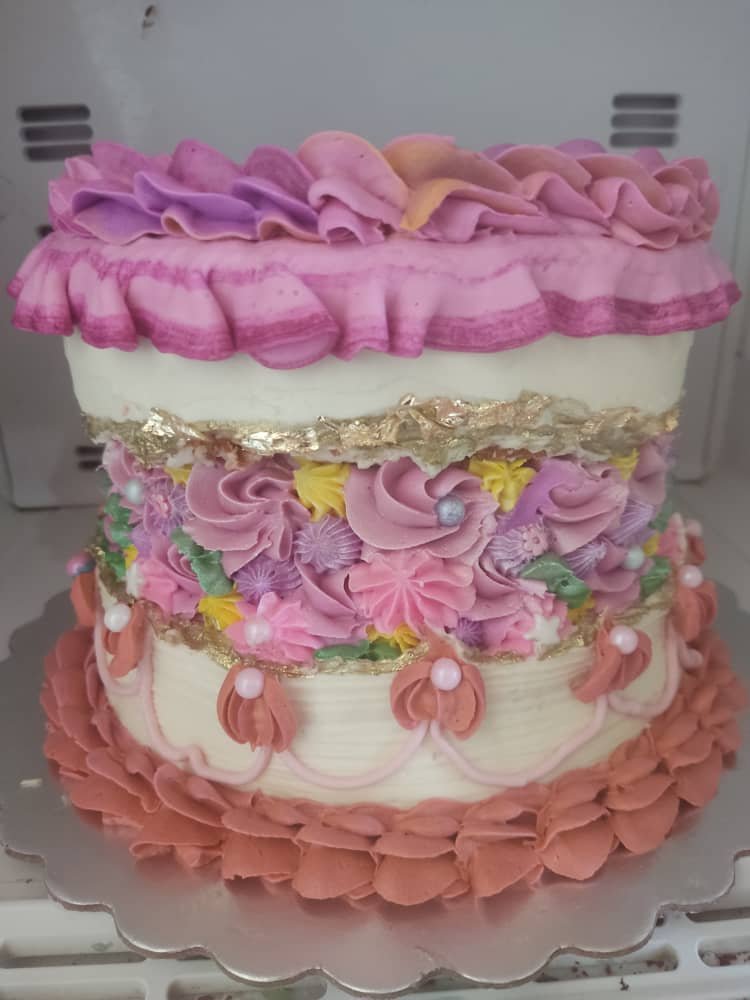 After cutting it, it looked like this.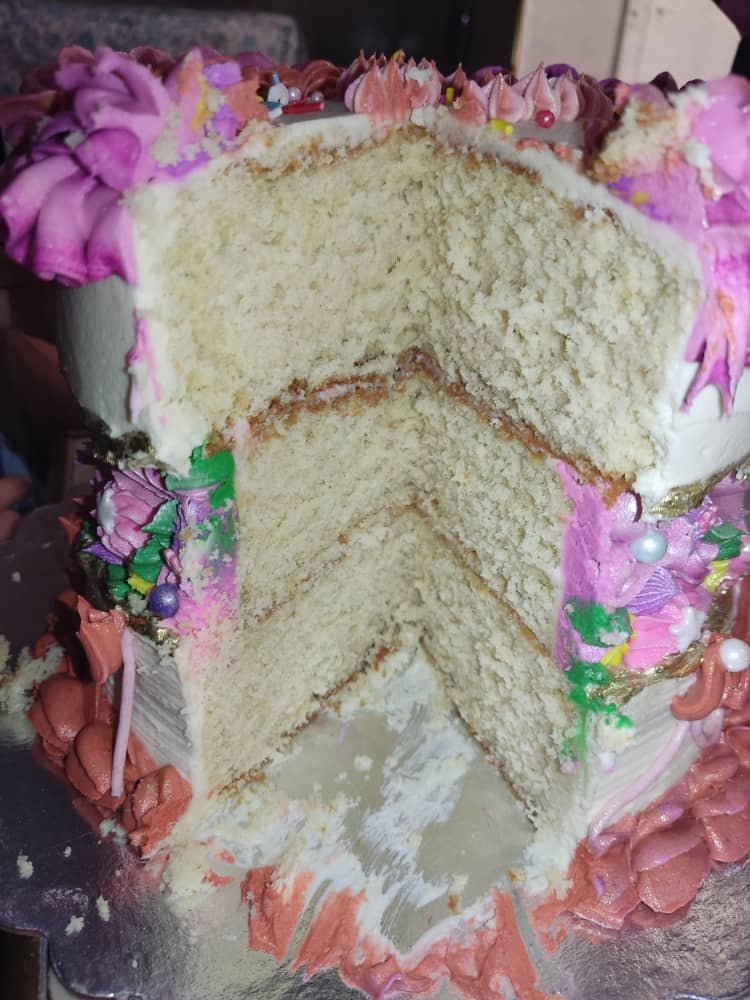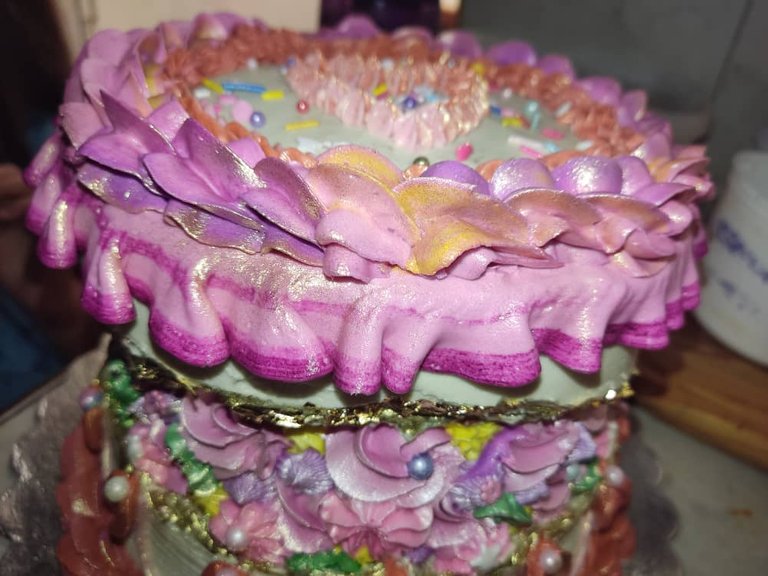 All images are my own, taken with my Poco X3 Pro phone camera and others are posted on my personal Instagram Valeria.sweet.and.cake.Translated with https://www.deepl.com/es/translator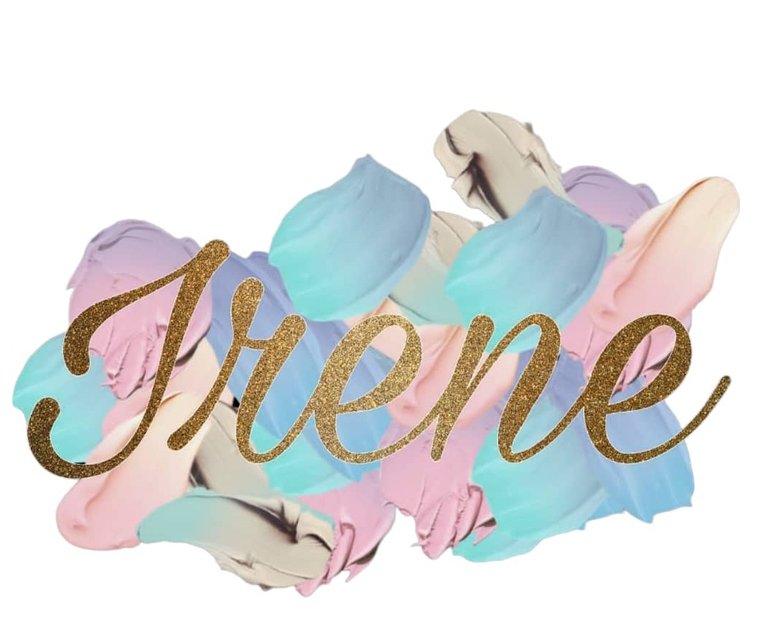 ---
---