Inktober days 13-16 - Kind + (Flower & Bird), Empty, Armadillo + (Sci-Fi & Armor) & Fowl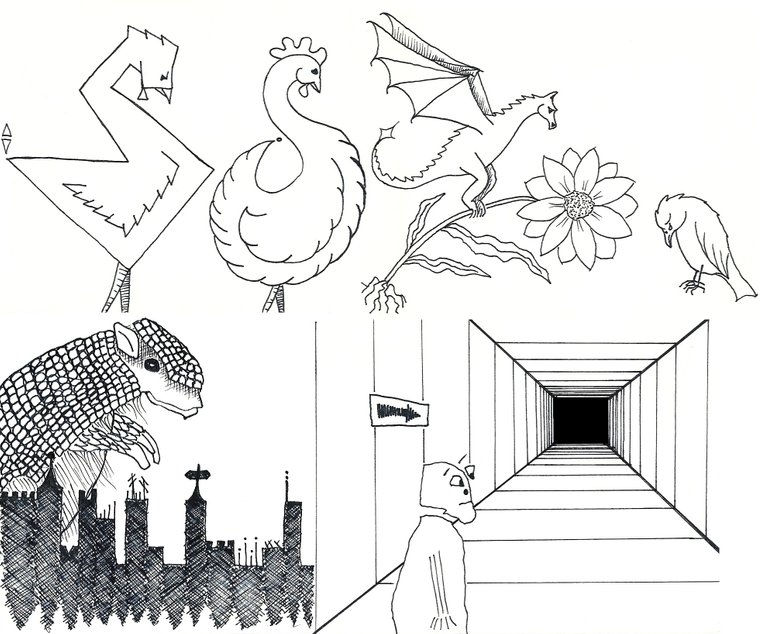 The Inktober world is filled with animals, except when it's empty.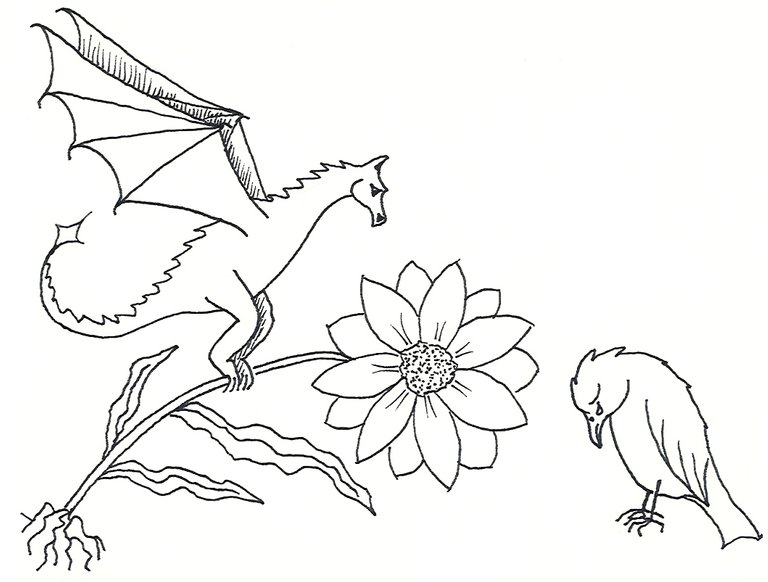 There's the kind of kind that is just sweet kind and sometimes a little dumb sweet kind too as the decision to do a kind act is made in haste and you can clearly see it. Or is it just a kind of a lazy kind of kind?
Kinda.
Oh my! Could that be the little dragon from the Rachel Rabbit story? Sure looks the same dragon but is it? Or are we just blind to all the little or a bit bigger differences in all the little dragons? Do they all look the same in our eyes?
I ingeniously combined kind with flower and bird from Inktober52. I couldn't find sad from any of the prompts, or I've gone selectively blind, if I had, I would have added that too.
Empty ahead, continue cautiously!
Or do like I do, when empty, fill it with something. Anything! Rocks, cat hair, words, music, ribbons, bottle caps, promises, expectations. Anything goes.
THE ATTACK OF THE GIANT ARMADILLO!
WHEN THREATHENED, IT WILL CURL UP INSIDE IT'S ARMOR AND CAUSE HORRIFIC CONFUSION!
SEE IT NOW IN MOVIE THEATRES ALL OVER THE UNIVERSE!
Did I also mention that this is a radioactive armadillo? Yes indeed. Because why would it be huge if it wasn't radioactive. That's a basic scifi rule. If it's big, it has to be also radioactive.
But then again, we are all radioactive. You, me, common armadillos and even bananas. Yes. Bananas. And bananas are very special. There's a thing called banana equivalent dose.
Again Inktober52 strikes. Armadillo enhanced with sci-fi and of course the obvious armor.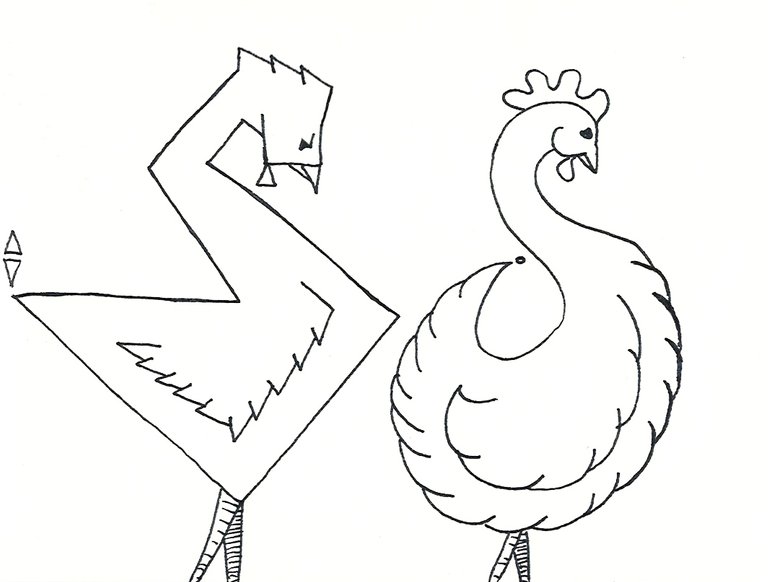 "So two hens walk in to a bar and one is square."
That's it, that's the joke!
Enjoy!
Actually, that was just the start of a joke, you decide how it ends. Can't wait to hear it!
I'm a bit late with my drawings but I'm not stressing about it. Not at all. Not. At. All.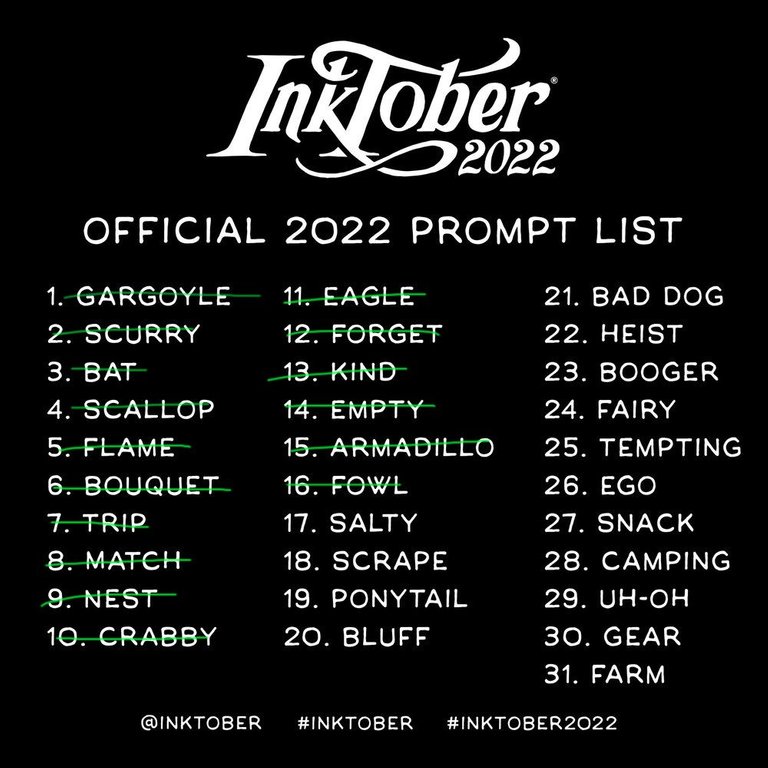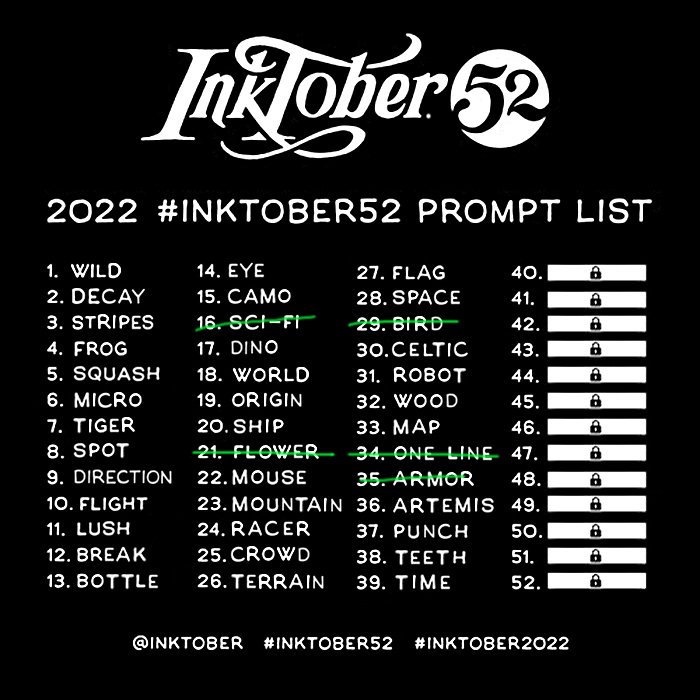 Where did my Inktober journey start?
2019
1-4, 5, 6, 7-8, 9, 10, 11-12, 13-14, 15, 16-18, 19-21, 22-23, 24-27, 28-29, 30-31
Extras
12, 12 animation
2020
0, 1, 2-4, 5-7, 8-10, 11-15, 16-20, 21-22, 23, 24, 25-28, 29-30, 31a, 31b
Extras
Metamorphoship
2021
1&4-5, 2-3, 7-8, 9&11, 6&10&12-14, 15-16&18&20, 17, 19&21-23, 24, 28+1, 25-27&29, 30, 31+13
Extras
14/2016, 52:7,21,30/2021&5/2020, 52:27/2021+5/2020, 52:35/2021, 52:8/2020, 31/2017, 52:47/2020, 24/2017, hand1, 10/2017,52:3&44/2020,52:9/2021,hand25
2022
1, 2-4, 5-8&52:34, 9-12+hand2
---
---