Lista de proyectos relacionados a los amigurumi | My Bucket List
¡Hola, espero te encuentres de maravilla!
Hi, I hope you are feeling great
Desde ya esta iniciativa me llamó la atención, justo tengo varias ideas en mente y no sabía por dónde empezar, jaja. Y me alegra un montón plasmarlo en esta publicación. Algunas veces me mareo un poco sobre las líneas (Blog, el canal de youtube, los diseños, los patrones (libres y de pago), fotografías, los stocks para ventas, pedidos, etc.) que abarca iniciarte.craft y me saturo. Ahora probaré otra manera y seré eficiente.
Of course this initiative caught my attention, I just have several ideas in mind and did not know where to start, haha. And I'm very happy to capture it in this publication. Sometimes I get a little dizzy about the lines (Blog, youtube channel, designs, patterns (free and paid), photographs, stocks for sales, orders, etc.) that covers iniciarte.craft and I get saturated. Now I will try another way and be efficient.
---
Patrones
Patterns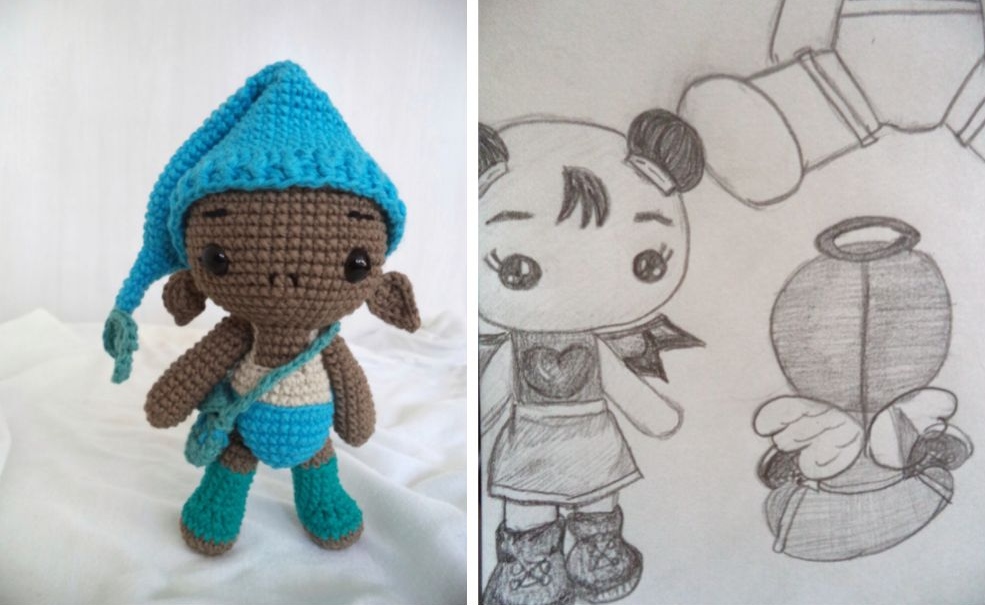 Hace un par de meses inicié esta aventura de los patrones. Para esto, decidí que me acompañe
Duendecillo de mi verdad
(disponible en la tienda de Ravelry). Este año se vienen sus dos amigazos inspirados en dualidad de las "acciones buenas y malas". Por el momento tengo el dibujo a mano alzada y los colores y texturas en la mente. Pronto haré convocatoria de
testers
, así que atentas.
A couple of months ago I started this pattern adventure. For this, I decided to be accompanied by Elf of my truth (available in the Ravelry shop). This year her two friends are coming, inspired by the duality of "good and bad deeds". At the moment I have the freehand drawing and the colours and textures in mind. Soon I will be calling for testers, so stay tuned.
Canal de YouTube
YouTube channel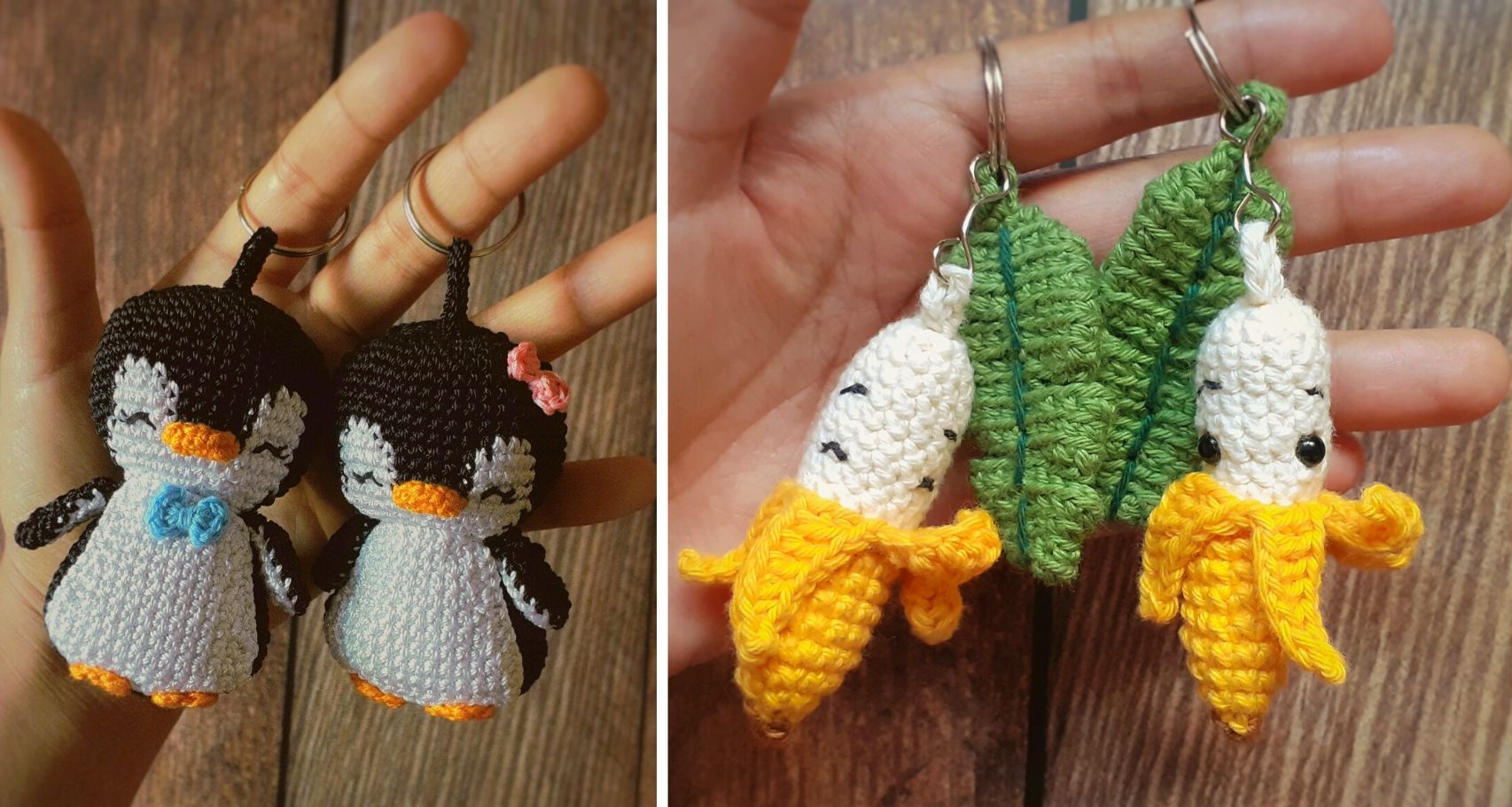 Confieso que me cuesta bastante grabar los videos. Al inicio creí que no sería complicado, tenía la idea de prender la cámara y listo...luego experimenté lo que hay detrás de tooodo eso. Incluso pensé mudarme a un lugar muy muy lejano y volver con videos para todo el año, jaja.
En resúmen, esta semana (si todo sale bien) planeo grabar el video de los pinguinos llavero por motivo de "San Valentín" o el "Día de la amistad". Y también tienes otra opción las bananitas, estas si tienen video y mañana subiré el patrón libre por Instagram.
I confess that I find it quite difficult to record videos. At the beginning I thought it wouldn't be complicated, I had the idea of turning on the camera and that was it... then I experienced what's behind all that. I even thought about moving to a place far away and coming back with videos for the whole year, haha.
In short, this week (if all goes well) I plan to shoot the keychain penguin video for "Valentine's Day" or "Friendship Day". And you also have another option the little bananas, these do have a video and tomorrow I'll upload the free pattern on Instagram.
Proyecto educación didáctica
Didactic education project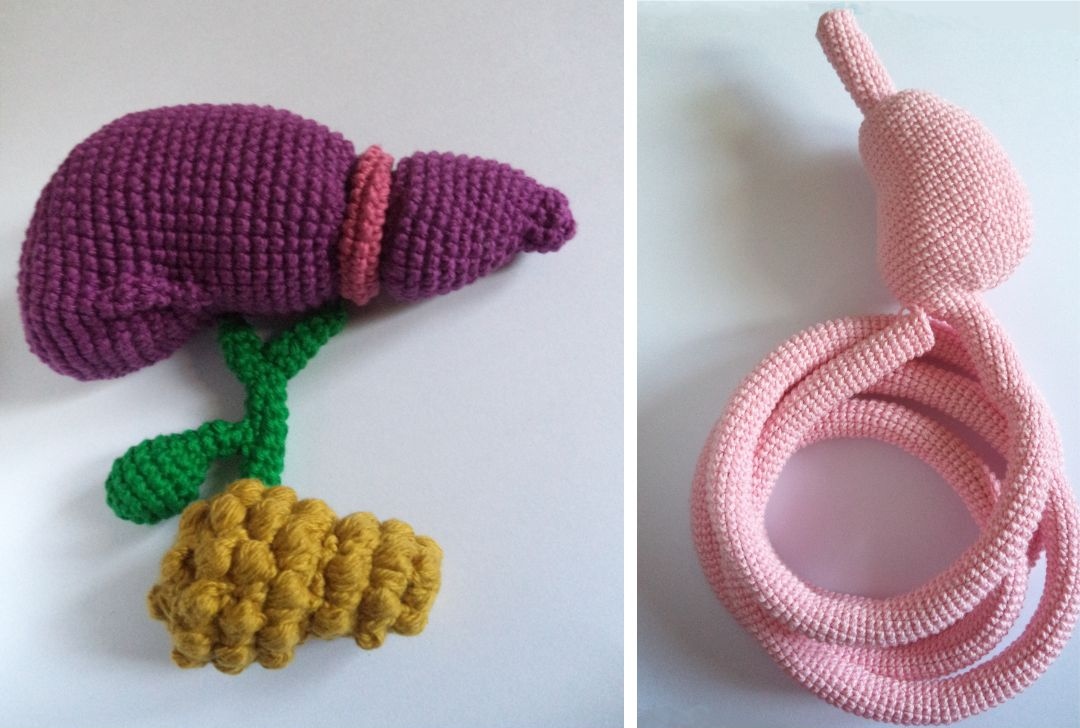 Este proyecto si está paralizado, aunque este mes lo terminaré. Tiene el objetivo de ser un material de apoyo en los Centros educativos (profesores de biología), médicos independientes y gente interesada en mejorar 100% su salud. Quizá sea una idea loca, pero la diseñadora elaboró este patrón en escala real y eso está chévre.
This project is currently at a standstill, although I will finish it this month. It is intended to be a support material for schools (biology teachers), independent doctors and people interested in improving their health 100%. Maybe it's a crazy idea, but the designer made this pattern in real scale and that's cool.
Influencers

Cada cierto tiempo realizo diseños exclusivos para ciertas personas y/o marcas independientes. Este año tengo pendiente entregar estos amigurumi a sus dueños. Esta experiencia es única porque además de conocerlos en persona y veo la emoción al recibir su amigurumi. Tengo planeado tejer dos amigurumi personalizados, aunque por el momento se me dificulta conectar a esas dos personas, jaja.
From time to time I make exclusive designs for certain people and/or independent brands. This year I have to deliver these amigurumi to their owners. This experience is unique because I get to meet them in person and see the excitement of receiving their amigurumi. I plan to knit two personalised amigurumi, although at the moment it's difficult for me to connect those two people, haha.
Sobre 4 patas
On 4 legs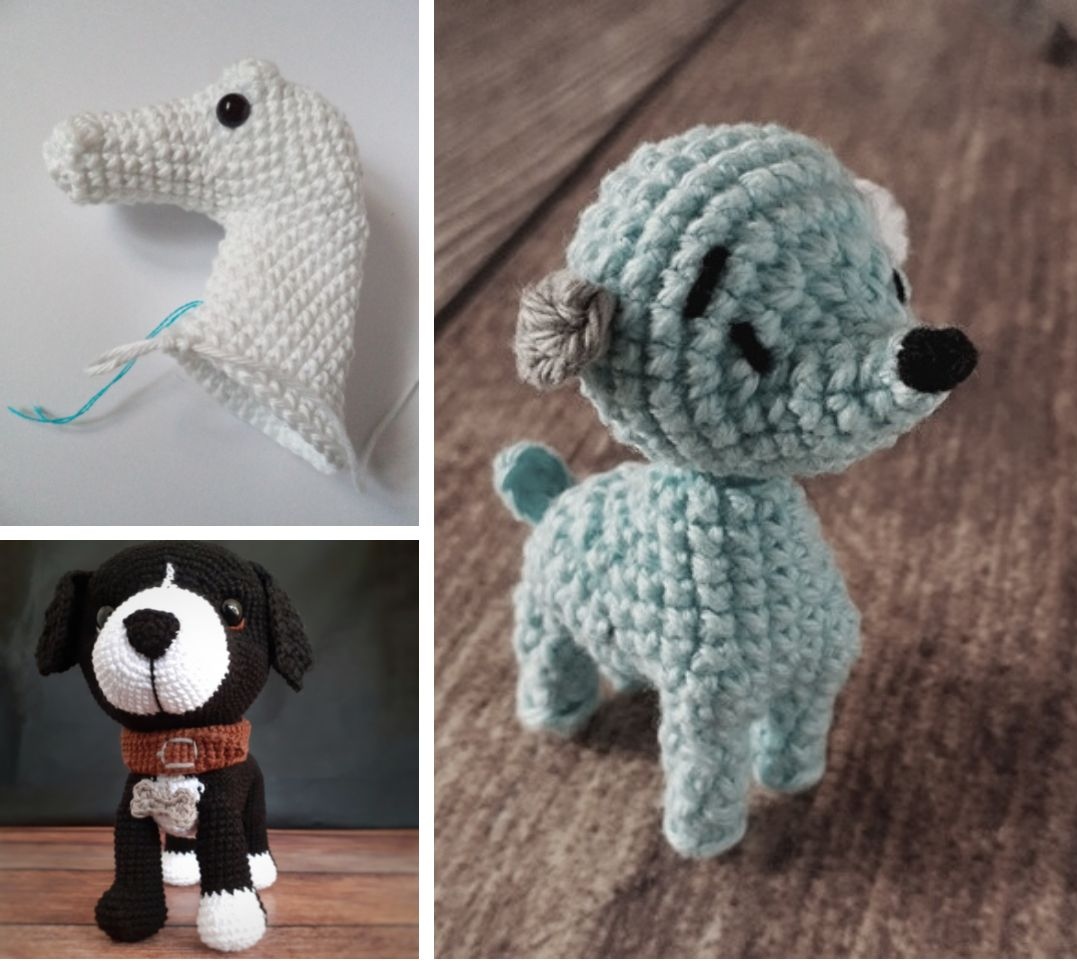 Luego de mis intentos tejeriles de amigurumi de 4 patas. Ahora estoy siguiendo las instrucciones de un patrón de caballo. Esto me sirve para ver como la diseñadora forma las patas, es decir dónde coloca los aumentos y disminuciones y así obtener la forma de caballo. Este tipo de amigurumi me interesa para ampliar mis conocimientos y tejer más diversidad de animales. También planeo diseñar patrones y video tutoriales para ustedes.
After my attempts at 4-legged amigurumi knitting. Now I'm following the instructions of a horse pattern. This helps me to see how the designer forms the legs, that is to say, where she places the increases and decreases to get the horse shape. I am interested in this type of amigurumi to expand my knowledge and knit more diversity of animals. I also plan to design patterns and video tutorials for you.
---
Planeo realizar esto hasta marzo, aunque lo de los patrones e influencers si le daré todo el año. Si tienes alguna pregunta o quieres que trate sobre algún tema en específico házmelo saber. Estaré encantada de leerte.
I plan to do this until March, although I will be doing the whole year on the patterns and influencers. If you have any questions or want me to cover a specific topic let me know. I'll be happy to read you.
¡Y eso es todo!

¡Hasta la próxima!
See you next time!
 Dato curioso: Si aún no han tejido algo dedicado para algún influencers (alguien conocido a nivel local), les recomiendo que lo hagan. Yo no tengo fotos (porque prefiero vivir ese momento) sino haría publicaciones sobre ese tema, jaja. / If you haven't knitted something dedicated to an influencer (someone locally known), I recommend you to do it. I don't have pictures (because I prefer to live that moment) otherwise I would post about it, haha.

---

Si quieres saber más, nos vemos en:
Youtube
Instagram
Ravelry
Creary
Pinterest
Facebook
---
---