Hive Music Concert - Joni (Original song) by IndonesiaBersatu
---
Hello, my brothers and sisters and music lovers on this #Hive platform. Introducing, We are IndonesiaBersatu, a Punk Rock band from Medan, Indonesia. Btw, today we present our original song, Joni. This song was written by our vocalist Opan Gobank in 2007 and released by Lebah Hitam Records in 2008 on the album "Merdeka Atau Mati (Freedom or Die)".
Hola, mis hermanos y hermanas y amantes de la música en esta plataforma #Hive. Presentamos, Somos IndonesiaBersatu, una banda de punk rock de Medan, Indonesia. Por cierto, hoy presentamos nuestra canción original, Joni. Esta canción fue escrita por nuestro vocalista Opan Gobank en 2007 y lanzada por Lebah Hitam Records en 2008 en el álbum "Merdeka Atau Mati (Freedom or Die)".
This song tells about a person named Joni. He is arrogant, a thug, and likes to bully weak people. If examined more deeply, this song reflects a dictatorship of rulers who act arbitrarily against common people, especially those who are marginalized. This is what happened in the Republic of Indonesia. The ruling elite abused their position and power to oppress the people for personal gain. So that Corruption, Collusion, and Nepotism become commonplace.
Esta canción habla de una persona llamada Joni. Es arrogante, un matón y le gusta intimidar a las personas débiles. Si se examina con más profundidad, esta canción refleja una dictadura de gobernantes que actúan arbitrariamente contra la gente común, especialmente aquellos que están marginados. Esto es lo que sucedió en la República de Indonesia. La élite gobernante abusó de su posición y poder para oprimir al pueblo en beneficio propio. Para que la Corrupción, la Colusión y el Nepotismo se conviertan en algo común.
We never play this song on stage, so today, we brought this song, especially for Hive friends in an acoustic version. This song is very simple and is played with three basic chords namely G, D, and C. We plan to include this song again in the next album with a new arrangement. Below are the lyrics and translation of our song Joni.
Nunca tocamos esta canción en el escenario, así que hoy trajimos esta canción, especialmente para los amigos de Hive en una versión acústica. Esta canción es muy simple y se toca con tres acordes básicos, a saber, G, D y C. Planeamos incluir esta canción nuevamente en el próximo álbum con un nuevo arreglo. A continuación se muestra la letra y la traducción de nuestra canción Joni.
Indonesian Lyric
Mengapa pak tani benci sama si Joni
Katanya tanah pak tani dicuri
Mengapa pak tani benci sama si Joni
Katanya si Susi, anak pak tani dicabuli
Memang benar kata pak tani
Si Joni pencuri
Memang benar kata pak tani
Si Joni sudah cabuli si Susi
English Translation Lyric
Why does the farmer hate Joni?
He said the farmer's land was stolen
Why does the farmer hate Joni?
He said that Susi, the farmer's daughter was molested
It is true what the farmer said
Joni is a thief
It is true what the farmer said
Joni has molested Susi
---
Thank you for watching and listening to our original songs. I hope you all like the music and the message contained in this song. The place where we recorded this video is at a coffee shop owned by our friend, which is located on Jl. Light, Medan. This video was recorded using a Canon mirrorless camera and edited using Adobe Premiere Pro and Adobe Audition software. That's all we can say today, I hope you stay healthy and keep your spirits up. Best Regards.
Gracias por ver y escuchar nuestras canciones originales. Espero que a todos les guste la música y el mensaje contenido en esta canción. El lugar donde grabamos este video es en una cafetería propiedad de nuestro amigo, que se encuentra en Jl. Luz, Medan. Este video fue grabado con una cámara sin espejo Canon y editado con el software Adobe Premiere Pro y Adobe Audition. Eso es todo lo que podemos decir hoy, espero que se mantengan saludables y con el ánimo en alto. Atentamente.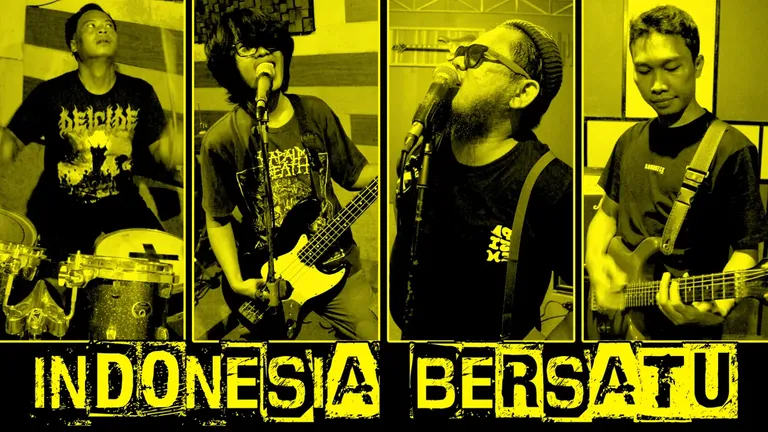 ---
▶️ 3Speak
---
---