[Eng\Esp] Plant with multiple healing powers.\ Planta con múltiples poderes curativos.

Hello my dear friends, I hope that all the people who make up this prestigious community are well, which we can profit very well in this community. Sorry for my absence, well the truth is that last Sunday night, I went to bed and the next day a new week began, when I went to get up I couldn't move my neck anywhere it hurt a lot, part of the cervical, spend all these days like this, today is that I feel good thank God. I tell her that my mother suffered a lot with earaches, the pain was so strong that it grabbed part of her face, and she would place a sheet around the part of her ear for three consecutive days, with the help of a menthol cream, so that the leaf could stick to the skin, and the truth is that the result was very good, thank God and this plant was healed. And well, for that pain that I had in those days, she used that same plant, which we have at home today.
This is a plant that is very medicinal, it is called Higuereta, it is used for any external and internal inflammation, from which castor oil is extracted. She gets a very large segment of seeds, and they turn black as they dry and remain this way as shown in the image.

Hola mis queridos amigos, espero que se encuentre bien todas las personas que conforman esta prestigiosa comunidad, la cual nos podemos lucrar muy bien en esta comunidad. Disculpen por mi ausencia, bueno la verdad que el domingo de la semana pasada en la hora de la noche, me acosté y al otro día que comenzaba una nueva semana, cuando me fui a levantar no podía mover el cuello para ningún lado me dolía muchísimo, parte de la cervical, pase todos estos días así, hoy en día es que me siento bien gracias a dios. Le cuento que mi mamá sufría mucho con dolores de oído, el dolor era tan fuerte que le agarraba parte de la cara, y ella se colocaba alrededor de la parte del oído una hoja por tres días consecutivos, con la ayuda de una crema mentolada, para que se pudiera pegar la hoja a la piel, y la verdad que fue muy bueno el resultado, gracias a dios y a esta planta se sanó. Y pues para ese dolor que yo tenía en esos días ella usó esa misma planta, que hoy en día tenemos en el hogar.
Esta es una planta que es muy medicinal, se llama Higuereta, es usada para cualquiera inflamación externa e interna, la cual de ella es sacado el aceite de ricino. Ella le salen un gajo de semillas muy grande, y se van poniendo negras mientras se van secando y quedan de esta manera como se muestra en la imagen.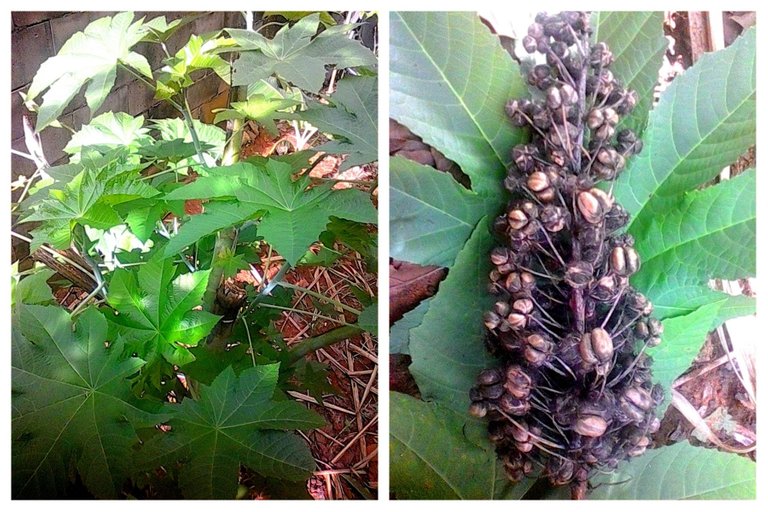 I will explain and show you how my mother did to me every day, my mother would grab a leaf of this plant, when the sun was already low, at night then she would pass it through the fire, this is to soften it a little, from there she added the mentholated ointment on the neck and proceeded to stick the sheet, and on it, she placed a cloth, making a small adjustment, this is so that the sheet would not fall off, and would remain overnight.
You will see in the images how my mother did it. So that you can guide yourself, and do it at home if you have any pain or inflammation in the body.

Les explicaré y les mostraré como mi mamá me hacía todos los días, mi mamá agarraba una hoja de esta planta, cuando ya estaba el sol bajo, en la noche luego la pasaba por el fuego, esto es para suavizarla un poco, de allí agregaba la pomada mentolada en el cuello y procedía a pegar la hoja, y sobre de ella colocaba un paño, haciendo un pequeño ajuste, esto es para que la hoja no se cayera, y permaneciera toda la noche.
Van a ir viendo en las imágenes como lo realizo mi mamá. Para que ustedes se puedan guiar, y hacerlo en sus casas si presentan algún dolor o inflamación en el cuerpo.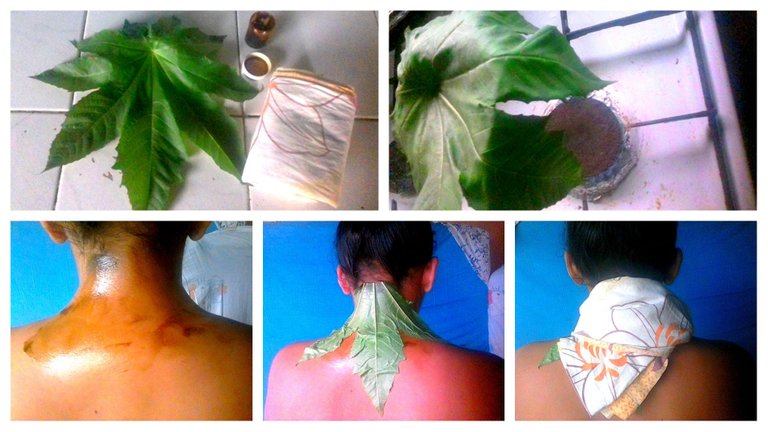 Sometimes it happens to us that we have plants in our homes like this one, and we don't know what it is for or what we can use it for, and what we do is cut it down. But I recommend that whoever has this plant does not cut it, which is very healing, beneficial.

A veces nos sucede que tenemos plantas en los hogares como esta, y no sabemos para qué nos sirve o para que la podemos utilizar, y lo que hacemos es cortarla. Pero les recomiendo quien tenga esta planta no la corte, la cual es muy curativa, beneficiosa.
The photos were taken from a Canaima tablet.

Collage making program: Fotojet Link
Translated from google translator Link
Photo editing program: PhotoFiltre 7

Las fotos fueron tomadas desde una tablet Canaima.
Programa para hacer el collage: Fotojet Enlace
Traducido del traductor de Google Enlace
Programa para editar fotos: PhotoFiltre 7

I say goodbye until another opportunity.
Thanks for your support.

Me despido hasta otra oportunidad.
Gracias por su apoyo.

Copyright @imargasa. All rights reserved.

---
---