[Eng\Esp] Benefits of water bottles for fruit plants.\ Beneficios de las botellas de agua, para las plantas frutales.

Ancient customs, no matter how absurd they may seem, have been maintained throughout the ages, and today they have been used very frequently, especially due to all the changes that are happening worldwide.
This time I am going to talk to you about the bottles full of water that the grandparents placed in the bushes that very frequently threw their fruits that did not set. Some even gave the bushes a leash, scolding them so that they would not throw away the small fruits, others scolded and threatened that if it did not bear fruit they would cut it, I do not know what the mystery of the bottle of water hanging in the bushes will be, but it works and especially if they fill it with river water or much better if they fill it with salty seawater.
I know several people who have told me that they have worked for them, and that they have finally managed to get a harvest from that plant. At the moment in my house, I have a cocoa bush that is in a fertile period, but we had not been able to do something to make its fruits set, so I put a bottle of water on it and at this moment I am seeing the results.
I do not know what the mystery of this will be, but it actually works, it is very incredible, we have two avocado plants that we are going to do the same procedure. If you have a fruit plant in your home that you are waiting for me to carry and nothing, well I invite you to do this same procedure, to place the bottle with water, so that you can tell the difference.

Las costumbres antiguas, por muy absurdas que parezcan se han mantenido a través de los tiempos y en la actualidad han sido usadas muy frecuentemente sobre todo por todos los cambios que están pasando a nivel mundial.
En esta oportunidad les voy a hablar, de las botellas llenas de agua que colocaban los abuelos en las matas que botaban muy frecuentemente sus frutos que no la cuajaban. Algunos le daban hasta con una correa a las matas, regañándolas para que no botarán los frutos pequeños, otros la regañaban y las amenazaban que si no echaba fruto la cortarían, no sé cuál será el misterio de la botella de agua colgada en las matas, pero funciona y sobre todo si la llenan con agua de río o mucho mejor si la llenan con agua de mar salada.
Conozco varias personas que me han dicho que le han funcionado, y que por fin han logrado obtener una cosecha de esa planta. En estos momentos en mi casa, tengo una mata de cacao que está en periodo fértil, pero no habíamos podido hacer algo para que cuajaran sus frutos, así que le coloque una botella de agua y en este momento estoy viendo los resultados.
No sé cuál será el misterio de esto, pero en realidad funciona, es muy increíble, tenemos dos matas de aguacates que vamos a hacerle el mismo procedimiento. Si tienen en su hogar alguna planta de fruto que ustedes estén esperando que cargue y nada, bueno los invito a que hagan este mismo procedimiento, en colocarle la botellita con agua, para que puedan notar la diferencia.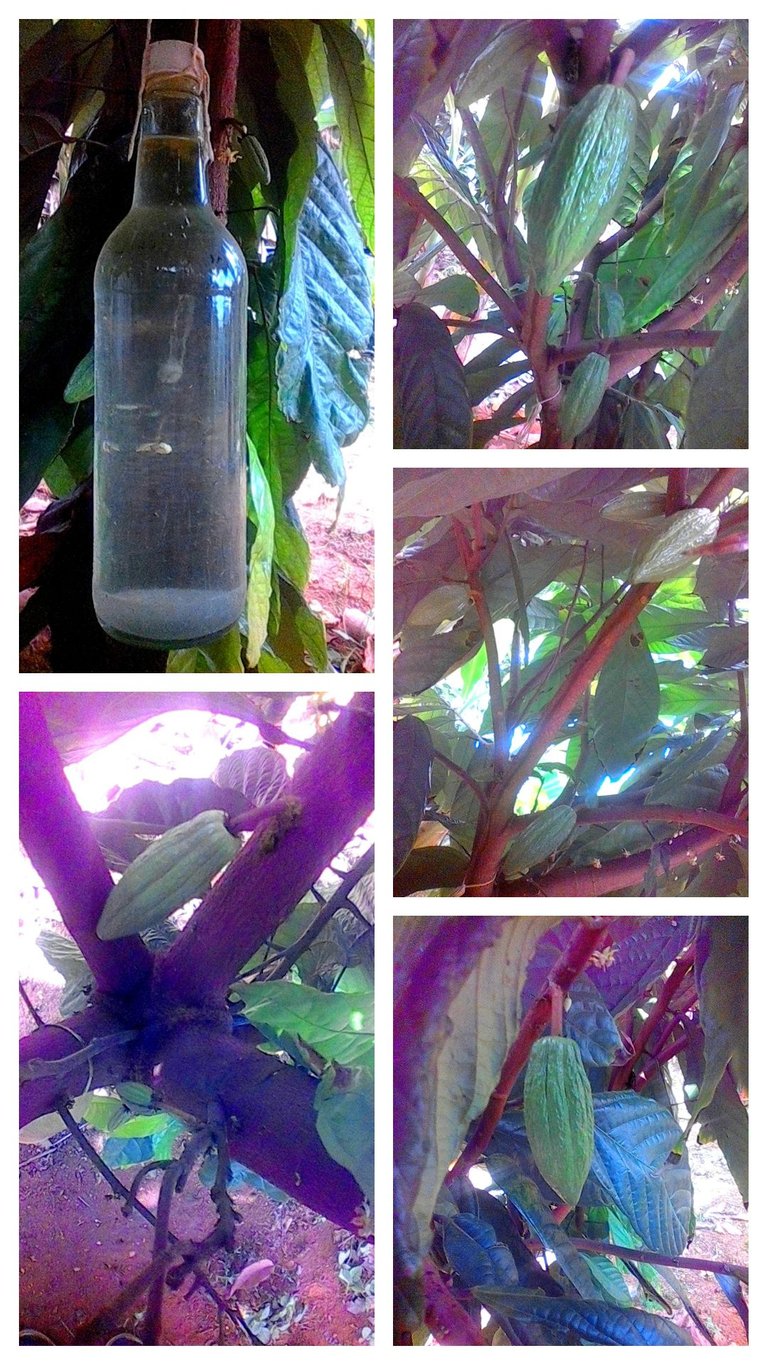 The photos were taken from a Canaima tablet.

Collage making program: Fotojet Link
Translated from google translator Link
Photo editing program: PhotoFiltre 7

Las fotos fueron tomadas desde una tablet Canaima.
Programa para hacer el collage: Fotojet Enlace
Traducido del traductor de Google Enlace
Programa para editar fotos: PhotoFiltre 7

I say goodbye until another opportunity.
Thanks for your support.

Me despido hasta otra oportunidad.
Gracias por su apoyo.

Copyright @imargasa. All rights reserved.

---
---