Los SuperviHivers | ¡Demuestra qué tan bueno eres para sobrevivir! | Invitación [ES|EN]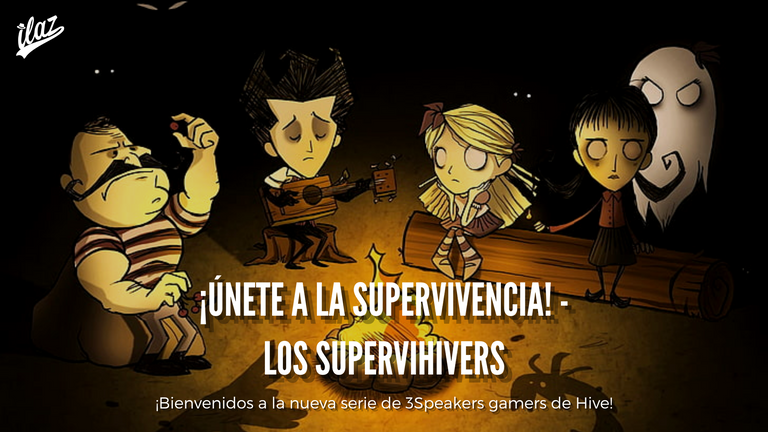 Hecho en canva, Fuente del fondo | Made on canva, Background source
¡Bienvenidos de nuevo a mi blog, chicos! El día de hoy les quiero traer una invitación súper épica para todos esos amantes de los videojuegos y además, para esas personas que forman parte de la comunidad hispana de Hive Gaming (@hivegc) para un evento que —de forma muy personal— quisiera que fuera un éxito rotundo tanto como lo fue la serie de HiveLand propuesta por mis amigos @perceval y @therealflaws.
Así que, hablemos un poco de los detalles:
Welcome back to my blog, guys! Today I want to bring you a super epic invitation for all those video game lovers and also, for those people who are part of the Hispanic community of Hive Gaming (@hivegc) for an event that -in a very personal way- I would like it to be a resounding success as much as the HiveLand series proposed by my friends @perceval and @therealflaws was.

So, let's talk a bit about the details:

El Juego | The Game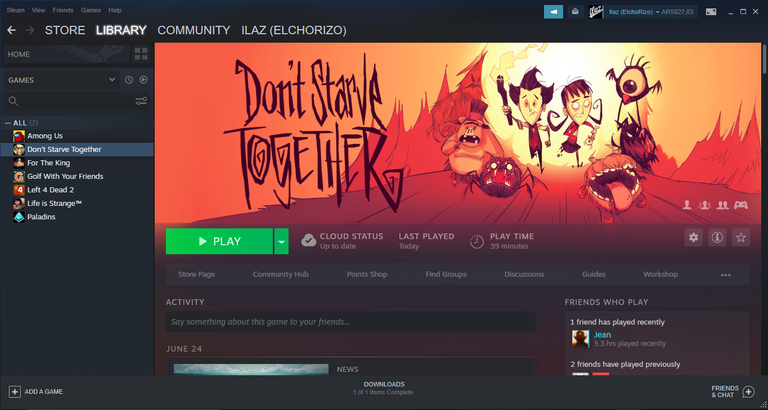 Español
Jugaremos el juego Don't Starve Together, que puede ser conseguido en Steam sin mayores complicaciones para poder estar todos con la misma versión y además poder aprovechar el aspecto online.
La idea será jugar todos conectados a la misma hora en nuestras cuentas de Steam porque yo (@ilazramusic) seré el Host del servidor, por ende, si yo no me conecto, no se puede conectar nadie, según tengo entendido hasta los momentos.
Para los que no saben qué es Don't Starve, es un juego de supervivencia multijugador donde la idea —como lo dice su nombre— es no morir de hambre en primera instancia, pero también tendremos que adentrarnos a un mapa lleno de criaturas y situaciones que nos pondrán en peligro constante, veremos cuántos días seremos capaces de aguantar en las diferentes rondas.
English
We will play the game Don't Starve Together, which can be obtained on Steam without major complications to be able to be all with the same version and also to take advantage of the online aspect.

The idea will be to play all connected at the same time in our Steam accounts because I (@ilazramusic) will be the Host of the server, therefore, if I don't connect, no one can connect, as I understand so far.

For those who don't know what Don't Starve is, it is a multiplayer survival game where the idea -as its name says- is not to die of hunger in the first instance, but we will also have to enter a map full of creatures and situations that will put us in constant danger, we will see how many days we will be able to endure in the different rounds.

El Servidor | The Server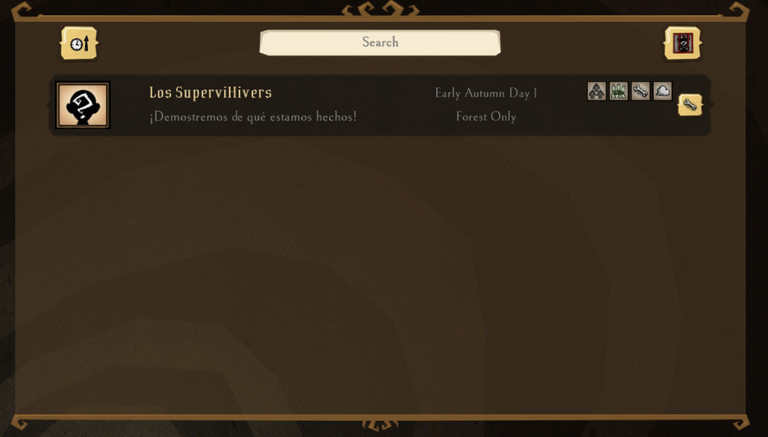 Será un mapa sencillo, únicamente con bosque para comenzar a indagar sobre el juego, luego, en los próximos lanzamientos de la serie, haremos cosas un poco más extremas, la idea es pasarla bien y aprender a jugar en el proceso.
It will be a simple map, only with forest to begin to learn about the game, then, in the next releases of the series, we will do things a little more extreme, the idea is to have fun and learn to play in the process.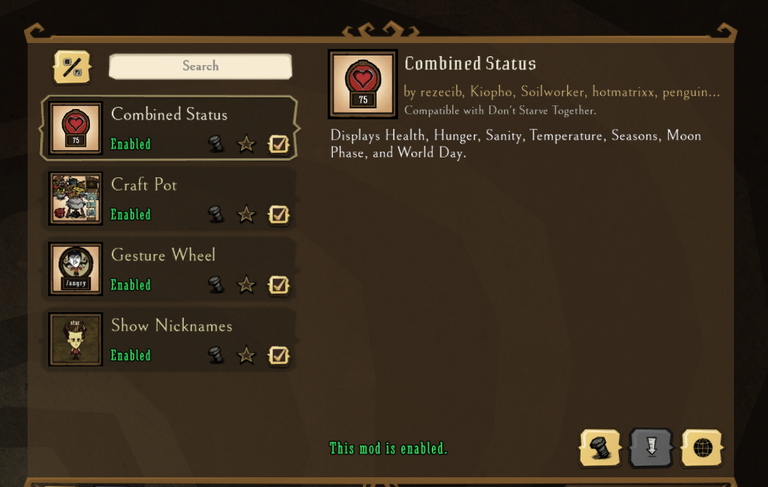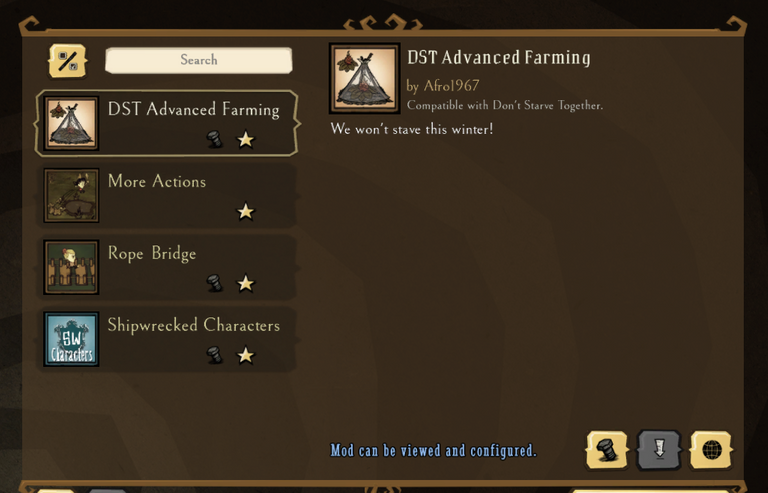 Tendremos varios mods (tanto a nivel de cliente como a nivel de servidor) que harán que la experiencia sea totalmente épica, sobretodo para aquellos (como yo) que ya han jugado al DST anteriormente, está completamente personalizado.
We will have several mods (both client and server level) that will make the experience totally epic, especially for those (like me) who have played DST before, it is completely customized.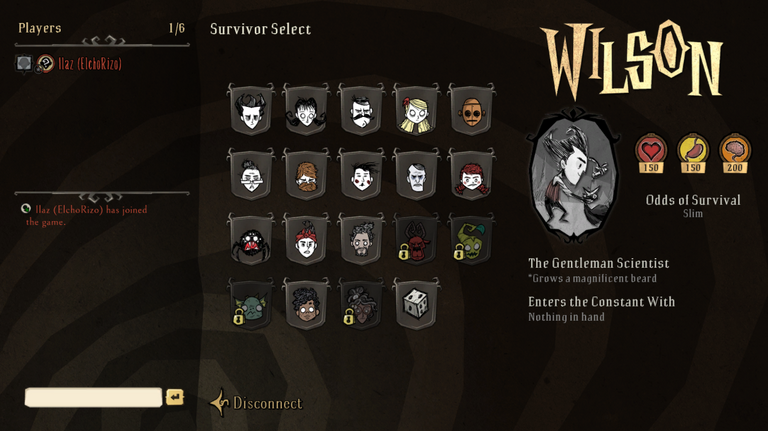 Con el DST en Steam tendremos acceso a una amplia variedad de personajes y la idea principalmente es rolear a los mismos, es decir, vamos a tratar de que los gameplays sean interesantes (porque serán largos), entonces, es importante que si van a elegir un personaje, lo vayan estudiando para poder hacer una voz que se caracterice con el mismo, le colocaremos un tipo de personalidad, como si estuviéramos en un rol de D&D, así haremos que la experiencia sea completamente única.
With DST on Steam we will have access to a wide variety of characters and the main idea is to role-play them, that is, we will try to make the gameplays interesting (because they will be long), then, it is important that if you are going to choose a character, study it in order to make a voice that is characterized with it, we will place a type of personality, as if we were in a D&D role, so we will make the experience completely unique.

La Invitación | The Invitation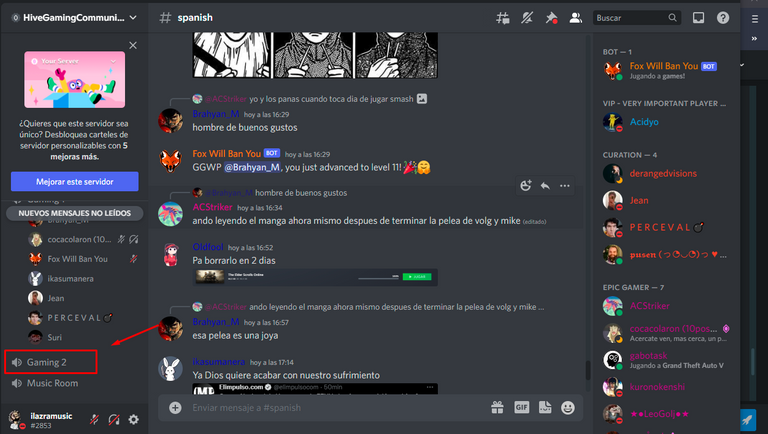 Utilizaremos el chat de voz "Gaming 2" del servidor de discord de la comunidad de Hive Gaming (@hivegc) para interactuar entre los sobrevivientes.
Para entrar al servidor de Discord mencionado anteriormente, solo den click al banner que verán a continuación:
We will use the "Gaming 2" voice chat of the Hive Gaming community discord server (@hivegc) to interact between survivors.

To enter the Discord server mentioned above, just click on the banner below:

La cita será en el siguiente horario (por favor estar unos 30 minutos antes para poder descargar los mods de cliente, que serán necesarios para que la experiencia sea óptima):
The appointment will be at the following time (please be there at least 30 minutes before to be able to download the client mods, which will be necessary for an optimal experience):
---
10:00pm (Hora de Venezuela | UTC-4) - 11:00pm (Hora Argentina | UTC-3)
22:00 (Venezuela Time | UTC-4) - 23:00 (Argentina Time | UTC-3)
Nota: Solo se podrán unir 6 personas por los momentos, pero vamos a trabajar en un segundo mapa para que otras personas puedan jugar la serie desde otra perspectiva.
Los primeros 6 que lleguen a esa hora, formarán parte de la misma en esta primera ocasión.
Note: Only 6 people will be able to join at the moment, but we are going to work on a second map so that other people can play the series from another perspective.

The first 6 who arrive at that time, will be part of it this first time.

Palabras Finales | Final Words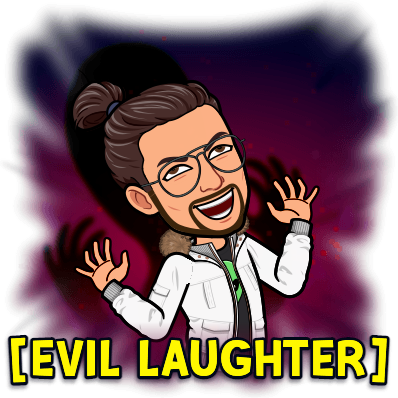 ¿Seremos capaces de sobrevivir a esta aventura? ¿O seremos solo carne de aves rapiñas esperando un final inminente? Pues, eso lo veremos únicamente cuando comencemos con este épico evento en @threespeak, ¡los esperamos!
¡Sigamos creciendo y haciendo crecer el amor por @threespeak-es y por el mundo gaming!
Will we be able to survive this adventure, or will we just be fodder for birds of prey waiting for an imminent end? Well, we will see that only when we start this epic event in @threespeak, we are waiting for you!

Let's keep growing and growing the love for @threespeak-es and the gaming world!

---
---