¡El Blitz Ganchos locos haciendo de las suyas en la Grieta! | URF Gameplay #5 [ES | EN]
---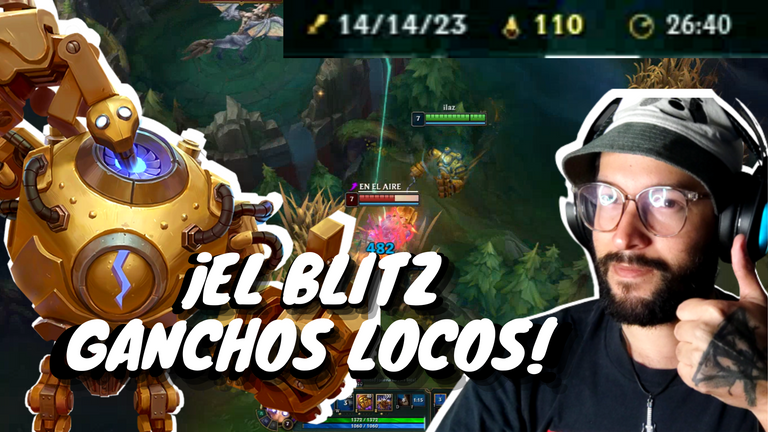 ¡Bienvenidos de nuevo a mi blog, chicos! El día de hoy les traigo un vídeo gameplay más en mi canal de @threespeak jugando URF con amigos tanto de Hive como fuera de, entre los que están en Hive mencionaré a @dimeshana y a @thejuls porque siempre están activos para trolear conmigo y fuera de Hive está mi amigo Baldev.
Para los que no recuerdan que es URF, son siglas que significan Ultra Rápido y Furioso, el cuál es un modo de juego de League Of Legends en la Grieta del Invocador en el que no se gasta maná y los poderes tardan muy poco en recargarse, por lo que se vuelve un festival de locura para lanzar poderes como un demente.
Welcome back to my blog, guys! Today I bring you one more gameplay video on my @threespeak channel playing URF with friends both on Hive and off Hive, among those on Hive I will mention @dimeshana and @thejuls because they are always active to troll with me and off Hive is my friend Baldev.

For those who don't remember what URF stands for Ultra Rapid Fire, which is a League Of Legends game mode in Summoner's Rift where no mana is spent and powers take very little time to recharge, so it becomes a madness fest to throw powers like a madman.

La Partida | The Game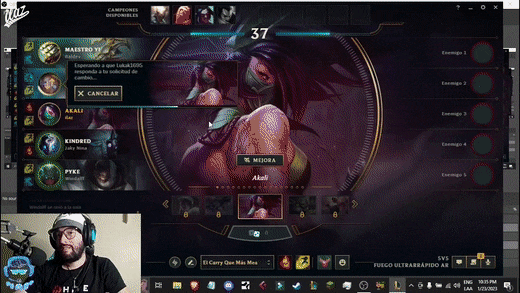 Español
Al principio me salió Akali en la selección de campeones pero yo no sé utilizarla en absoluto a pesar de que sé cómo funcionan sus poderes, pero algún día comenzaré a utilizarla a ver qué tal.
Procedí a pedirle a @thejuls que me cambiara a Akali por Blitzcrank porque ese es un campeón que sí he utilizado durante mucho tiempo, tanto de soporte, como de full daño en diferentes estilos (Daño AD, Daño AP) así que realmente sé utilizarlo al 100%.
Además, soy bastante bueno calculando su Q, la cuál es un poder que te permite utilizar el brazo mecánico de Blitz para atraer rivales y aplicarles mucho CC (Crowd Control) para que no se puedan mover y hacerles daño o permitir que tus aliados les hagan daño.
English
At first I got Akali in the champion selection but I don't know how to use her at all even though I know how her powers work, but someday I'll start using her and see how it goes.

I proceeded to ask @thejuls to trade me Akali for Blitzcrank because that's a champion I have used for a long time, both support, and full damage in different styles (AD Damage, AP Damage) so I really know how to use it 100%.

Also, I'm pretty good at calculating his Q, which is a power that allows you to use Blitz's mechanical arm to lure opponents and apply a lot of CC (Crowd Control) so they can't move and hurt them or allow your allies to hurt them.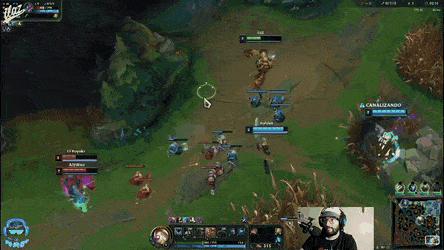 Me tocó ir en el carril inferior junto a Baldev, él iba con Master Yi, nuestros rivales eran un Kha'Zix y una Kalista que al principio de la partida se llevó un Pentakill, es decir, nos mató a todos, por lo que tenía ya mucha ventaja de oro sobre nosotros.
Sin embargo, la sinergia que hicimos Baldev y yo fue épica, además del hecho de que los ADC están siempre en desventaja cuando se trata de hacer daño, a menos de que de verdad tengan una cantidad absurda de ventaja de oro con respecto a los rivales.
Nuestras habilidades hacían demasiado counter a las habilidades y las posibilidades de nuestros enemigos, así que la pasamos bastante bien en la fase de línea.
I got to go in the bottom lane next to Baldev, he was going with Master Yi, our opponents were a Kha'Zix and a Kalista who at the beginning of the game took a Pentakill, i.e. killed us all, so he already had a lot of gold advantage over us.

However, the synergy Baldev and I did was epic, plus the fact that ADCs are always at a disadvantage when it comes to doing damage, unless they actually have an absurd amount of gold advantage over opponents.

Our abilities did too much counter to our enemies' abilities and odds, so we had a pretty good time in the line phase.
Durante la partida todo iba saliendo muy bien, pero el escalado comenzó a hacer de las suyas y en definitiva nos estábamos quedando sin opciones para poder matar a nuestros rivales, así que la partida empezó a ponerse un poco complicada.
Blitzcrank tiene una capacidad de año muy alta, sin embargo, es daño netamente burst, es decir, no es daño progresivo, así que, si los enemigos se compran items que los vuelvan muy tanques, es difícil que los pueda matar, jústamente me estaba sucediendo esto con algunos de los campeones de escalado del equipo contrario.
During the game everything was going very well, but the scaling began to do its thing and in short we were running out of options to kill our opponents, so the game started to get a little complicated.

Blitzcrank has a very high year capacity, however, it is purely burst damage, that is, it is not progressive damage, so if the enemies buy items that make them very tanky, it is difficult to kill them, this was happening to me with some of the scaling champions of the opposing team.
Lo peor de todo, es que más allá de lo mencionado anteriormente, también tuve problemas porque algunos campeones del equipo enemigo le hacía counter a mis propias habilidades, como por ejemplo, lo que ven en este gif, el Kassadin bugueando mi Q, es una locura, además, la Kalista se estaba haciendo tanque y aún así hacía muchísimo daño.
The worst of all, is that beyond the above mentioned, I also had problems because some champions of the enemy team countered my own abilities, for example, what you see in this gif, the Kassadin bugging my Q, it's crazy, also, the Kalista was becoming a tank and still did a lot of damage.

Créditos Adicionales | Additional Credits
Los gif fueron creados por mí a través de la página gfycat.com con clips tomados del vídeo.
La música de fondo del intro y del vídeo es una canción de League Of Legends de libre uso y puede ser conseguida en el siguiente enlace de Youtube:
The gifs were created by me through the page gfycat.com with clips taken from the video.

The background music for the intro and the video is a free to use League Of Legends song and can be obtained from the following Youtube link:

Palabras Finales | Final Words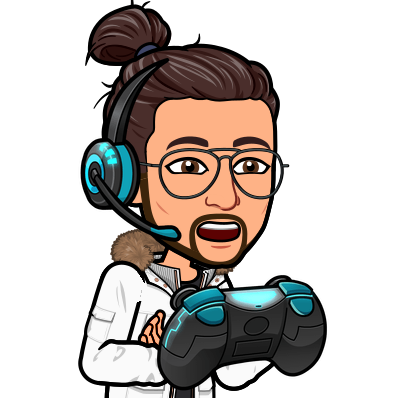 Si has llegado hasta aquí, te lo agradezco demasiado, espero que disfruten de este gameplay troleando con amigos y gritando mucho, lamentablemente no nos acompañó la victoria pero nos divertimos mucho.
Además, si quieres jugar conmigo LoL, déjame un comentario y tu nombre de invocador y nos lanzamos unas partidas juntos, ¡sigamos creciendo y haciendo crecer el amor por League Of Legends!
If you have made it this far, I thank you very much, I hope you enjoy this gameplay trolling with friends and shouting a lot, unfortunately we were not accompanied by victory but we had a lot of fun.

Also, if you want to play LoL with me, leave me a comment and your summoner name and let's play some games together, let's keep growing and making the love for League Of Legends grow!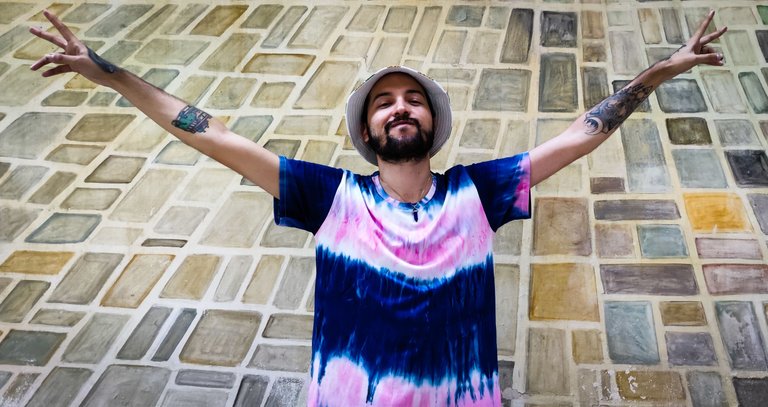 ---
▶️ 3Speak
---
---