What If... Zombies?! - A zombie movie featuring the Avengers / Una película de zombies protagonizada por los Vengadores
Tras haber tenido que ausentarme un tiempo por diversos motivos personales, regreso ahora para hablar del quinto episodio de "What If...?", la antología multiversal que nos muestra historias alternas a las presentadas en las películas del Universo Cinematográfico de Marvel (UCM)
El quinto episodio fue probablemente uno de los que más expectativas generó entre muchos de los seguidores de Marvel, pues está inspirado en los cómics "Marvel Zombies", donde en una realidad alterna, distintos personajes del Universo Marvel deben enfrentarse al apocalipsis zombie. Dicha serie de comics obtuvo bastante popularidad, por lo que incluso muchos de los que no seguimos el mundo de los cómics, hemos sabido de su existencia y su concepto. ¿Qué tal resultó el episodio?
After having to be absent for a while for various personal reasons, I'm back now to talk about the fifth episode of "What If...?", the multiversal anthology that shows us alternate stories to the ones presented in the movies of the Marvel Cinematic Universe (MCU).

The fifth episode was probably one of the ones that generated the highest expectations among many Marvel fans, as it is inspired by the comic books "Marvel Zombies", where in an alternate reality, different characters from the Marvel Universe must face the zombie apocalypse. This comic book series was quite popular, so even many of us who do not follow the world of comics have known about its existence and concept. How did the episode turn out?
---
The Avengers: Infinity Zombie war
La historia comienza prácticamente en el mismo punto en el que comienza Infinity War, con Bruce Banner siendo enviado por Heimdall a la tierra para advertir a Los Vengadores sobre las intenciones de Thanos de obtener todas las gemas del infinito. Sin embargo, en esta realidad, la Tierra a la que llega Banner es una infestada de zombis.
A partir de aquí, la historia se desvincula casi completamente de Infinity War, salvo por su ubicación cronológica. Banner se une a un grupo de sobrevivientes, conformado por Peter Parker (Spider-Man), Hope van Dyne (La Avispa), Bucky Barnes (El Soldado de Invierno), Okoye, Kurt, Sharon Carter, Happy Hogan y por supuesto, la capa de Strange. Dicho grupo busca cualquier esperanza para salir de la crisis en la que se encuentran y prevenir el inminente apocalipsis.
The Avengers: Infinity Zombie war.

The story begins at basically the same point where Infinity War begins, with Bruce Banner being sent by Heimdall to Earth to warn The Avengers about Thanos' intentions to obtain all of the Infinity Gems. However, in this reality, the Earth that Banner arrives on is a zombie-infested one.

From here, the story is almost completely detached from Infinity War, except for its chronological placement. Banner joins a group of survivors, consisting of Peter Parker (Spider-Man), Hope van Dyne (The Wasp), Bucky Barnes (The Winter Soldier), Okoye, Kurt, Sharon Carter, Happy Hogan and of course, the Strange cape. This group is looking for any hope to get out of the crisis in which they find themselves and prevent the imminent apocalypse.
---
Una película de zombies, pero con superhéroes
Lo que caracteriza a este episodio en comparación con el resto de la serie es que tanto su trama, como su esencia y como su humor, están completamente inspirados en el típico cine de zombis y de apocalipsis en general. Al inicio hubo varios chistes y varios comentarios que me hacían pensar que el capítulo se tomaba muy poco en serio a sí mismo, pero al cabo de un rato, entiendes que ese es el punto, pues la serie se toma las mismas libertades que se toma ese tipo de cine.
Situaciones absurdas como la cabeza viviente de Scott Lang, momentos con frases o chistes que demuestran cierta insensibilidad de parte de los personajes hacia la situación que están viviendo, escenas grotescas o cosas como el final abierto con la falsa esperanza de los héroes y el contraste con la gran realidad que les rodea. Todos estos son elementos similares a lo que uno podría ver en una película de terror ochentera.
A zombie movie, but with superheroes.

What characterizes this episode compared to the rest of the show is that its plot, its essence and its humor are completely inspired by the typical zombie and apocalypse movies in general. At the beginning there were several jokes and several comments that made me think that the chapter took itself too little seriously, but after a while, you understand that this is the point, because the series takes the same liberties that this kind of movies take.

Absurd situations like Scott Lang's living head, moments with phrases or jokes that show a certain insensitivity on the part of the characters towards the situation they are living, grotesque scenes or things like the open ending with the false hope of the heroes and the contrast with the great reality that surrounds them. These are all elements similar to what one might see in an eighties horror movie.
---
Los protagonistas de esta historia
Al ser básicamente una película de zombis protagonizada por los personajes de Marvel, los personajes que eligieras para llevar a la historia tendrían un papel funamental para darle personalidad a la historia.
En ese sentido, fue acertada la selección de personajes variados entre diferentes películas del UCM, entre principales y secundarios, serios o cómicos, con poderes o normales. Peter Parker como principal protagonista nos da una perspectiva inocente y esperanzada sobre el mundo alrededor.
Con Bucky tenemos al típico personaje fuerte y serio de estas historias, Kurt, Happy y Scott se vuelven el comic relief, el resto de personajes juegan con papeles también similares a los típicos de estas películas, pero con relación con sus historias originales y sus pasados.
The main characters of this story

Being basically a zombie movie starring Marvel characters, the characters you chose to bring into the story would play a funamental role in giving the story personality.

In that sense, the selection of varied characters between different movies of the MCU, between main and secondary, serious or comic, with powers or normal, was right. Peter Parker as the main protagonist gives us an innocent and hopeful perspective on the world around us.

With Bucky we have the typical strong and serious character of these stories, Kurt, Happy and Scott become the comic relief, the rest of the characters play with roles also similar to the typical ones of these movies, but with relation to their original stories and their pasts.
---
Un episodio flojo pero funcional
La trama de este episodio no es tan profunda como su predecesor sobre Dr. Strange, así como seguramente no habrá sido lo que muchos habrán imaginado. Sin embargo, considero que es lo suficientemente interesante para mantener la atención del público en la historia, e incluso sentir la tensión gracias a la conexión empática con los personajes, pues son exactamente los que ya conocíamos, a diferencia de otros episodios donde los personajes tienen tantos cambios que prácticamente se vuelven otro personaje.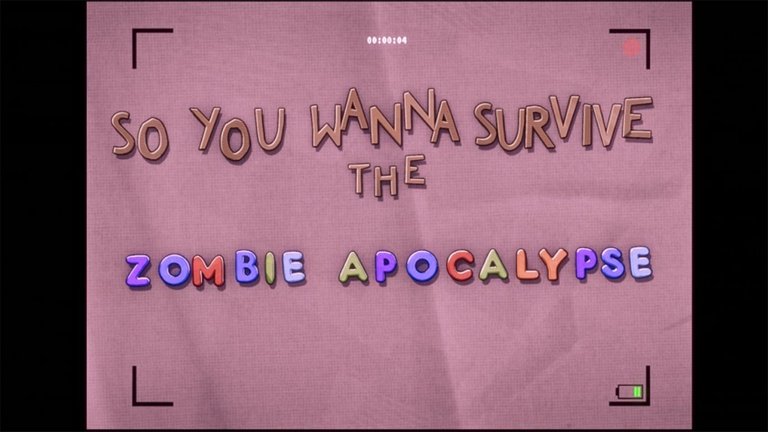 Captura de pantalla del episodio
Screenshot from the episode
El humor de "What If... Zombies?!" contrasta mucho con el drama que viven los personajes, siendo algo exagerado en un par de ocasiones (La guía de supervivencia de Peter es probablemente uno de los momentos más extraños del episodio), pero como mencioné antes, probablemente este humor sea buscando asemejarse al humor de las comedias de zombis.
Finalmente, su trama tiene algunas inconsistencias respecto a la continuidad de la saga, especialmente en la escena de Thanos, donde nos podemos preguntar ¿Cómo consiguió la gema tiempo sin haber ido a Nueva York antes? Incluso sí hubiera ido fuera de cámara y se las hubierra arreglado ahí ¿Por qué fue a Wakanda? Su llegada tenía sentido en la película pues es donde protegían la gema mente ¿Pero tiene el mismo sentido en esta realidad? Fuera de los detalles de esa escena, la historia tiene varias cosas que pudieron ser mejor, pero al menos logra la consistencia suficiente para ser creíble.
En resumen, el episodio está lejos de ser perfecto, pero tiene suficiente personalidad como para volverse uno de los más memorables de esta serie.
A weak but functional episode

The plot of this episode is not as deep as its predecessor on Dr. Strange, as well as surely it will not have been what many will have imagined. However, I consider it interesting enough to keep the audience's attention in the story, and even feel the tension thanks to the empathic connection with the characters, as they are exactly the ones we already knew, unlike other episodes where the characters have so many changes that they practically become another character.

The humor in "What If.... Zombies?!" contrasts a lot with the drama that the characters live, being somewhat exaggerated in a couple of occasions (Peter's survival guide is probably one of the strangest moments of the episode), but as I mentioned before, probably this humor is looking to resemble the humor of zombie comedies.

Finally, its plot has some inconsistencies regarding the continuity of the saga, especially in the Thanos scene, where we can wonder how he got the time gem without having gone to New York before? Even if he had gone off-camera and managed there, why did he go to Wakanda? His arrival made sense in the movie because that's where they protected the gem, but does it make the same sense in this reality? Outside of the details of that scene, the story has several things that could have been better, but at least it achieves enough consistency to be believable.

In short, the episode is far from perfect, but it has enough personality to become one of the most memorable of this series.
---
Así concluye esta reseña, en días cercanos reseñaré el próximo episodio y también retomaré mi serie de artículos sobre las películas del UCM. Gracias por leer!
This concludes this review, in the coming days I will review the next episode and I will also resume my series of articles about the MCU movies. Thanks for reading!
---
---