Teluk Intan 'CCF' / Steamed Rice Rolls
I have always love Teluk Intan 'CCF' and during younger days, friends who were from the place Teluk Intan would drive home to get some for us. 'CCF' aka 'Chee Cheung Fun', how we call it in Kantonis, is steamed rolled flat rice. Or we just called it steamed rice rolls. Teluk Intan is situated at Perak, Malaysia. Whereas I am at Kuala Lumpur, Malaysia, far away from Teluk Intan. Teluk Intan's Chee Cheong Fun is famous because it is one of its kind. It is similar to Hong Kong CCF but different fillings. Sadly, we can't travel there to eat now due to strict travel restrictions.
.
Today, I found Teluk Intan 'Chee Cheung Fun' at nearby restaurants in the vicinity. The family set up a small stall at the road side, using just a table and their van to sell this. The parents team up to sell, mother sells Chee Cheung Fun (CCF) while the father sells durian, rambutan and mangosteen. The children hanging out at behind the stalls happily.
Teluk Intan Chee Cheung Fun!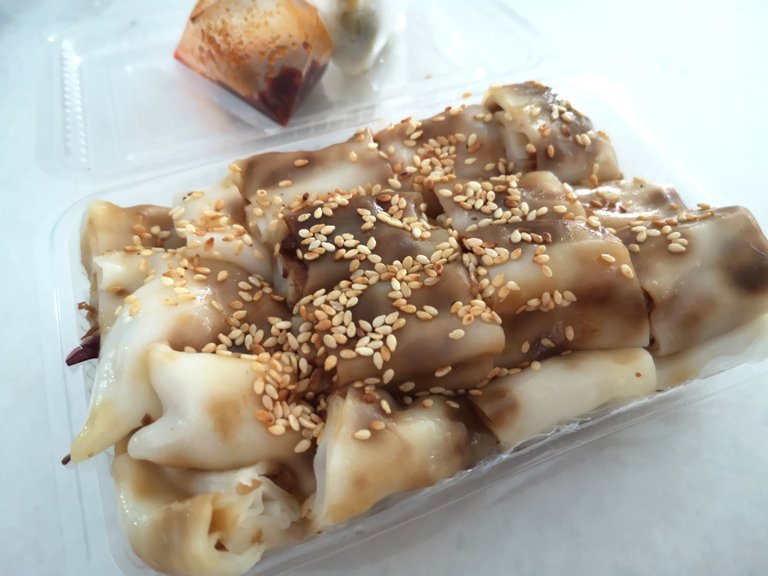 You can tell from the photo, there are some fillings in the rice rolls which are dark jicama, dried shrimps and fragrant fried shallots, generously topped with sesame seeds before served. The fillings are usually perfectly cooked with oyster sauce, dark caramel sauce, salt and pepper. The CCF from this stall is nicely done, not too soft till mushy, but soft and smooth and firm enough, pleasant for every bite. Before the rolls were put into the pack, the seller cut them into cubes section. I thought I would stop at 5th bite, but I went one bite after another.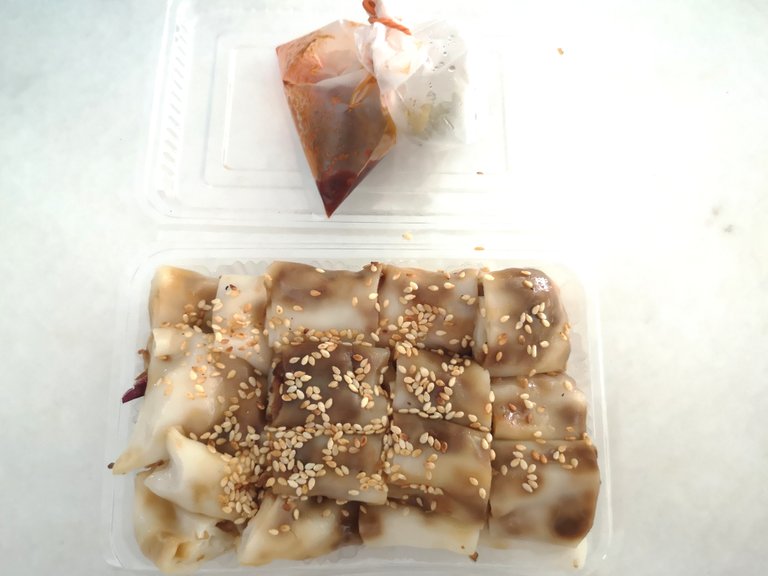 It is not pricey too, about 3.5Hive. Each pack comes with a pack of their homemade spicy chilli sauce/paste and a pack of pickled green chillies.
Let's Eat!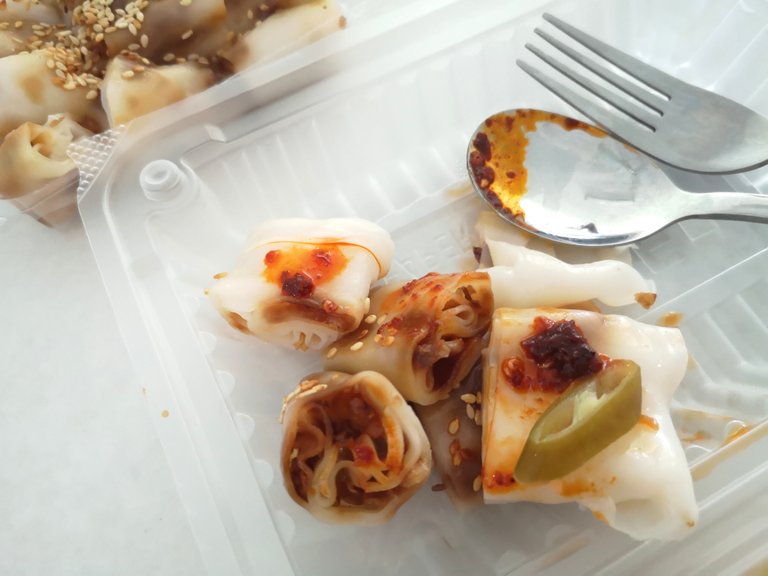 So satisfying to eat something I had never eaten for some time. Even yummier when each mouthful of the 'chee cheung fun' was eaten with their chilli paste and pickled green chilli. For those who do not like spicy, no worries, the rice rolls are good on its own, as the fillings are already very flavourful and savoury. BUT, you might at least want to try CCF every bite with the pickled green chillies, as they add some sort of piquant kick to your every bite. Let me show you the side view, then you can see the nice rolls.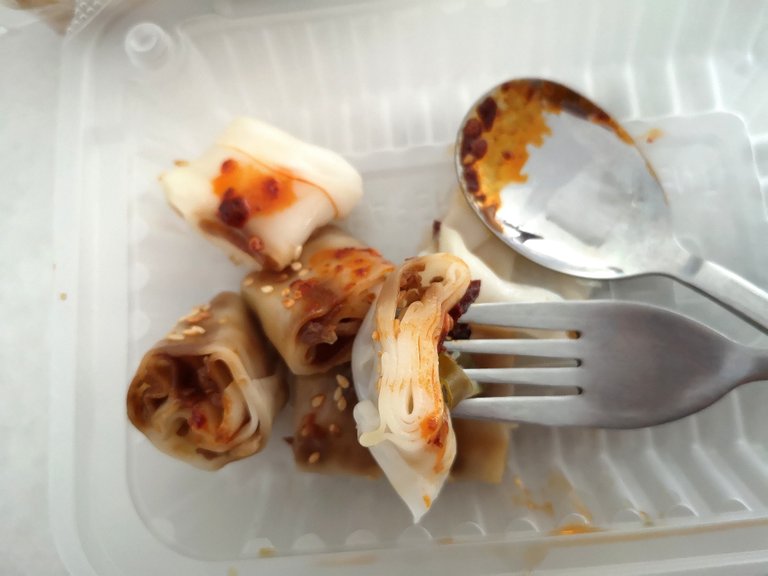 I almost forgot to open up the roll to show you guys, this was the last one, let's roll it open to show you. However, not much fillings here as this was the side part of the rice rolls.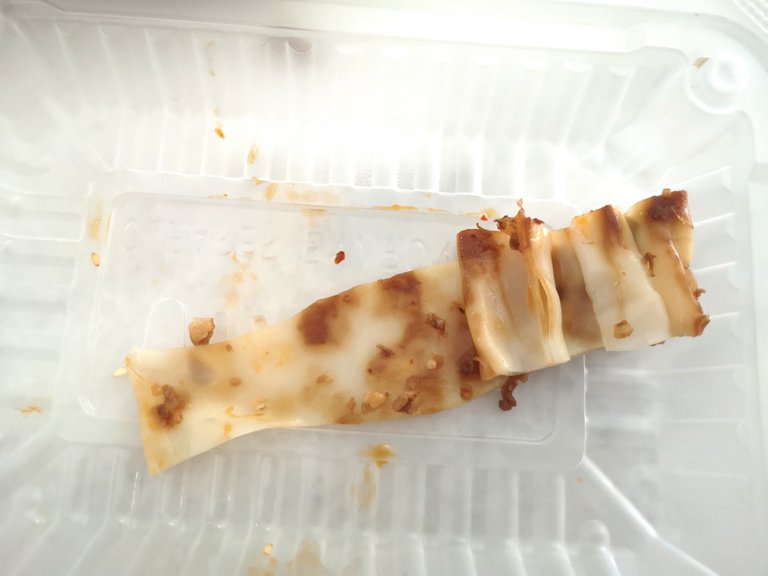 So delectable, I ate almost all, 80% in my tummy, 20% in my hubs, and not enough to share with the boys. Tomorrow, I shall go and buy two packs for my family, and more packs for friends and neighbours. I want to support small food business like this.
---
---
Thank you for reading. Take care. Stay healthy.

❤️Love from me❤️
🌷Flowers for you🌷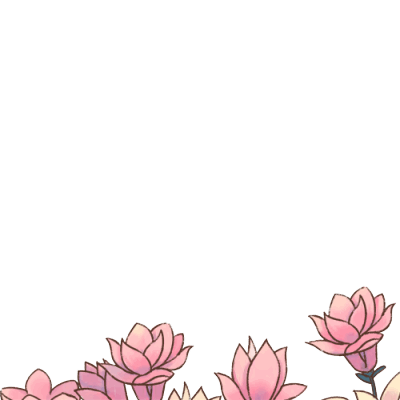 ---
---