Grab A Mug To A Hospital Visit
I was about to grab a mug of coffee to drink in that tiring afternoon when I saw my son walking towards me, crying faintly. While I about to ask him what happened, I saw blood trail on the floor, then my gaze led to the source of the dripping blood. My son's head. Back of the head, to be exact.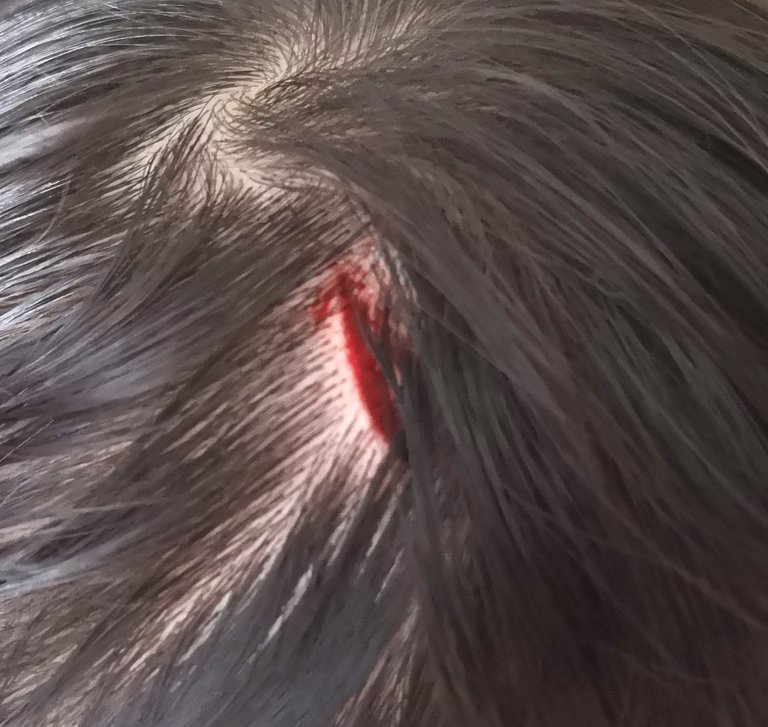 I wasn't sure what happened and only able to know that he might have slipped in the bathroom and knocked his head somewhere. The thing was, we didn't hear any "boom" fell-down sound at all. I asked my eldest son to go to the bathroom to have a look. With his investigation instinct, he immediately spotted something and came to tell me, "Yes, brother fell down there, there was blood and a chunk of hair near the door bottom railing."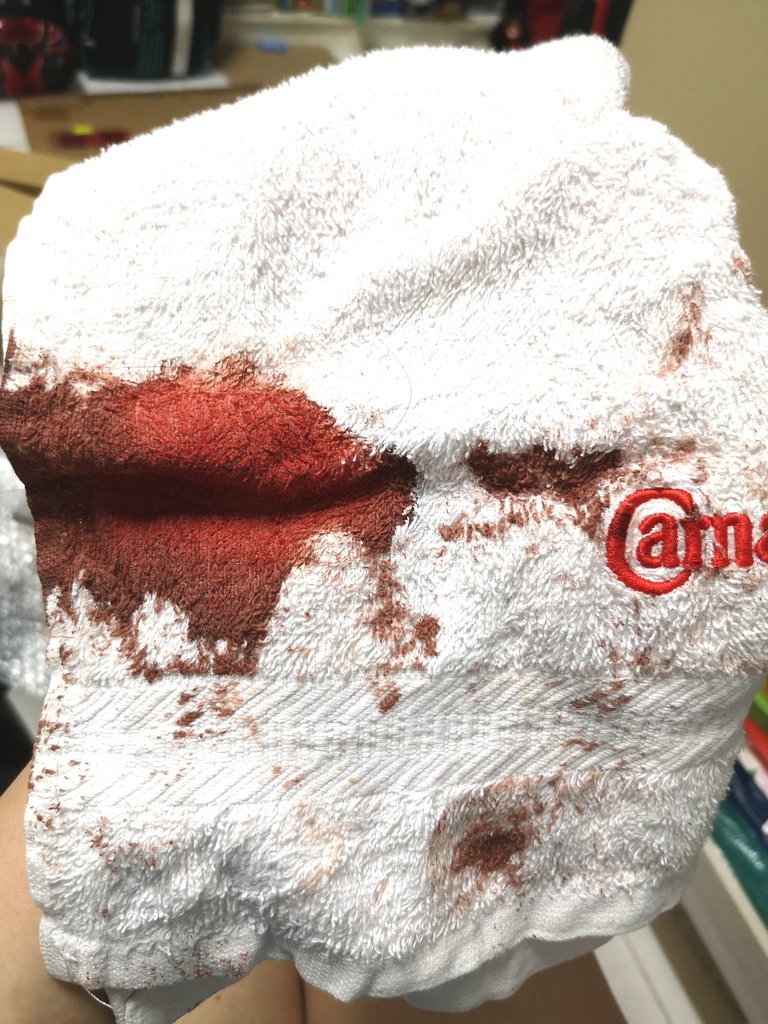 That explained the deep cut. I finally spotted the wound after rustling his hair here and there to find the source of blood. I had never been afraid of blood, not until when I saw the blood non-stop dripping from the wound. I remained calm on my countenance for his sake. But my body betrayed me, expressing my fear and panic in shivers. My hands shivered no matter how I tried to stop the shiver. I was so terrified me when I noticed my son didn't cry out loud, he was faintly crying but he couldn't speak. Too shocked I guess.
I called my husband immediately and asked him to return home. We needed to get to the clinic to have the wound examine. Thankfully, on the way to the clinic, the blood stopped dripping. My son spoke his first words. "Tired. Mummy, I am tired."
I hope it wasn't some serious head injury.
Doctor examined and said it wasn't a too deep cut but needed some stitch too and if we could find a hospital with glu-stitch, that would be great because his cut wasn't too deep till need the needle stitch.
We found the hospital. To cut the story short, he managed to get glu-stitch. The doctor even tried to add some statement yo lighten up the tense atmosphere. "Doctor is a hairdresser now ya." Jansen was so tensed and scared and nervous as they razored his hair, followed by many rounds of cleaning the wound with saline water and cotton ball. Then one doctor hold the wound together to close it up while the other applied the glu. And there was no serious head or brain injury. It was an approximately 1.5-2mm deep cut/slit.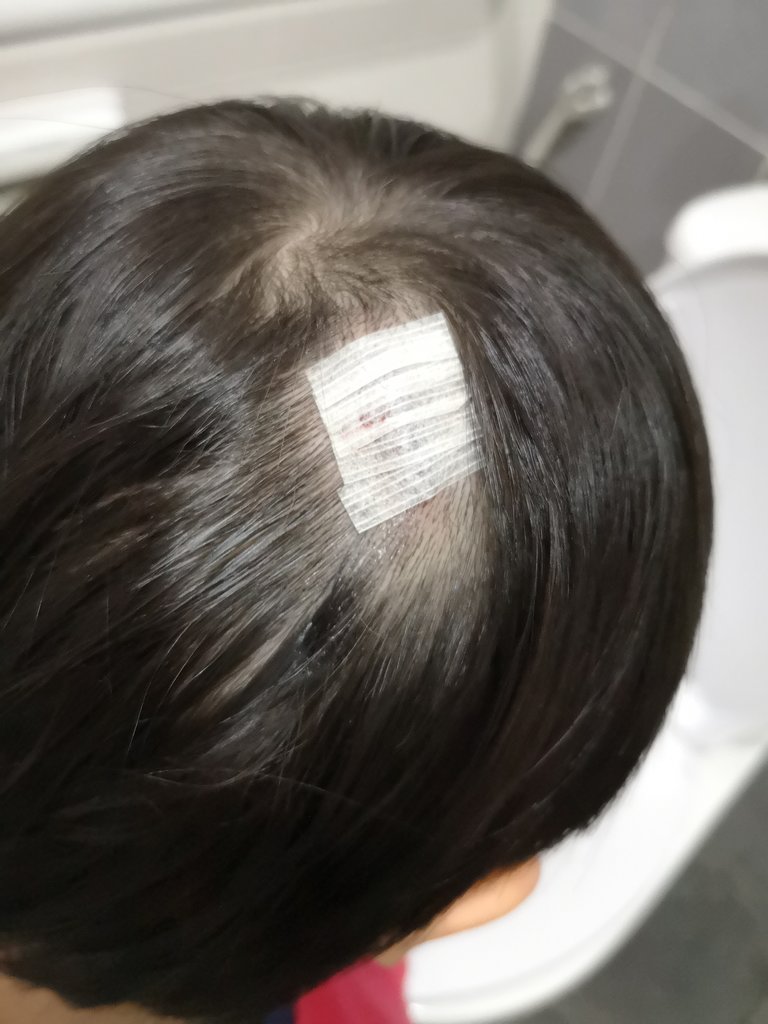 And.... All was good.
We came home 2 hours later.
I grabbed my mug which I left there earlier, which by then had become cold coffee. I didn't even care about the amount of dust sat on top of my coffee.
Took a sip. Then, drank all of them as in it was some kind of drug to comfort me.
Then, my son said he was extremely hungry because he had not eaten anything. He wanted egg cheese omelette. Of course, son.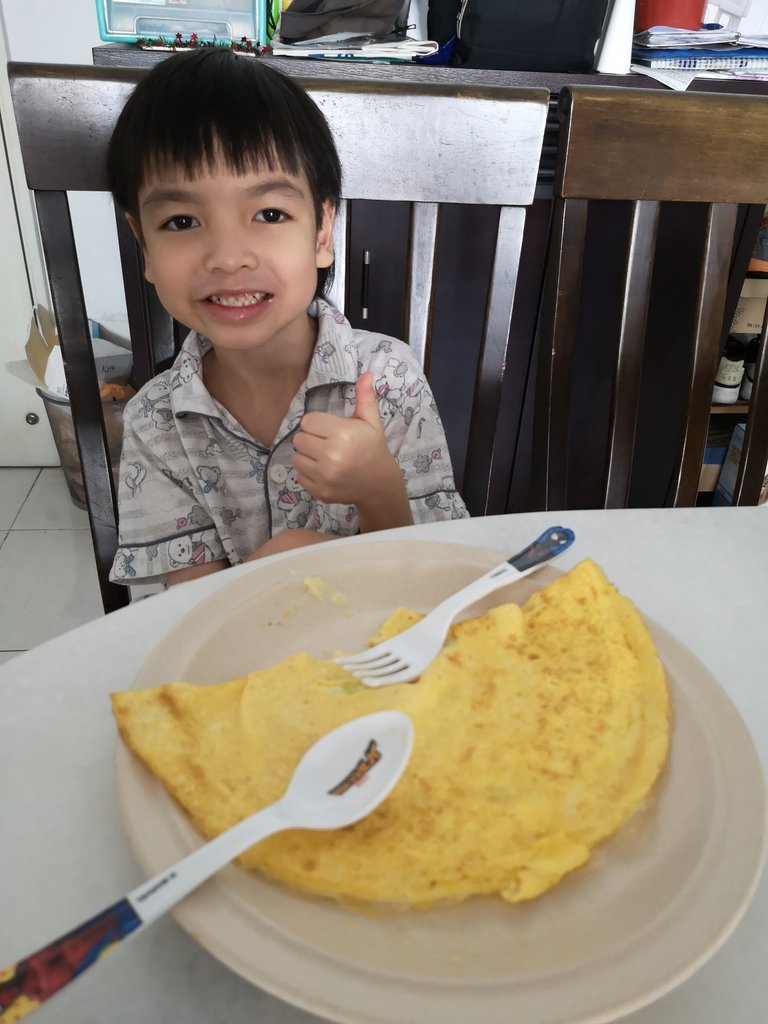 What a relief! He gave me a thumbs-up.
---
---