My Splinterland Season Reward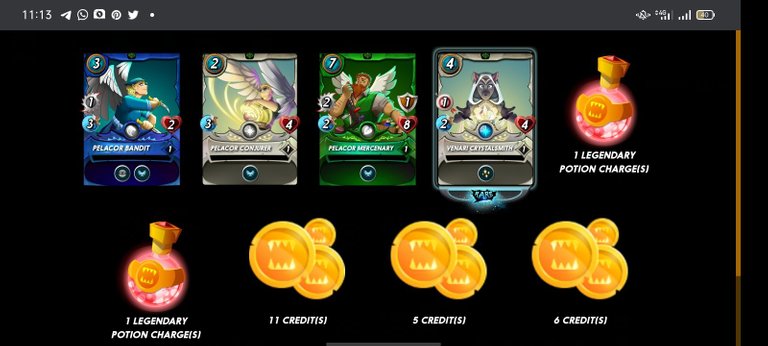 Hello, splinterlands lovers, yesterday the splinterland season ended. I finally reached my max tier which was bronze 3. It was tough but I still pushed through to get there.
So I got 7 chests as my season reward. I was excited and praying to get something good.
Finally, I opened all the chests to claim my rewards, I got four cards - pelacor bandit, pelacor conjurer, pelacor mercenary and a rear card venari crystalsmith with two legendary potions chargers and a total of 22 credits.
Honestly, I was disappointed and for the first time I did not get DEC from my season reward, yeah I was expecting to get something big, I had high hopes maybe luck was not on my side this season.
Don't get me wrong, I still appreciate the rewards, and I look forward to utilizing the cards given to me for sure.
Last season was not all bad, we saw a rise in DEC and SPS. Currently, I have a total of 169 SPS which is approximately $140 now, I still believe the SPS price will skyrocket soon. So for now, I keep on staking and watching the market.
Despite everything, not losing focus is my priority now. Also, I am gathering all I learnt last season and doing my best to improve more. I am considering making some rentals this season. I will be talking to my brother to see how this works and make a decision.
So guys I hope you had a wonderful season and got amazing rewards. The new season has begun. I hope you are fired up. See you all soon, cheers.
---
---