The reddish color of the Pampa sunsets, an atomospheric phenomenon of incomparable beauty. [ENG] / El color rojizo de los atardeceres pampeanos, un fenómeno atomosférico de inigualable belleza. [ESP]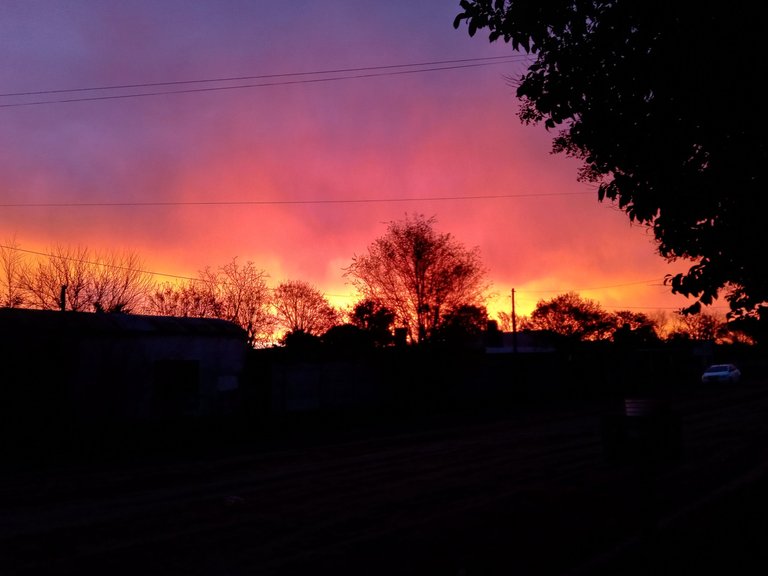 There are atmospheric phenomena that by their very nature are of a beauty difficult to describe. Where the sky presents all the colors of the rainbow not only after rain.
There are some of these phenomena that are manifested after an event that often have nothing pleasant as fires.
Others, on the other hand, herald the arrival of other meteorological phenomena, such as snowfall, cold, winds.
We are used to seeing spectacular images on TV of aurora borealis or marine sunsets that take our breath away for a few moments.
The reddish color that we see at sunrise or sunset is due to the action of direct light rays that have a longer path through the atmosphere in that period of the day.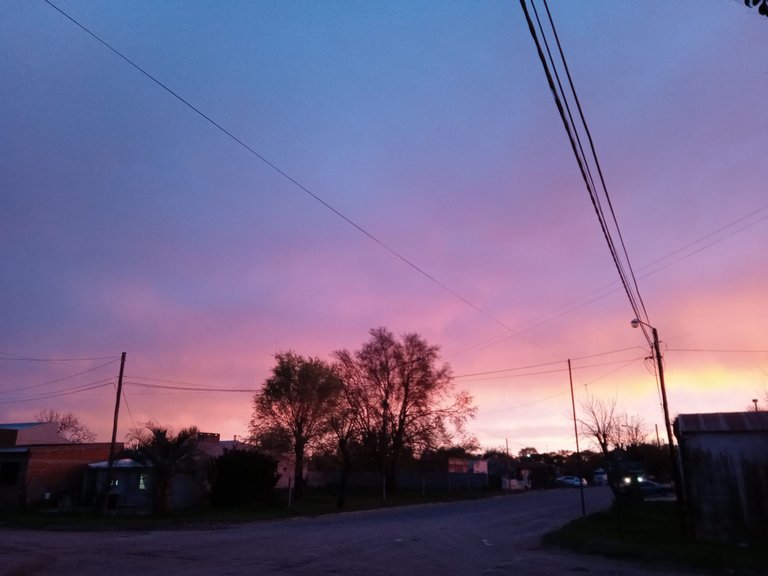 The original white color of the light loses its hue due to the effects of dispersion until it takes on this reddish hue.
The color of the sky is actually violet, but due to the dispersion that this color undergoes until it reaches the retina of our eyes, we see it in a more or less light blue color.
But there are also other images, no less beautiful, in our daily life that deserve to be shown to this traveling community.
Haveyoubeenhere allows us to discover places and climatic, atmospheric and meteorological phenomena of an unknown magnitude, in every part of the world, bringing us closer to them through the contribution of each #hiver.
Today I propose the vision of a whole range of colors in the sunset of a Pampa sunset, foreshadowing a later day of cold and wind.
The moment in which the sun "falls" beyond the horizon line and is tinged with a multicolored mosaic of orange, red and yellow brushstrokes.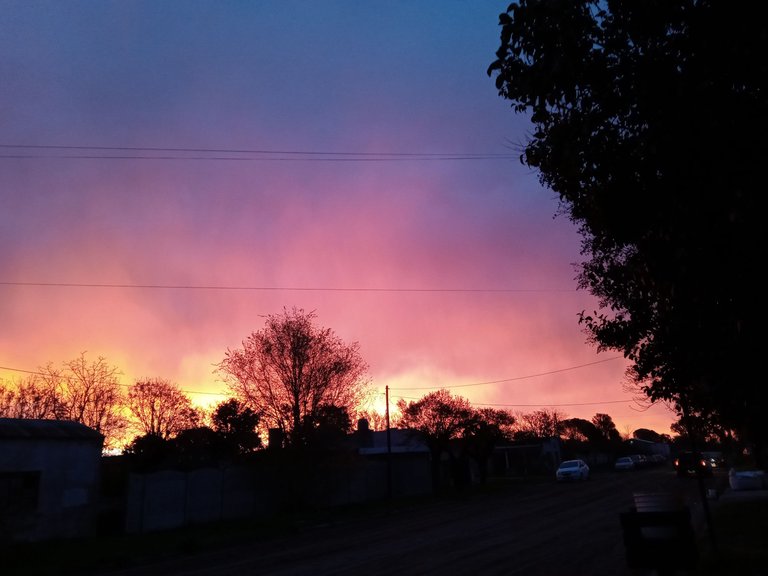 When the Sun is above the rays reach the Earth more directly and the dispersion is smaller. On the other hand, when it is below, its rays suffer a much greater dispersion because they travel up to 10 times more atmosphere until they reach our eyes.
These images correspond to a locality of the Pampas plains of the province of Buenos Aires, geographically a totally flat region, without mountains or pronounced summits that favor the vision of this type of phenomena.
All the photos in this article have been taken at sunset, around 18:00 hours on a clear day at the end of winter, with an approximate temperature of 15° Celsius (59° Fahrenheit).
So that we can compare this phenomenon with others of greater relevance worldwide, perhaps more spectacular but less accessible to our daily life, at the end of the post I leave some examples indicating the source indicating the type of phenomenon in question.
Hay fenómenos atmosféricos que por su propia naturaleza son de una belleza difícil de describir. Donde el cielo presenta todos los colores del arco iris no solo después de la lluvia.
Hay algunos de estos fenóenos que se manfiestan después de un evento que muchas veces no tienen nada de agradable como los incendios.
Otros, en cambio, preauncian la llegada de otros fenómenos meteorológicos, como las nevadas, el frío, los vientos.
Estamos habituados a ver imágenes espectaculares en la TV de auroras boreales o puestas de sol marinas que nos quitan el respiro por algunos instantes.
El color rojizo que vemos en los amaneceres o en las puestas de sol se debe a la acción de los rayos luminosos directos que tienen un recorrido más extenso al atravesar la atmísfera en ese peíodo del dia.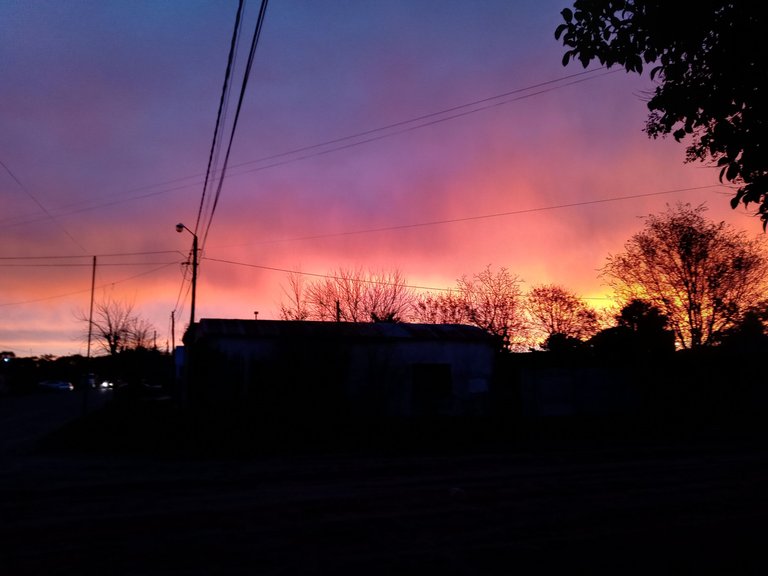 El color blanco original de la luz va perdiendo su tonalidad por efectos de la dispersión hasta tomar esa tonalidad rojiza.
El color del cielo en realidad es violeta pero por la dispersión que sufre este color hasta llegar a la retina de nuestros ojos lo vemos de un color celeste más o menos claro.
Pero también hay otras imágenes, no menos hermosas, en nuestro diario vivir que merecen ser mostradas e esta comunidad viajera.
Haveyoubeenhere nos permite descubrir lugares y fenómenos climáticos, atmosféricos y meteorológicos de una magnitud desconocida, en cada parte del mundo, acercándonos a ellos a través de la contribución de cada #hiver.
Hoy les propongo la visión de toda una gama de colores en la puesta de sol de un atardecer pampeano, preanunciando un dia posterior de frio y viento.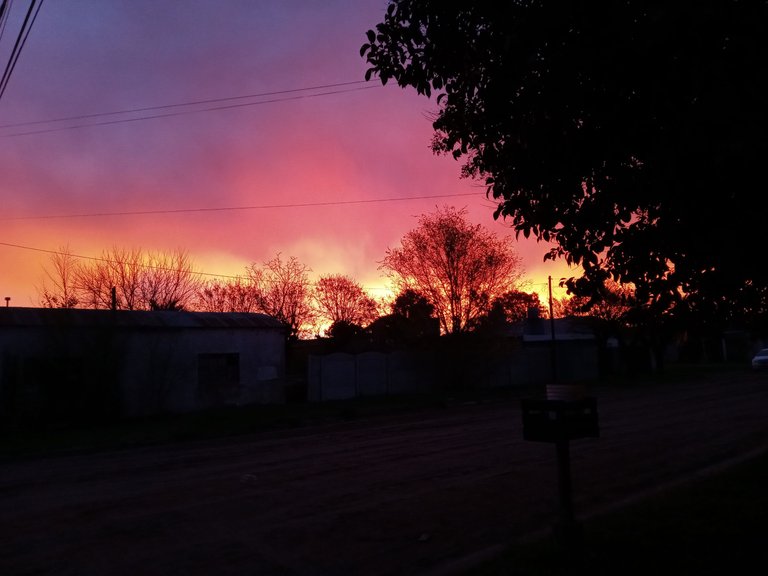 El momento en el que el Sol al "caer" más allá de la línea del horizonte se tiñe de un mosaico multicolor con pinceladas naranjas, rojas y amarillas.
Cuando el Sol está arriba los rayos llegan más directamente a la Tierra y la dispersión es menor. En cambio cuando está bajo sus rayos sufren una dispersión mucho mayor porque rrecorren hasta 10 veces más atmósfera hasta llegar a nuestros ojos.
Estas imágenes corresponden a una localidad de la llanura pampeana de la provincia de Buenos Aires, geográficamente una región totalmente plana, sin montañas ni cumbres pronunciadas que favorecen la visión de este tipo de fenómenos.
Todas las fotos que integran este artículo han sido obtenidas en una puesta de Sol, alrededor de las 18:00 horas en un dia claro hacia el final del invierno, con una temporatura aproximada de 15°
Para que podamos comparar este fenómeno con otros de mayor relevancia a nivel mundial, tal vez más espectaculares pero menos accesibles a nuestro diario vivir, al final del post les dejo algunos ejemplos indicando la fuente el tipo de fenómeno de que se trata.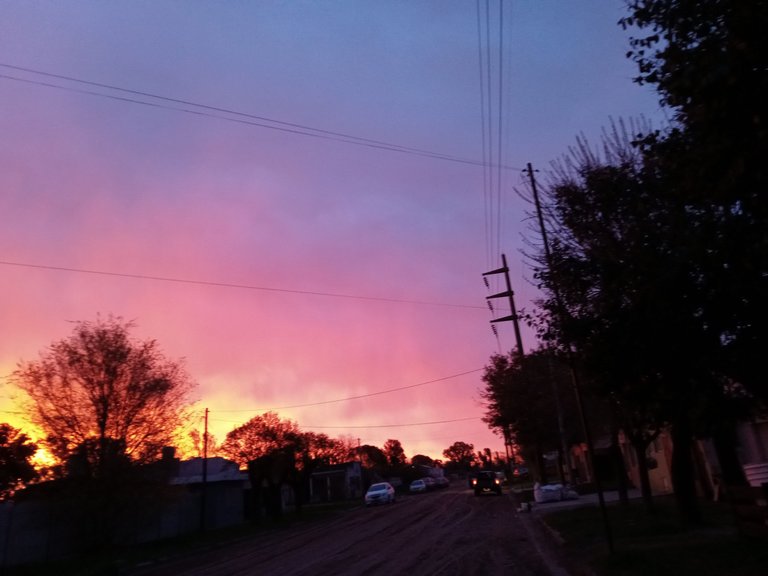 [//]:# (!pinmapple -36.911579 lat -63.078347 long Pampas argentinas, Oeste de la provincia de Buenos Aires, Argentina d3scr)

---
---