Splintershards (SPS) Price Analysis 10/24/21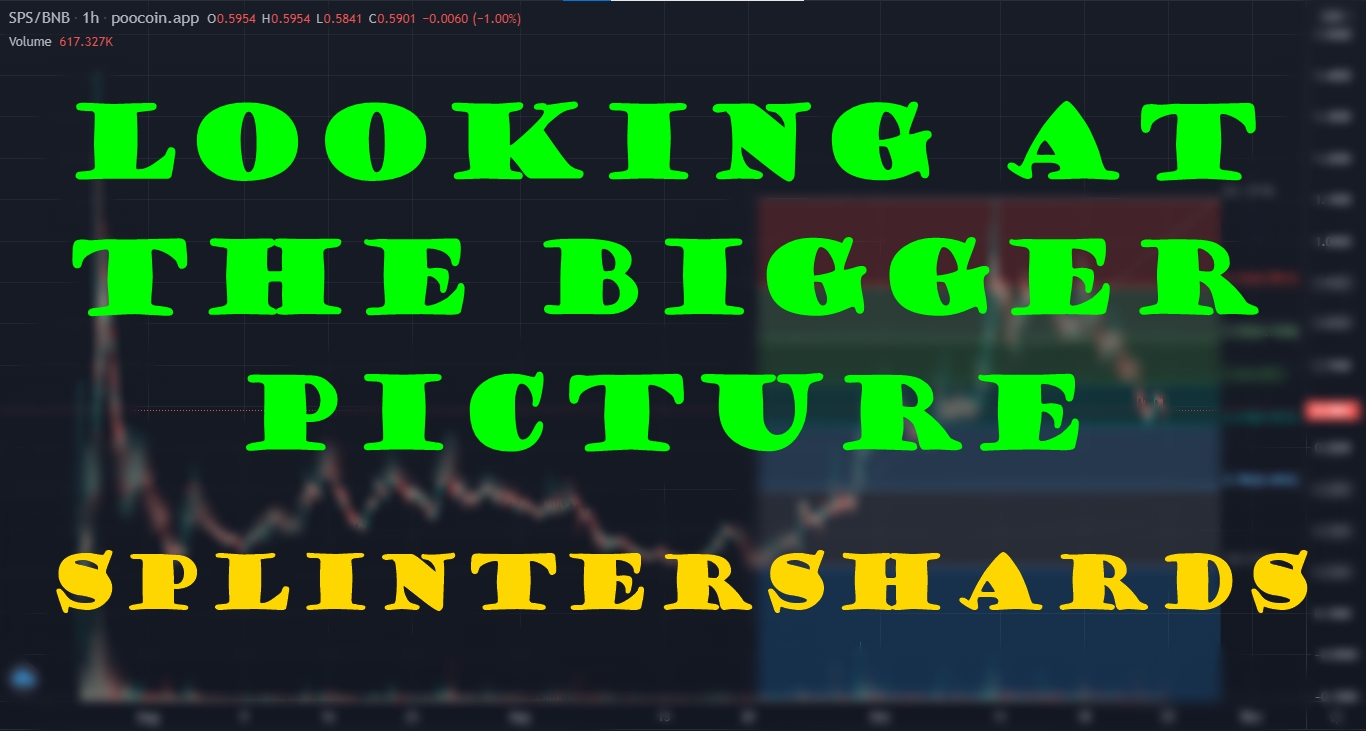 The last few weeks have been quite the rollercoaster ride for Splinterlands players! We saw the launch of the new VOUCHER system on the 18th which caused quite the frenzy in buying SPS tokens for staking. I traced multiple large front-running bots help push the price all the way to $1.10 per token before it quickly sold off that day. There were also several large holders that cashed out their entire SPS holdings from the last month of accumulation.
With the expectations of VOUCHER prices and rate of returns for staking SPS being less of an unknown, the prices of SPS have begun to come back down to earth. Many players have begun to unstake their tokens since the prices have fallen- meanwhile the whales are cashing out their large positions they held as liquid SPS or are getting from the daily airdrops. At these prices I am personally just pooling my DEC:SPS for double points so I can accumulate more SPS.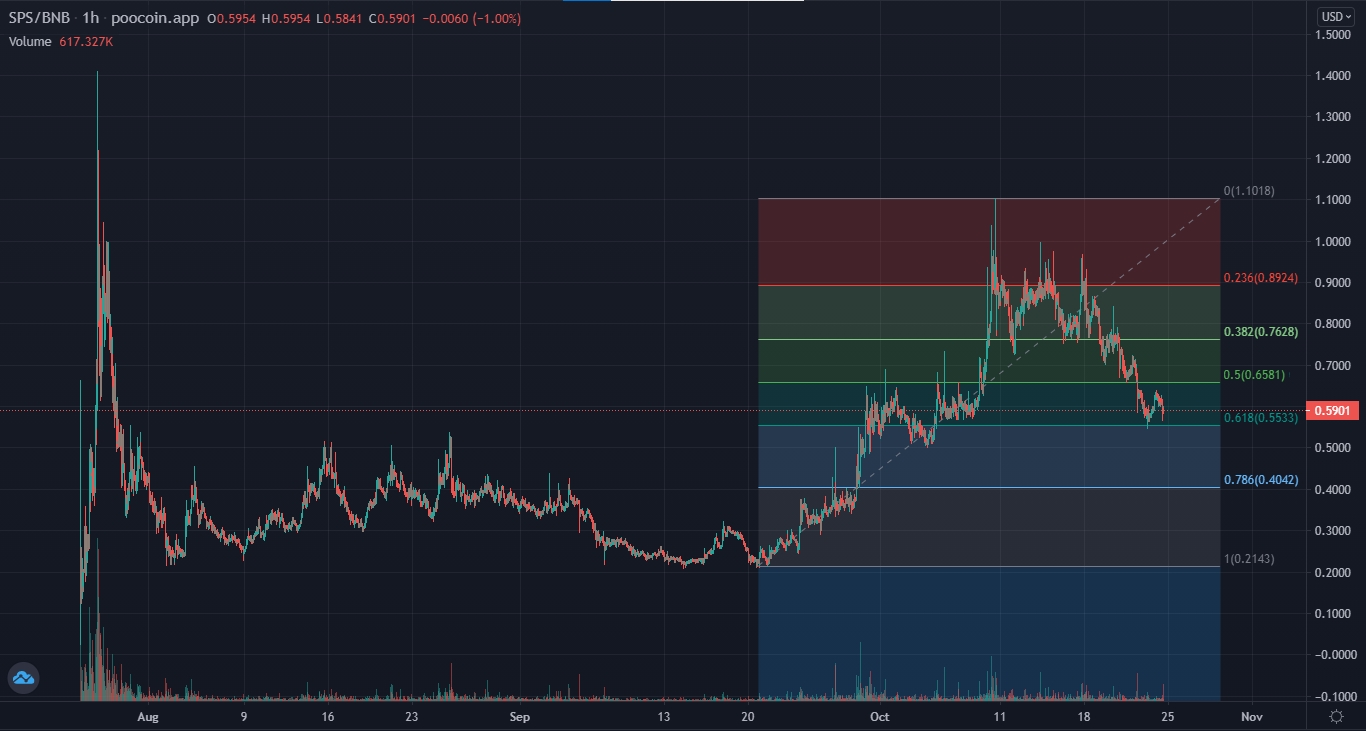 Now I am a firm believer in Fibonacci retracement for technical analysis for several reasons. Mainly because there are certain psychological buy and sell zones that attract the human eye and rational mind. Getting something at a 60% discount from the "full price" for example at a store attracts a lot more buyers than say 20% or 30% off. There are also major accumulation zones that correspond closely to these different Fib levels created by charting the base of the move to the peak. Now this isnt a precise science nor is it fortune-telling so this is to be used as a GUIDE in addition to other tools, indicators and external information.
Each of the major Fibonacci retracement levels held some sort of support on the way back down before eventually giving way to the sellers... up until the Golden Retracement level of 0.618 which posed the most buyer support so far.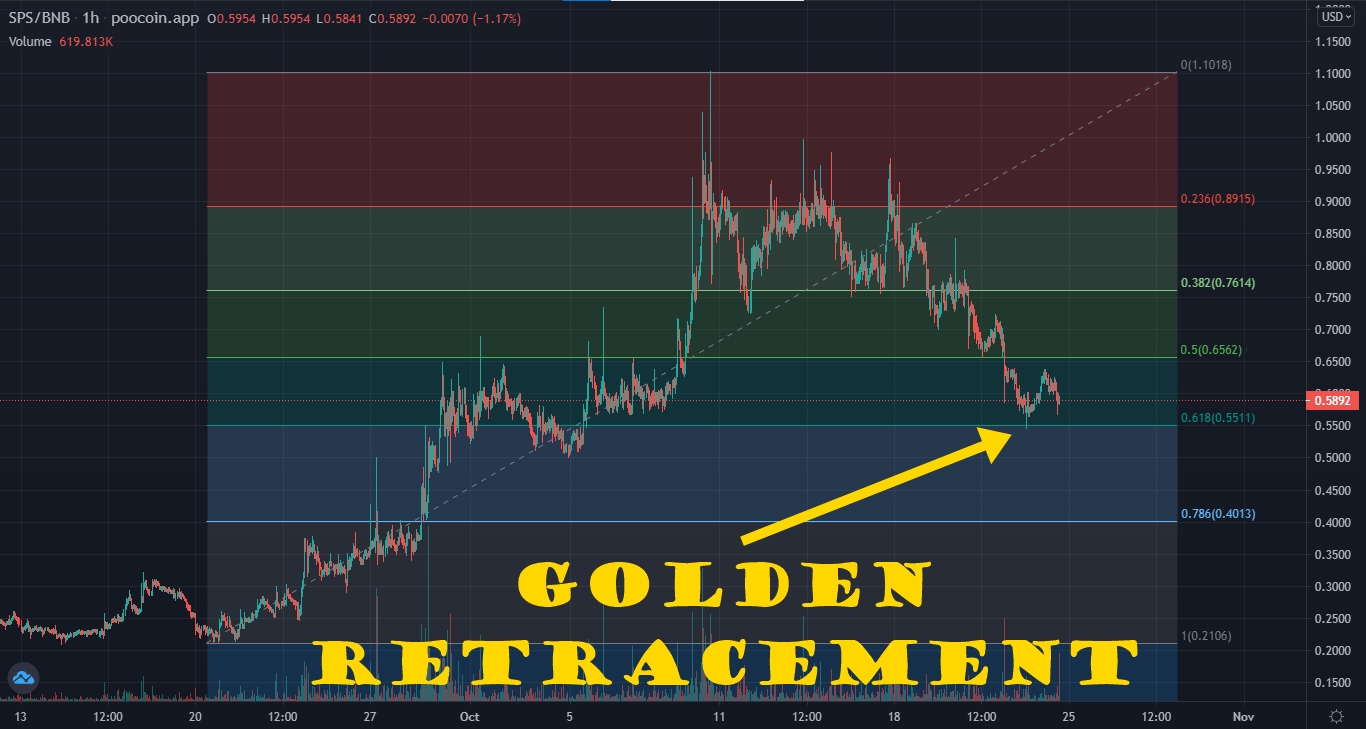 Should this 55 cent support zone break down we are looking at 40c as the next hard line of support. Below that we would be facing 21c as the ultimate floor where whales would most definitely begin accumulation en masse. If these levels were to be reached it would take quite some time and probably be the result of temporary price manipulation by the larger holders.
There was a major accumulation range between 20c and 43c for the two months prior to the breakout in SPS prices so these psychological levels will remain major buying areas.
Price predictions-
-Bull case: 65c-76c short term, 90c by end of year
-Neutral: consolidation between 40c and 65c for a few weeks to months
-Bear case: 21c-40c by end of year
This is not financial advice and I am not a financial advisor. This information is for educational and entertainment purposes only.
---
---