Saturday Savers Club Progress #week4 23/04/22 - Added more HP, ALIVE & LOLZ
Its week 4 of my savings focus, working with the Saturday Savers Club which I think is a great community initiative.
Weekly Progress Summary:
I made good progress this week with better post payouts compared to the previous week. However with HIVE below $1 I didnt spend too much of it, and held the majority as liquid for when HIVE goes back above $1. I also converted all HBD payouts to HIVE during the week, and when HIVE is back above $1 I'll convert some back to HBD and then move that into HBD savings.
Key highlights were:
Added another good chunk of HIVE (+587) taking me well above lasts weeks target of getting to 1,650 (now at 1921),
Added 52 LOLZ and also delegated some other layer 2 coins to LOLZ to increase daily LOLZ payouts,
Added nearly 26 HP which is pretty good for one week for me,
I also managed to get my PIZZA count above 30, which means I'll also now qualify for daily PIZZA rewards.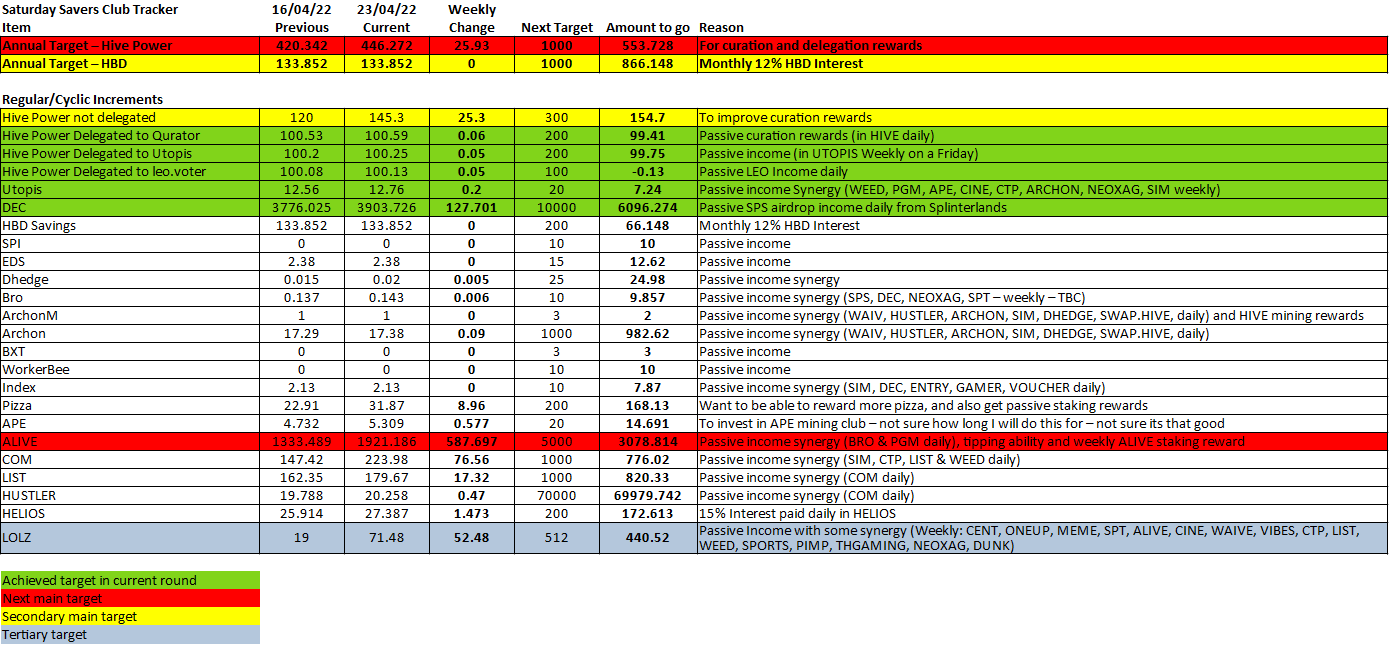 Weekly Plan Changes:
I've added a line for LOLZ because it has pretty good passive payouts including some synergy with a few other coins, although you need to get to 512 for that to begin, which will take me a good few weeks,
I upped my short term target for improving HP that I wont delegate from 200 to 300, as I want to improve my curation rewards,
I upped my ALIVE target from 1,650 (achieved) to 5,000. It will take me a number of weeks, but it will also get me to the second tipping tier (20 per day) and also increase my daily ALIVE payouts, as I quite like the daily BRO payout.
Plan for the coming week:
While HIVE is below $1, I'll be mostly accumulating it where I can and keeping some liquid so that I can then buy a number of layer 2 coins and some HBD when it goes above $1, however,
I will continue to power up some HIVE in the week (which is my secondary short term target),
With HIVE below $1 I'll continue to convert any HBD payouts to HIVE during the week,
ALIVE remains my short term primary target with the aim of getting to 5,000 ALIVE over the next so many weeks (250+/week probably),
I've added a tertiary short term goal of getting to 512 LOLZ so I can hit the passive income there. I'll be aiming for something like 30+ per week until I get there,
I'll continue to delegate other layer 2 coins to LOLZ to help with daily LOLZ payouts for that to help me get to the LOLZ target.
Anyway, thats my quick summary for the week. Many thanks, and good luck with your savings plans !!!
Posted Using LeoFinance Beta
---
---