Saturday Savers Club Progress #week3 16/04/22 - Added more ALIVE
Its week 3 of my savings focus, working with the Saturday Savers Club which I think is a great community initiative.
Weekly Progress Summary:
I made some progress this week - the low value of HIVE and a lack of posts from the previous week (and hence rewards) reduced my ability to save. So I didnt manage as much as I would have liked. Although I have some liquid HIVE ready for when HIVE rises back above $1, which I'll then use to progress some targets.
Key highlights were:
Achieved my short term goal of getting to 1,000 ALIVE. Actually got to 1333, an increase of 738 in the week, and I can now TIP 10x ALIVE per day !,
Powered up 4.5 more HIVE.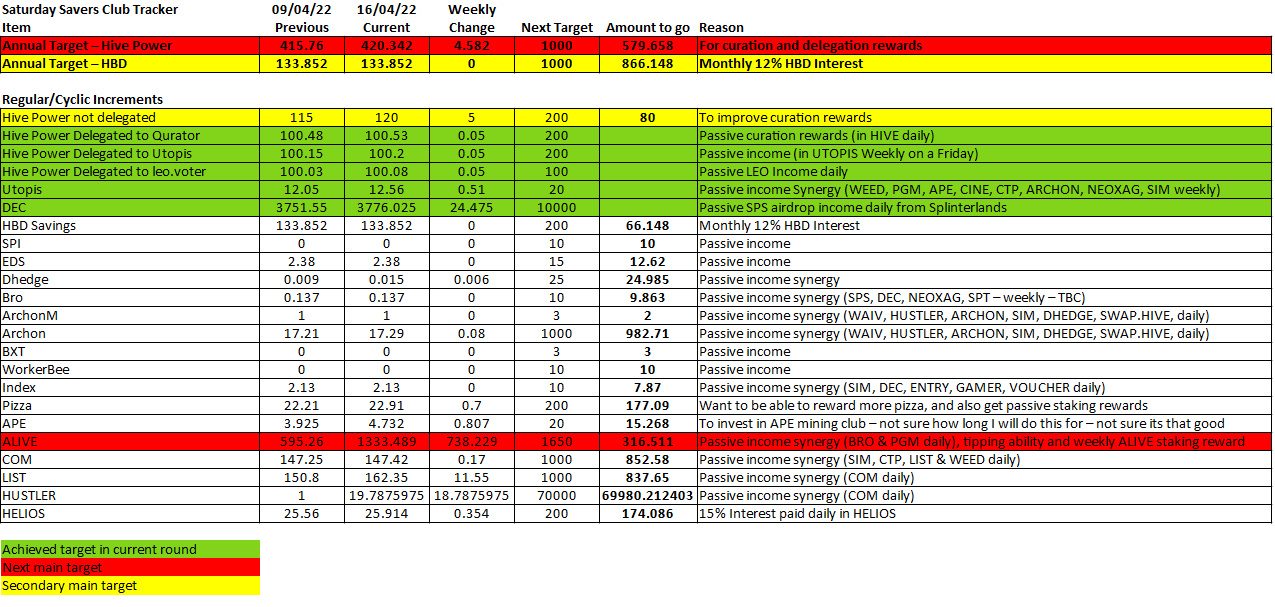 Weekly Plan Changes:
I've added a line for HELIOS because of the 15% interest reward,
I've added a line for HUSTLER because of the synergy with COM.
Plan for the coming week:
While HIVE is below $1, I'll be mostly accumulating it where I can and keeping some liquid so that I can then buy a number of layer 2 coins and some HBD when it goes above $1, however,
I will continue to power up some HIVE in the week (which is my secondary short term target),
With HIVE below $1 I'll probably convert any HBD payouts to HIVE during the week,
I really like the ALIVE project just now, so it remains my short term primary target with the aim of getting to 1,650 ALIVE (or better) this week,
I may also buy some more PIZZA. PIZZA staking rewards start paying out when you have 30 PIZZA, and I'm just below that so will probably buy some more so that I can start getting that as well.
Anyway, thats my quick summary for the week. Many thanks, and good luck with your savings plans !!!
Posted Using LeoFinance Beta
---
---