Searching for Justice - an Introduction
The time has finally come for Justice to be served. Not in a legal or moral sense, but in the sense that I've been doing this AI generated Tarot Card deck thing for far too long and I'm really actually quite glad that this sentence is far too long.
There's a pun there, did you see it? Take a breath and get ready to explore notions of Justice, which is represented in a potential cull list below.

I probably, again; generated way too many thumbnails for the concept of Justice, which means that I've got a lot of pictures to go through and examine for their artistic merit before I choose a final one to tweak.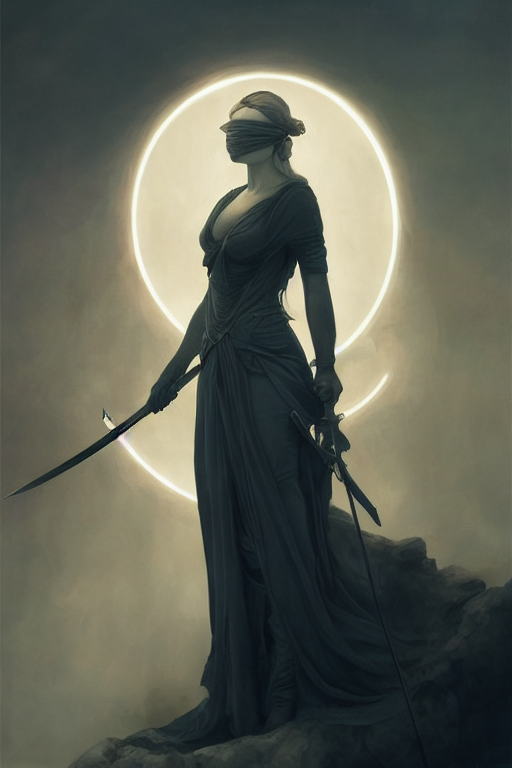 Here we have Justice represented without her scales, which is probably problematic. What I do like however, is the dual swords which could be used for a duel against an injustice. The other element I dislike is the fact that the blindfold covers the entire face. I do like the colours, however. They're very atmospheric.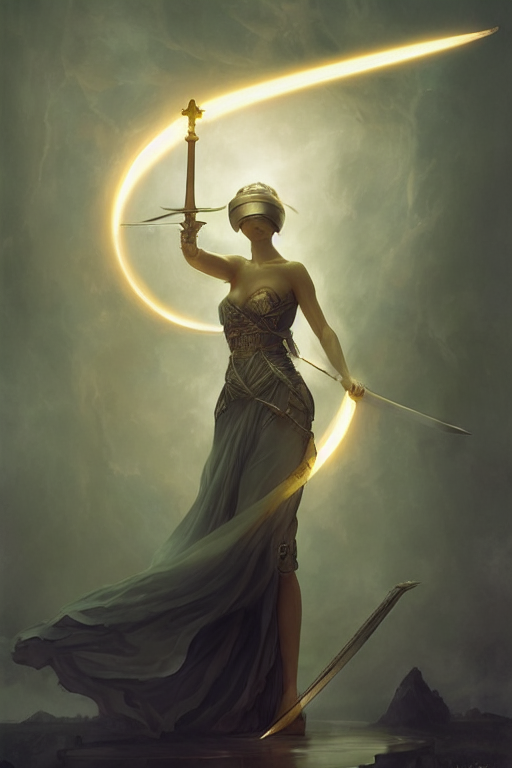 I would like to name this image "Justice in a ball gown"; as the outfit is certainly the most striking element of the image. The ribbon of light framing Justice is an interesting element, and creates a great sense of movement. Given that Justice is most often represented in modern and contemporary culture as a statue, I'm not sure this fits in.
The other interesting element in this image is the broken sword, and the fact that the blindfold has taken on a portion of a helmet from some full plate armour. Really interesting and unique.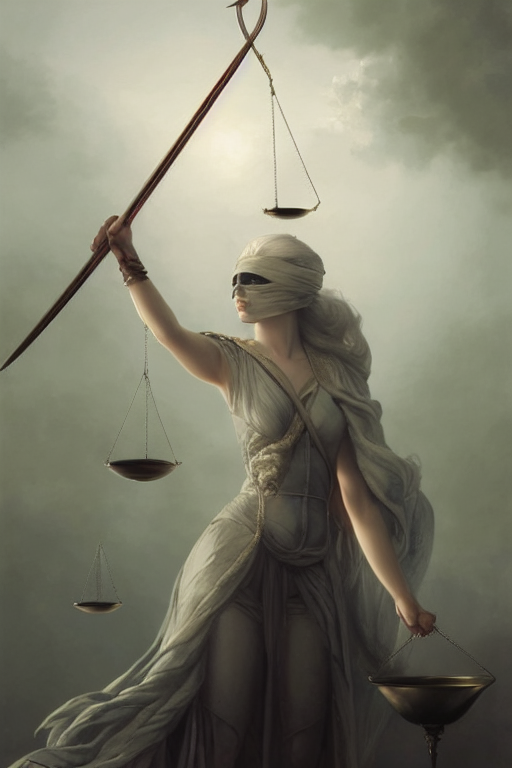 Next up, above; we have an image that I like an enormous amount. While there is no sword depicted, the scales are represented in an interesting manner. Some appear to be levitating in open air, which suggests to be that Justice may be a more universal thing than something represented by a woman.
We're it not for the Egyptian-mummy-sequel facial wrap here, I'd pursue this image a further distance toward a final, but that seems like a little bit too much work, given I have so many other images on my short list.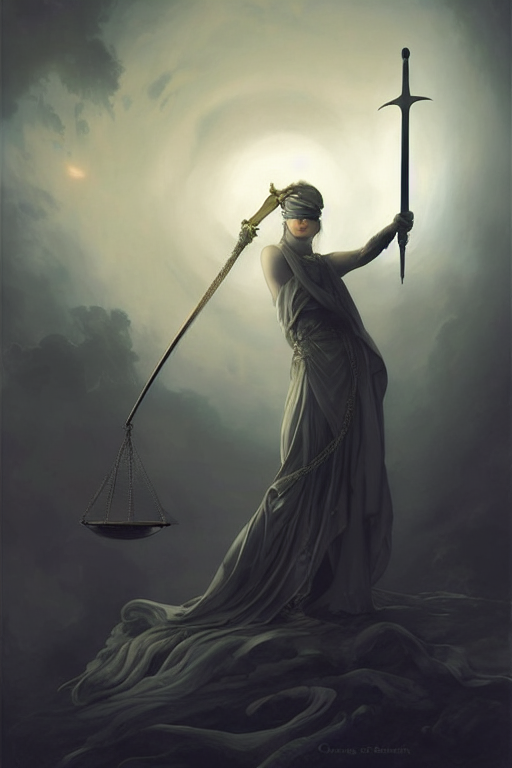 This final image is significantly messier than those that came before. I like the notion that one side of the scale of Justice is the mind of the justice system itself; but the lack of an arm to hold those scales, and the highly non traditional pose of holding the sword by its blade feels me with a sense of unease.
Overall, these were some pretty interesting results for a first go around, and I'm keen to see what the other thumbnails hold for me in the future.
---
Want more content from me?
Witness my futile efforts to play my Steam Game collection in alphabetical order.
Are you aware that I love photography? Check out my work in a collection.
---

If you haven't started playing Splinterlands, you should do that immediately. It's very good fun.
If you want to see my Splinterlands antics and rants live, Find me on Twitch

If you prefer sleeping in your designated time zone, go watch replays on YouTube.
---
Thanks as always for your time!
e
---
---