Hive llega a la universidad en un nuevo evento [Esp+Eng]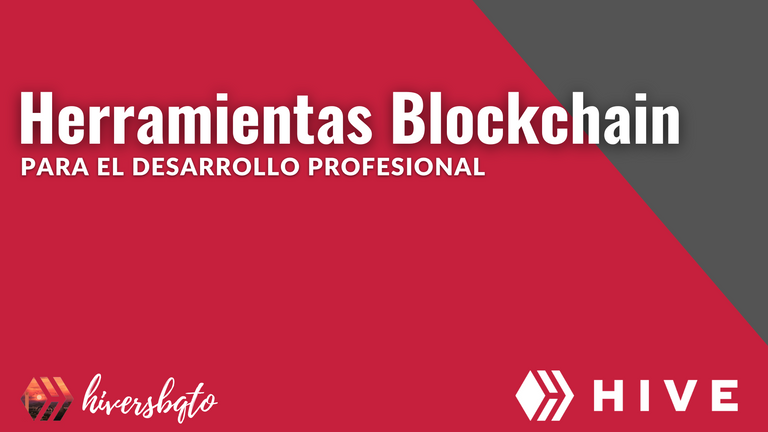 En Hive Barquisimeto, estamos comprometidos con dar a conocer nuestro ecosistema, por eso comenzamos este nuevo mes de octubre con las baterías recargadas y estamos listos para un extraordinario encuentro titulado: "Herramientas blockchain para el desarrollo profesional".
En esta oportunidad, la prestigiosa universidad Centroccidental "Lisandro Alvarado" abre sus puertas para recibirnos el próximo sábado 8 de octubre a las 2:00 pm, en las hermosas instalaciones del Decanato de "Humanidades y Artes" en el Cuartel Jacinto Lara, ubicado en pleno casco histórico de la ciudad.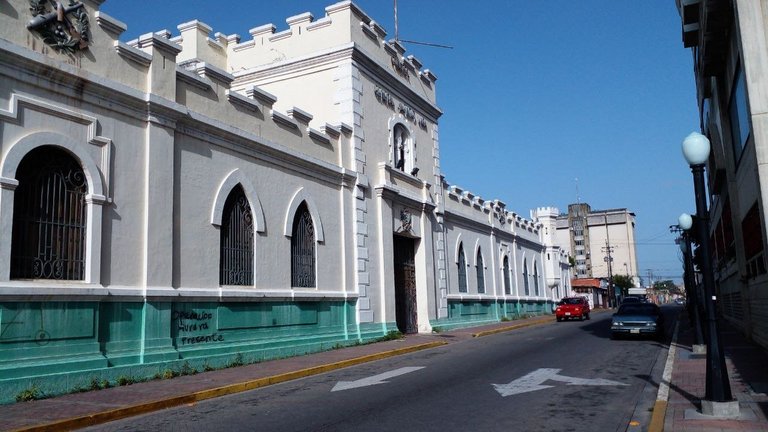 Foto cortesía de @filoriologo
¿Sobre qué consiste este nuevo encuentro?
Se estima recibir en promedio o más de 50 personas quienes tendrán la posibilidad de aprender sobre web3, tecnología blockchain, sobre qué es Hive. Posteriormente, vamos a recibir la increíble visita de nuestros amigos de @rutablockchain que sin duda van a regalarnos una charla de altura que se titula: "Potencia tu marca personal con la web3" para revisar nuestros enfoques, redireccionar nuestros objetivos y atinar a la mejora y crecimiento personal y profesional.
Si duda, esta charla va a estar fabulosa y propiciará el feedback, dinámicas especiales, premiaciones, socialización y un gran compartir para una tarde amena y enriquecedora desde el intercambio de conocimientos y experiencias.
Queremos reiterar que este nuevo encuentro tiene como propósito abarcar nuevos tipos de públicos que puedan enterarse de que existe Hive y sobre todo lo que podemos aportar a nuestra blockchain en plena era digital, donde es necesario conocer y aprender sobre otras nuevas alternativas que promueven la propiedad y la descentralización de nuestros contenidos, innovaciones y desarrollos.
Nos alegra enormemente poder llegar a nuevos espacios tal como esta reconocida universidad del estado Lara y de Venezuela entera, en la que está invitada toda la comunidad universitaria y los hivers de Barquisimeto para que nos acompañen en este gran evento.
Juntos es más fácil
Todo esto será posible gracias a la suma de voluntades, la constancia y la organización que nos hemos propuesto los últimos meses, con una agenda de actividades pensadas y planificadas que hemos ido materializando progresivamente con muchos esfuerzos y apoyo común.
Queremos agradecer especialmente a @emymente, @danielvehe, @miriannalis por aceptar nuestra invitación y creer en esta propuesta. Gracias igualmente a quienes han estado presente para apoyar en la ejecución de este nuevo evento, gracias a todos los que han aportado ideas, energías, gestiones, alianzas y otras formas que hasta ahora han permitido consolidar cada entrega presencial que hemos realizado en el estado, donde todos son bienvenidos.
Por supuesto, gracias particularmente a quienes han apostado y patrocinado con diversas formas de incentivos para el logro de estas actividades formativas que propician la interacción personal necesaria que trascienda nuestras pantallas, especialmente al equipo de @hivecreatorsday por siempre estar atentos a nuestras actividades y ser un apoyo y motivación constantes para las mismas.
Faltan escasos días y allí les vamos a esperar con todo el cariño, para hacer lo que tanto nos gusta hablar de Hive, construir nuevas ideas, conocer más, porque en el ecosistema aprendemos cada día a cómo hacerlo mejor para crecer juntos y mejorar en pro de que Hive se potencie y se pueda consolidar progresivamente.
¡Les esperamos!
Fecha: sábado 8 de octubre del 2022.
Hora: 2:00 pm.
Ubicación: Carrera 15 entre calles 26 y 27, Barquisimeto, Lara.
Lugar: Cuartel Jacinto Lara en el Decanato de Humanidades y Artes UCLA.
Entrada: Libre.
Post redactado por @luvilozada a petición de @hiversbqto
---

---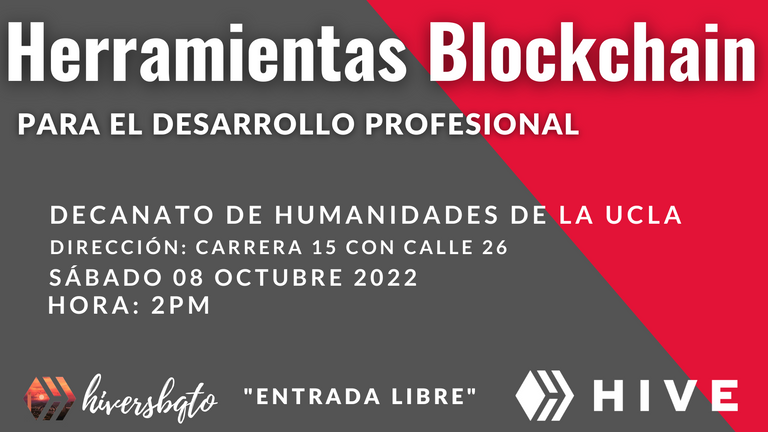 ---

---
ENGLISH VERSION
In Hive Barquisimeto, we are committed to raise awareness of our ecosystem, so we start this new month of October with recharged batteries and we are ready for an extraordinary meeting entitled: "Blockchain tools for professional development ".
In this opportunity, the prestigious Centroccidental University "Lisandro Alvarado" opens its doors to receive us next Saturday, October 8 at 2:00 pm, in the beautiful facilities of the Dean's Office of "Humanities and Arts " in the Jacinto Lara Barracks, located in the historic center of the city.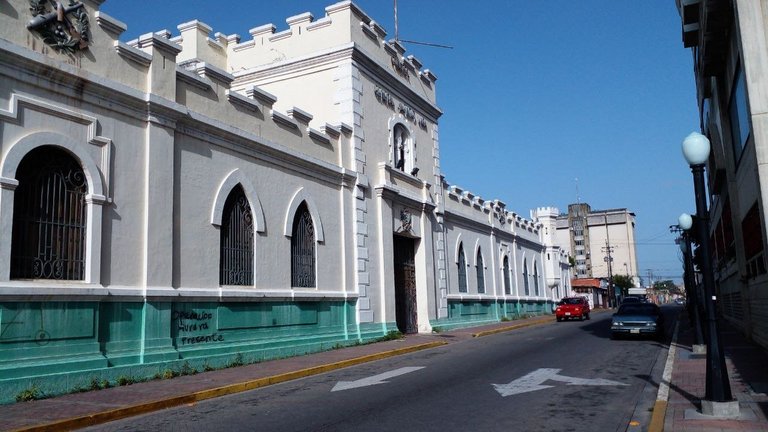 Photo courtesy of @filoriologo
What does this new meeting consist of?
It is estimated to receive on average more than 50 people who will have the opportunity to learn about web3, blockchain technology, about what is Hive. Subsequently, we will receive the incredible visit of our friends from @rutablockchain who will undoubtedly give us a talk entitled: "Power your personal brand with web3" to review our approaches, redirect our goals and aim to improve and personal and professional growth.
Undoubtedly, this talk will be fabulous and will provide feedback, special dynamics, awards, socializing and a great sharing for a pleasant and enriching afternoon from the exchange of knowledge and experiences.
We want to reiterate that the purpose of this new meeting is to reach new types of audiences that can learn about Hive and what we can contribute to our blockchain in the digital era, where it is necessary to know and learn about other new alternatives that promote the ownership and decentralization of our content, innovations and developments.
We are very happy to be able to reach new spaces such as this renowned university in the state of Lara and the whole of Venezuela, where the entire university community and the hivers of Barquisimeto are invited to join us in this great event.
Together is easier.
All this will be possible thanks to the sum of wills, perseverance and organization that we have proposed the last months, with an agenda of thought and planned activities that we have been materializing progressively with many efforts and common support.
We would especially like to thank @emymente, @danielvehe, @miriannalis for accepting our invitation and believing in this proposal. Thanks equally to those who have been present to support in the execution of this new event, thanks to all those who have contributed ideas, energy, management, alliances and other forms that have so far allowed us to consolidate each face-to-face delivery that we have made in the state, where everyone is welcome.
Of course, thanks particularly to those who have bet and sponsored with various forms of incentives for the achievement of these training activities that promote the necessary personal interaction that transcends our screens, especially the @hivecreatorsday team for always being attentive to our activities and being a constant support and motivation for them.
There are only a few days left and we will be waiting for you there with all our love, to do what we love to talk about Hive, to build new ideas, to learn more, because in the ecosystem we learn every day how to do it better to grow together and improve so that Hive can be strengthened and consolidated progressively.
We look forward to seeing you!
Date: Saturday, October 8, 2022.
Time: 2:00 pm.
Location: Carrera 15 between 26th and 27th streets, Barquisimeto, Lara.
Venue: Jacinto Lara Barracks in the Dean's Office of Humanities and Arts UCLA.
Admission: Free.
Post written by @luvilozada at the request of @hiversbqto

---
---