Price and Payment Changes on The Hivelist Store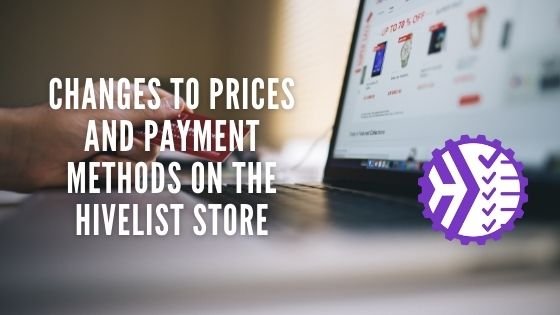 Hello everyone! We wanted to bring you a quick update to let you know some things that are happening over at the Hivelist store. First off, we have some pricing changes to our print on demand products, and some changes to the payment method structure that we wanted to let everyone know about.
Print on Demand Pricing Changes
For those that do not know, we offer a print on demand service for our store where we act as the middle man between you and the manufacturers that can take your designs and bring them to life on physical products. Between our team and our vendors, we handle everything for you.
Well due to all the global shipping and supply issues, our vendors are going up on prices for some products and we will be adjusting to stay with these increases so that neither of us are losing out on any profits.
Shipping charges are also being adjusted for some regions.
From what we have seen, some of the products have not had much or any increase, but some have and we will be going through and adjusting prices accordingly.
Just wanted to let everyone know!
Payment Method Changes
We have been using @hivepay-io as our payment method for Hive and Hive Engine tokens since their WooCommerce plugin came out. Since it's release, the Hivepay team has upgraded to their Version 2, but the WooCommerce plugin has not been upgraded and was causing some issues causing our entire site to crash.
We have since re-enabled the older Hive WooCommerce payment plugin created by @roomservice as the payment method for Hive and HBD. Oh yeah... we are currently only accepting Hive and HBD as payment. We have stopped taking Hive Engine tokens currently until the Hivepay issue is sorted out. For one, those are the primary tokens most people pay with anyhow. Secondly, due to extreme market fluctuations and liquidity problems with many of the Hive Engine tokens, we are going to pause acceptance of all until the markets become more stable. We have lost money on transactions due to these issues.
In most cases we do not end up keeping the tokens, we have to pay for costs with USD so in allot of cases, unless we have the reserves available, we have to cash out at least production, shipping, and tax costs. The rest stays in crypto and is converted to HBD which is saved and paid out to our store vendors.
We will reevaluate the use of some Hive Engine tokens once HivePay has a new update.
Oh, one more thing, you will have to use Hivesigner for the payments instead of Hive Keychain, just fore warning.
Store Commission Changes
Oh and one more thing. We have decided to up the store commission to 10% due to the inflationary issues. This gives a bit more room to allow for better affiliate payments as well. So if you are an affiliate and you drive sales to the site, you will now be paid 5% commission on the sale! Still compared to other markets, the fee is still reasonable.
Working to Source New Products
We are working on trying to source some new products for the store as well so that we can have more offerings for our awesome Hive community. One issue is that the best sources cost to even be a member of their service, which right now, without having many sales coming in, is hard to justify the cost. So hopefully we can find and source some really good and solid products that people can purchase with crypto instead of being stuck in the old fiat economy! Because that is what we are all about is starting a new economy using cryptocurrencies!
Let us know in the comments what types of products you would like to see on the store!
Do you have designs or products you want to put up for sale and earn crypto?

Come and take a look at becoming a vendor on our store! We pay in HBD for all of your sales and commission! We handle all payments and exchanges so you don't have to worry about all of that! Sell your own products or submit your designs to our print on demand service!
If you are interested in starting your own ecommerce business in the crypto world, then click here to learn more about becoming a Hivelist Store vendor!
Don't forget, we have Hivelist Store gift cards!!!

Need to get a special gift for someone, but don't know what to get them? Have you tried introducing someone to the crypto currency world, but want to make it an easy introduction, then try out one of our in store gift cards! You can purchase them with any number of our accepted cryptocurrencies!
https://hivelist.store/product-category/gift-cards/
Want to make some extra HBD? Become and Affiliate!

Come and sign up to be an affiliate and get paid monthly for any sales you refer to the store! Affiliate commissions are 5% of the profit from any sale! Get started as a Hivelist Store Affiliate Partner today!
Keep calm and Hive on!
https://hivelist.io - main info site
https://hivelist.org - blockchain classifieds/NFTs/DEFI Pool
https://hivelist.store - multi-vendor e-commerce retail store and professional services marketplace
Vote for @hivelist.witness on Tribaldex

---
---