Concursos disponibles / contests available (28-08-2023)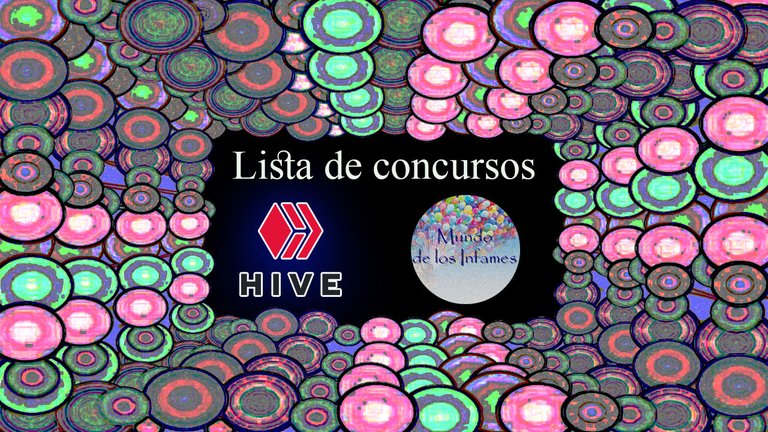 Este es un post informativo se realiza con el fin de avisar a aquellos que les gustan los concursos y divertirse.
Invito a todos que puedan participar de algún concurso, se intentará cada semana hacer esta publicación para su información y tratar de añadir más concursos que se vayan descubriendo.
Si alguien sabe de algún concurso adicional, pueden notificar para añadirlo a la lista.
This is an informative post made in order to notify those who like contests and have fun.
I invite everyone who can participate in a contest, I will try to make this publication every week for your information and try to add more contests that are discovered.

If anyone knows of any additional contests, they can notify me to add it to the list.
Concursos con premio / Contests with prize
| Nombre del concurso | Organizado por | Premio | Vencimiento |
| --- | --- | --- | --- |
| Weekly StreetArt #074 | @heroldius | 1 HBD | 28 de agosto |
| Cuéntame una historia | @freewritehouse | 1 HBI | 28 de agosto |
| Un escrito en 20 palabras | @freewritehouse | 1 HBI | 28 de agosto |
| Concurso de poesía en memoria del poeta Federico García Lorca | @es-literatos | 15 hives | 28 de agosto |
| Henthusiasts, Bring Me Challenge #23 | @hhguild | 50,000 HH Tokens | 28 de agosto |
| PhotoFeed Contest - Street Photography Round 42 | @photofeed | HIVE y HP | 29 de agosto |
| PhotoFeed Contest - Wildlife Photography Round 42 | @photofeed | HIVE y HP | 30 de agosto |
| MES PARANORMAL 2.0 | JOIN THE TERROR CORNER⚠️ | @zonadeescalofrio | 12 HIVE | 31 de agosto |
| PhotoFeed Contest - Macro Photography Round 42 | @photofeed | HIVE y HP | 31 de agosto |
| QC Community Weekly Contest # 50 | @queercoin | 300 Ecency points and 9 QUEER | 31 de agosto |
| Shadow Hunters /SMASh Contest- Round 284 | @melinda010100 | 200 Ecency POINTS, 2 QUEERH TOKENS, 2 LOH Tokens, 2 LEN TOKENS, 2 ARCHON TOKENS, and 1 HSBI | 31 de agosto |
| A Picture is Worth a Thousand Words | @freewritehouse | 3 HSBI | 31 de agosto |
| PhotoBomb Challenge #295 | @fibra59 | 11 HIVE | 31 de agosto |
| PhotoFeed Contest - Cityscape Photography Round 42 | @photofeed | HIVE y HP | 1 de septiembre |
| Bird of the Week | Cast your vote | Week 34 | @nelinoeva | Hive y HP | 1 de septiembre |
| Concurso: Observa Piensa Escribe | @topfivefamily | 0.200 hive, 100 tokens hueso | 1 de septiembre |
| @phortun´s Monday tipping contest #117 | @phortun | 5 HIVE | 1 de septiembre |
| PhotoFeed Contest - Portrait Photography Round 42 | @photofeed | HIVE y HP | 2 de septiembre |
| Splinterlands Art Contest Week 256! | @splinterlands | 10 Booster Packs | 2 de septiembre |
| Feathered Friends Contest Round 131 | @nelinoeva | 2 Hive y 500 Ecency POINTS | 2 de septiembre |
| Reflection Hunters Contest ~ Round 130 | @olgavita | 5 HIVE y 1000 Ecency POINTS | 2 de septiembre |
| CCC's Street Art Contest #159 | @digi-me | HBD & Ecency Points | 2 de septiembre |
| Ladies of Hive Community Contest #149 | @ladiesofhive | 6 HIVE, 500 Ecency Points, 22 tokens LEO, y 9 tokens QUEERH | 2 de septiembre |
| Hive Music Festival - Week N°46 - Round 1 | @musiczone | HIVE y HBD | 2 de septiembre |
| PhotoFeed Contest - Black & White Photography Round 42 | @photofeed | HIVE y HP | 3 de septiembre |
| Meme challenge #343 | @fibra59 | 11 HIVE | 3 de septiembre |
| Club de Poesía - "Cristales en la luna" | @freewritehouse | 1 HBI | 3 de septiembre |
| Join to Gondek's Weekly Lottery 69 | @gondek | HIVE | 3 de septiembre |
| PhotoFeed Contest - Landscape Photography Round 43 | @photofeed | HIVE y HP | 4 de septiembre |
| PURR-FECT DIYHUB CONTEST | @diyhub | 60 HIVE, 18 HSBI y 10 HBD | 14 de septiembre |
Concursos sin premio / Contests without prize
SORTEO / GIVEAWAY
CONCURSO DIARIO / DAILY CONTEST

---
---