Silver Blogger of The Week 36 ~ Let's Vote
Hello Hello Silver Bloggers!
It's that time again!
When the UK has a heat wave after summer has finished! Actually it is just a few days of pleasant weather.
But ...it's ..... it's .....
It's Time to VOTE for the Silver Blogger / author of the week!
SILVER BLOGGER AUTHOR OF THE WEEK!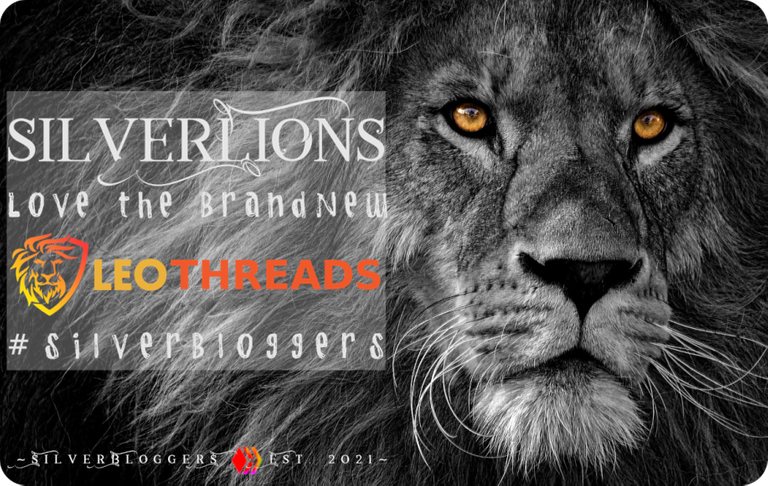 The winner of this poll will get a hefty reward!
The Silver Bloggers Author of the Week will be:
Set as 60% beneficiary of the announcement posts.
Included in a digest that will be heavily marketed on Web2 (e.g. Twitter, Reddit)
Each Friday we shall a post an announcement post announcing the set of four authors with the link to the poll, and announce the winner of the previous week's poll.
Congratulations @minismallholding 👈 ✍️ you were the winner of week 35's poll with Have You Amounted to Something?, and have been set as 60% beneficiary of this post.
As part of the Weekly Top Authors Initiative, a new Hive account has been set up @weeklytops and their post Hive: Author of the Week initiative explains the whole process in greater detail.
After that the winners of all communities who take part in this initiative will be announced by @weeklytops in a weekly digest.
The latest digest can be seen Authors of the week! | Week 35

Week 36 nominated authors and their posts are:
We have created the Poll for this week.
⬇️⬇️ The link to the poll ⬇️⬇️
How to Vote
Make sure you're signed in to LeoFinance.
Go to the linked poll thread above and cast a vote
The poll will refresh and show you some results. Note: your vote may not be reflected immediately.
When you click that Vote here link you will see our poll below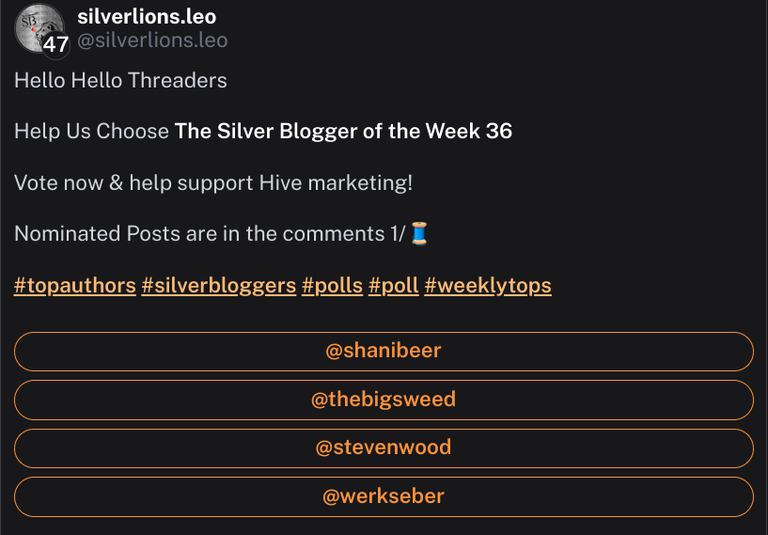 If you are having problems do leave a comment here or in Discord.
Finally
We would love to get more eyes on this post and all community posts from - @hive-106316 - our Silver Bloggers account. This is why we make a point of reblogging your posts. Please do the same?
Also -
Please Follow and interact with @hive-106316
Assuming you're (and even if you're not) a subscribed Silver Blogger please follow our "mother account". That way you're sure not to miss any updates, challenges, curation posts as well as brilliant subscriber posts that we re-blog.
It's easy to follow the mother account: here's how...
Go to https://peakd.com/@hive-106316 and check the steps in the two pictures here:




A big THANK YOU in advance
---
---