Ask Leo: Should Crypto Education Be Encouraged In Institutions
Many crypto investors, traders, influencers or crypto related venture are in the position that crypto education he incorporated into schools curriculum, which to be me ain't a bad idea but against all odds we know that's ain't close to be possible, for a government who thinks that's digital assets is a thread to their nation's fiat currency.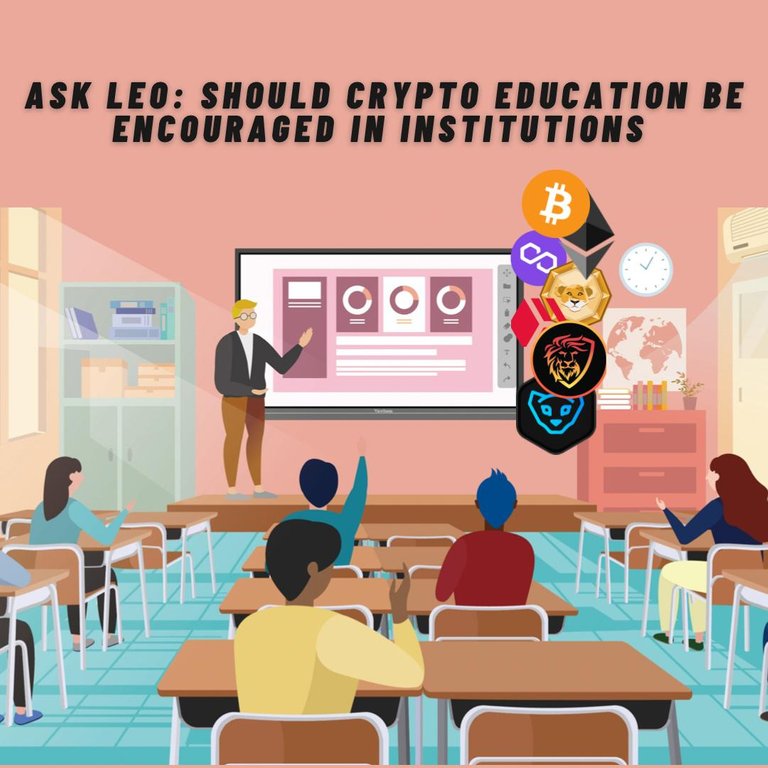 We All Are Still Babies As Related To Cryptocurrency
Some couple of days ago, I came across an article on Leofinance which was actually on the fact that we really don't need any formal education using the baby analogy that we were curious enough to learn about the technology and what it entails on how own with no support from who, what do ever.
Adding crypto education to institutions shouldn't not be brought to the table for discussion as the technology is still pretty new and it's fastest evolving technology I know, and keeping up with the trend will definitely be a tedious one which is be needing updating just to keep up to recent happenings.
In light of cryptocurrency education some exchanges has taken into consideration of creating a platform within their ecosystem which is crypto knowledge based, some of these platforms are; the binance academy, even our beloved Leofinance is also an ocean of financial knowledge as regards investment, stocks, cryptocurrency and anything related to finance. Cryptocurrency is the future and the future is now, so let's try as much as possible to be curious about technology and it's growth and we will definitely see how it's going to turn around for the ecosystem and it's related products.
If you seen this post on a Web2 ecosystem and you have no clue about what Leofinance is here is a brief definition;
LeoFinance is a blockchain-based Web3 community that builds innovative applications on the Hive, BSC, ETH and Polygon blockchains. Our flagship application: LeoFinance.io allows users and creators to engage and share content on the blockchain while earning cryptocurrency rewards.
Over here we refer to users as lions, so are you ready to be a lion here is my referral link
Also don't forget in contributing to the pHBD-USDC pool, and from statistics it looks like we will be able to archive the set target in a few months, let's do our own part in growing the pHBD-USDC liquidity and also take out time to participate in the Leo power up challenge which happens every 15th of each month.
Let's also connect on some of the web2 platform.
Twitter:Hironakamura
Posted Using LeoFinance Beta
---
---