Could A.I. replace your job?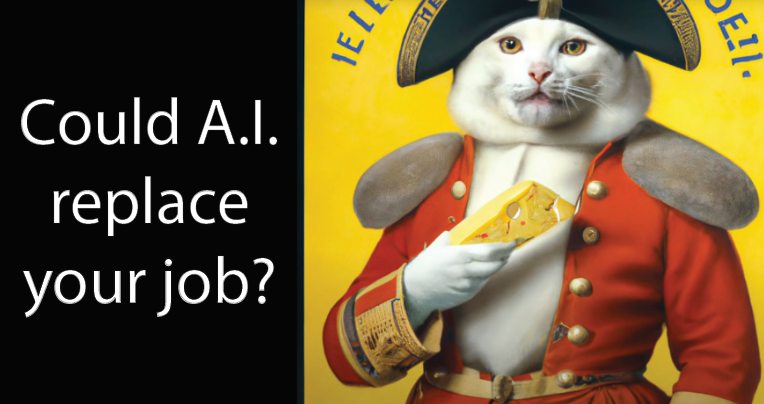 It seems A.I. can almost do anything like code programming tasks, image recognition tasks, or recognizing CT scans for doctors. Recently, I watched the episode made by ColdFusion TV on Youtube called How This A.I. Draws Anything You Describe [DALL-E 2].
After watching this and being part of Hive's marketing effort on Twitter, I feel excited about this that it looks to me, perhaps we can use this for our Hive marketing effort. There is a necessity to spread the good news about Hive, a word of mouth by sharing it with others until somebody listens is my goal in our marketing effort.
Hive is way too undervalued that it is still not even on the Top 100 after all of its achievements in the past 6 years, we should not forget that Hive has no official marketing team or company that can do the PR so we have only to rely on ourselves to this as we haven't have paid company shillers
Looking on this I found this comment
As an artist, this is extremely impressive, I've spent thousands of hours learning wow to draw, design, model, shade and compose works and thought this new tech might seem like this makes it soon to be all for nothing, I hope that fundamental knowledge still has value in some ways. This will be a massive change not only for digital artists to begin with but to society in general, i can foresee when AI can come up with an ad in real time depending on your day/cookies...
I am not sure about this comment, but I do believe that A.I. can have a positive effect on our overall human productivity, like in the past, technology had made some jobs obsolete, and in the same way, it helps on creating new jobs that we never heard 20 years ago, we will see as I don't have the crystal ball with me.
Hive is open-source and owned by a decentralized community thus everything we can use and absorb for our benefit because of its open-source nature.
I have no worry if Dall E won't come into fruition because we have an individual who is great at making Hive marketing graphics like @doze which he saved some on this dropbox, great to have him.
How about you, do you think this will have a positive or negative impact on your life? Let me know in the comment below
---
---