(ENG-TUR) MY EXPERIENCE OF THE CHASHFLOW GAME- CHASHFLOW OYUNU DENEYİMİM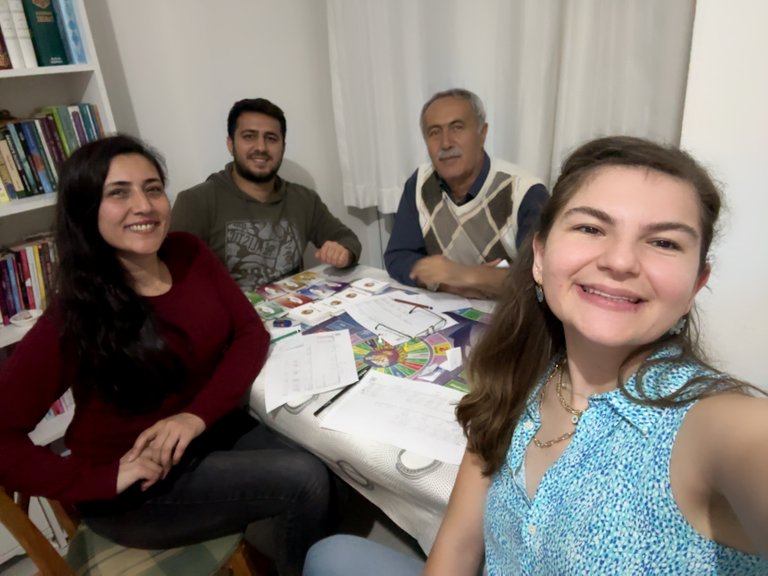 Hello everyone! 👋👀
I'm here to talk about the game called ChashFlow, which means 'nakit akışı' in Turkish, that I played last night.
Herkese selam!👋👀
Dün gece oynamış olduğum Türkçesi 'nakit akışı' olan ChashFlow adlı oyundan bahsetmek için buradayım.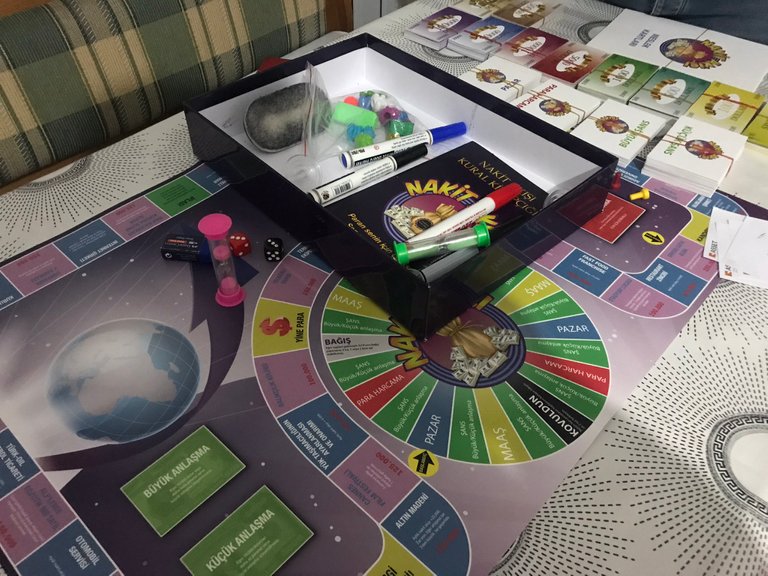 ChashFlow game is a game designed by Robert Kiyosaki, the owner of the book named 'Rich Dad Poor Dad', to increase our financial literacy level.
This game is played as a group by people who have a player certificate.
I had the opportunity to play this game thanks to my close friend Sema's brother Serkan.
Serkan has attended trainings for this game and has reached the level to lead this game.
ChashFlow oyunu 'Zengin baba yoksul baba' adlı kitabın sahibi Robert Kiyosaki tarafından finansal okuryazarlık düzeyimizin artmasına yönelik tasarlanmış bir oyun.
Bu oyun, oynatıcı sertifikası almış kişiler tarafından grup halinde oynatılıyormuş.
Ben bu oyunu yakın arkadaşım Sema'nın kardeşi Serkan sayesinde oynama fırsatı buldum.
Serkan bu oyun için eğitimlere katılmış ve bu oyuna liderlik yapabilecek seviyeye gelmiş.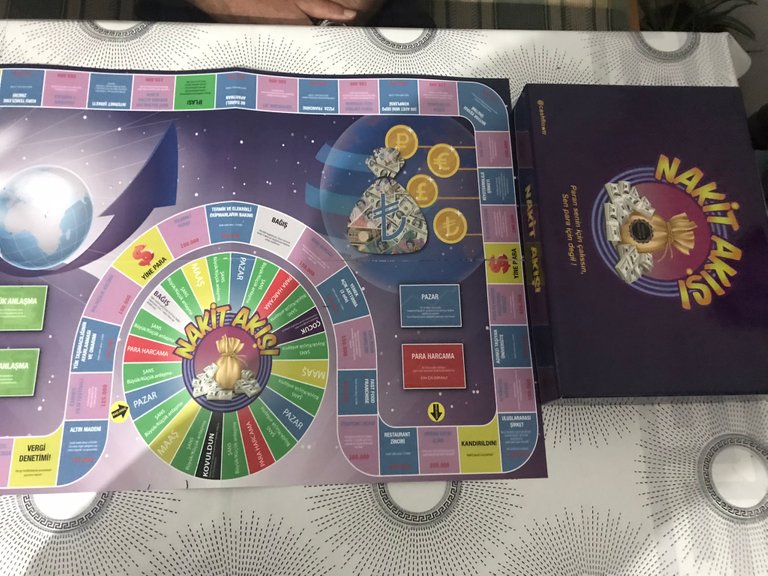 First of all, I was surprised when they told me about this game. I thought what would work.
they say;
In this game, we would have a new job and salary. With this salary, we can make the investments we want.
Surprise expenses may occur in the game, and we may even have children.
In this way, we will see how we direct our cash flow and see our progress in investing.
Bana bu oyundan bahsettiklerinde öncelikle şaşırdım. Ne işe yarayacağını düşündüm.
Anlatılanlara göre;
Bu oyunda yeni bir mesleğimiz ve maaşımız olacaktı. Bu maaş ile istediğimiz yatırımları yapabilecektik.
Oyun içerisinde sürpriz harcamalar çıkabileceği gibi çocuk sahibi bile olabilecektik.
Bu sayede nakit akışımızı nasıl yönlendirdiğimizi görecek yatırım yapma konusunda gidişatımızı görecektik.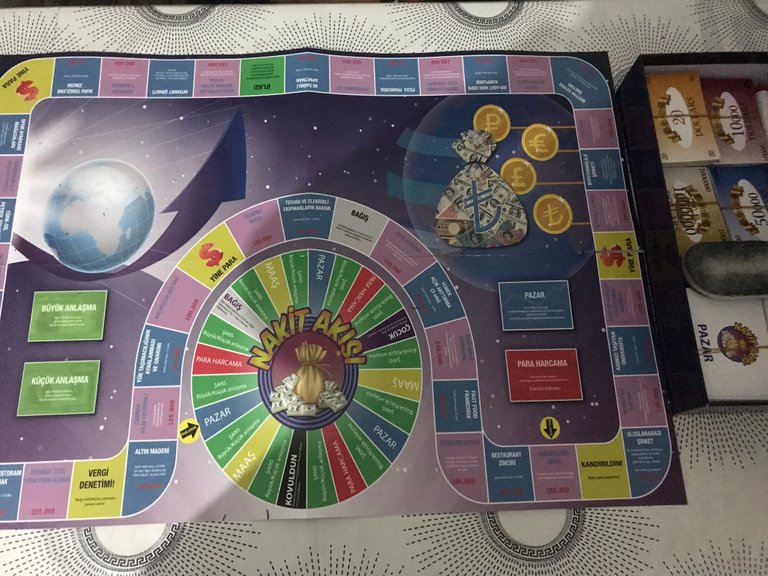 There are 4 of us as seen in the photo. I'm the only one who joins the game from the outside. We will play with Sema, Sema's brother Serkan and Sema's father. They will play for the first time like me.
Fotoğrafta göründüğü gibi 4 kişiyiz. Oyuna dışardan katılan sadece benim. Sema, Sema'nın kardeşi Serkan ve Sema'nın babası ile beraber oynayacağız. Onlarda benim gibi ilk kez oynayacaklar.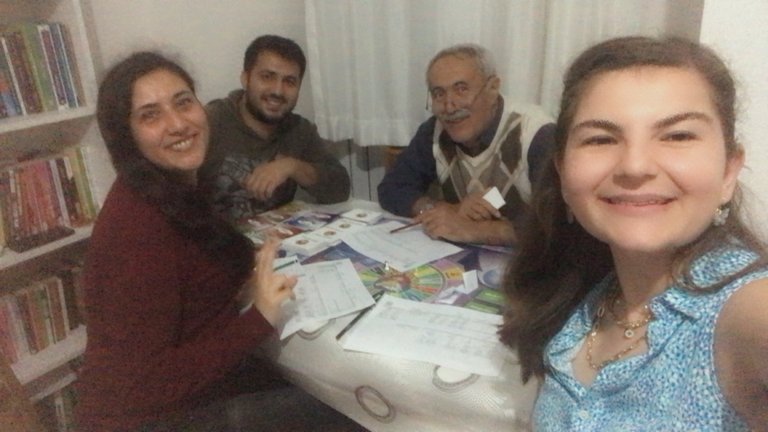 I was eagerly waiting for the game to start. We finally started. Each of us was given a career card. In addition, a paper was given to write down our income and expenses. I was a designer in the game with a monthly cash flow of $1690.
Heyecanla oyunun başlamasını bekliyordum. Sonunda başlamıştık. Hepimize birer meslek kartı verildi. Bunun yanında gelir ve giderimizi yazmamız için bir kâğıt verildi. Oyunun içinde aylık nakit akışı 1690 dolar olan bir tasarımcıydım.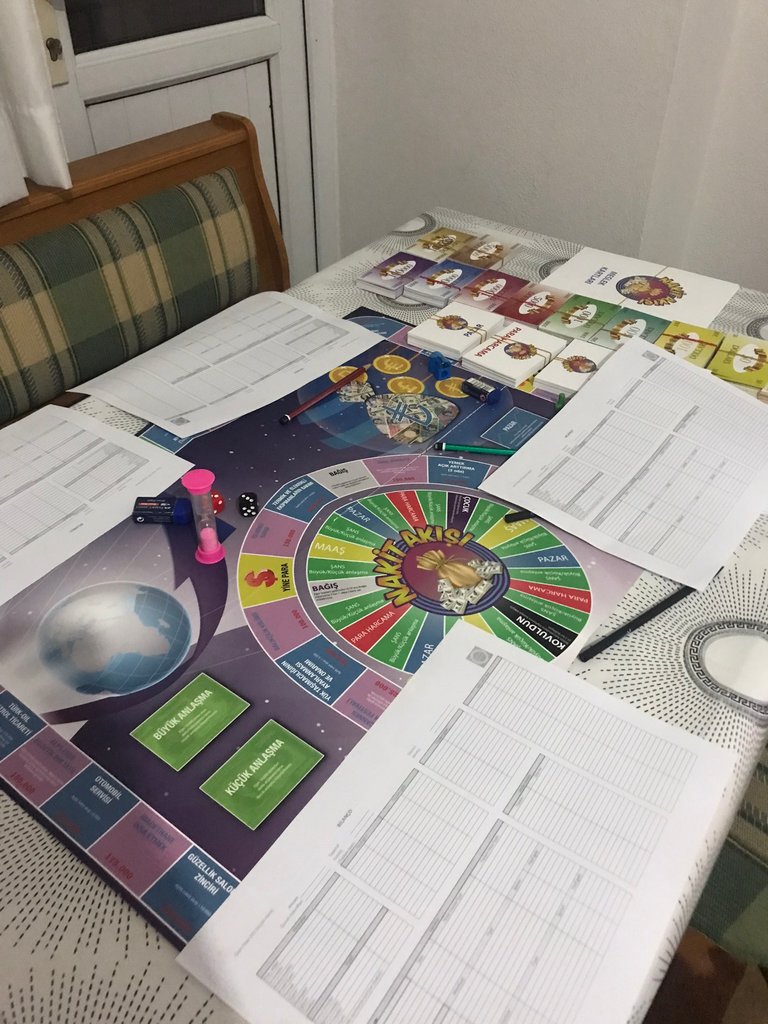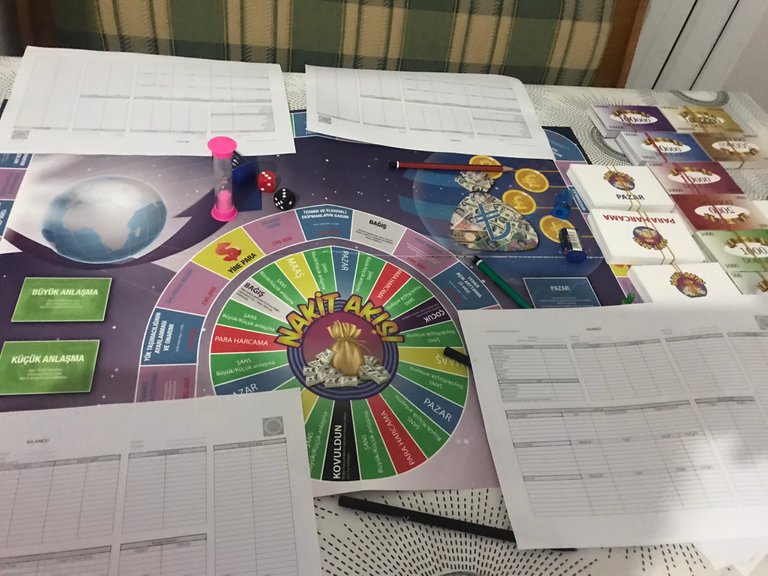 Our goal was to get out of the so-called mousetrap and go to the next step. To get to this step, our balance sheet had to be completely correct, our monthly cash flow had to be at a certain level and we had to have no credit.
Amacımız fare kapanı denilen kısımdan çıkıp bir üst basamağa çıkmaktı. Bu basamağa çıkmak için bilançomuzun tamamen doğru olması, aylık nakit akışımızın belli bir seviyede olması ve kredimizin olmaması gerekiyordu.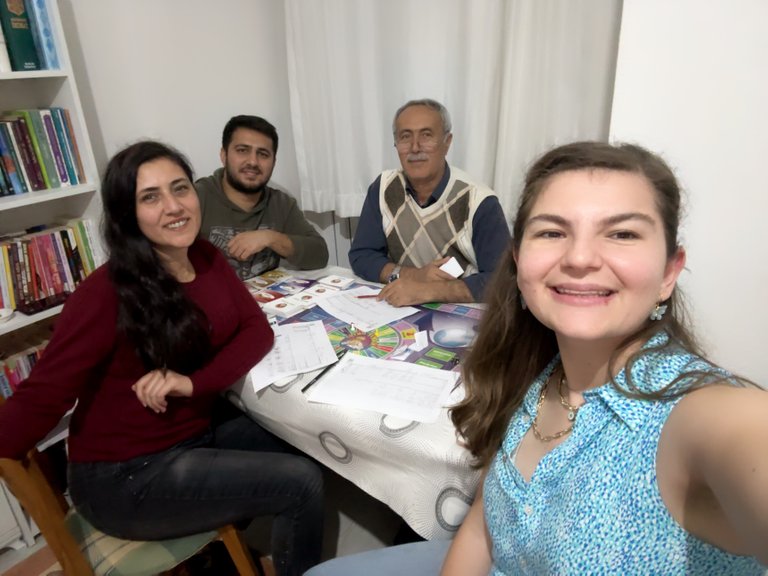 The game offered us certain opportunities with the dice we rolled. Serkan sometimes made certain directions and warned us not to miss opportunities.
Because none of us could take risks. In particular, Sema's father was moving forward, taking the salary, making his expenses and waiting quietly in his corner.
Oyun, attığımız zarlar ile bize belli fırsatlar sunuyordu. Serkan bazen belli yönlendirmeler yaparak bize fırsatları kaçırmamamız yönünde uyarılarda bulunuyordu.
Çünkü hiç birimiz risk alamıyorduk. Özellikle Sema'nın babası garantici ilerliyor maaşı alıp harcamalarını yapıp sessizce köşesinde bekliyordu.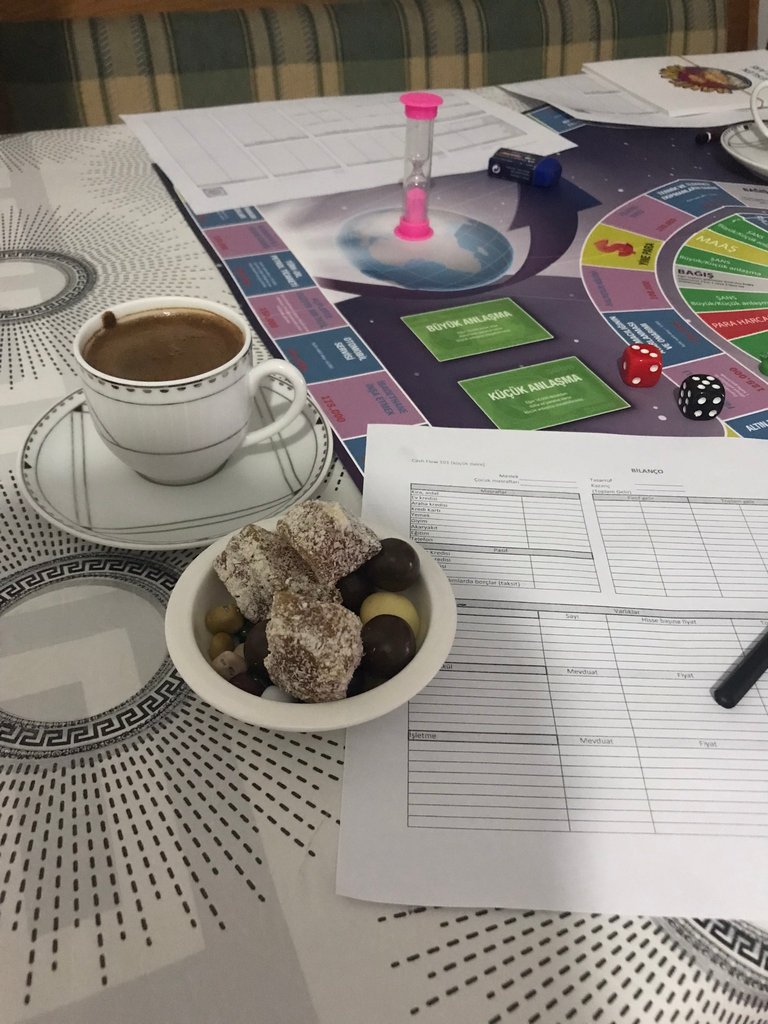 On the other hand, once I invested in stocks and made a loss from it, I did not get involved in stock papers again. Could it be a coincidence that I did this in real life too? : ))
Other than that, I was making a lot of real estate investments and jumping into everything without fear. Of course, the bankruptcy I experienced towards the end of the game brought me to myself.
Ben ise bir defa hisse yatırımı yapıp bundan zarar edince bir daha hisse kâğıtlarına bulaşmadım. Bunu gerçek hayatta da yapmış olmam tesadüf olabilir mi? : ))
Bunun haricinde bolca gayrimenkul yatırımı yapıp korkmadan her şeye atlıyordum. Tabi oyunun sonlarına doğru yaşadığım iflas beni kendime getirdi.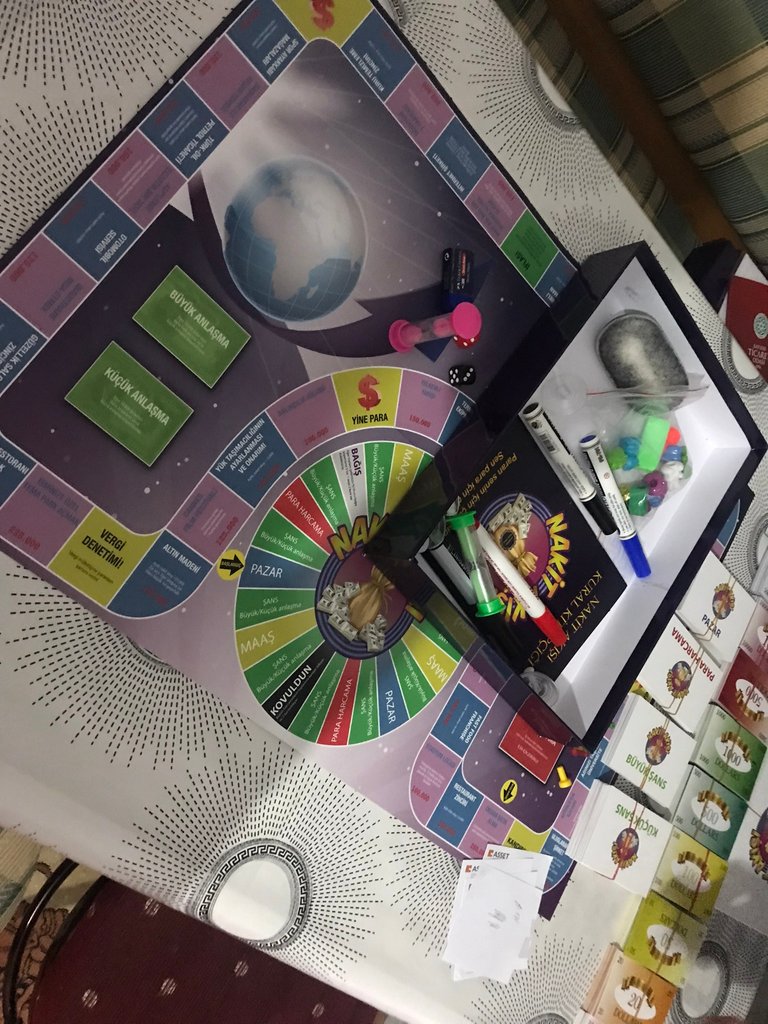 Well, what did this game add to me;
First of all, I understood the importance of making an income-expense statement.
I learned about active and passive income sources.
I learned what to consider when buying stocks and real estate.
I learned that I have to take advantage of the opportunities that may come my way in real life.
Peki, bu oyun bana neler kattı;
Öncelikle gelir-gider tablosu yapmanın önemini kavradım.
Aktif ve pasif gelir kaynaklarını öğrendim.
Hisse senedi ve gayrimenkul alırken nelere dikkat edeceğimi öğrendim.
Gerçek hayatta karşıma çıkabilecek fırsatları değerlendirmem gerektiğini öğrendim.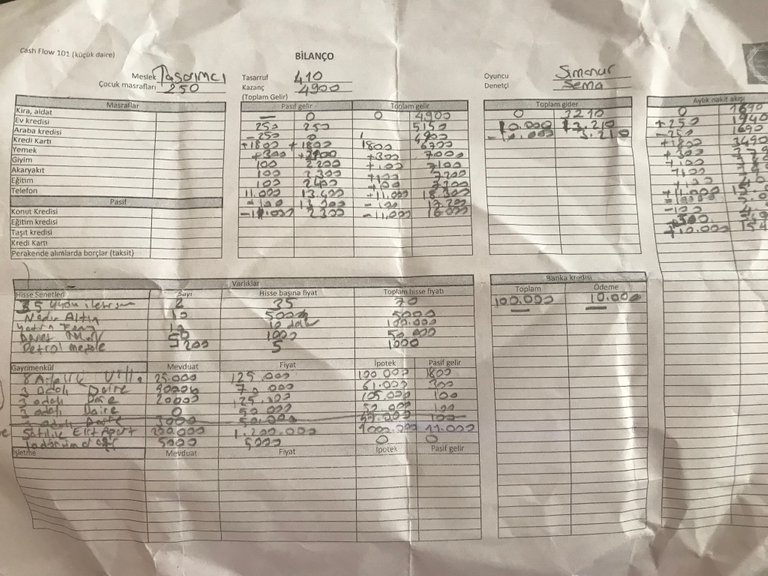 My perspective on money in the game and my thoughts on investing were just like me in real life. Although I did not understand this at first, I started to understand it with the warnings of the instructor, namely Serkan. This broadened my perspective.
Oyunda paraya bakış açım, yatırım yapmakla ilgili düşüncelerim tıpkı gerçek hayattaki beni anlatıyordu. Bunu ilk başta anlamamış olsam da eğitmenin yani Serkan'ın uyarılarıyla kavramaya başladım. Bu sayede bakış açım genişledi.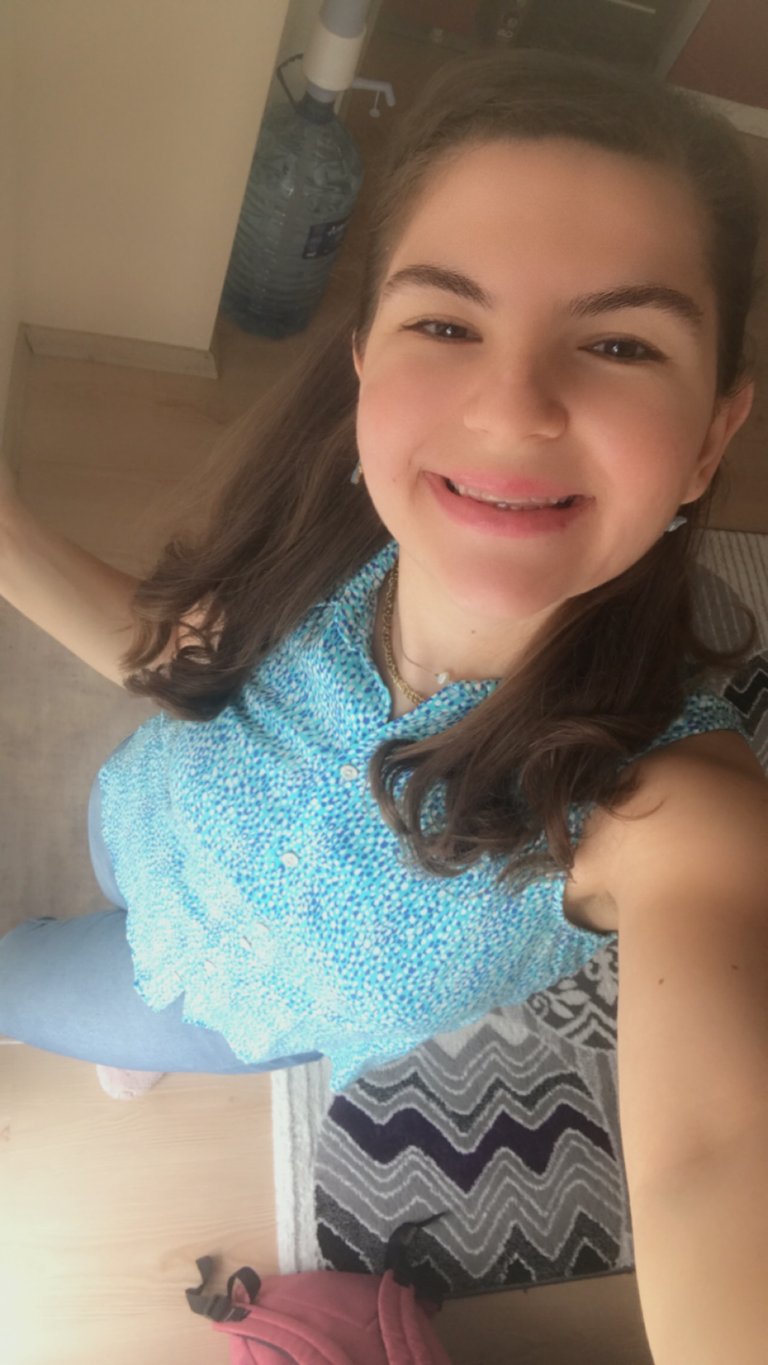 This game is definitely a game I can play again. I had a lot of fun and gained awareness about the money flow.
If you want to experience this game or get detailed information, you can reach Serkan on his instagram channel by searching for the username 'serkanarik_38'. He will gladly answer your questions. I would like to thank him once again for giving us this experience.
Bu oyun kesinlikle tekrar oynayabileceğim bir oyun. Hem çok eğlendim hem de para akışı hakkında farkındalık kazandım.
Sizlerde bu oyunu deneyimlemek ve ya ayrıntılı bilgi almak isterseniz Serkan'a instagram kanalı üzerinden 'serkanarik_38' kullanıcı adını aratarak ulaşabilirsiniz. Sorularınıza seve seve cevap verecektir. Bizlere bu deneyimi yaşattığı için ona bir kez daha teşekkür etmek istiyorum.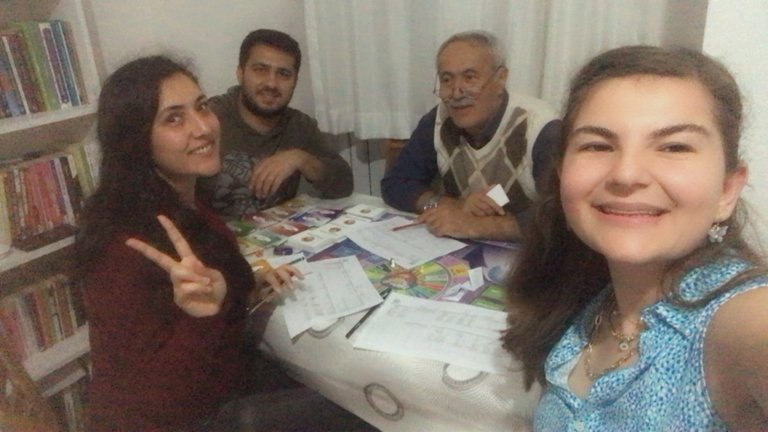 Thank you for reading too.
See you in my next post.
Sizlere de okuduğunuz için teşekkür ederim.
Bir sonraki yazımda görüşmek üzere.
Benim diğer sosyal medya hesaplarım için tıklayınız/ Click for my other social media accounts: https://linktr.ee/hikergirl
---
---