[ENG-ENG] Potterhead cake to get out of trouble! // ¡Pastel de Potterhead para salir del apuro!
Hello friends of Foodies, this weekend was chaos, because my cousin overnight asked me to please save him with a cake that he promised he was going to give away and he completely forgot! So we ran out to buy everything to make a super basic cake but with some Harry Potter theme, since the birthday girl is a fan of that series of movies.
Hola amigos de Foodies, este fin de semana fue un caos, porque mi primo de la noche a la mañana me pidió por favor que lo salve con un pastel que prometió que iba a regalar y se olvidó completamente! asi que salimos corriendo a comprar todo para hacer un pastel super basico pero con alguna tematica de harry potter, ya que la cumpleañera es fan de esa serie de peliculas.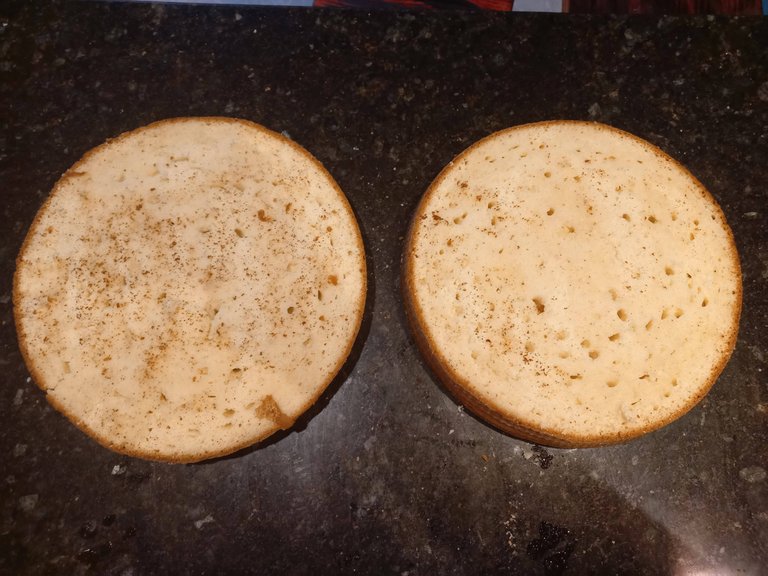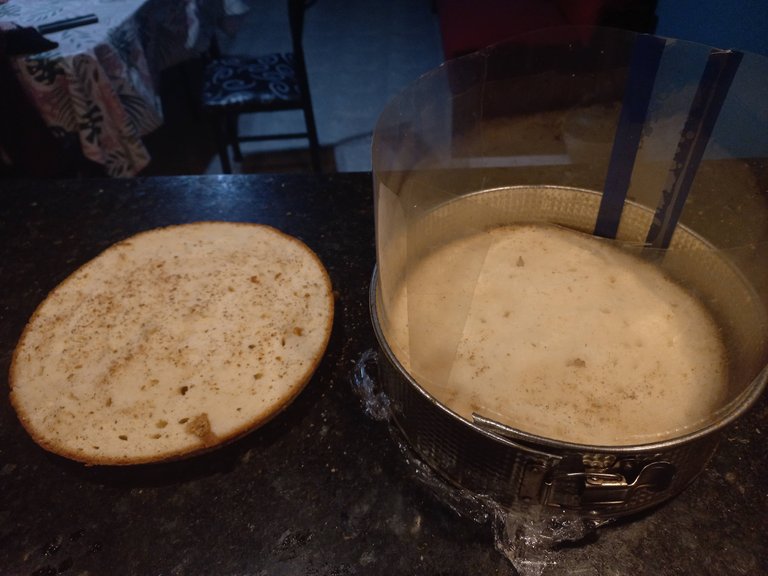 We bought a box of box cake that you only add milk and egg and it is ready to be baked, since it did not give us time for there to be any failure! I baked it and cut it in half, I soaked both parts in classic syrup and prepared the mold and acetate to mount the biscuits with their filling, which would only be dulce de leche, but the most important thing needed to be prepared.
Compramos una caja de bizcocho de caja que solo le agregas leche y huevo y ya esta listo para hornearse, ya que no nos daba el tiempo para que haya alguna falla! lo hornee y lo corté por la mitad, a ambas partes las embebí en almibar clasico y preparé el molde y acetato para montar los bizcochos con su relleno, que solo seria dulce de leche, pero faltaba preparar lo mas importante.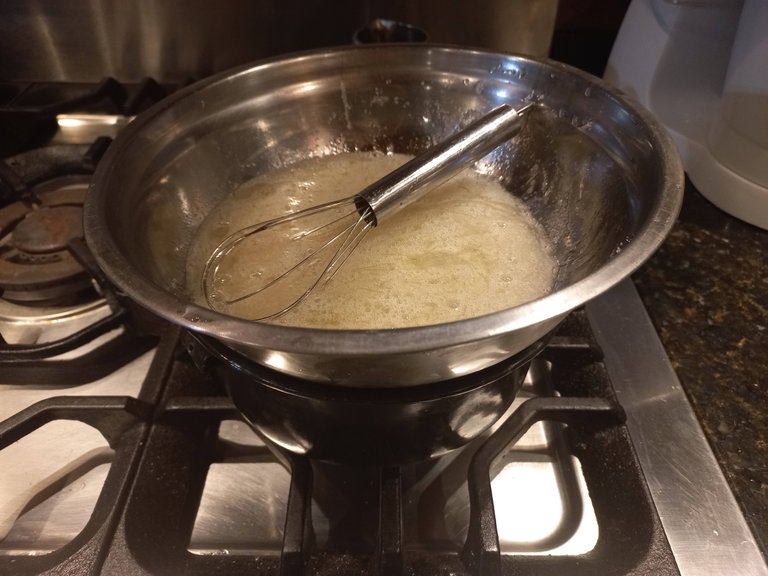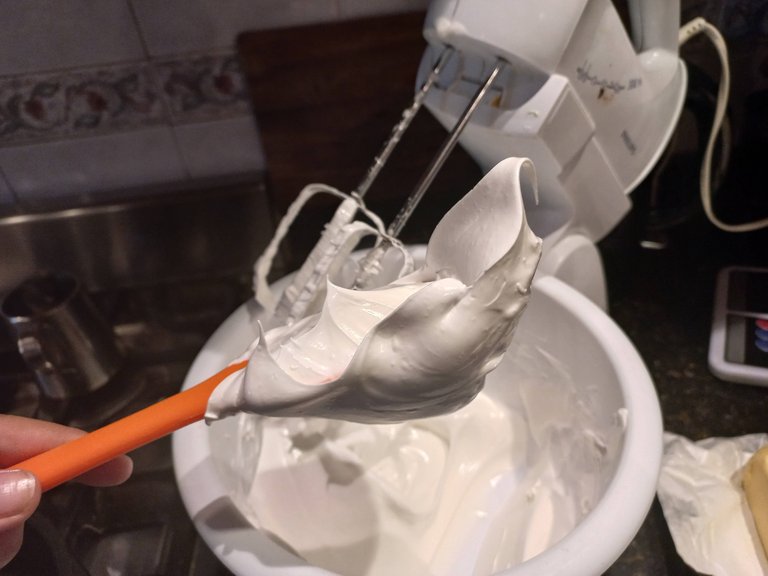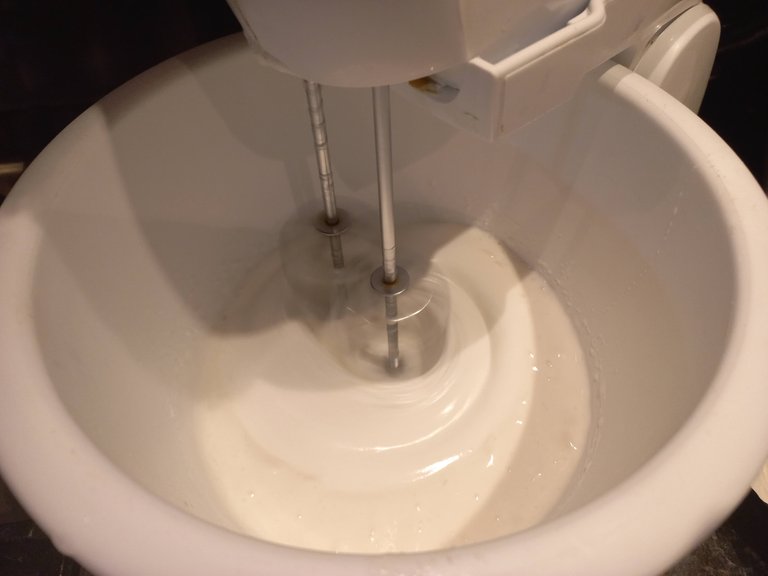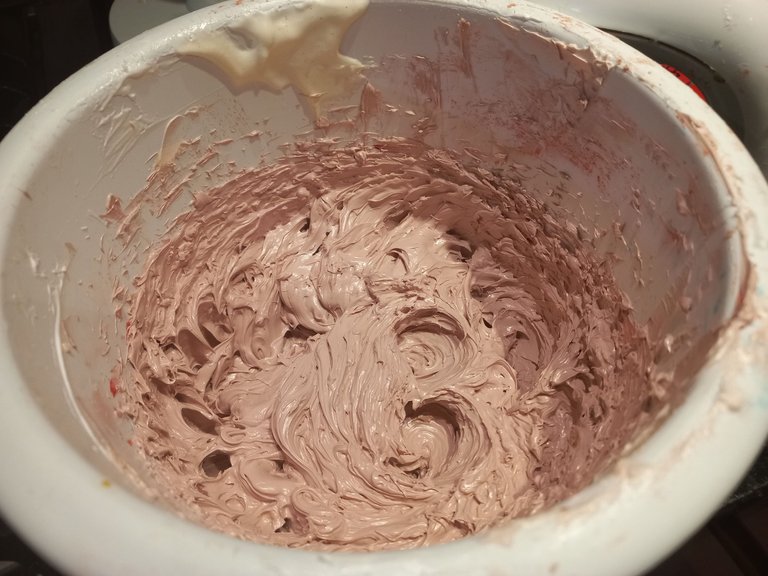 The buttercream that I always make and that never fails is the vanilla buttercream with a Swiss meringue base. So basically what I do is a Swiss meringue, beating the egg whites together with the sugar, which are previously heated in a bain-marie until the sugar melts to the touch. When the whites are well assembled, the meringue will be ready, to this we add the cubed butter at room temperature. At that same moment I added the coloring with which I would decorate the cake on the outside.
El buttercream que realizo siempre y que jamas falla es el buttercream de vainilla con base de merengue suizo. Asi que basicamente lo que hago es un merengue suizo, batiendo las claras junto con el azucar, que previamente se calientan a baño maria hasta que el azucar se deshace al tacto. Cuando las claras esten bien montadas el merengue ya estará listo, a ésto le agregamos la manteca en cubos a temperatura ambiente. En ese mismo momento agregué el colorante con el cual decoraria la torta por fuera.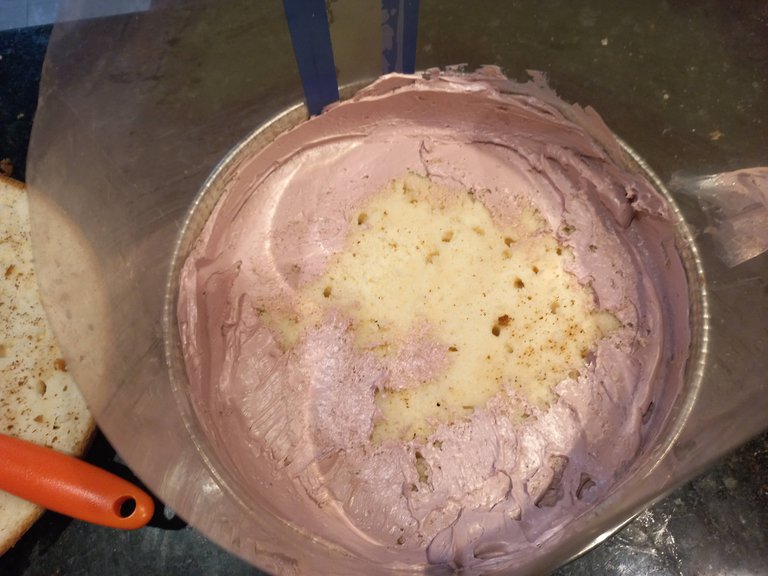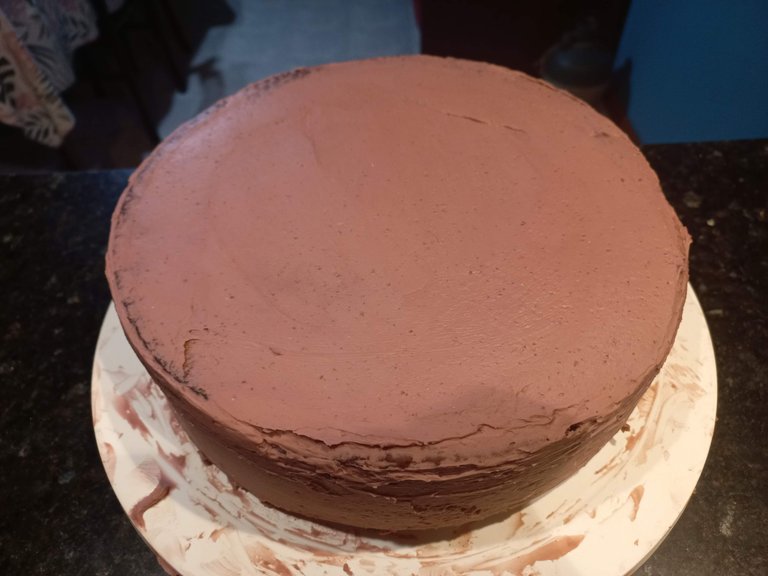 With the buttercream ready I finished filling the cake, since I used a little on the edges so that the filling doesn't spread or drip! We leave it in the fridge for an hour and then we remove the acetate and make a layer of buttercream on the entire cake cover.
con el buttercream listo terminé de rellenar la torta, ya que utilizó un poco en los bordes para que el relleno no se desparrame o se chorree! lo dejamos una hora en la heladera y luego retiramos el acetato y hacemos una capa de buttercream en toda la cubierta del pastel.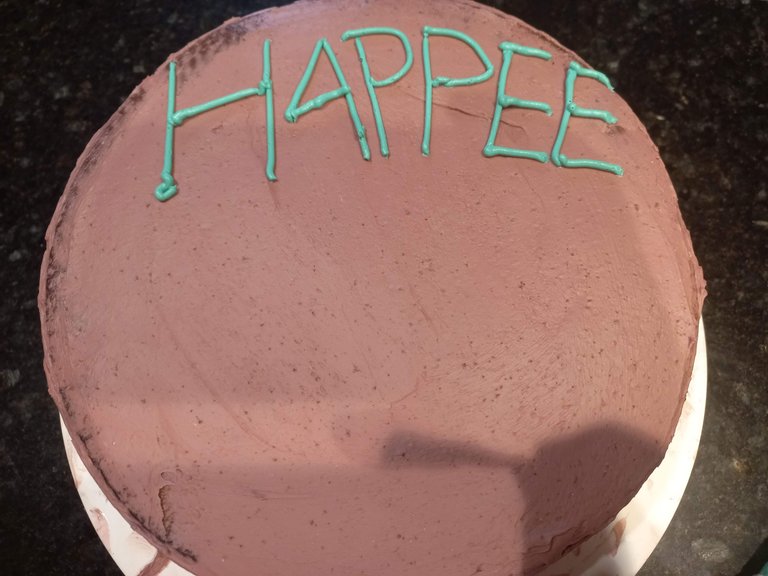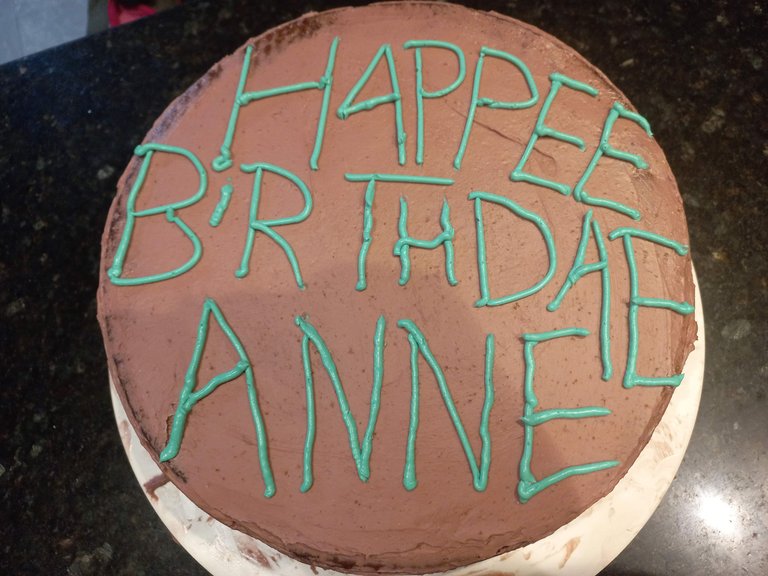 When Harry Potter turns 11, Hagrid gives him two things: a letter telling him that he is a wizard and that he belonged to Hogwarts, and a cake for his birthday. So since we didn't have time to think about many ideas, and that cake was very poorly decorated by Hagrid, so it seemed like a good idea to make that messy decoration that is so characteristic of the movie! she being potterhead would quickly understand the reference ♥
Cuando Harry Potter cumple 11 años Hagrid le regala dos cosas: una carta contandole que es un mago y que pertenecia a Hogwarts, y un pastel por su cumpleaños. Asi que como no teniamos tiempo para pensar muchas ideas, y ése pastel estaba muy mal decorado por Hagrid, asi que me parecio una buena idea realizar esa decoracion desprolija y tan caracteristica de la pelicula! ella siendo potterhead entenderia rapido la referencia ♥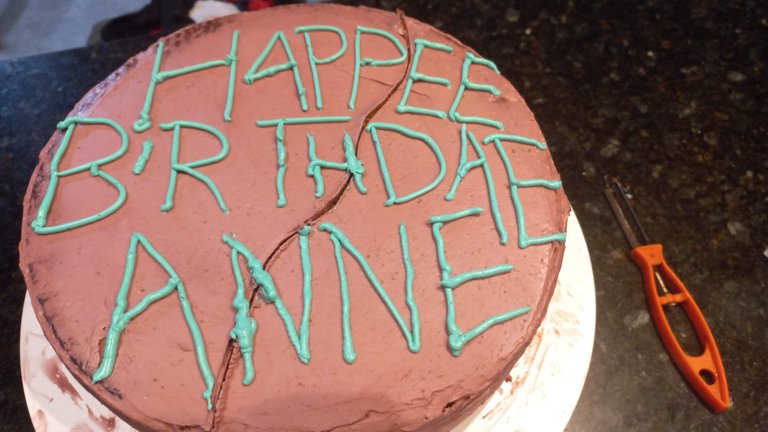 As you can see in the photos, I made a layer of pink buttercream all over the surface of the cake. And then with green buttercream I wrote the letters that say "Happee Birthdae Anne", the birthday girl's name is Ana ♥
Como puedes ver en las fotos, hice una capa de buttercream rosado por toda la superficie del pastel. Y luego con buttercream verde escribí las letras que dicen "Happee Birthdae Anne" , la cumpleañera se llama Ana ♥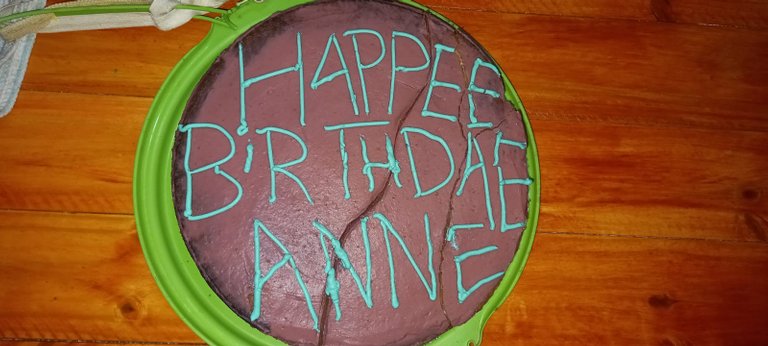 Then with a potato peeler I made the two lines that cross the cake, and this was the final result! how about? For a cake that I literally had to make overnight, it seems to me that it turned out excellent and that the instructions were fulfilled satisfactorily. I hope that you also like the result and that you think about this alternative if you are in the same trouble as me!
Luego con un pelapapas hice las dos lineas que atraviesan la torta, y este fue el resultado final! que te parece? para ser una torta que literalmente tuve que hacer de la noche a la mañana, me parece que quedó excelente y que la consigna se cumplió satisfactoriamente. Espero que a ustedes tambien les guste el resultado y que piensen en esta alternativa si estan en el mismo apuro que yo!
Thank you very much for reading my post!
a kiss and a hug, heypuch ♥

Muchas Gracias por leer mi post! un beso y un abrazo, heypuch ♥
---
---