MOTHER'S DAY CELEBRATION AT MY DAUGHTER'S SCHOOL

El colegio de mi hija tiene más de 50 años de trayectoria en la ciudad donde residimos, tanto es así, que mi esposo @soychalbed es egresado de allí, cuando decidimos que nuestra hija mayor, Anna Paula le tocaba estudiar, quisimos buscar un colegio que ingresara desde temprana edad y siguiera su trayectoria pedagógica hasta salir de secundaria, así siempre estudiaría con el mismo grupo y nos evitábamos buscar otro colegio cuando terminaría inicial o primaria.
En mi campo laboral, en la parte de proyectos comunitarios, ya había trabajado con este colegio, me parecía muy organizado y pedagógicamente hablando de mucho prestigio, así que decidimos incluirla ahí, cuando nos hacen la primera entrevista, nos recalcan que había prioridades para los niños cuyos hermanos estén estudiando allí y los hijos de padres egresados, así que por esa parte íbamos bien ya que mi esposo fue egresado de la secundaria.
Días después de la entrevista, nos llamaron para darnos la noticia que nuestra hija fue admitida al colegio.
De allí para acá su preparación ha sido muy buena, en diversos ámbitos, a nivel pedagógico son unos profesionales exigentes de acuerdo a la edad del estudiante, cosa que a mi parecer es muy buena, a nivel deportivo, cada una de las actividades que le colocan lo hacen d manera que el estudiante se interese por la misma, en cuanto al ámbito cultura, definitivamente se destacan, como este año, con motivo del día de las madres, hicieron una bailo terapia para disfrutar madres e hijos, cosa que me pareció genial.

My daughter's school has more than 50 years of experience in the city where we live, so much so, that my husband @soychalbed is a graduate of there, when we decided that our eldest daughter, Anna Paula had to study, we wanted to find a school that would admit her from an early age and follow her pedagogical path until she left high school, so she would always study with the same group and we avoided looking for another school when she would finish kindergarten or elementary school.
In my field of work, in the part of community projects, I had already worked with this school, it seemed to me very organized and pedagogically speaking very prestigious, so we decided to include it there, when we made the first interview, they emphasized that there were priorities for children whose siblings were studying there and children of parents who graduated, so we were doing well on that part since my husband graduated from high school.
Days after the interview, they called us to give us the news that our daughter was admitted to the school.
From then on their preparation has been very good, in different areas, at a pedagogical level they are demanding professionals according to the age of the student, which in my opinion is very good, at a sports level, each of the activities that they put in place are done in a way that the student is interested in it, as for the cultural area, they definitely stand out, like this year, on the occasion of Mother's Day, they did a dance therapy to enjoy mothers and children, which I thought was great.
---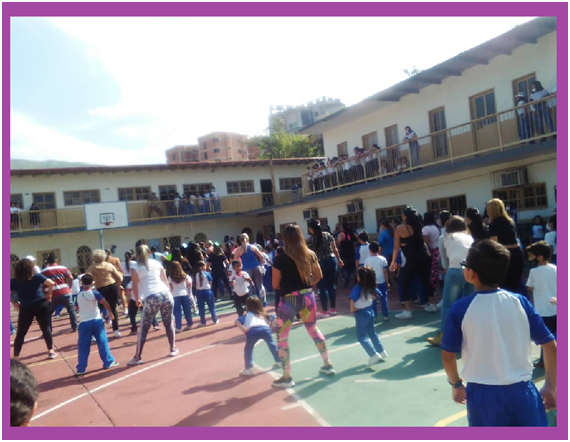 ---
Como profesora, me agrada y me parece pertinente que los representantes vayan a cada una de las actividades pautadas por sus hijos, así que, como representante, no me pierdo ninguna de las actividades escolares de mis hijos, y es que definitivamente me encanta ver la evolución de ellos en cada uno de sus actos.
As a teacher, I like and I find it pertinent that the representatives go to each of the activities scheduled by their children, so, as a representative, I do not miss any of the school activities of my children, and I definitely love to see the evolution of them in each of their actions.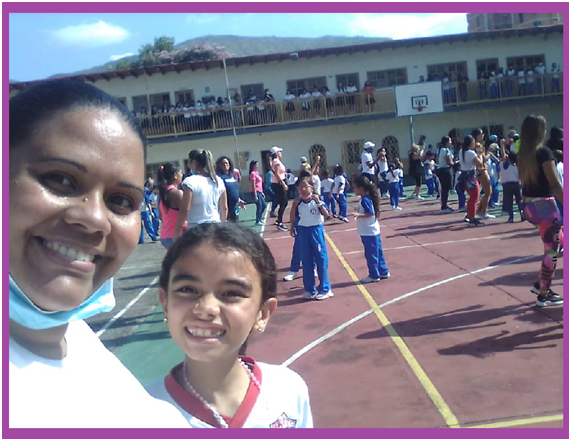 Anna Paula es una niña muy alegre, estudiosa y le encanta bailar, así que esta actividad la pudimos disfrutar ambas.
Debo resaltar que, con mi hija estudia un caballero hermoso, hijo de mi gran amiga Mara (@amores.sf2), una excelente Hiver, a quien conozco desde hace años, una excelente persona y docente, tanto así que la conocí en mi escuela, cuando llegó para realizar un trabajo comunitario con sus estudiantes, desde esa vez la amistad creció, y por cosas del destino su hijo y mi hija estudian juntas y le enseñe el grandioso mundo de #HIVE.
Anna Paula is a very happy child, studious and loves to dance, so this activity was enjoyed by both of us.
I must emphasize that, with my daughter studies a beautiful gentleman, son of my great friend Mara (@amores.sf2), an excellent Hiver, whom I have known for years, an excellent person and teacher, so much so that I met her at my school, when she came to do a community work with her students, since that time the friendship grew, so much and by things of fate her son and my daughter study together and I taught him the great world of #HIVE.
---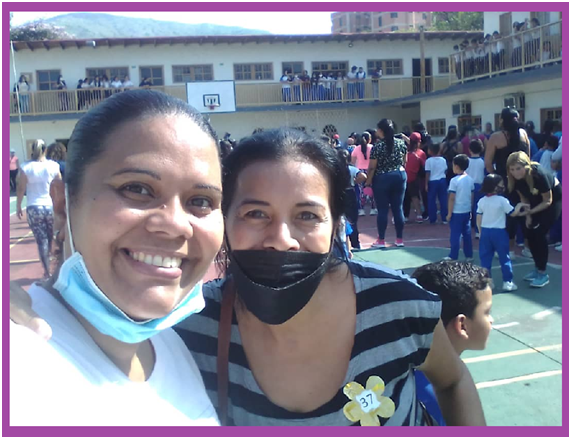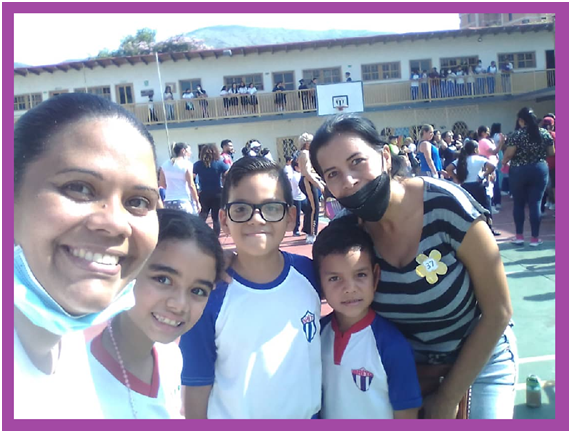 ---
Fueron 2 horas aproximadamente de baile, dirigido por un profesor experto en la materia, el sol estaba increíblemente fuerte, el calor ni les digo, pero fue un rato súper agradable y amenos, a mí particularmente, que me encanta bailar tanto lo disfruté, aún falta un acto por el día de las madres, luego les cuento como nos fue.
It was about 2 hours of dancing, led by an expert teacher in the field, the sun was incredibly strong, the heat I can't even tell you, but it was a super nice and enjoyable time, I particularly, I love to dance so much I enjoyed it, there is still an event for mothers day, then I'll tell you how it went.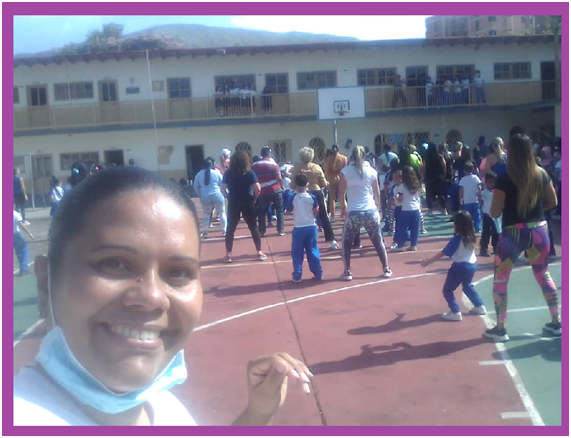 Gracias por leer parte de mí

Thanks for reading part of me

Les envío un abrazo cargado de bendiciones

I send you a hug full of blessings

Fotografías y edición: de mi propiedad, tomadas desde mi teléfono móvil y editadas en el programa paint.

Photographs and editing: my own, taken from my cell phone and edited in the paint program.

---
---