Movie review: The Sea Beast (An unexpected friendship)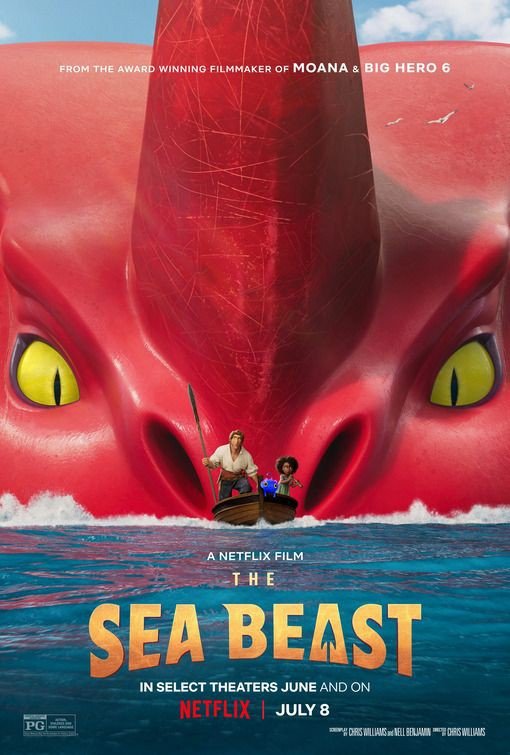 Hello everyone,
It's been a while I made post here and that's because of my major exams which I was writing. I had to take my time to study more so I couldn't even watch movies and be active here. Now we're on holidays and I'm so excited to be back here. Today I will be talking about The sea beast which is the recent movie I watched on Netflix.
The sea beast is an adventure animation. Which again is on of my best genres. It is directed by Chris Williams and produced by Jed Schlander. The movie is about a group of monster hunters trying to capture the biggest and strongest of monsters to protect the sea and make it safe. Sit back and enjoy the summary.
SUMMARY
The movies started with a group of people called Monster Hunter on a ship called "The Inevitabl". It tells us that they were on a mission to capture another great monster. The movie also shows us that this tradition had been going on from generation to generation. The ship consist of the captain of the ship called Captain Crow, his first mate Sarah Sharp and adopted son Jacob. After being on a mission to kill another dangerous monster they had to save another ship and barely made it out alive. By saving that other ship, they had to abandon the Red Bluster (which is the biggest and most feared out of the monsters), and instead captured another sea beast. They then went to the palace to collect their reward from the king and queen.
The king and queen were disappointed that the red bluster the most dangerous sea beast wasn't caught. They threaten to replace another ship which is to be controlled by the navy. Jacob convinces them to give them a last chance. The king and queen agree but says that it will be a competition between The navy and them.
On their way to capture the red bluster the crew discover that a young girl named Maisie Brumble stowed into the ship. She is an orphan girl whose parents died during monster hunting. You see, her deceased parents were also Monster Hunters and they gave their lives for the cause so she live to honor their legacy and also become a hunter herself. She eventually convince the crew to let her go monster hunting with them. After hesitating for a while, the Captaim later agree to allow her go with them. After some time they came in contact with Red Bluster and it attacks them. They tried their best to capture the sea beast but she was too big to be captured and was almost drowning the ship with her. Eventually Jake had to make a decision to save the ship by letting Maisie cuts a rope holding the monster to the ship, a decisionthe Captain strongly disagrees with. Unfortunately Jake and Maisie got eaten by the sea beast just when they thought she was gone. Leaving a huge anger and sadness within the Captain because Jake was his adopted son.
The Bluster the took Jake and Maisie to an island and there Maisie familiarise herself with the monsters and even tried to make friends with them. Later she understands that the monsters were just misunderstood creatures. Later she became friends with the Bluster and she named her Red. She also made friends with a smaller creatures called Blue. Though Jake initially disagree, he later come to trust Red after she saved them from a dangerous crab.
Meanwhile, Captain Crow though Jacob was dead and was so enraged and looks for a sea merchant called Gwen batterbie. Crow visits her and asks for a poison and weapon strong enough to kill the monster which she gives to him at the expense of his crew. Jacob and Maisie then arrived at Rum Pepper island but discover that the inevitable and navy were there. Red then attacks the ship and the navy and inevitable were shooting canons by which one injuried Maisie. Red later overpower the navy but was shot with the arrow poison by Captain Crow and was captured paralysed to be taken to the palace.
Maisie gets better but is trapped in the inevitable ship. They arrive at the palace and then Blue frees Maisie. Noticing that the crown sigil is in all the sea hunting book she realizes that it's all a lie. And that the creatures were only defending themselves from the hunters. Crow is about to kill the beast but is stop by Jacob and this led to a fight with Crow knocking Jacob into the water. Maisie is then left with Sarah Sharpe who eventually helps her to free the beast. Maisie and Jacob convince the people that the sea beast were only defending themselves due to attacks of the hunters and expose the king and queen for their lies. The kingdom believes them and they stop monster hunting.
REVIEW AND RATINGS
To be honest when I saw this movie I just thought it would be another uninteresting Netflix cartoon but When I watched this movie I was blown away by it. It is so exciting and the animation was amazing. The plot is also well constructable, tho the ending was kind of predictable. The characters were well done and the voice acting is also good. It's is a movie you can watch multiple times and not get tired if it. It is entertaining and engaging. I also love the cinematography, aesthetic and graphics everything was just amazing. This is a movie I recommend watch.
I do learn some valuable lessons from the movie and that things are not always the way they supposed to be. It's good to make proper findings before jumping into a conclusion. We should also be open minded to learn new things and history. If not because Maisie was open minded and was blindly scared by the monsters, she wouldn't have seen the kindest in them in order to realize they are not evil
I give this movie a 9/10.
THANK YOU FOR READING MY BLOG TODAY, HAVE AN AMAZING DAY.
---
---