El sueño del #TeamGatos se hizo realidad | Review Gatos y Sopa. (EN/ES)
---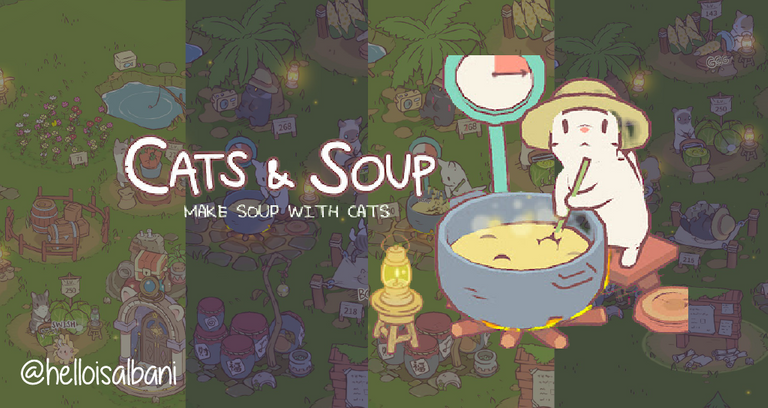 This post is both in English and Spanish, you can go directly to english by clicking HERE
¡Hola, geeks! ✨
Espero que su día esté yendo INCREÍBLE. ¡Bienvenidos a mi canal!
Para estrenarme en esta comunidad les traigo una reseña sobre un juego para móviles que descubrí hace poco. Gatos y Sopa.

Este juego me pareció fabuloso desde el primer momento que lo jugué, porque es hermoso y tiene gatitos y yo amo los gatitos jajaja.
Gatos y sopa es un juego de gestión en donde los gatos son cocineros y trabajan en equipo para preparar su comida. Tu trabajo es hacerles la vida más fácil a los gatos. Los alimentas, los vistes y les ofreces mejores condiciones de vida, básicamente. Tienes que construir tu aldea a medida que vas avanzando, construyendo edificios los cuales variarán en su función. Con cada edificio que construyas, obtendrás un nuevo gato. Cada edificio aumenta tu posibilidad de ganar dinero y con el dinero puedes seguir construyendo.
Cuando te quedes sin espacio para construir puedes ampliar el terreno con… ¡Adivinen! Exacto, con más dinero. Se parece un poquito a la vida real, ¿no?
También puedes vestir a los gatos y alimentarlos y más adelante, les podrás construir un hogar. También tiene la opción de pesca y con esos pescados los alimentas.

Los gatos tienen un sistema de amistad, por decirlo así. Tienen corazones y si te haces amigos de ellos, o te ganas su cariño vas aumentando los corazones. Si siempre estás atento y los alimentas, los vistes, definitivamente te los ganarás.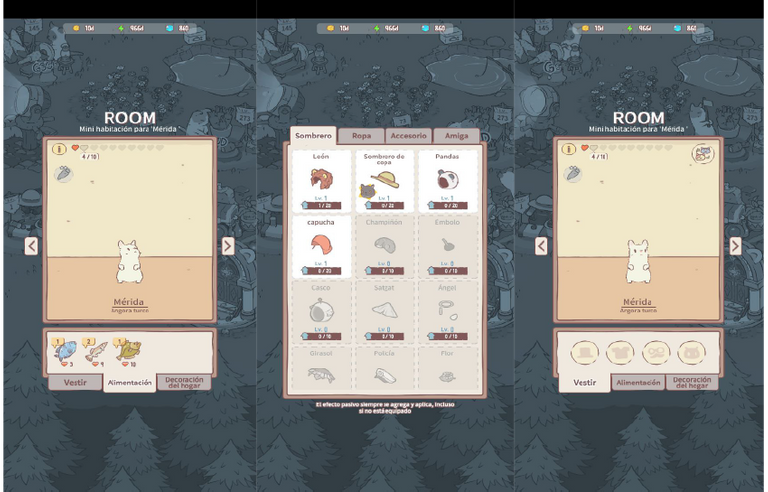 Es algo parecido a Stardew Valley, otro juego de gestión, en donde tienes que encargarte de tu granja y hacer que prospere, al igual que tienes que socializar y ganarte los corazones de los vecinos.
Tengo un post de Stardew Valley de hace un tiempo (demasiado bueno😄). Si te interesa, te dejo el link aquí.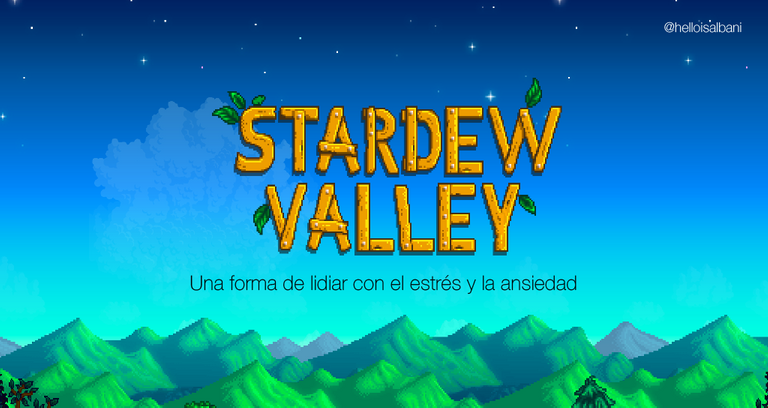 Ambos son juegos que están hechos para relajarte, para pasar el rato y todo en ellos está hecho para eso, para que estés a gusto y te olvides del mundo. Y sé por qué te lo digo. Son juegos sencillos, pero precisamente por su sencillez quedas atrapado. Al principio decides jugar Gatos y Sopa, por ejemplo, para relajar tu mente y de repente ya tienes 6 horas seguidas jugando, donde solo te detienes para ir al baño o comer, y bueno, eso si eres de los que come sin tocar el teléfono porque si tu adicción es mayor, podrías comer mientras juegas. Por favor, come tranquilo, descansa 🙏 😿
Pero la cuestión es que su sencillez es la clave de su éxito.
¿Te quieres relajar? Juega Gatos y Sopa.
Yo, de verdad quedé encantada con este juego. Lo conocí porque @pentaghast me pasó un video de tik tok en donde un chico hablaba de este juego, y cuando vi sus gráficos y lo bonito que se veía, junto al hecho de que son gatos cocineros HACIENDO SOPA, inmediatamente pensé: "tengo que jugarlo YA". Y así lo hice, de hecho, empecé a predicar la palabra de Gatos y Sopa y se lo recomendé a una amiga que no tardo ni 5 minutos en descargarlo. Cuando le hablas a un #teamgatos de este juego, tocas su fibra sensible.
Y yo sé que te he hablado bastante de este juego, pero no es lo mismo que te lo cuenten, a verlo tú mismo. Así que, DALE PLAY.
PD: si odias los gatos, mejor ni mires.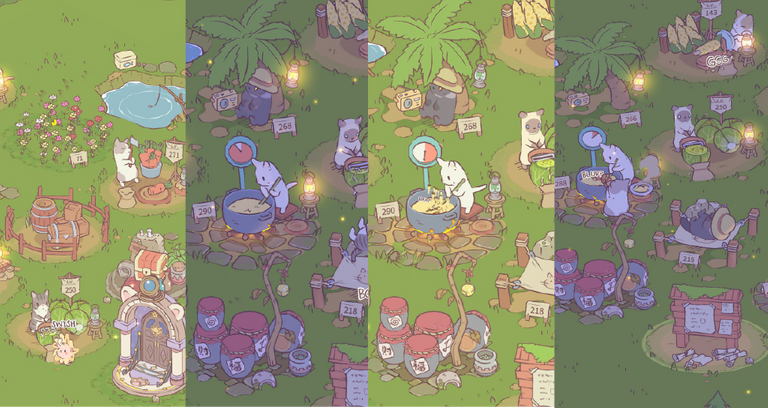 Créditos
Portada diseñada en Adobe Illustrator.


English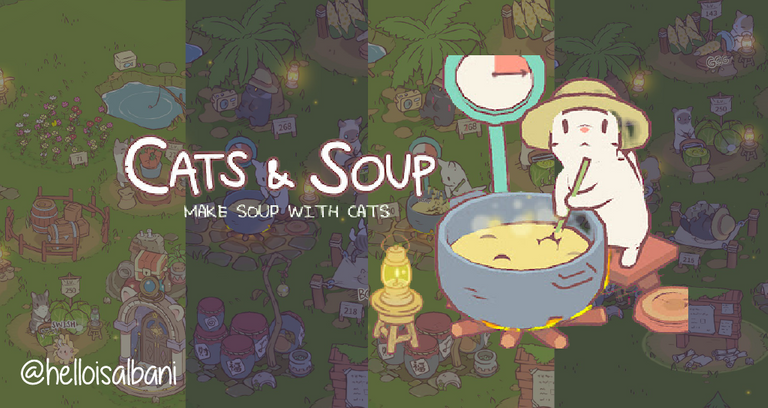 ¡Hi, geeks! ✨
I hope your day is going AMAZING. welcome to my channel!
To debut in this community I bring you a review of a mobile game that I recently discovered. Cats and Soup.

I thought this game was fabulous from the first moment I played it, because it is beautiful and it has kittens and I love kittens hahaha.
Cats and Soup is a management game where cats are cooks and they work as a team to prepare their food. Your job is to make life easier for the cats. You feed them, dress them and offer them better living conditions, basically. You have to build your village as you go along, constructing buildings which will vary in function. With each building you build, you get a new cat. Each building increases your chance of earning money, and with the money you can keep building.
When you run out of space to build, you can expand the land with... Guess what! That's right, with more money. Sounds a little bit like real life, doesn't it?
You can also dress the cats and feed them and later on, you can build them a home. You also have the option of fishing and with those fish you feed them.

Cats have a friendship system, so to speak. They have hearts and if you befriend them, or win their affection you increase the hearts. If you are always attentive and feed them, dress them, you will definitely win them over.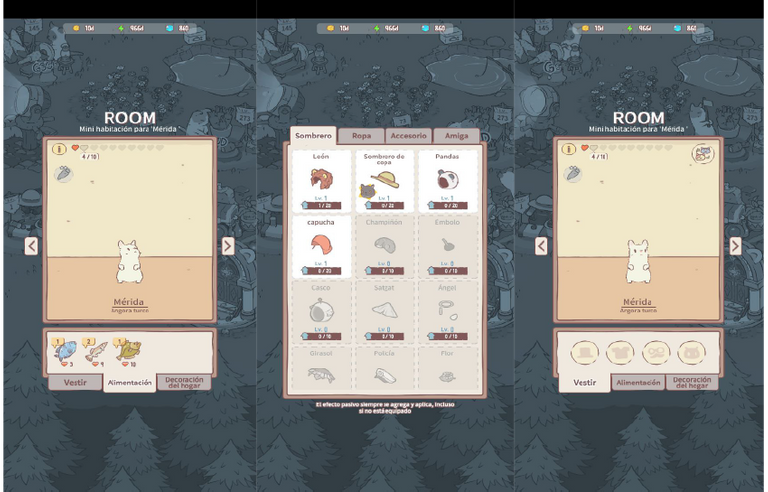 It's somewhat similar to Stardew Valley, another management game, where you have to take care of your farm and make it thrive, just as you have to socialize and win the hearts of the neighbors.
I have a Stardew Valley post from a while ago (too good😄). If you're interested, I'll leave you the link here.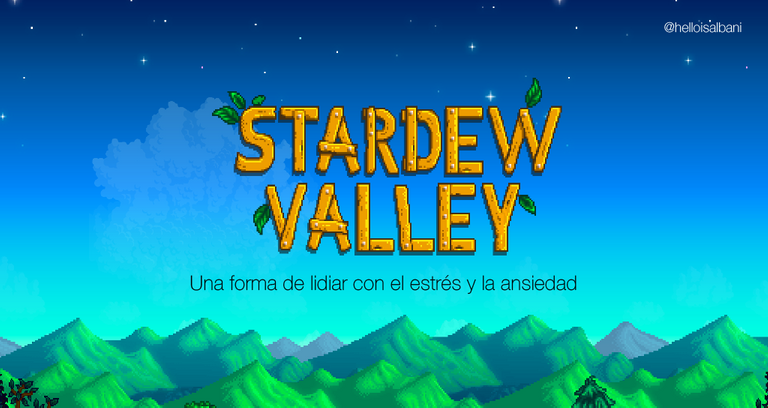 Both are games that are made to relax you, to pass the time and everything in them is made for that, for you to be at ease and forget about the world. And I know why I tell you that. They are simple games, but precisely because of their simplicity you get caught. At the beginning you decide to play Cats and Soup, for example, to relax your mind and suddenly you have 6 hours straight playing, where you only stop to go to the bathroom or eat, and well, that's if you are one of those who eats without touching the phone because if your addiction is greater, you could eat while you play. Please, eat quietly, rest 🙏 😿 😿.
But the thing is, its simplicity is the key to its success.
Want to relax, play Cats and Soup.
Me, I really was enchanted with this game. I knew about it because @pentaghast passed me a tik tok video where a guy was talking about this game, and when I saw its graphics and how cute it looked, along with the fact that it's cooking cats MAKING SOUP, I immediately thought: "I have to play it NOW ". And so I did, in fact, I started preaching the word of Cats and Soup and recommended it to a friend who didn't even take 5 minutes to download it. When you tell a #teamgatos about this game, you strike a chord with them.
And I know I've told you quite a bit about this game, but it's not the same to be told about it, as it is to see it for yourself. So, GET PLAYING.
***PS: if you hate cats, don't even look at it.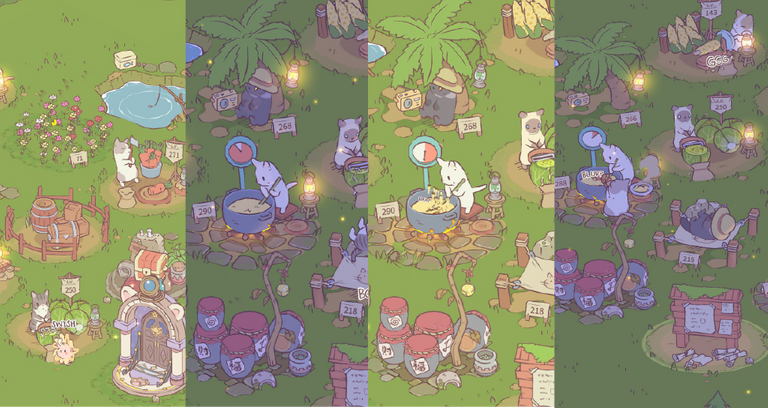 Credits
Cover designed in Adobe Illustrator.


---
▶️ 3Speak
---
---