[ESP-ENG] ¿Sabías que las ballenas amamantan a sus crías? ǀ Did you know that whales suckle their babies? 🐳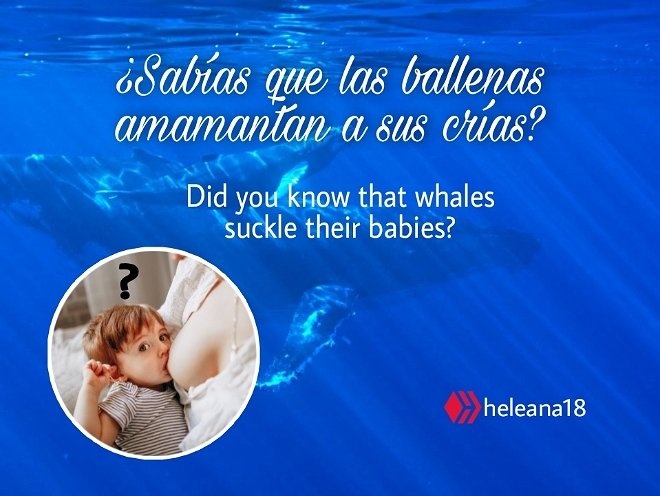 ---
[Español]
¡Saludos, hivers! 💙
La semana pasada estuve realizando un curso de Promotores de Lactancia Materna y revisando el material, observé un video de caricaturas donde representaban a las madres mamíferas amamantando a sus crías, entre ellas aparecía la ballena y la verdad, me sorprendí porque ignoraba que existían mamíferos acuáticos. Me pareció tan curioso que decidí investigar cómo se desarrollaba este milagroso proceso entre las ballenas y sus ballenatos.
[English]
Hello, hivers! 💙
Last week I was taking a course of Breastfeeding Promoters and reviewing the material, I watched a cartoon video where they represented mammal mothers breastfeeding their calves, among them appeared the whale and the truth, I was surprised because I was unaware that there were aquatic mammals. I found it so curious that I decided to investigate how this miraculous process developed between whales and their calves.
---
Aunque no está totalmente descrito, como las ballenas no tienen labios para hacer el movimiento de succión para mamar, se estima que la madre eyecta la leche hasta la boca de su cría, leche de composición grasa en aproximadamente un 50% de su constitución, la cual permite cubrir los requerimientos del ballenato, además de no "diluirse" en el proceso, ya que las crías son amamantadas bajo el mar luego de que hayan salido a la superficie a respirar (no pueden comer y respirar al mismo tiempo).
En el siguiente vídeo un bióloga explica brevemente en español, estas curiosidades acerca de las ballenas:
Although not fully described, since whales do not have lips to make the sucking motion to suckle, it is estimated that the mother ejects milk into her calf's mouth, milk of fatty composition in approximately 50% of its constitution, which allows covering the requirements of the calf, in addition to not being "diluted" in the process, since the calves are suckled under the sea after they have surfaced to breathe (they cannot eat and breathe at the same time).
In the following video a biologist explains briefly in Spanish, these curiosities about whales:
---
---
---