[ESP-ING] Instantes con la fotografía | Moments with photography
---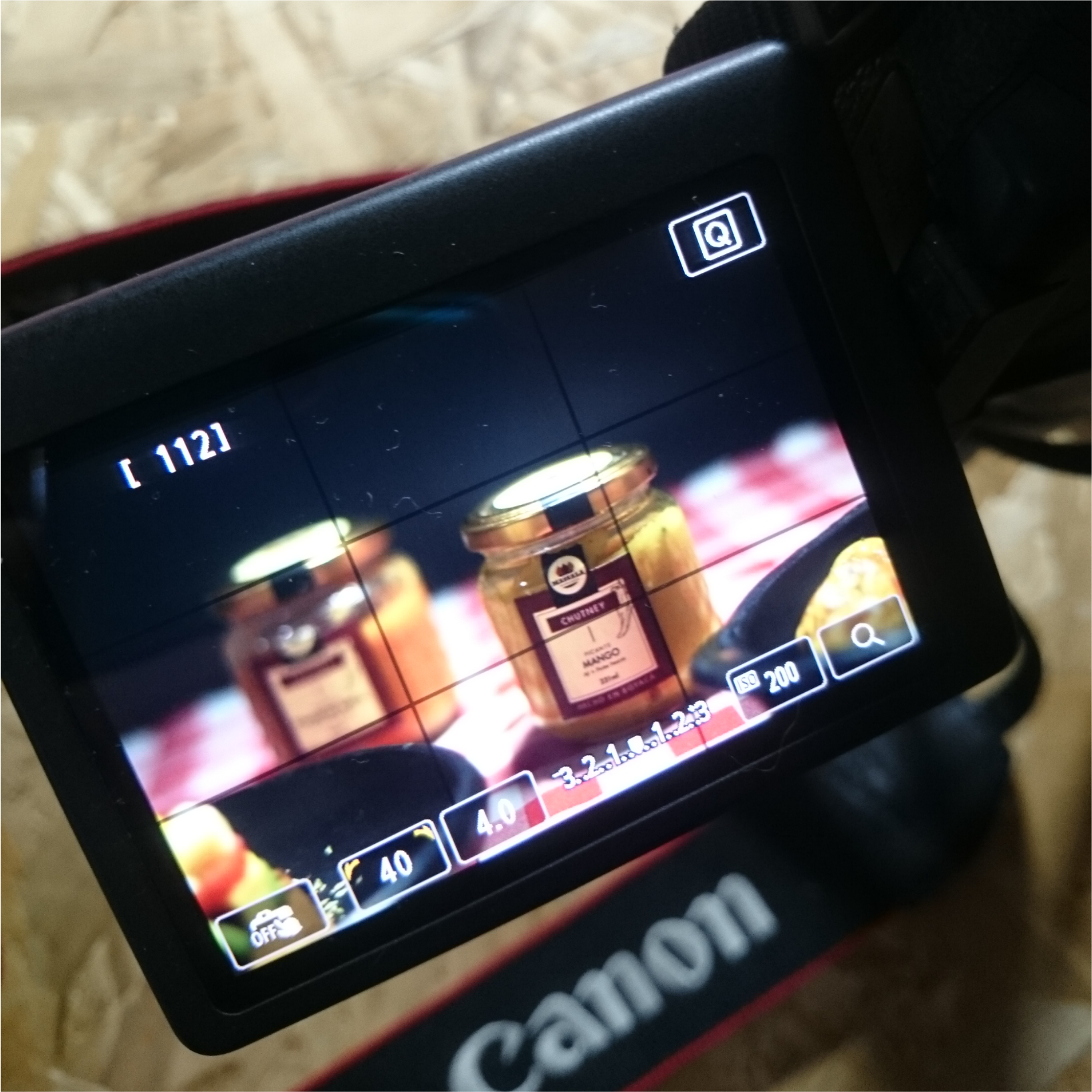 ---
Empecé a entender la fotografía cuando estudiaba diseño editorial, durante mis primeros proyectos de revistas. Era algo complementario para lograr buenos acabados en el diseño, sobre todo en el aspecto de la iluminación y la composición de la imagen, para lograr armonizar de manera mas precisa la diagramación. En algún momento entendí que las leyes de la composición visual eran practicamente iguales, tanto para el diseño como para la fotografía, existia, al menos para mi, una extrema relación. Con el tiempo logré tener mi cámara propia, y con ello, poco a poco me fui enfrentando a diferentes retos que solicita la fotografía para lograr algo de destreza. La fotografía gastronómica y de productos han sido unos de esos retos que debía entender.
I began to understand photography when I was studying editorial design, during my first magazine projects. It was something complementary to achieve good finishes in the design, especially in the aspect of lighting and image composition, to achieve a more precise harmonization of the layout. At some point I understood that the laws of visual composition were practically the same, both for design and photography, there was, at least for me, an extreme relationship. With time I managed to have my own camera, and with it, little by little I was facing different challenges that photography requires to achieve some skill. Gastronomic and product photography have been some of those challenges that I had to understand.
---
---
Estos tipos de fotografías las he desarrollado para una marca propia que estoy impulsando, llamada Massala Delicateses, así como también para algunos pocos clientes. Massala me exige mucho, deseo llevarla a lo mas alto, por lo que, debo hacer que las personas conozcan los productos y sus usos. Entonces, la idea es destacar como los productos destacan en ciertos platos, allí mostramos los productos y las preparaciones. Sin duda, este tipo de fotografía necesitas de coordinación con un equipo de trabajo, sin embargo, cuando estas emprendiendo todo el equipo es reducido a lo mínimo. En este caso trabajé con @zailecita, quien fue la Directora de Arte, apoyándome, a su vez, en la Dirección de Fotografía. Ella explica aquí su experiencia sobre la magia de hacer Dirección de Arte.
I have developed these types of photographs for my own brand that I am promoting, called Massala Delicateses, as well as for a few clients. Massala demands a lot from me, I want to take it to the top, so I have to make people aware of the products and their uses. So, the idea is to highlight how the products stand out in certain dishes, there we show the products and the preparations. Undoubtedly, this type of photography requires coordination with a team, however, when you are starting out the whole team is reduced to the minimum. In this case I worked with @zailecita, who was the Art Director, supporting me, in turn, in the Direction of Photography. She explains here her experience about the magic of doing Art Direction.
---

@zailecita: Directora de Arte | @zailecita: Art Director
---
El trabajo en conjunto fue determinando lo que debíamos destacar del producto en relación con el plato, incluyendo su presentación, textura, color y evidenciar su uso. De alguna manera fue relativamente fácil, ya que trabajamos todo en Massala (búqueda de materia prima, elaboración, ventas, promoción, diseño... entre otras), por ende, esto nos brinda información para para impulsar la marca adecuadamente, según nuestra perspectiva. De todas manera, existe mucha dificultad para trabajar ya que son muchos detalles los que se deben cuidar, y no uno por uno, sino todos a la vez.
We worked together to determine what we had to highlight about the product in relation to the dish, including its presentation, texture, color and evidence of its use. In a way it was relatively easy, since we worked everything in Massala (raw material search, elaboration, sales, promotion, design... among others), therefore, this gives us information to promote the brand properly, according to our perspective. However, there is a lot of difficulty to work with because there are many details to take care of, and not one by one, but all at the same time.
---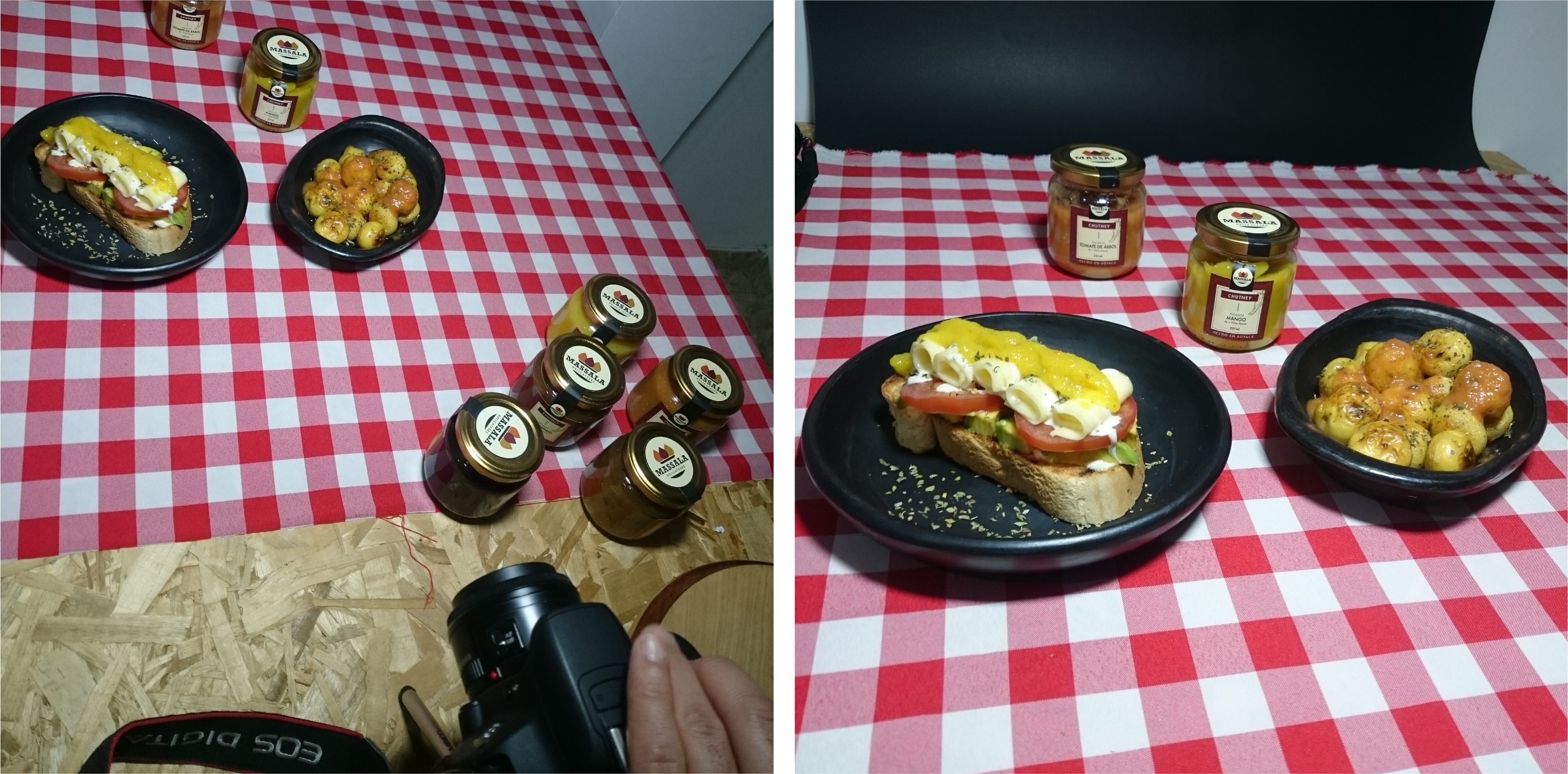 ---
Necesitamos promover la venta de los productos, claro, pero la presentación de los platos es vital, de esta manera podrás conseguir una buena fotografía. Como dicen: "la comida entran por los ojos". Debemos activar el cerebro con platos bien presentados para que activen el placer en las personas, para que se sientan atraidos por el producto, así mismo, se estimulen a preparar lo que ven en la fotografía. Para ello, la investigación previa fue una gran herramienta para estar actualizados en las tendencias, entendiendo las referencias y utilizando esa interpretación en lo que necesitábamos con Massala.
We need to promote the sale of the products, of course, but the presentation of the dishes is vital, this way you can get a good picture. As they say: "food comes in through the eyes". We must activate the brain with well-presented dishes to activate the pleasure in people, so that they feel attracted to the product, so that they are stimulated to prepare what they see in the photograph. For this, previous research was a great tool to be updated on trends, understanding the references and using that interpretation in what we needed with Massala.
---
---
Hoy día las marcas y los emprendimientos deben hacer un gran esfuerzo por presentar buenas imágenes, por lo que la inversión en la fotografía se hace destacar. Afortunadamente conocemos el área, sin embargo, constantemente estamos aprendiendo y estudiando para lograr cada vez mejores cosas. La pandemia impulsó de manera extrema todo el consumo digital, y esto ha hecho que las exigencias en la calidad creativa fotográfica sea muy alta. Además, dicha calidad fotográfica hablará por Massala, transmitiendo el compromiso y el profesionalismo que se tiene con la marca. Sabemos que una buena fotografía no hace solo el trabajo, aunado a ello, debe existir una estrategia de marketing, justos se logrará generar más espectativas y emociones para lograr impulsar las ventas de los productos de Massala.
Nowadays, brands and companies must make a great effort to present good images, so the investment in photography stands out. Fortunately we know the area, however, we are constantly learning and studying to achieve better and better things. The pandemic has pushed the whole digital consumption in an extreme way, and this has made the demands on the photographic creative quality very high. In addition, this photographic quality will speak for Massala, transmitting the commitment and professionalism that we have with the brand. We know that a good photograph does not only do the job, but there must also be a marketing strategy, just to generate more expectations and emotions to boost sales of Massala's products.
---
---
En líneas generales tratamos en todo momento tener una composición equilibrada, dándole importancia a nuestro elemento principal: los productos de Masssala. Una vez teniéndo lista la decoración, buscábamos arreglar la iluminación con los recursos con que se contaban. Usamos una ventana y rellenamos con luz artificial. Administrar el tiempo fue difícil dado a que ha habído muchas lluvías y la luz de la ventana iba y venía. Gestionar la iluminanción es estas condiciones fue algo complicado, no pudímos trabajar por la noche, continúamos al siguiente día. Con el decorado listo y la iluminanción trabajamos la configuración de la cámara, luego buscar el mejor encuadre. Finalmente ajustar el enfoque y disparar. Varios disparos con distintas composición para elegir la mas representativa. Terminada la sesión debemos elegir las mejores fotografías para procesarlas según el contenido que se vaya a realizar para la estrategía. Es el trabajo que falta y que viene. Pronto haré una nueva entrada para mostrar los resultados.
In general terms, we tried at all times to have a balanced composition, giving importance to our main element: Masssala products. Once we had the decoration ready, we tried to arrange the lighting with the resources we had. We used a window and filled it with artificial light. Time management was difficult since there was a lot of rain and the light from the window came and went. Managing the lighting in these conditions was a bit tricky, we couldn't work at night, so we continued the next day. With the set ready and the lighting we worked on the camera settings, then looking for the best framing. Finally adjust the focus and shoot. Several shots with different compositions to choose the most representative. After the session we must choose the best photographs to process them according to the content to be made for the strategy. This is the work that is missing and coming. Soon I will make a new post to show the results.
---
---

---
Todas las imágenes fueron realizadas con un teléfono Sony Xperia Z2a sin edición especial.
All images were taken with a Sony Xperia Z2a phone without special edition.
---
---
---
Traducido con www.DeepL.com/Translator (versión gratuita)
Translated with www.DeepL.com/Translator (free version)
---

---
---
Hablo de mí
Creo en la creatividad y en el arte, en sus distintas manifestaciones, como herramientas de transformación. Considero que son pilares fundamentales para expresarnos y mostrarnos. El arte, con el tiempo, me ha dado una visión distinta del entorno y del mundo.
---
I talk about my
I believe in creativity and art, in its different manifestations, as tools for transformation. I consider them fundamental pillars to express and show ourselves. Art, over time, has given me a different vision of the environment and the world.
---

---
---