I got kicked out of work because of the novel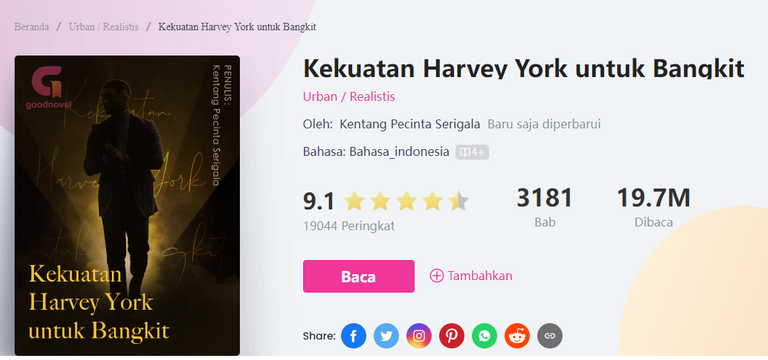 Screen Shoot Source
Hi Hive friends, good afternoon and best wishes. A few days ago, I was expelled from my place of work. Of course, this makes me lose my monthly income. But it's not a big problem for me because some of my friends who run their companies need me. Even a few months ago, they called me to change jobs.
Do you know why I was fired from work? Yes, because my work performance has decreased. At first, they liked me because of my diligent work performance. But, after I read the novel, my work performance decreased. This is ridiculous but it's true. Ha ha ha. As a result of the novel, I was expelled from my job.
I like reading novels, but I can allocate my time to work and reading. However, after I found an interesting novel, I often ignored my work orders to continue the novel I was reading. The novel I read was entitled "Harvey York's Strength To Rise". I found this novel on my subscription novel platform "GoodNovel". I haven't finished all the chapters. Until today, I have read the 900th chapter. I will give a little synopsis of this novel.
This novel tells the story of a person named Harvey. He was born and raised in the city of Buckwood, South Light province. Harvey was born a rich kid and had the number one family in the South Light province. Harvey possessed such extraordinary intelligence and skill that he was appointed heir apparent to the York family. However, bad luck befell him. Some families don't like him and are jealous of Harvey's abilities. Thus, some of the York family colluded and framed Harvey to get him kicked out of the York family.
Harvey was slandered by his own family and accused of embezzling family funds, so Harvey was kicked out of Buckwood town and fled to the small town of Niumhi. With the plight of the small town of Niumhi, a grandmother from a second-class family saves her and raises her in the Zimmer family. Zimmer's grandmother set up Harvey with her granddaughter named Mandy. Zimmer's grandmother was very happy with Harvey, but the rest of the Zimmer family didn't like Harvey. After Zimmer's grandmother died, Harvey was always despised and despised by other Zimmers. Harvey was considered a hitchhiking, dirty, and useless son-in-law.
For three years, Harvey was bullied and abused by the Zimmer family, even Harvey's mother-in-law always insisted on divorcing Mandy because she was considered useless. After the increase in the value of Harvey's assets abroad, now Harvey has a lot of capital to be able to get up and build his business at Niumhi. The York family, who was in business at the time, came to Harvey to ask for a few billion dollars to get the York family business back, on the condition that the York Enterprise became his. From then on, Harvey was able to avenge the humiliation and abuse he endured for three years.
From the novel I read, I concluded that money and position blind the human conscience. People would insult and demean others because their status was considered low, and people who had wealth and position would be praised and considered like gods. People are willing to kill and injure others, even close relatives for the sake of wealth and luxury.
Harvey who is the main character in this novel series remains humble and low profile even though he has risen to become rich. Even people did not believe that he was such a great and capable person. Harvey's appearance did not stand out as a rich man. His humility and generosity did not indicate that he was a rich man. To me, a figure like Harvey is a manifestation of the Anti-Establishment. Harvey York is a king without a crown, there is no need to show and brag that he is a prince. If you are interested in the novels that I read, you can look for them in the Good Novel application or Whatpadd. Thank you for visiting and reading to the end. Regards
---
---