Flavorful September: #onmyplate?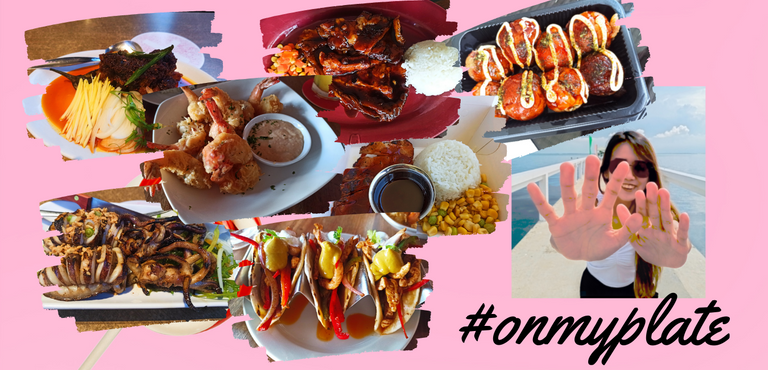 Food is an experience to be explored and enjoyed by the rich man and the poor. -Source
It's really fascinating how time flies so fast. See? It's already October! September just happened swiftly but still full of wonderful events even in the midst of this pandemic.
Today, I will be sharing with you one of the highlights of my September. Last month, together with some friends, we tried different foods from different restaurants. Please don't think of something grand because it's not. Before, I was always afraid to try something new, may it be with food, drinks or any other experience aside from going to some place or tourist destinations I haven't visited. When I became unemployed few months ago, the thought of going out of my comfort zone came in mind. I was hesitant at first because I might end up not liking what I try and waste my money. Little did I know that every now and then, I was already doing it.
Aside from having really good friends around, food also helps me cope up with stress, overthinking and boredom. Last month, I have no reason to get stressed over work because I don't have one.😁 Maybe, my only reason and excuse was because I was bored enough to just stay at home 24/7 and I would like to go out once in a while. Good thing, I have other friends who are bored as well, so eating became our habit and pastime. And I will be sharing with you these dishes. Ready? Let's get started!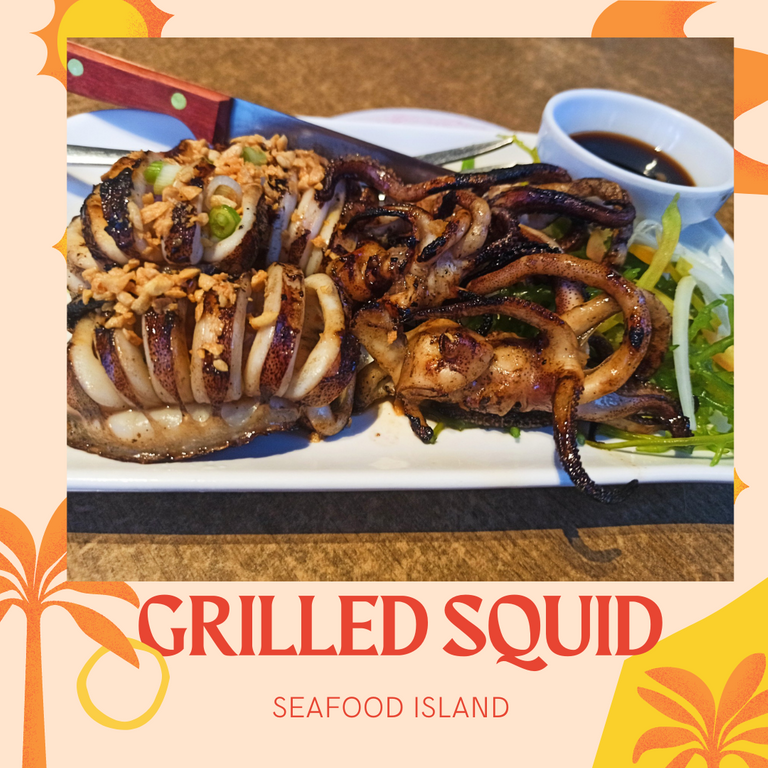 One order of this dish will give you 4 pieces of regular sized squid garnished with fried garlic bits and some seaweeds. Whenever we grill squid at home, my father would always say that you'll know if you have perfectly grilled/cooked a squid if it's not too hard when you chew it. And this grilled squid from Seafood Island, I guarantee, it was perfectly grilled and was seasoned perfectly. Pairing the grilled squid with seaweeds is not a bad idea. It tastes good as well.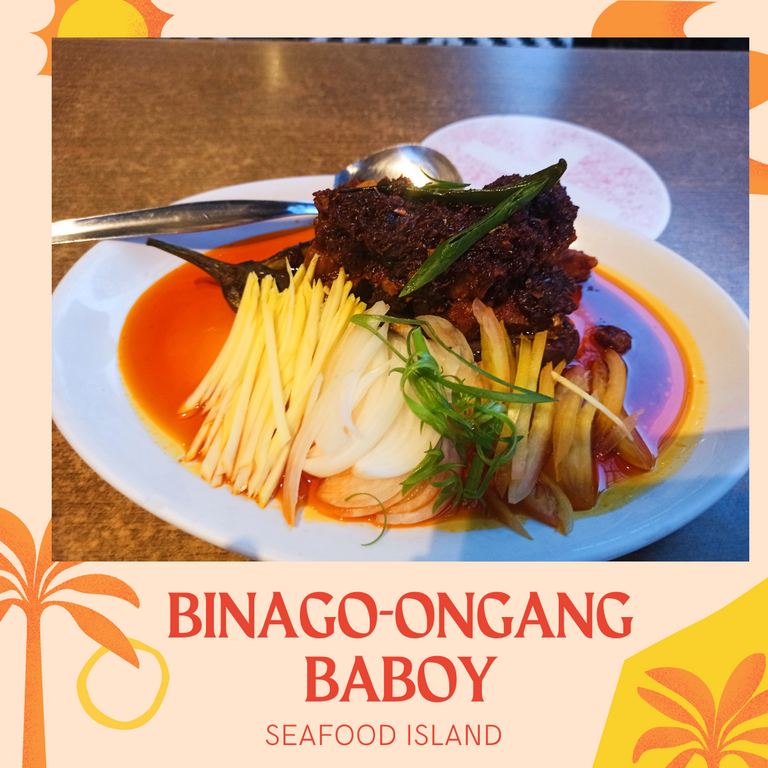 Another simple dish from Seafood Island that I have tried. I believe it was chopped lechon kawali mixed with bagoong (shrimp paste) and was placed above a steamed eggplant. I didn't really get why the eggplant was there but, well, it's part of their plating. There was also some green mango which is really perfect for the bagoong, white onions and tomatoes chopped thinly. It was just too salty for me which I believe was because of the bagoong but still a good dish to try there.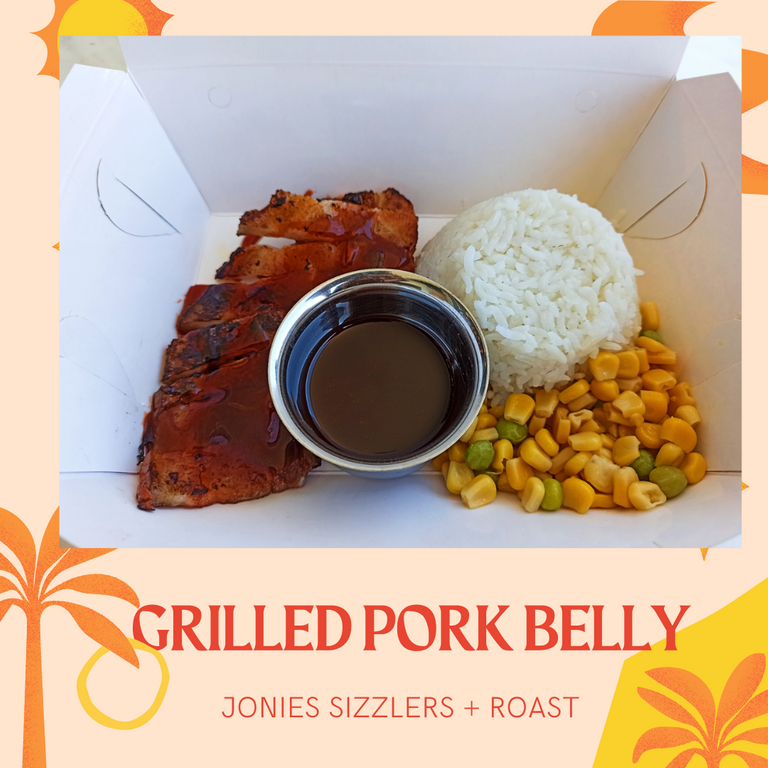 It was already long time ago when I last had a meal in Jonies before my visit last month. I super like their barbeque sauce. A sweet-mild spicy taste that I haven't tried in any other restaurants out there. Their pork belly was tender enough that it seems like you don't need to take an effort to chew the food. Aside from that, they also put mixed peas and corn. They're a bit pricey though for the size of their serving.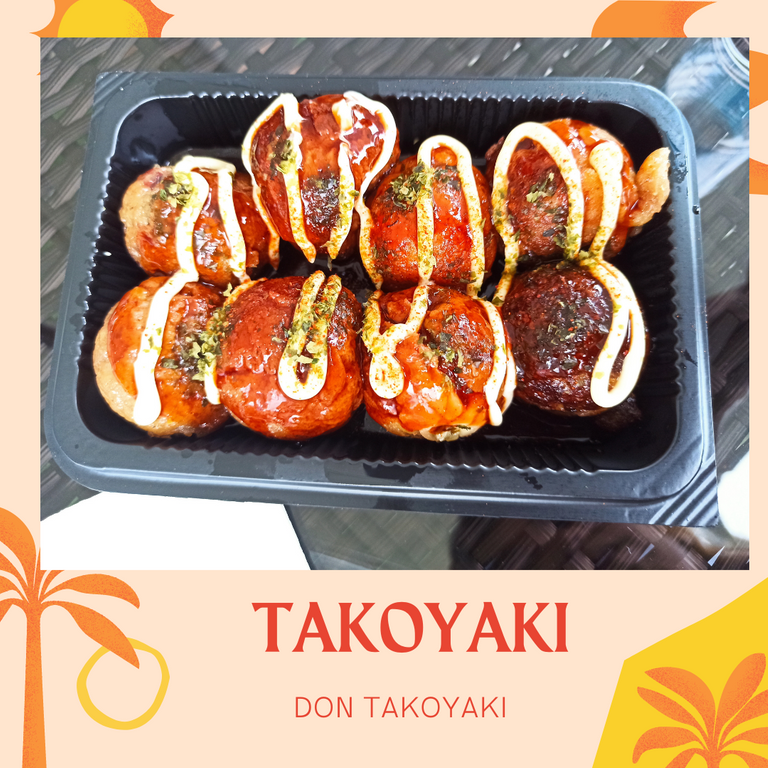 Who loves takoyaki???? The most available and affordable takoyaki that I normally buy are those being sold in mall food courts for a much cheaper price. But with this takoyaki brand you can have a variety of flavors to choose from. You can choose Cheese Bombs, Takoyaki Octopus, Cheesy Crabs and Yasiyaki or the veggies. One order of this comes with 8 balls (you can choose 2 flavors if you want) topped with mayonnaise then a sauce- either sweet, spicy or mixed. And oh, by the way, if you opt for a spicy sauce, you can also choose the level of spicy-ness! If you want to try this one and you're in Cebu, just go to the food court of Iconique, the new building in Colon Area across Colonnad Mall.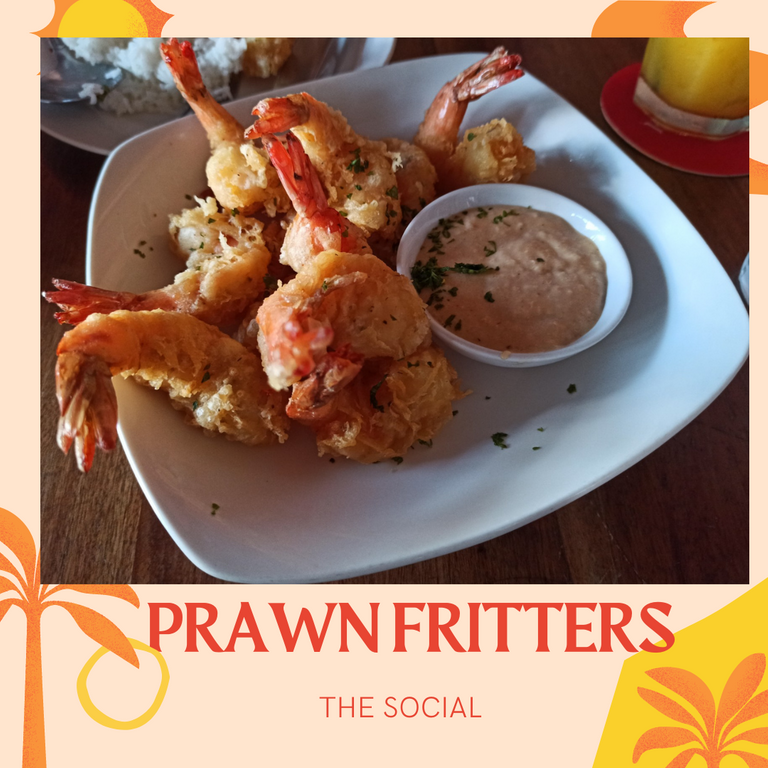 Deep-fried large sized prawns with garlic mayo dip. Simple dish, a bit pricey but what can I can do, it's also delicious. It's just the typical prawns though coated with flour then deep fried. It's actually easy to prepare practically speaking but if you'd like to just sit and wait for your prawn fritters, order at The Social.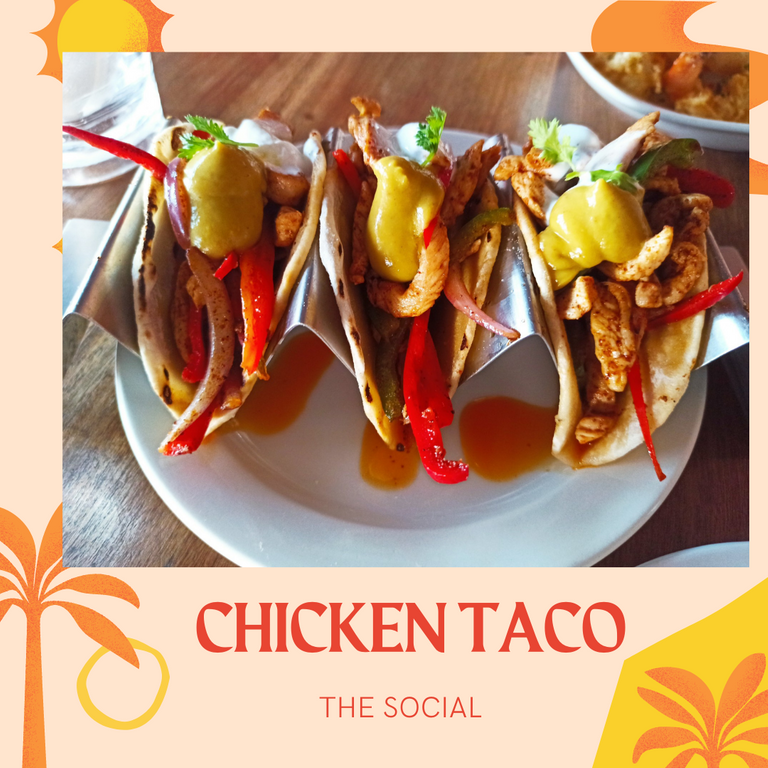 This is my very first taco ever and I'm a bit disappointed because I didn't like the taste. Shawarma is way better than this for me. Still, at least I've finally tasted one. I just don't know if I would still try other tacos. Well, maybe is recommended by a friend. As you can see, the ingredients for this were strips of chicken, of course, wrapped in a pita bread with red bell pepper, few onions and a mustard sauce. I guess it was sautéed and seasoned with some herbs before it was wrapped. For the taste, hmm, I'm not sure, there was this taste that I haven't tasted before. It's weird for me because I recognized all the ingredients but the taste was new to me. Maybe it's the seasonings that they put. Anyways, its still good that I have already tried one.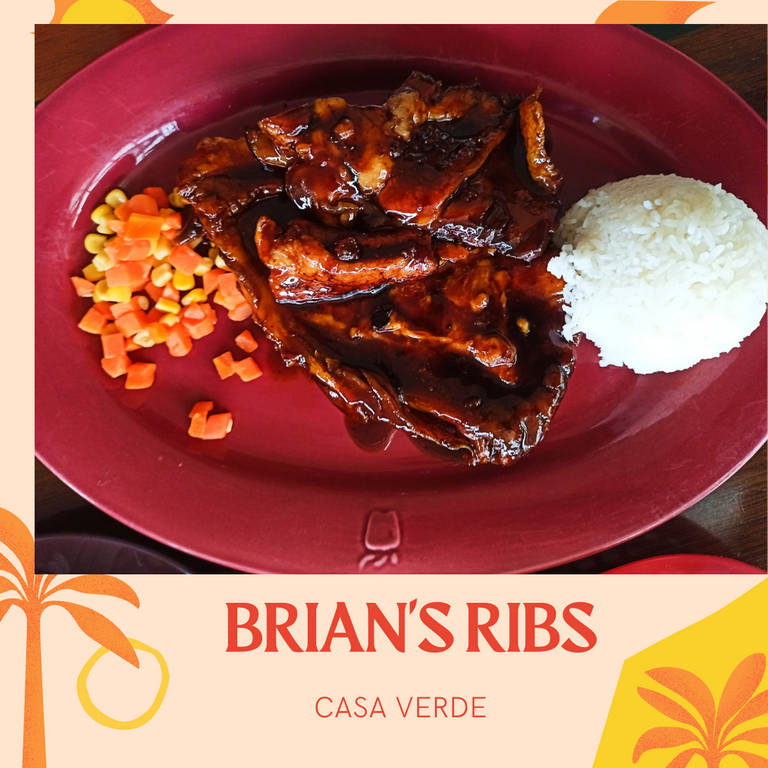 Oh, did you remember this one? This is one of the best seller of Casa Verde Restaurant and I definitely knew why. Baked pork ribs in a sweet, tangy piquet sauce served with rice, corn and carrots. The pork was very tender you need not the help of a slicer to take a portion of this one. Highly recommended!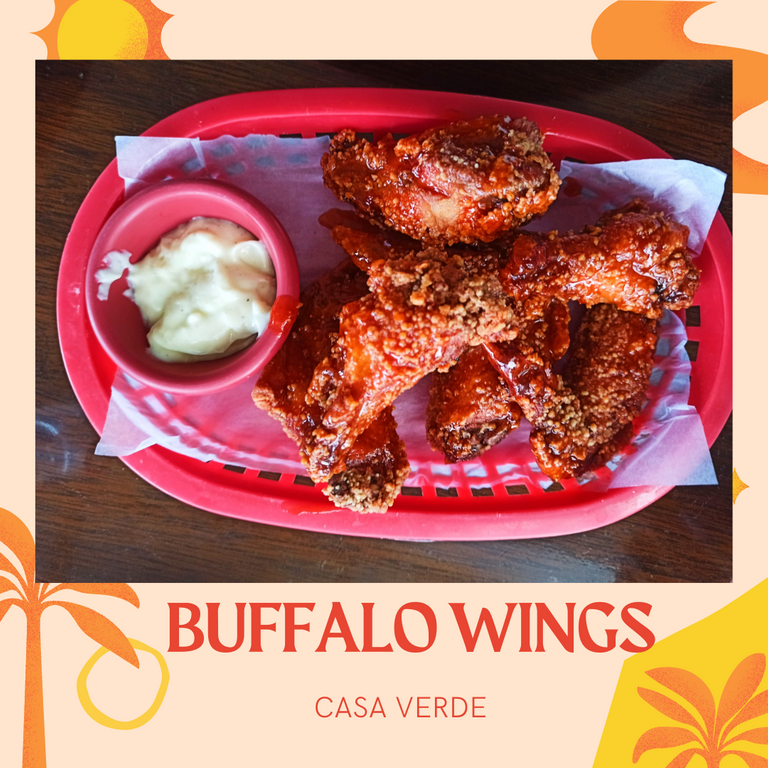 Of course, the Buffalo Wings still from Casa Verde. I never really perfected cooking buffalo wings. I know, for me, it seems so easy but I haven't discovered the perfect sauce for the wings. So instead of cooking one, I just prefer buying at Casa Verde. Plus, the blue cheese dipping included in every serving. Yummy!
These foods made my September days flavorful! And this month, I'm looking forward for more something new on my plate.
---
---