Dificultad en las obras lentas / Difficulty in slow works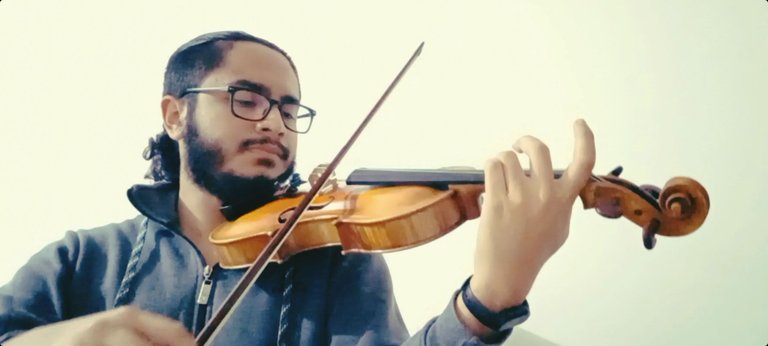 Hola queridos y apreciados amigos espero cómo siempre estén muy pero muy bien la noche de hoy
Hoy quiero hablarles de algo muy importante y curioso del violín y de las obras en general, específicamente de las melodías lentas...
Todos sabemos que la música, o en éste caso, las melodías, siempre nos llegan al corazón, siempre hay ese algo. La rápidas nos pueden llegar a dar carácter, ansiedad, o adrenalina, mientras que las lentas nos ponen melancólicos, tristes o sentimentales en general,
Todo esto dependiendo siempre de la tonalidad, obviamente (mayor o menor, alegre o triste)
En ésta división hay dificultades de parte y parte... Las melodías rápidas tienen la dificultad de ser justamente cómo su nombre lo dice, "rápidas" y siempre la respuesta de los dedos tienen que ser muy efectiva, es por ello que cuando un compositor quiere mostrar virtuosismo busca componer obras así, rápidas,
Pero, ¿Y las obras lentas? ¿Son más fáciles por ser lentas?
Pues en teoría tendría sentido, pero realmente no es así...
En las obras lentas podemos decir que hay la misma o hasta más dificultad, pero ésta vez no desde la velocidad sino porque es aquí donde el músico busca conectarse con lo que interpreta, y ello es lo más complejo que existe para nosotros,
Ésta complejidad existe porque siempre que el instrumentista va a interpretar algo, sobretodo lento, si o si tenemos que buscar conectar y sensibilizar a quienes nos escuchan, y aquí nace todo, nace la música...
Técnicamente hablando podemos decir que ésto se logra con la paleta de colores que el músico tiene individualmente, vibrato, densidad de sonido, colores del sonido, etc
Pero lo más complicado es lo que está más allá, es lo que está cuando escuchamos a alguien interpretar algo que nos conmueve, y es eso lo que se convierte como les dije anteriormente, lo más complejo de éste arte.
Próximamente los comentaré por lo menos en mi opinión, todo lo que nosotros hacemos para lograr esos detalles y llegar a quienes nos escuchan, así que por hoy no tengo nada más que agregar,
Espero disfruten de éste fragmento de Saint Saens, ¡Abrazos!
/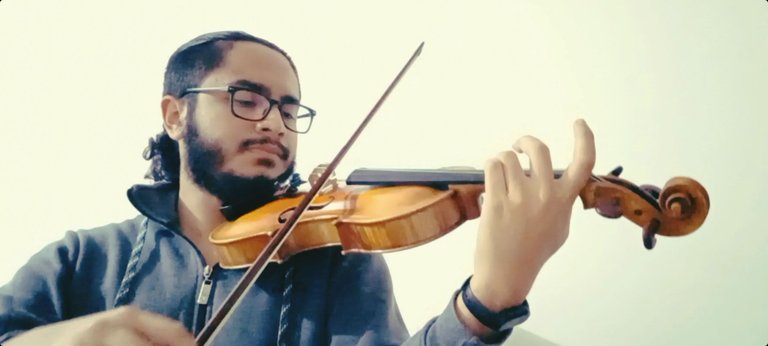 Hello dear and dear friends, I hope you are always very, very well tonight
Today I want to talk to you about something very important and curious about the violin and about works in general, specifically about slow melodies ...
We all know that music, or in this case, melodies, always touch our hearts, there is always that something. The fast ones can give us character, anxiety, or adrenaline, while the slow ones make us melancholic, sad or sentimental in general,
All this always depending on the tonality, obviously (major or minor, happy or sad)
In this division there are part and part difficulties ... Fast melodies have the difficulty of being exactly what their name says, "fast" and always the response of the fingers have to be very effective, that is why when a composer wants to show virtuosity seeks to compose works like this, fast,
But what about slow works? Are they easier for being slow?
Well in theory it would make sense, but it really doesn't ...
In slow works we can say that there is the same or even more difficulty, but this time not from the speed but because it is here where the musician seeks to connect with what he interprets, and this is the most complex thing that exists for us,
This complexity exists because whenever the instrumentalist is going to interpret something, especially slowly, if or if we have to seek to connect and sensitize those who listen to us, and here everything is born, music is born ...
Technically speaking we can say that this is achieved with the color palette that the musician has individually, vibrato, sound density, sound colors, etc.
But the most complicated thing is what is beyond, it is what is when we listen to someone interpret something that moves us, and that is what becomes, as I said before, the most complex of this art.
Soon I will comment on them at least in my opinion, everything we do to achieve those details and reach those who listen to us, so for today I have nothing more to add,
I hope you enjoy this fragment of Saint Saens, Hugs!
---
---