Hive F1 2023 Contest - Race #08 - Barcelona, SPAIN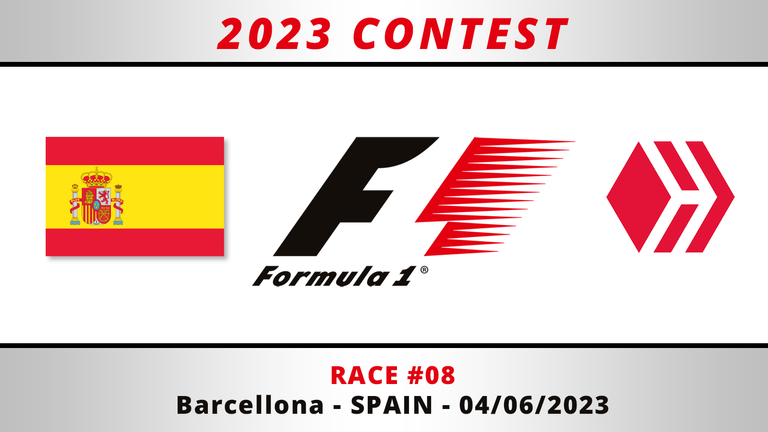 Gara #08 - Barcellona, SPAGNA
Un saluto a tutti,
Archiviato il GP di Montecarlo, continuiamo con un altro classico: il circuito di Barcellona, in Spagna. Senza aspettare troppo, già il prossimo weekend la F1 correrà di nuovo, e alcune squadre dovrebbero portare qualche nuovo aggiornamento per migliorare le proprie prestazioni. Riusciranno le Ferrari a rimediare alla brutta figura rimediata a Monaco? Molti tifosi lo sperano vivamente. Per il resto, ormai le auto da battere sono le RedBull e le AstonMartin, nello specifico di Verstappen e Alonso. Da notare l'ottima prestazione di Ocon e Gasly durante il passato weekend, che fa sperare in una Alpine in miglioramento. Indietro Mercedes, anche portando delle novità alle vetture, e McLaren. Sarà anche qui in pronostico scontato? Speriamo di no, almeno per lo spettacolo!
Aspetto i vostri pronostici e come sempre, buona fortuna a tutti! 🏁
---
Molti di voi già conoscono il funzionamento del nostro contest, mentre per i nuovi rimando al regolamento del concorso presente nel post della prima gara.
---
Per quanto riguarda il nostro concorso, più sotto potete vedere i risultati dell'ultima gara e la nostra classifica generale, per ora ancora con pochi partecipanti rispetto allo scorso anno.
Abbiamo 4 concorrenti a parimerito, avendo indovinato i piloti al primo e secondo posto, quindi guadagnando 5 punti per la classifica. Cambiano alcune posizioni: @c3r34lk1ll3r torna in vetta staccando @stefano.massari, @serialfiller sale in terza posizione, @pousinha sale in classifica e @ciuoto guadagna i suoi primi punti.
---
NFT FRAPPE'

Da quest'anno parte anche una collaborazione con gli amici di @nftfrappe che ci forniscono un ulteriore premio per il vincitore del contest a fine campionato: un NFT Epico di loro creazione!
Visitate pure la loro gallery di nftshowroom.


Race #08 - Barcelona, SPAIN
Hello everybody,
After the Montecarlo GP, let's continue with another classic: the Barcelona circuit, in Spain. Without waiting too long, F1 will be racing again next weekend, and some teams should bring some new updates to improve their performance. Will Ferrari be able to make up for the bad impression made in Monaco? Many fans hope so. For the rest, now the cars to beat are still the Red Bulls and the Aston Martins, specifically by Verstappen and Alonso. Note the excellent performance of Ocon and Gasly during the past weekend, which give hopes for an improving Alpine. Mercedes, also bringing some news to the cars, and McLaren are far away. Will it be a discounted prediction here again? Let's hope not, at least for the show!
I'll wait for your prediction, and as always, good luck to everyone! 🏁
---
Many of you already know how our contest works, while for the new ones I refer to the contest rules in the post of the first race.
---
As for our competition, below you can see the results of the last race and our general ranking, still with few players.
We have 4 competitors tied for having guessed the 1st and 2nd place drivers, therefore earning 5 points for the standings. Some positions change: @c3r34lk1ll3r returns to the top overtaking @stefano.massari, @serialfiller climbs to third position, @pousinha climbs in the standings and @ciuoto earns his first points.
---
NFT FRAPPE'

By this year a new collaboration with my friends of @nftfrappe who gift us a new prize for the contest winner at the end of the championship: an Epic NFT, original creation!
Take a look to the gallery on nftshowroom.


Race #07 results and general standing



Races Calendar 2023
| RACE | Track | 1st | 2nd | 3rd |
| --- | --- | --- | --- | --- |
| | | | | |
| 05 / 03 | | | | |
| R01 | Bahrain | Verstappen | Perez | Alonso |
| 19 / 03 | | | | |
| R02 | Saudi Arabia | Perez | Verstappen | Alonso |
| 02 / 04 | | | | |
| R03 | Australia | Verstappen | Hamilton | Alonso |
| 30 / 04 | | | | |
| R04 | Azerbaijan | Perez | Verstappen | Leclerc |
| 07 / 05 | | | | |
| R05 | USA - Miami | Verstappen | Perez | Alonso |
| 21 / 05 | | | | |
| R06 | ITA - Imola | NO RACE | - | - |
| 28 / 05 | | | | |
| R07 | Monaco | Verstappen | Alonso | Ocon |
| 04 / 06 | | | | |
| R08 | Spain | - | - | - |
| 18 / 06 | | | | |
| R09 | Canada | - | - | - |
| 02 / 07 | | | | |
| R10 | Austria | - | - | - |
| 09 / 07 | | | | |
| R11 | Great Britain | - | - | - |
| 23 / 07 | | | | |
| R12 | Hungary | - | - | - |
| 30 / 07 | | | | |
| R13 | Belgium | - | - | - |
| 27 / 08 | | | | |
| R14 | Netherlands | - | - | - |
| 03 / 09 | | | | |
| R15 | ITA - Monza | - | - | - |
| 17 / 09 | | | | |
| R16 | Singapore | - | - | - |
| 24 / 09 | | | | |
| R17 | Japan | - | - | - |
| 08 / 10 | | | | |
| R18 | Qatar | - | - | - |
| 22 / 10 | | | | |
| R19 | USA - Austin | - | - | - |
| 29 / 10 | | | | |
| R20 | Mexico | - | - | - |
| 05 / 11 | | | | |
| R21 | Brazil | - | - | - |
| 18 / 11 | | | | |
| R22 | USA - LasVegas | - | - | - |
| 26 / 11 | | | | |
| R23 | Abu Dhabi | - | - | - |
---
Official FIA Formula 1 Site
Official FIA Formula 1 Youtube Channel


Call for the Players
@robertomarinello, @zottone444, @stefano.massari, @catgio, @zipsardinia, @lokibalboa, @ciuoto, @blumela, @yocritico, @alfredolopez1980, @grof, @jonelescalona, @vicpics, @dexpartacus, @franz54, @nfelix92, @fuentesjo3006, @cmoljoe, @sportsjrfc2018, @bisec, @lucasantangelo, @carlood, @dianagomez, @pagliozzo, @lelluzzo, @antorchajohnny, @acont, @dernierdiaz, @deusjudo, @lolyfuentes, @salazarcag, @colon2018, @linterio, @jclark, @neo-wiza, @sljivanono, @justamoment, @lostprophet, @hollywwod, @barbadosso, @davidesimoncini, @serialfiller, @sukhothai, @perdomo56, @adimantong, @traveljack894, @stefanogabbo, @coccodema, @freestyle7, @massrado, @alequandro, @eagle71, @mrhuman88, @ifiwasfrank, @britandjosie, @cetyoung, @tosolini, @samubit, @vancouverpics, @samubit, @mauropi,@ifiwasfrank, @c3r34lk1ll3r, @bencwarmer, @siomara-2018, @sportsbuddy, @makeitreal95, @libertycrypto27, @ismaelgranados, @mrfrank88, @coolkris, @fraba, @stewie.wieno, @davidesimoncini and the others…
---
Immagini CC0 con diritti di modifica
CC0 Image labeled for reuse with modification
---
---