Hive F1, 2021 Contest - Race #15 - Sochi, Russia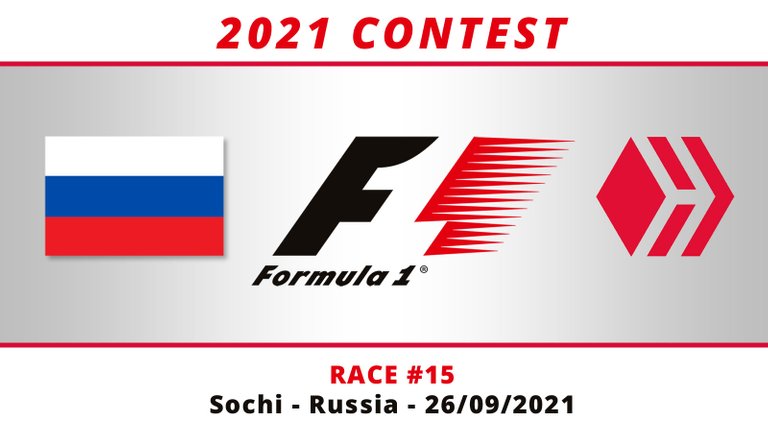 | RACE | Track | 1st | 2nd | 3rd |
| --- | --- | --- | --- | --- |
| 01 | Bahrain | Hamilton | Verstappen | Bottas |
| 02 | Italy (Imola) | Hamilton | Verstappen | Norris |
| 03 | Portugal | Hamilton | Verstappen | Bottas |
| 04 | Spain | Hamilton | Verstappen | Bottas |
| 05 | Monaco | Verstappen | Sainz | Norris |
| 06 | Azerbaijan | Perez | Vettel | Gasly |
| 07 | France | Verstappen | Hamilton | Perez |
| 08 | Austria | Verstappen | Hamilton | Bottas |
| 09 | Austria | Verstappen | Bottas | Norris |
| 10 | Great Britain | Hamilton | Leclerc | Bottas |
| 11 | Hungary | Ocon | Hamilton | Sainz |
| 12 | Belgium | Verstappen | Russell | Hamilton |
| 13 | Netherlands | Verstappen | Hamilton | Bottas |
| 14 | Italy (Monza) | Ricciardo | Norris | Bottas |
| 15 | Russia | - | - | - |
| 16 | Turkey | - | - | - |
| 17 | Japan | - | - | - |


Gara #15 – Sochi, Russia
Un saluto a tutti,
Il prossimo weekend saremo in Russia, sulla pista di Sochi, dove si corre ormai da qualche anno. Tracciato semi-cittadino, abbastanza tecnico, veloce, caratterizzato dalla grande curva circolare e molte curve a 90°, adatte ai sorpassi in staccata.
Qui sono storicamente favorite le Mercedes, ma quest'anno ci son diversi avversari abbastanza ostici: RedBull e adesso anche McLaren. McLaren che anceh qui portanno far valere le loro ottime doti velocistiche.
Commentando invece l'ultima gara a Monza, possiamo benissimo dire CHE GARA!
Partendo dal risultato che ha visto le due McLaren ottnere la prima doppietta dell'anno con Ricciardo primo e Norris secondo, ma soprattutto dallo scontro tra Verstappen ed Hamilton alla prima variante dopo il rettilineo principale. Ovviamente, giocandosi ogni punto ad ogni gara, nessuno dei due ci stava ad alzare il piede ed uscire dalla curva dietro l'avversario, con risultato l'uscita di pista di entrambi. Spettacolare incidente con una vettura sopra l'altra, in cui per l'ennesima volt al'Halo è stato decisivo per la sicurezza, salvando la testa di Hamilton dalla ruota dell'altra vettura.
Restano così entrambi senza punti, dove Ricciardo ha anche guadagnato il punto per il giro veloce... all'ultimo giro!
Dai, adesso via con i vostri pronostici!
Molti di voi già conoscono il funzionamento del nostro contest, mentre per i nuovi rimando al regolamento del concorso presente nel post della prima gara.
---
Per quanto riguarda il nostro concorso, più sotto potete vedere i risultati dell'ultima gara e la nostra classifica generale.
@c3r34lk1ll3r sempre in testa, ma @green77 sale al secondo posto grazie ai 3 punti guadagnati indovinando il vincitore. 6 concorrenti guadagnano un punto centrando il pilota al terzo posto, non portanto però ad altri movimenti in classifica.


Race #15 - Sochi, Russia
Hello everybody,
Next weekend we will be in Russia, on the Sochi circuit, where F1 races from 2014. Semi-urban track, quite technical, fast, characterized by the large circular curve and many 90° curves, suitable for overtaking in braking.
Here Mercedes are historically favorites, but this year there are several tough opponents: RedBull and now also McLaren. McLaren who can perform here their excellent speed skills.
Talking about the last race in Monza, we must say: WHAT A RACE!
Starting from the result that saw the two McLarens gaining the first double of the year with Ricciardo first and Norris second, but above all from the clash between Verstappen and Hamilton at the first variant after the main straight. Obviously, fighting for every point at each race, no one wanted to brake and exit the curve behind the opponent, with the result of both going off the track. Spectacular accident with one car on top of the other, in which for the Halo was decisive for safety again, saving Hamilton's head from the wheel of the other car.
Both remain without points, where Ricciardo also earned the point for the fastest lap ... on the last lap!
Many of you already know how our contest works, while for the new ones I refer to the contest rules in the post of the first race.
---
As for our competition, below you can see the results of the last race and our general ranking.
@c3r34lk1ll3r always at the top, but @green77 climbs to second place thanks to the 3 points earned by guessing the winner. 6 players earn a point by hitting the driver in third place, but not leading to other movements in the general standing.


Race #14 results and general standings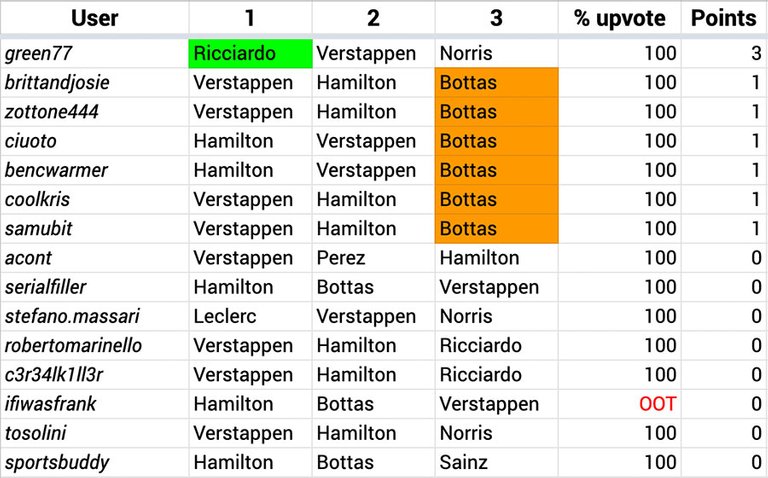 Official FIA Formula 1 Site
Official FIA Formula 1 Youtube Channel
---
Immagini CC0 con diritti di modifica
CC0 Image labeled for reuse with modification

---
---