Hive F1, 2021 Contest - Race #14 - Monza, Italy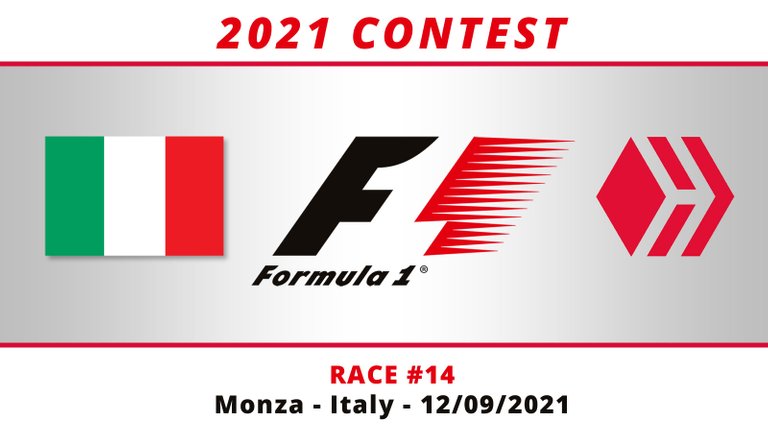 | RACE | Track | 1st | 2nd | 3rd |
| --- | --- | --- | --- | --- |
| 01 | Bahrain | Hamilton | Verstappen | Bottas |
| 02 | Italy | Hamilton | Verstappen | Norris |
| 03 | Portugal | Hamilton | Verstappen | Bottas |
| 04 | Spain | Hamilton | Verstappen | Bottas |
| 05 | Monaco | Verstappen | Sainz | Norris |
| 06 | Azerbaijan | Perez | Vettel | Gasly |
| 07 | France | Verstappen | Hamilton | Perez |
| 08 | Austria | Verstappen | Hamilton | Bottas |
| 09 | Austria | Verstappen | Bottas | Norris |
| 10 | Great Britain | Hamilton | Leclerc | Bottas |
| 11 | Hungary | Ocon | Hamilton | Sainz |
| 12 | Belgium | Verstappen | Russell | Hamilton |
| 13 | Netherlands | Verstappen | Hamilton | Bottas |
| 14 | Italy | - | - | - |
| 15 | Russia | - | - | - |
| 16 | Turkey | - | - | - |
| 17 | Japan | - | - | - |


Gara #14 – Monza, Italia
Un saluto a tutti,
eh si, stavolta in Olanda la gara è stata disputata, con risultato abbastanza scontato: vittoria di Verstappen sulla pista di casa, con la vettura meglio bilanciata (ricordiamo che è un circuito molto tortuoso e non "piatto") e un tracciato che conosce benissimo. Le Mercedes ad inseguire, e nonostante tutto, Hamilton ci ha creduto fino alla fine. Qualche discussione nel team riguardo al giro veloce, che assegna un punto, combattuto con il compagno di squadra Bottas.
Dal quarto posto in poi, tutti doppiati, a dimostrazione della superiorità dei primi.
Venendo alla prossima gara, finalmente saremo in Italia! Sul bellissimo circuito di Monza, velocissimo, che da sempre offre molte possibilità di sorpasso e garantisce grande spettacolo.
Parlando di velictà pura, ci sarà meno distacco tra le RedBull e Mercedes, ma io ci vedo bene le McLaren, sempre molto veloci sul dritto e con Norris che potrebbe essere il migliore degli outsider. Da tenere d'occhio anche Gasly e Russell. Ferrari con qualche dubbio sulle performance, ma nulla è mai scontato!
Dai, voglio vedere un sacco di pronostici questa volta!
Molti di voi già conoscono il funzionamento del nostro contest, mentre per i nuovi rimando al regolamento del concorso presente nel post della prima gara.
---
Per quanto riguarda il nostro concorso, più sotto potete vedere i risultati dell'ultima gara e la nostra classifica generale.
@c3r34lk1ll3r si dimostra sempre il migliore, indovinando tutto il podio (a dire il vero anche abbastanza scontato 😆) e allungando così sugli inseguitori. @green77 riesce a salire in seconda posizione passando @ciuoto di un punto.


Race #14 – Monza, Italy
Hello everybody,
yes, this time in the Netherlands the race was held, with a fairly obvious result: Verstappen's victory on his home circuit, with the best balanced car (remember that it is a very tortuous and not "flat" circuit) and a track that he knows very well. The Mercedes to chase, and despite everything, Hamilton believed in it until the end. Some discussion in the team about the fastest lap, which awards a point, fought with teammate Bottas. From fourth place onwards, all doubled, demonstrating the superiority of the first drivers.
Coming to the next race, we will finally be in Italy! On the beautiful Monza circuit, very fast, which has always offered many overtaking possibilities and guarantees a great show.
Speaking about the pure speed, there will be less gap between the RedBulls and Mercedes, but I think the McLarens will have good performances, always very fast on the forehand and with Norris who could be the best of the outsiders. Also to keep an eye on Gasly and Russell. Ferrari with some doubts about performances, but nothing is ever taken for granted!
Come on, I want to see a lot of predictions this time!
Many of you already know how our contest works, while for the new ones I refer to the contest rules in the post of the first race.
---
As for our competition, below you can see the results of the last race and our general ranking.
@c3r34lk1ll3r always proves to be the best, guessing the whole podium (actually quite obvious 😆) and thus stretching on the pursuers. @green77 manages to move up to second position by passing @ciuoto by one point.


Race #13 results and general standings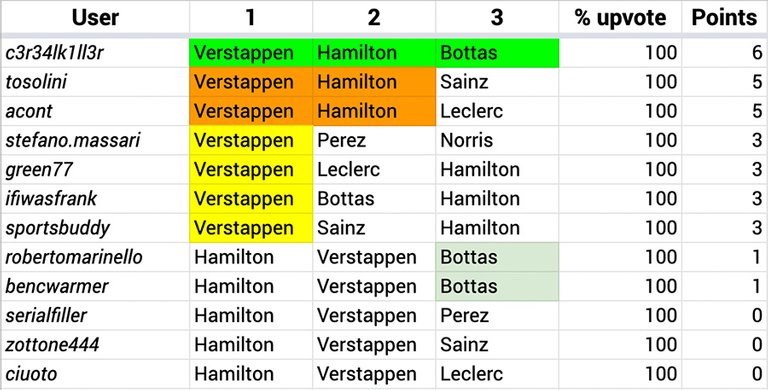 Official FIA Formula 1 Site
Official FIA Formula 1 Youtube Channel
---
Immagini CC0 con diritti di modifica
CC0 Image labeled for reuse with modification

---
---