8 years later, I went back to bottle-feeding a baby | Pets stories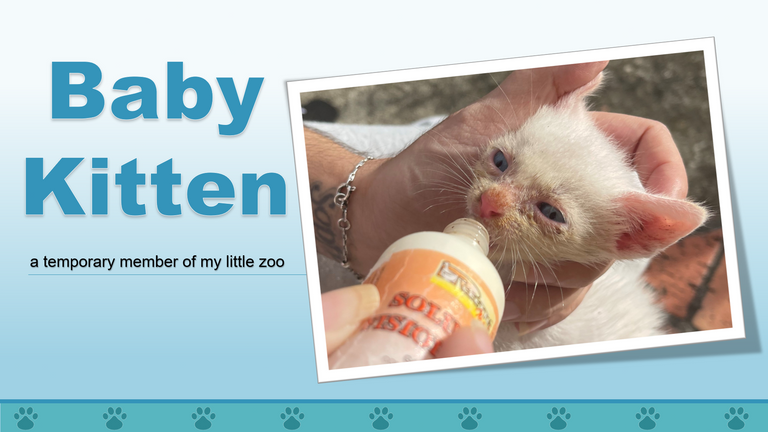 As much as I insist that I do not want to have more pets at home, circumstances force me to the contrary. It is already known that my house is a mini zoo, to which I have not wanted any cats to join, the truth is that I do not like cats very much, but they always come to my house and my husband feeds them, which makes them already recurrent diners that indirectly belong to this herd.
Yesterday while we were having lunch we heard the cry of a kitten, and immediately my husband and my daughter commented "it's the kitten again"; to which I asked: which kitten, what are they talking about, then they told me that there was a lost kitten wandering around the garden. They went out to see and I heard them say: " he is very little, he must be looking for his mom" "he must be crying because he is hungry"; those words made a dent in me. I looked out and could see that it was indeed a baby kitten, maybe just a few days old, I was immediately worried that other animals would hurt him, or that when he crossed the street he could be run over, so I went and brought him home.
Por más que insisto que no quiero tener más mascotas en casa, las circunstancias obligan a lo contrario. Ya es conocido que mi casa es un mini zoo, al que no he querido que se sume algún gato, la verdad no me gustan muchos los gatos, pero siempre llegan a mi casa y mi esposo los alimenta, lo que los hace ya comensales recurrentes que indirectamente pertenecen a esta manada.
Ayer mientras almorzábamos se escuchó el llanto de un gatito, e inmediatamente mi esposo y mi hija comentaron "es el gatito, otra vez"; a lo que pregunté: ¿cuál gatito, de qué hablan?, entonces me dijeron que andaba un gatito como perdido merodeando por el jardín. Ellos salieron a ver y los escuché decir: "está muy pequeñito, debe estar buscando a su mamá" "debe estar llorando porque tiene hambre"; aquellas palabras hicieron mella en mí. Me asomé y pude ver que efectivamente se trataba de un gatito bebé, tal vez de días de nacido, de inmediato me preocupó que otros animales le hicieran daño, o que al cruzar la calle lo pudiesen atropellar, así que fui y lo traje a casa.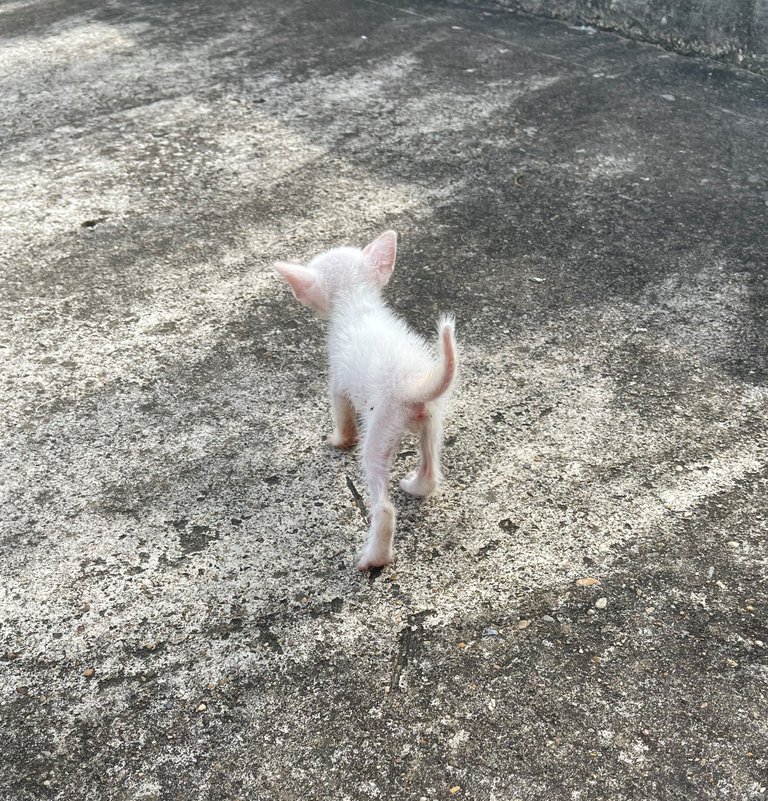 He wouldn't stop crying, I assumed he was hungry, I served him some food, but my husband warned me "he is not going to eat that, he shouldn't eat by himself yet", he didn't even notice the food, he just cried non-stop. We thought about giving him some milk with a feeding bottle, but his mouth was too small for the size of the nipple, so we opted to do it with a small dropper.
Greg, my husband, prepared the formula as he would do years ago for our own children, with me being the one designated to feed the baby kitten. I hadn't given a feeding bottle in 8 years, the age of my last child hahaha so I was a little nervous, especially since I really don't like cats very much, I'm always afraid they might scratch me.
No paraba de llorar, supuse que tendría hambre, le serví comida, pero mi esposo me advirtió "no va a comer eso, aun no debe comer solo", así fue, ni se percató de la comida, solo lloraba sin cesar. Pensamos en darle un poco de leche con un biberón, pero su boca era muy pequeñita para el tamaño de la tetina, por lo que optamos por hacerlo con un pequeño gotero.
Greg, mi esposo, preparó la fórmula como lo haría años atrás con nuestros propios hijos, quedando yo como la designada de alimentar al gatito bebé. No daba tetero desde hacía 8 años atrás, la edad de mi último hijo jajaja así que estaba un poco nerviosa, sobre todo porque verdaderamente no simpatizo mucho con los gatos, siempre temo que me puedan rasguñar.





Fortunately, what seemed like a complicated process, was not at all, the kitten behaved wonderfully, his instinct prevailed and he quickly adapted to this new method of feeding in his short life. He was hungry, he drank enough milk to feel satiated and stop crying, in fact, he even became playful. It is well said that a full belly makes a happy heart.
Afortunadamente, lo que parecía un proceso complicado, no lo fue en lo absoluto, el gatito se comportó de mil maravillas, su instinto prevaleció y rápidamente se adaptó a este nuevo método de alimentación en su corta vida. Estaba hambriento, tomó suficiente leche como para sentirse saciado y dejar de llorar, de hecho, luego hasta se puso juguetón. Bien dicen que barriguita llena, corazón contento.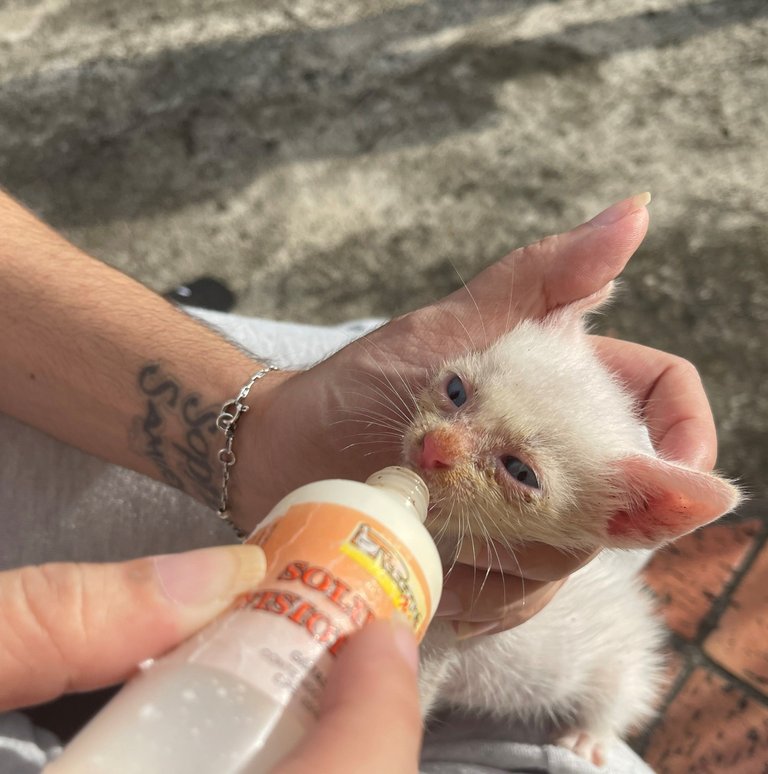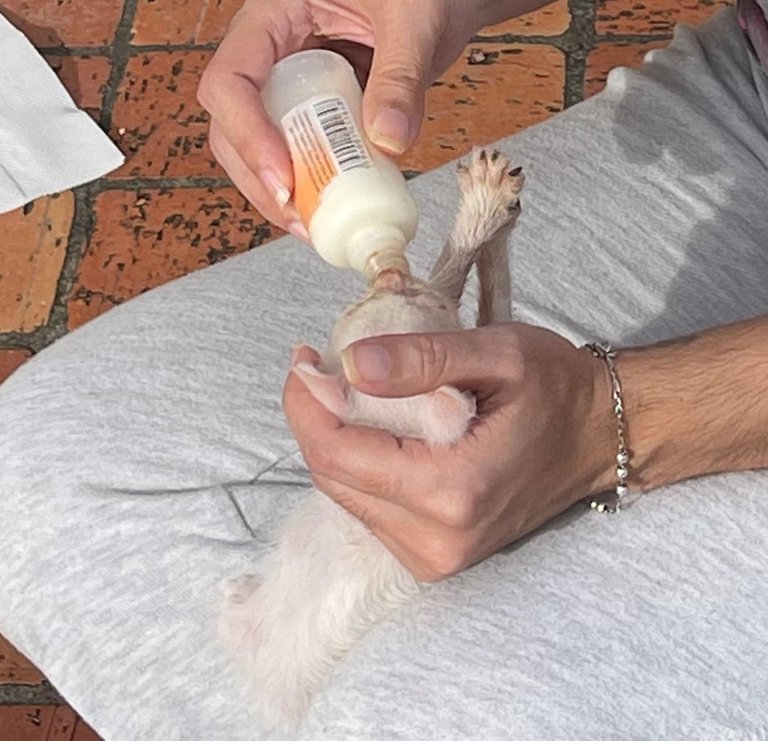 I noticed that my children were already naming the kitten and getting more excited than usual, but before making the decision to adopt a new pet, my duty was to warn the neighbors in case someone was the owner of the kitten because maybe the mother cat was looking for him. Happily, it was so, a neighbor answered me instantly that they had a kitten with his characteristics that had been missing for a few days and that they had the mother. I was very happy to know that the kitten would be reunited with its mother and would be safe.
The only sad moment was my son crying when he saw that I was returning the kitten to its owner, he loves animals, he feels a great empathy with them, and he had already made up his mind that we would have a new pet on board; however, he understood that it was the best thing for the kitten, who by the way he baptized as WIFI while he was at home hahaha despite that, this story had a happy ending.
Noté que mis hijos ya le estaban poniendo nombre al gatito y entusiasmándose más de la cuenta, pero antes de tomar la decisión de adoptar una nueva mascota, mi deber era avisar a los vecinos por si alguno era el dueño del gatito, pues tal vez la gata mamá lo estaba buscado. Felizmente fue así, una vecina me respondió al instante que tenían a un gatito con sus características extraviado desde hace unos días y que ellos tenían a la mamá. Me dio mucho gusto saber que el gatito se reuniría nuevamente con su mamá y estaría seguro.
El único trago amargo fue el llanto de mi hijo cuando vio que yo devolvía al gatito a su dueña, él ama a los animales, siente una gran empatía con ellos, y ya se había hecho la idea de que tendríamos una nueva mascota a bordo; sin embargo, entendió que era lo mejor para el gatito, a quien por cierto bautizó como WIFI mientras estuvo en casa jajaja a pesar de eso, esta historia tuvo un final feliz.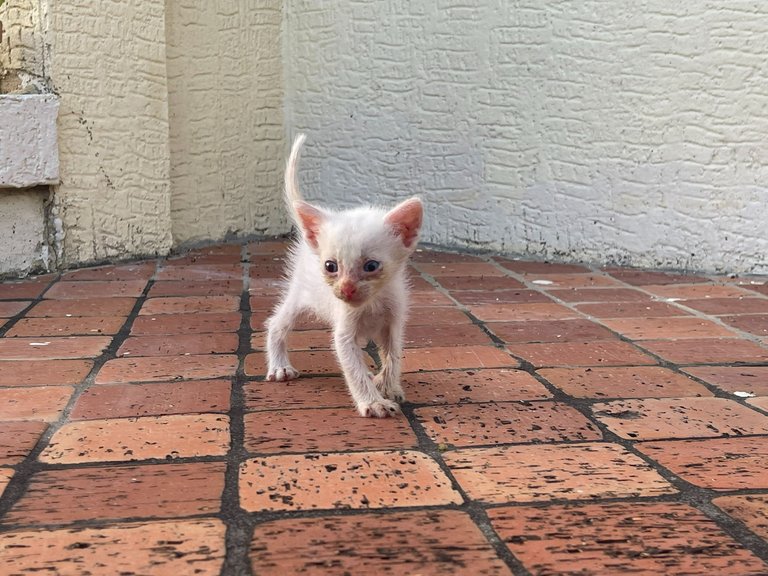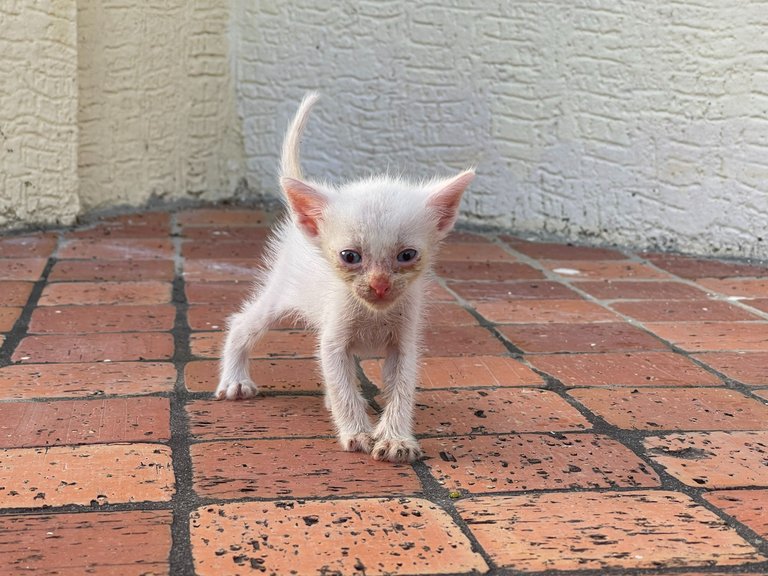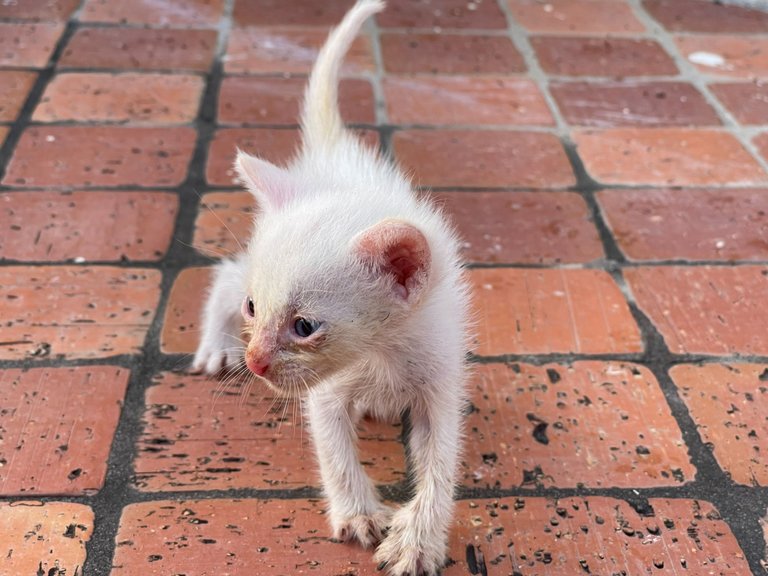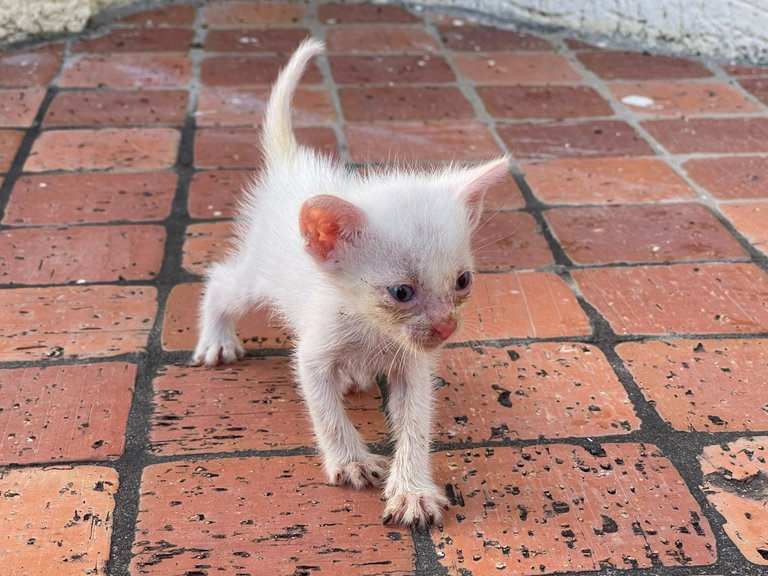 I loved seeing those little blue eyes look at me with gratitude, that's why I believe in the genuine love of pets.
Amé ver esos ojitos azules mirarme con agradecimiento, por eso creo en el amor genuino de las mascotas.

All photographs in this publication are my authorship and property taken with a iPhone 12 Pro Max.
---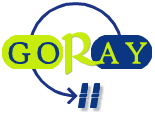 ---
---