Feeling in Natural Beauty of Rainy Season and Natural Disasters
Hello.
It has been two days without rain.
Today the sun is shining, so I went on a trip.
There are clouds in the sky.
Traveling on a motorcycle is still a pleasure.
If I stop the motorcycle, it gets hot again.
This is the natural feeling of rainy season.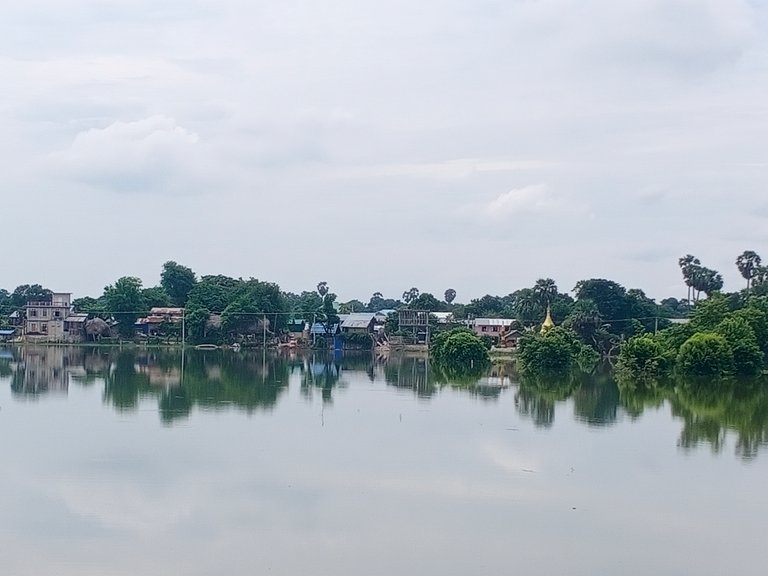 It had rained the previous day, and in the upper part. After the rain, the river was high, and some places near the river were covered with water.
I also took photos of the flooded areas while traveling on a motorcycle.
Some of the houses of the village seen in the water.
The water is flooding outside the village, so I think the water will be in the village as well.
This is a rainy season problem for people living in lowlands.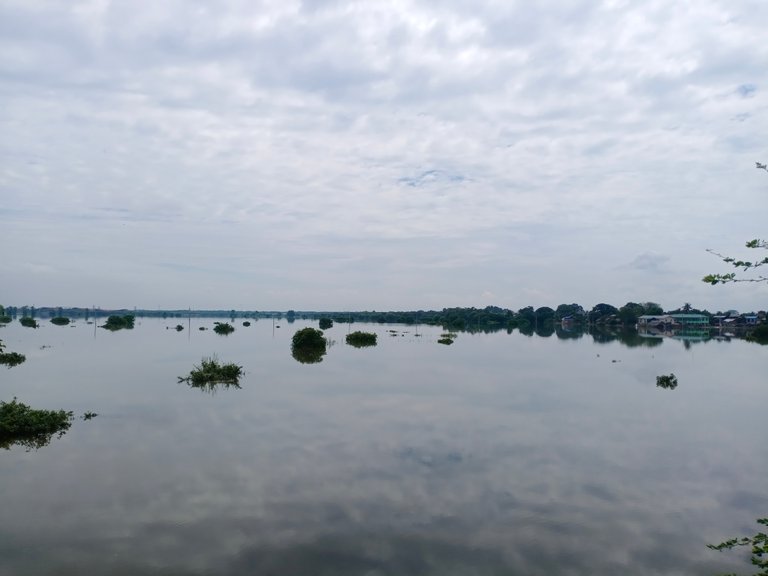 What I want to show here is the natural beauty of the rainy season.
Nature can be beautiful or it can cause disaster.
Burmese Language,
မင်္ဂလာပါ။
မိုးမရွာတာ နှစ်ရက်ရှိခဲ့ပါပြီ။
ဒီနေ့ နေပွင့်နေတော့ ကျွန်တော် ခရီးတစ်ခု သွားဖြစ်ခဲ့တယ်။
ကောင်းကင်မှာတော့ မိုးတိမ်တွေ ရှိနေတယ်။
ဆိုင်ကယ် စီးပြီး ခရီးသွားရတာ စီးနေတုန်းတော့ သာသာယာယာပါပဲ။
ဆိုင်ကယ်ရပ်နားလိုက်လျှင်တော့ ပူအိုက်လာပြန်ပါတယ်။
ဒါက မိုးရာသီရဲ့ သဘာဝကျကျ ခံစားရမှုပါပဲ။
အရင်ရက်တွေက မိုးရွာထားတာ နှင့် အထက်ပိုင်းမှာ။မိုးရွာပြီး မြစ်ရေ ကြီးနေတော့ မြစ်နားနီးတဲ့ အချို့ နေရာတွေမှာ ရေများ ဝပ်လျက် ဖုံးလွှမ်းလျက် ရှိပါတယ်။
ကျွန်တော်လည်း ဆိုင်ကယ်စီး ခရီးသွားရင်း လမ်းမှာ တထောက်နားကာ ရေလွှမ်းနေတဲ့ နေရာတွေကို ဓာတ်ပုံရိုက်ယူခဲ့တယ်။
ရေပြင်ထဲမှာ မြင်ရတဲ့ ကျေးရွာ၏ အိမ်အချို့ ပုံပါ။
ရွာအပြင်မှာ ရေလွှမ်းနေတော့ ရွာထဲလည်း ရေများ ဝပ်နေမယ် ထင်ပါတယ်။
ဒါကတော့ မြေနိမ့်ရာမှာ နေထိုင်သူတို့၏ မိုးရာသီ ဒုက္ခတစ်ခုပါပဲ။
ဒီမှာ ကျွန်တော် ပြချင်တာက မိုးရာသီသဘာဝအလှပါ။
သဘာဝတရားဟာ လှပနိုင်သလို ဘေးဒုက္ခလည်း ပေးတတ်ပါတယ်။
---
---