Initiative: Inspired by Works of Art / Week #12 GlowUpArt
Center>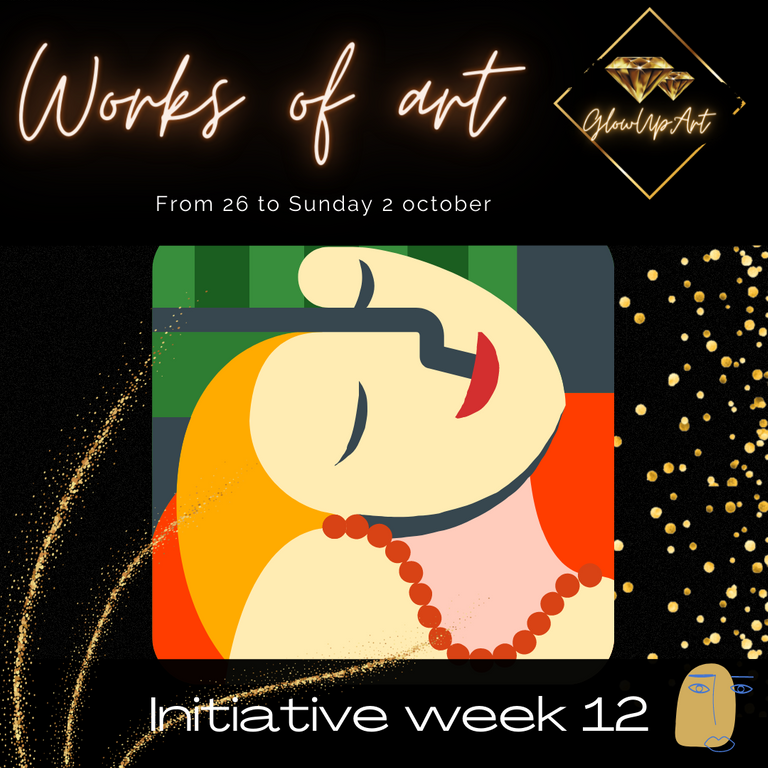 Hi guys and girls of

#hive

one week ends full of beautiful proposals and another one has just begun, and in glowupart we start with recharged batteries because we want you to be part of this community.
We have reached week number 12, incredible! thanks to you, to your perseverance and permanence in our initiatives this has been possible and we thank you, this week we want our initiative can and serve to bring out that artist that we know you carry inside, this initiative is dedicated to making works of art, it can be of a recognized artist and can also be a work of your inspiration but that is totally artistic invoice we hope to have your great participation.
Hola chicos y chicas de

#hive

una semana termina llena de bonitas propuestas y otra acaba de empezar, y en glowupart empezamos con las pilas recargadas porque queremos que formés parte de esta comunidad.
Hemos llegado a la semana número 12, ¡increíble! gracias a ustedes, a su constancia y permanencia en nuestras iniciativas esto ha sido posible y se lo agradecemos, esta semana queremos que nuestra iniciativa pueda y sirva para sacar ese artista que sabemos que llevás dentro, esta iniciativa está dedicada a hacer obras de arte, puede ser de un artista reconocido y también puede ser una obra de tu inspiración pero que sea un maquillaje totalmente artístico esperamos contar con tu gran participación.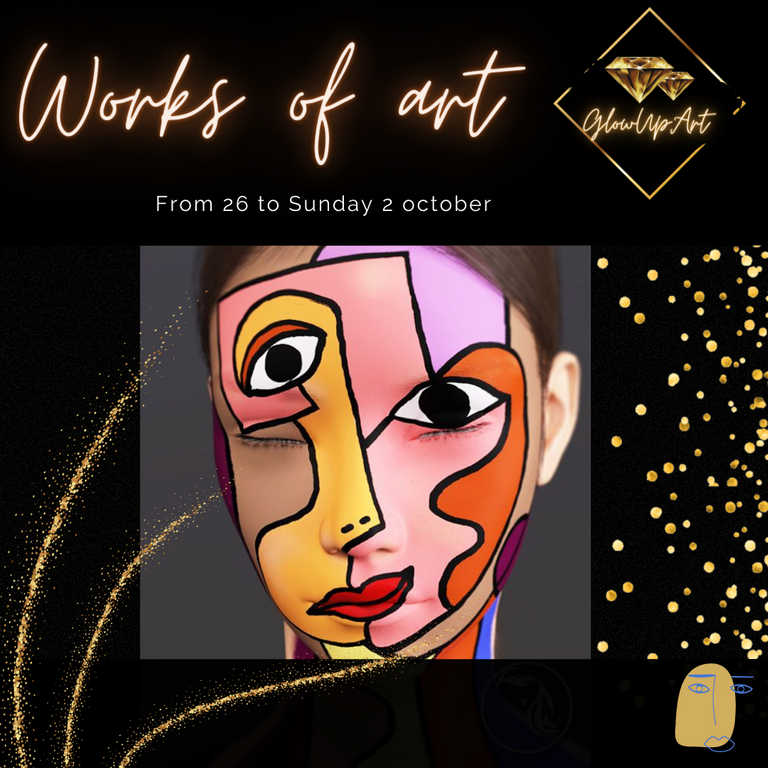 ⭐CONTEST RULES ⭐
-The images in the post must not be opaque or blurry.
-You must show the step-by-step of your makeup.
-You must vote, comment and reblog this post so that this initiative has more reach and so more people can join this great activity.
-You must place the hashtag #glowupart between the tags of your post.
-Share your post on twitter and put #glowupart
@glowupart, this will send your post directly to our telegram channel.
-You must invite two or three people to participate.
THE PRIZE WILL BE 5 HIVES TO THE BEST ENTRY.
---
⭐REGLAS DEL CONCURSO⭐
>-Las imágenes del post no deben ser opacas ni borrosas.
>-Debes mostrar el paso a paso de tu maquillaje.
>Debes votar, comentar y rebloguear este post para que esta iniciativa tenga más alcance y así más personas puedan sumarse a esta gran actividad.
>-Debes colocar el hashtag #glowupart entre las etiquetas de tu post.
>-Comparte tu post en twitter y pon #glowupart - @glowupart, esto enviará tu post directamente a nuestro canal de telegram.
>-Debes invitar a dos o tres personas a participar.
EL PREMIO SERÁ DE 5 HIVE A LA MEJOR ENTRADA.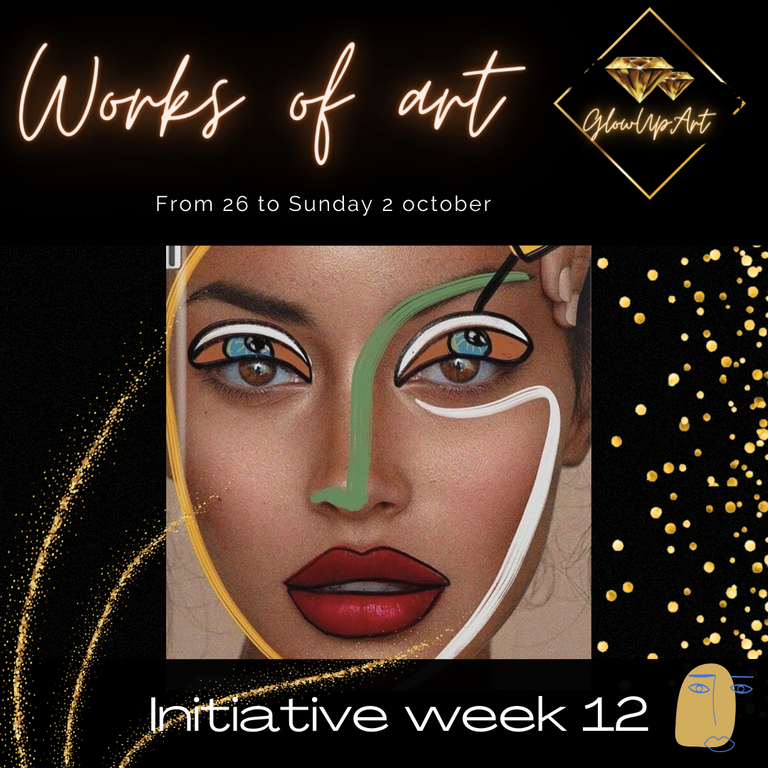 We are anxious to see your creation so we are waiting for you and for now we have to say goodbye with these famous words, which we want you to make them yours:
"DISCIPLINE BEATS TALENT "
If you feel passionate about this branch, put all the effort in the world to see your goal fulfilled.
⭐LUCK⭐
Estamos anciosos por ver tu creacion así que te esperamos y por ahora nos queda despedirnos con nuestras estas famosas palabras, las cuales queremos que las hagas tuyas:
"LA DISCIPLINA SUPERA AL TALENTO"
Si sientes pasión por esta rama, pon todo el esfuerzo del mundo para ver tu objetivo cumplido.



⭐SUERTE⭐

We make a closing video of the initiative every week, do you want to appear in it? Then send us a video fragment of your finished work, through our telegram group.
Hacemos un video de cierre de la iniciativa cada semana, ¿quieres aparecer en él? Entonces envianos un fragmento de video de tu trabajo terminado, a través de nuestro grupo de telegram.
🎥🎞️
https://t.me/glowup_art

The cover and divider images were designed with the Canva Pro application using web fonts.
Las imagenes de portadas y separadores fueron diseñada con la aplicación Canva Pro utilizando fuentes web.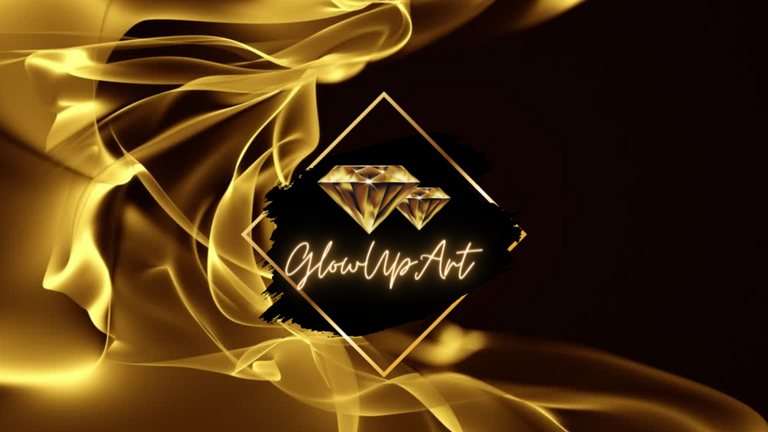 ---
---