AFRI-TUNES WEEK 69|| Heaven (Susu's song) by Banky W || Cover by @gloriaolar
---
Hello everyone,
Beautiful morning to you all. I'm excited to be here this week 69 with my presents and today I will be doing a cover of the song Heaven by Banky W. Before I go into the song, I need to tell you guys about my ordeal today. I've been so busy this week that I totally forgot today is Thursday. I thought it was Wednesday so I was hoping to make the video this evening and post tomorrow. Thankfully I realized this morning that today is Thursday so I had to make the video this morning. Though the song is one I'm familiar with and love so much, I had lots of distractions that I almost gave up on the video but I'm glad I didn't. After many trials I got the one I like and I loved it. I do hope you guys love it too.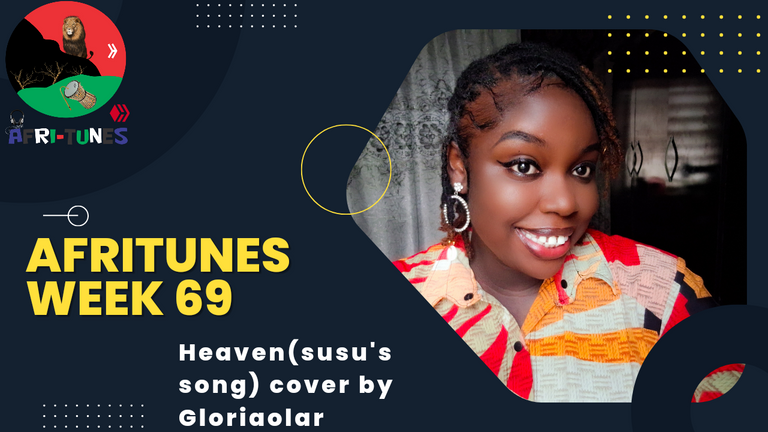 About the song, it is a song written by Banky W for his beautiful wife. I made a mistake referring to his wife with "him" instead of "her". Kindly pardon me. He promised her he would love her forever and tell her she has nothing to worry about. Her only worry should be if they can continue their love in heaven which is so beautiful. It's a song that rich in lyrics and I hope you guys come to fall inlove with it as much as I do.

LYRICS
You asked a question and I, ain't gonna lie
But, I wasn't ready still you took me by surprise
You wanna know if I will, ever leave your side
But I will love you till the very day I die
Girl I need you I've been needing you like air
Don't know how I would survive without you dear
I could scream it loud for the whole world to hear
And if they call me crazy I don't care
You should know, I won't go
That's the last thing you should worry about
Stay with me, till eternity
And ask only one question
Will people fall in love, in heaven
Mm, In heaven
Hope we'll still be in love, in heaven
Yeah, in heaven
Do people fall in love, in heaven.....
Click here to view full lyrics

Music video below:
THANK YOU GUYS FOR LISTENING. DO HAVE A WONDERFUL DAY.
---
▶️ 3Speak
---
---