Colorida diadema tejida. Complaciendo a mi sobrina. (Esp/Eng)
Feliz inicio de semana tengan todos mis amigos amantes del arte del hilo y las ajugas, como cada lunes me uno a ustedes deseándoles una semana llena de éxitos para cada uno de ustedes.
Happy beginning of the week to all my friends who love the art of yarn and crochet, as every Monday I join you wishing you a week full of success for each of you.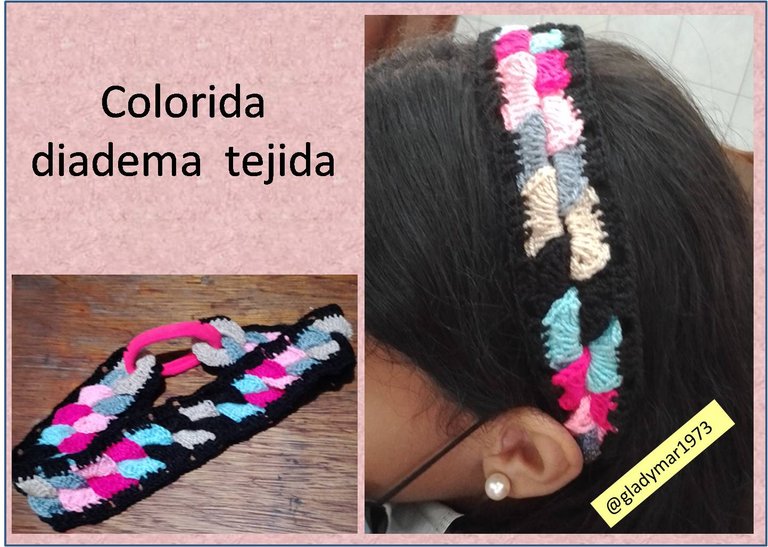 Continuando mi deseo de complacer a mis sobrinas, quienes me pidieron que les tejiera unos cintillos o diademas, esta semana logré culminar la diadema para la mayor de ellas y hoy les comparto mi proyecto de la semana una colorida y hermosa diadema tejida en los colores favoritos de Franyelit, buscando un modelo ideal en el cual pudiera incluir todos los colores que ella me pidió, decidí crearle esta diadema con círculos integrados.
Continuing my desire to please my nieces, who asked me to knit them headbands, this week I managed to finish the headband for the oldest of them and today I share with you my project of the week a colorful and beautiful headband knitted in Franyelit's favorite colors, looking for an ideal model in which I could include all the colors she asked for, I decided to create this headband with integrated circles.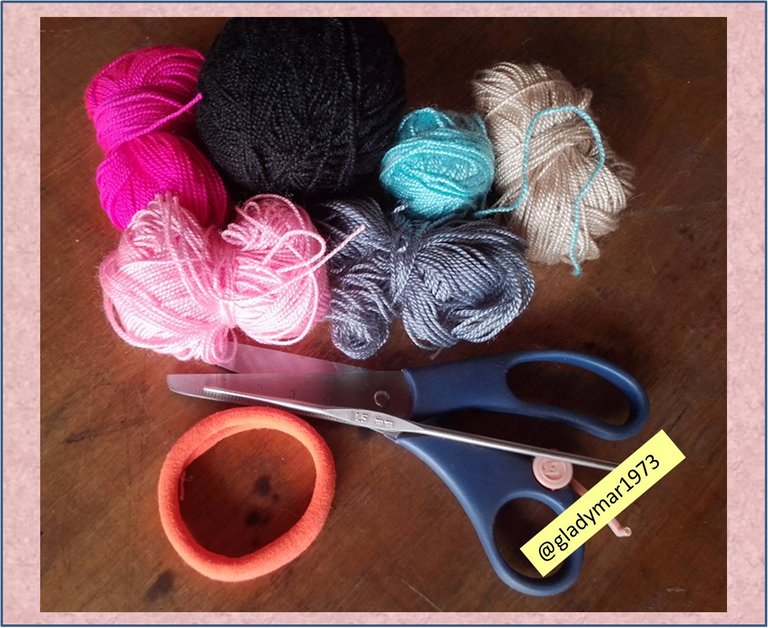 Para este proyecto utilicé los siguientes materiales:
Hilo en acrílico en colores variados (beige, gris, rosado, fucsia, azul claro y negro).
Una cola en tela de lycra.
Ganchillo.
Tijera.
For this project I used the following materials:

Acrylic yarn in assorted colors (beige, gray, pink, fuchsia, light blue and black).
A tail in lycra fabric.
Crochet hook.
Scissors.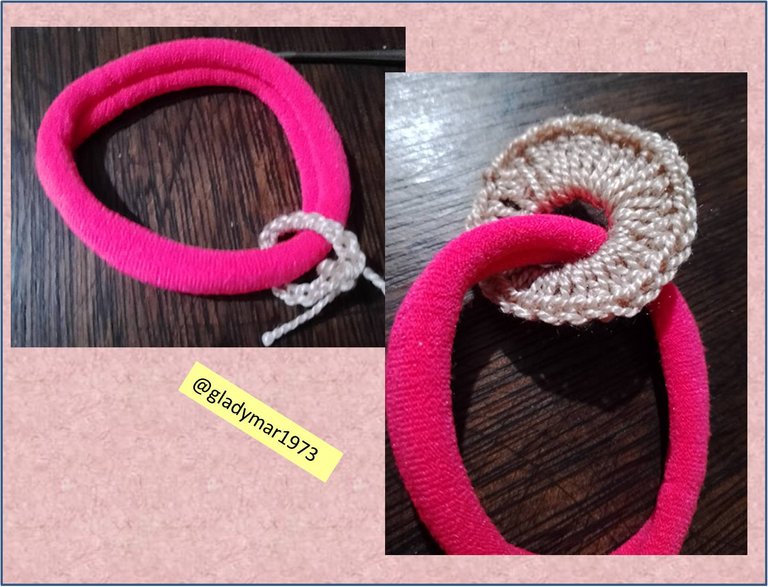 Procedimiento:
Comencé a la diadema en color beige.
1ª vuelta: Para tejer la diadema lo hacemos tejiendo una cadena base de 15 cadenetas ajustadas, de la cual pasaremos el extremo de inicio por la cola y cerramos la cadena base con un nudo deslizado.
Procedure:
I started the headband in beige color.
1st row: To knit the headband we knit a base chain of 15 tight chain stitches, from which we pass the beginning end through the tail and close the base chain with a slip knot.
2ª vuelta: Luego subimos 3 cadenetas y tejemos 29 puntos altos, cerrando el círculo con un nudo raso.
2nd row: Then we go up 3 chains and knit 29 high stitches, closing the circle with a slip knot.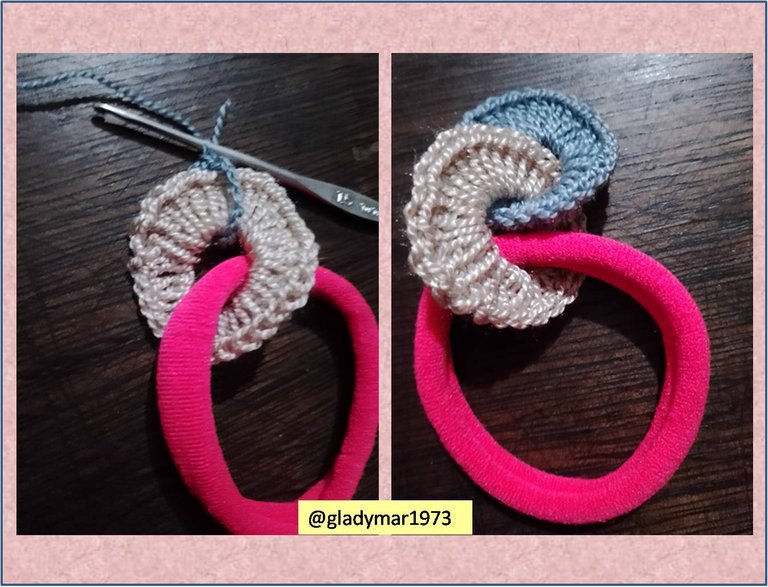 Seguido para tejer el siguiente círculo en color gris, tejemos nuevamente una cadena de 15 cadenetas y pasamos el extremo de inicio por el círculo beige, cerramos y repetimos la 2ª vuelta.
Then to knit the next circle in gray color, we knit again a chain of 15 chains and pass the beginning end through the beige circle, close and repeat the 2nd row.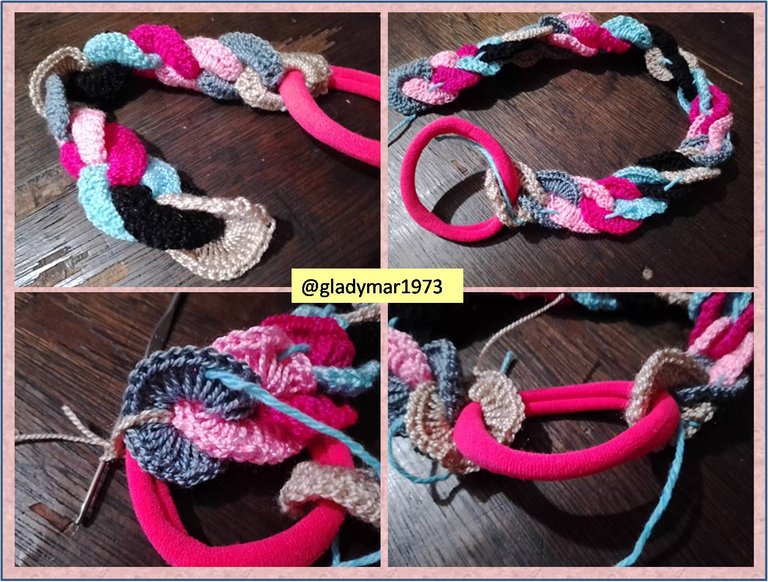 Esta diadema esta compuestas por 23 círculos alternados de la siguiente manera: beige, gris, rosado, fucsia, azul y negro, repetimos este procedimiento dos veces hasta llegar nuevamente al color beige; el cual será el centro de la diadema; luego seguimos tejiendo los círculos en orden descendente, hasta llegar nuevamente al beige.
Tejiendo en total:
5 círculos beige,
4 círculos gris,
4 círculos rosados,
4 círculos fucsia y
4 círculos negro.
This headband is composed of 23 circles alternating as follows: beige, gray, pink, fuchsia, blue and black, we repeat this procedure twice until we reach again the beige color; which will be the center of the headband; then we continue weaving the circles in descending order, until we reach again the beige one.
Knitting in total:
5 beige circles,
4 gray circles,
4 pink circles,
4 fuchsia circles and
4 black circles.
Para cerrar la diadema tuve un poco de complicación, ya que cuando cerré el último círculo, la diadema quedaba torcida, por lo que agarré una hebra de otro hilo pasando la hebra por cada círculo, fui enderezando círculo a círculo hasta llegar al penúltimo circulo allí procedí a tejer el último circulo allí cerré la cadena base pasándola tanto por el penúltimo circulo como por la cola, gracias a la ayuda de la hebra adicional, quedó en el orden correcto la diadema.
To close the headband I had a little complication, because when I closed the last circle, the headband was crooked, so I grabbed a strand of another thread passing the strand through each circle, I went straightening circle by circle until I reached the penultimate circle there I proceeded to knit the last circle there I closed the base chain passing it through the penultimate circle as well as through the tail, thanks to the help of the additional strand, the headband was in the correct order.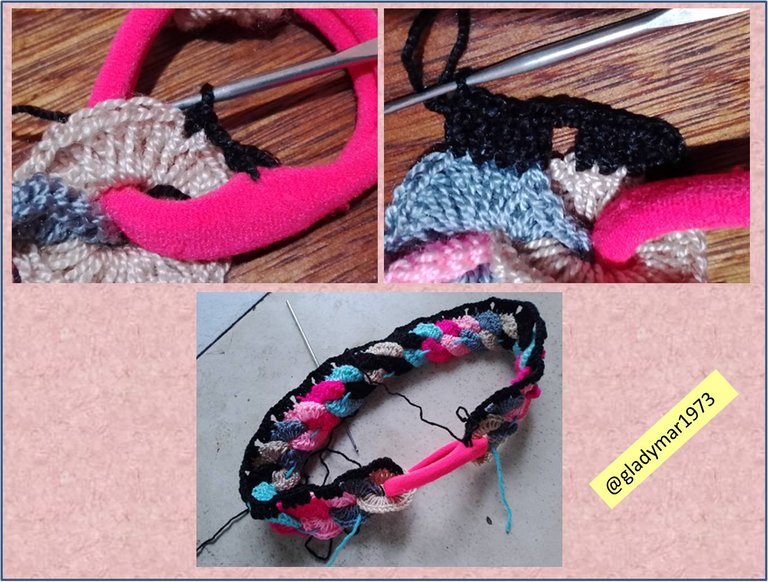 Ya teniendo lista la diadema procedí a tejer el punto fantasía para adornarla en color negro, lo hice tomando una hebra de hilo en una de las orillas de cola de lycra y ajustando tejí en la cola 2 puntos bajos, seguido tejí 3 cadenetas y haciendo centro en el primer círculo, tejemos 4 puntos altos seguidos, tejemos 2 cadenetas al aire y tejemos 4 puntos altos en el siguiente círculo; esto lo hacemos contando 3 puntos partir del último punto alto del círculo anterior y compaginando este punto con el del siguiente círculo es allí donde tejeremos el primer punto alto del círculo siguiente.
Repetimos el procedimiento hasta el último círculo donde finalizaremos tejiendo 3 cadenetas y nuevamente pasamos el hilo por la cola donde tejeremos dos puntos bajos, y cerramos con un punto raso, cortamos y escondemos la hebra.
Once the headband was ready I proceeded to knit the fantasy stitch to decorate it in black color, I did it taking a strand of yarn in one of the edges of the lycra tail and adjusting it I knitted 2 low stitches in the tail, then I knit 3 chains and making a center in the first circle, we knit 4 high stitches in a row, we knit 2 chains in the air and we knit 4 high stitches in the next circle; we do this counting 3 stitches starting from the last high stitch of the previous circle and matching this stitch with the next circle is where we will knit the first high stitch of the next circle.
We repeat the procedure until the last circle where we will finish knitting 3 chains and again we pass the yarn through the tail where we will knit two low stitches, and we close with a single crochet, cut and hide the yarn.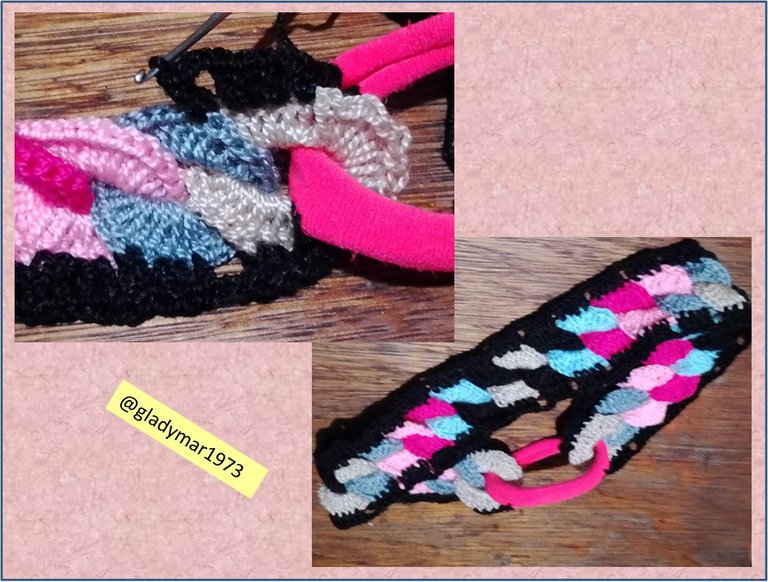 Repetimos el procedimiento del otro lado de la diadema, así queda totalmente fija la diadema, quitamos la hebra del hilo auxiliar que coloqué y listo ya tenemos la diadema para que Franyelit la pueda lucirla.
We repeat the procedure on the other side of the headband, so the headband is completely fixed, we remove the thread from the auxiliary thread that I placed and ready we have the headband for Franyelit to wear it.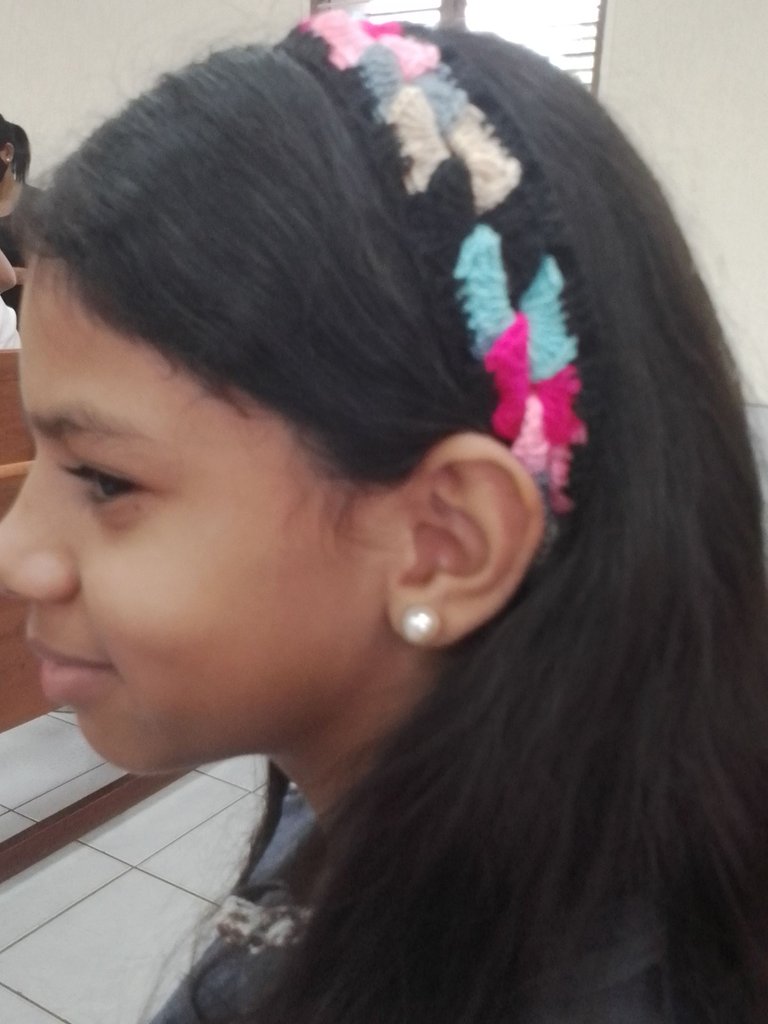 Luego que le realice la diadema ella me dijo que gracias a que tiene todos esos colores la puede usar con todas sus prendas de vestir, estaba muy contenta por ello, y yo más al ver su sonrisa siento ese es el mayor pago que puedo recibir por poder darles gusto a través de mi arte.
After I made the headband she told me that thanks to the fact that she has all those colors she can wear it with all her clothes, she was very happy about it, and I was even happier to see her smile, I feel that this is the greatest payment I can receive for being able to please them through my art.
Las fotos fueron tomadas con mi celular Moto E6I y fue traducido con www.DeepL.com,Translator (versión gratuita).
The photos were taken with my Moto E6I cell phone and the translation was thanks to www.DeepL.com,Translator (free version).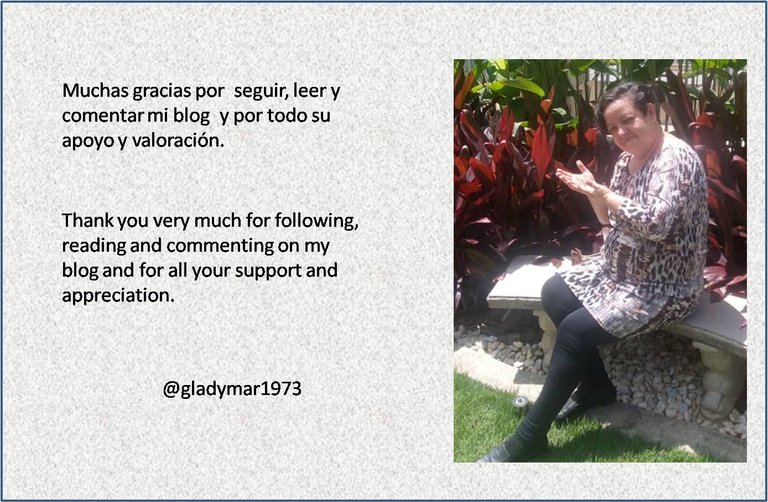 ---
---