FUNGIFRIDAY || GROW TOGETHER LIKE TRUE FRIENDS
---
My contribution to the #FungiFriday community and appreciated by @ewkaw. And thank you very much to the manager and crew of this community which I am very proud of.
---
Hello, how are you all #fungfriday friends, nice to see you again. May we always be in the protection of the almighty in carrying out our daily activities.
At this meeting I would like to share and discuss the three species of mushrooms that I photographed about a week ago. I found these three mushroom species in plantation areas, namely Aceh, Indonesia. And I took these three mushrooms using a Xiaomi redmi note 5 smart phone and using a macro lens, editing with mobile lightroom, the picture can be seen in the next paragraph.
---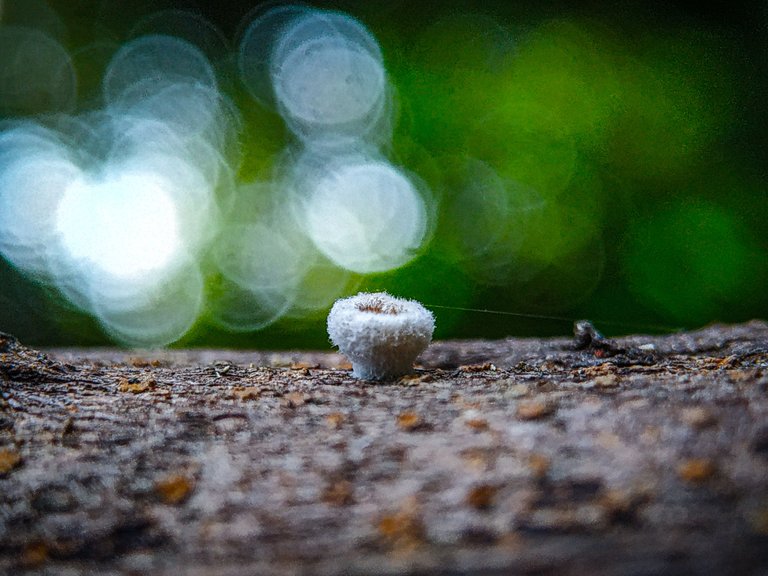 ---
This type of mushroom is also known as Gerigit mushroom, this mushroom is very familiar among the public because it is used as raw material for food and is safe for consumption and is also used as raw material for medicine.
The fungus also has antibiotic properties and can maintain immunity, you know.
---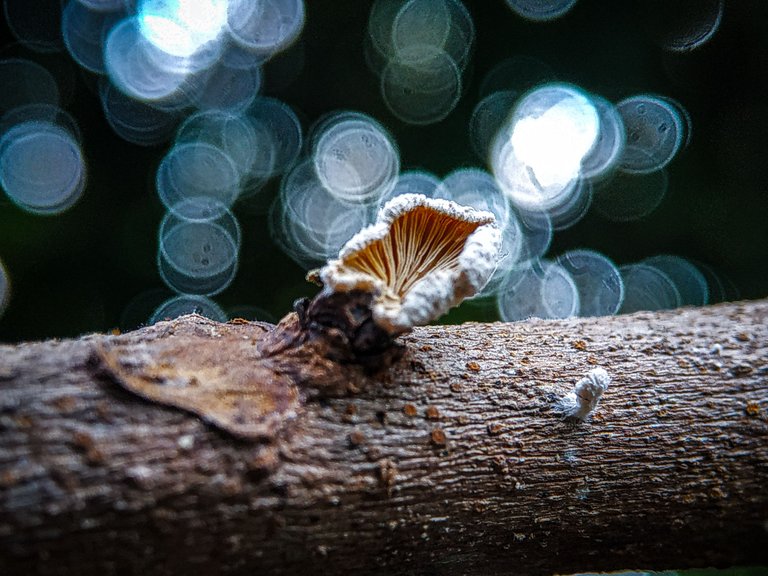 ---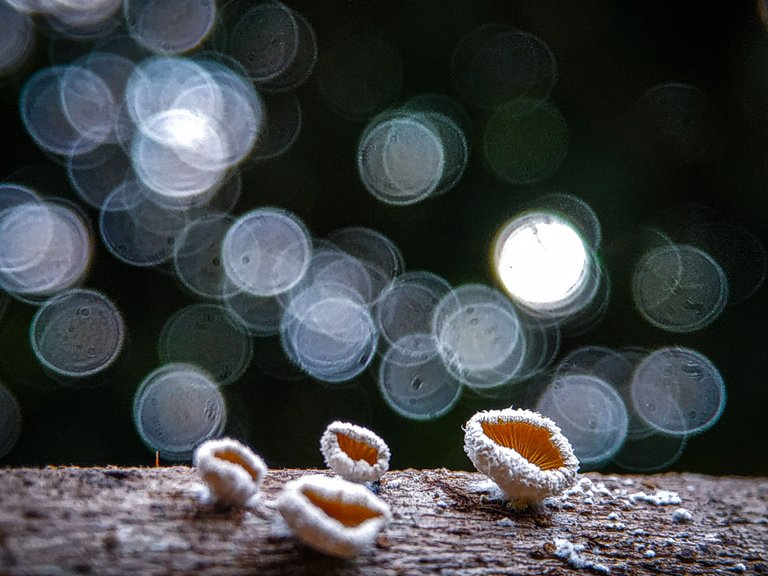 ---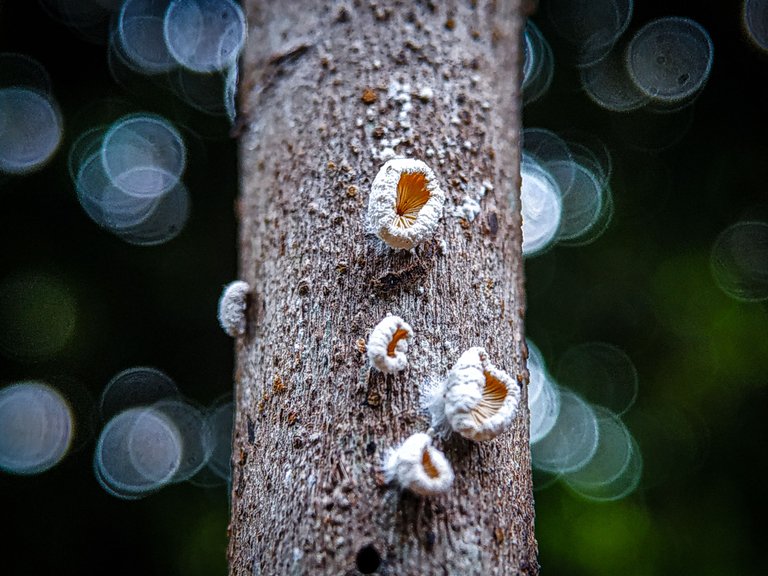 ---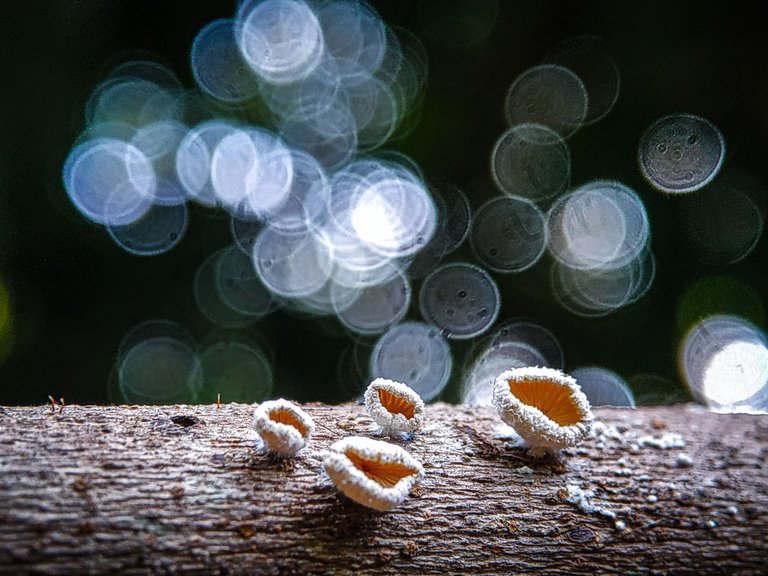 ---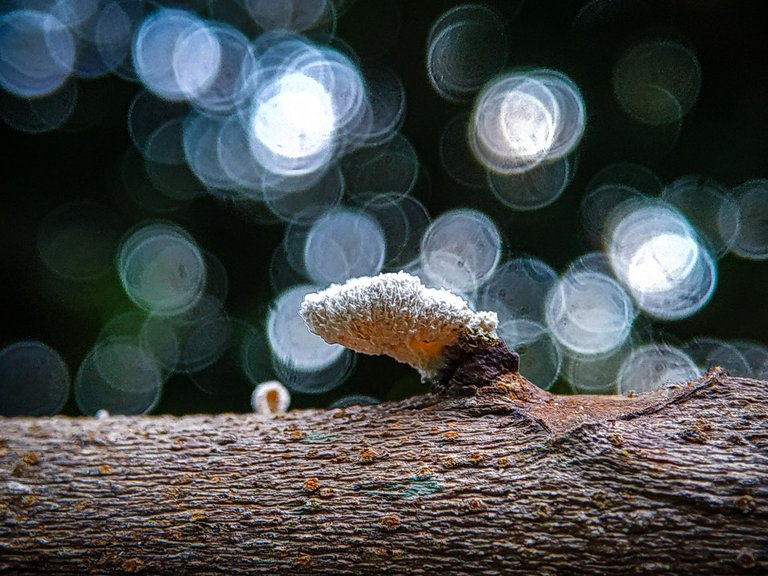 ---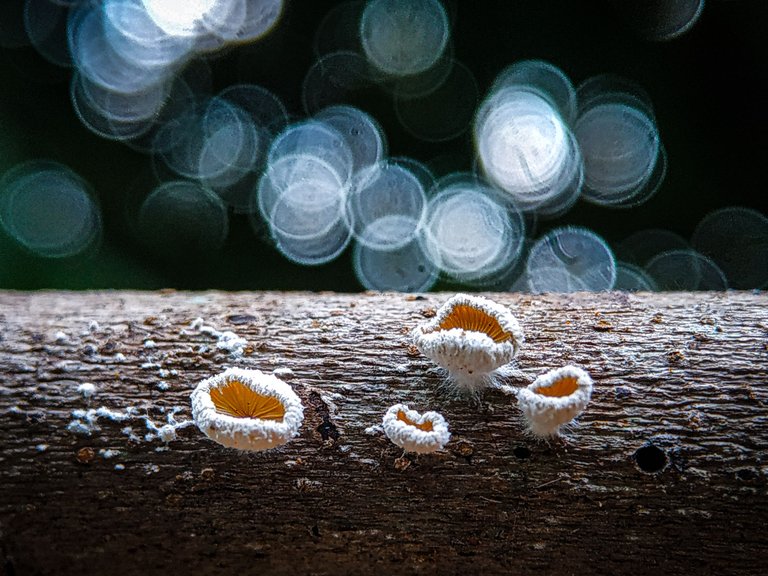 ---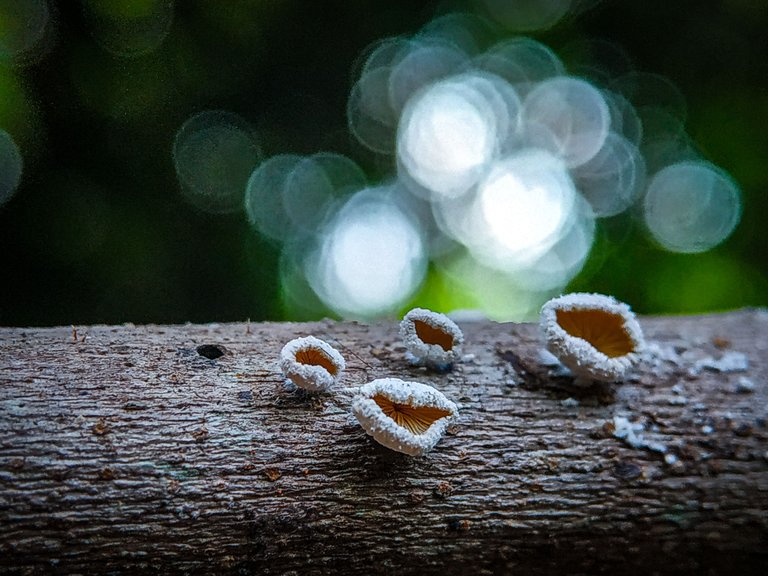 ---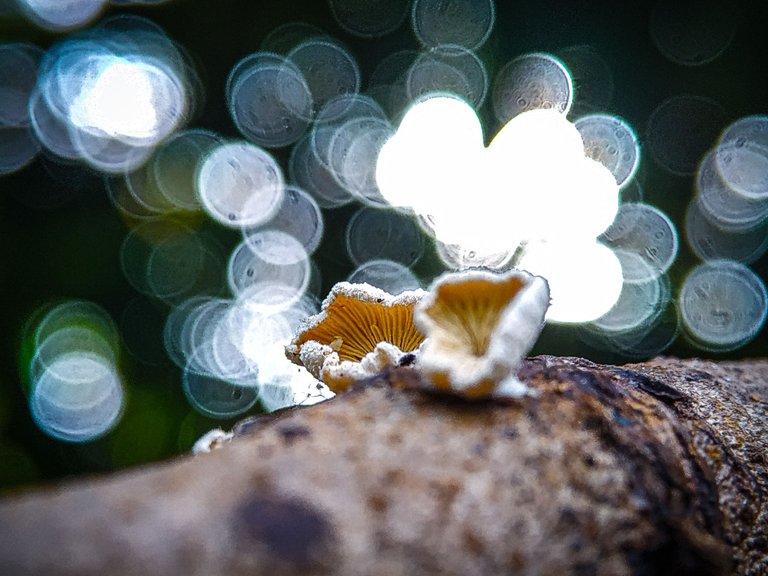 ---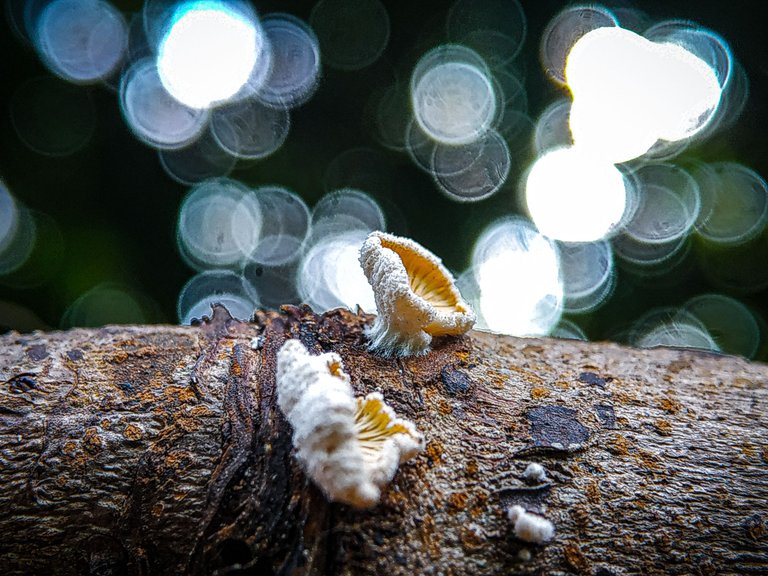 ---
The fungus is a species of fungus in the family Schizophyllaceae and the order Agaricales. They have a number of synonyms, one of which is Merulius communis.
I found this fungus growing on dry but rotten wood, this fungus is easy to find because it usually grows on any wood as long as it is dry. It is fan-shaped and has a curved body, on the upper surface it is powdery and hairy and on the underside it has gill lines, and has a pale white and creamy yellow color, varying in size from 8 to 25 mm.
---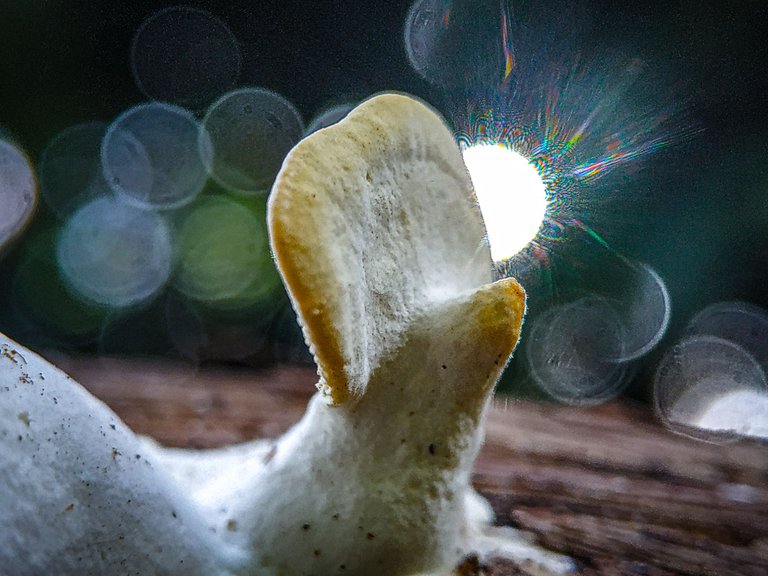 ---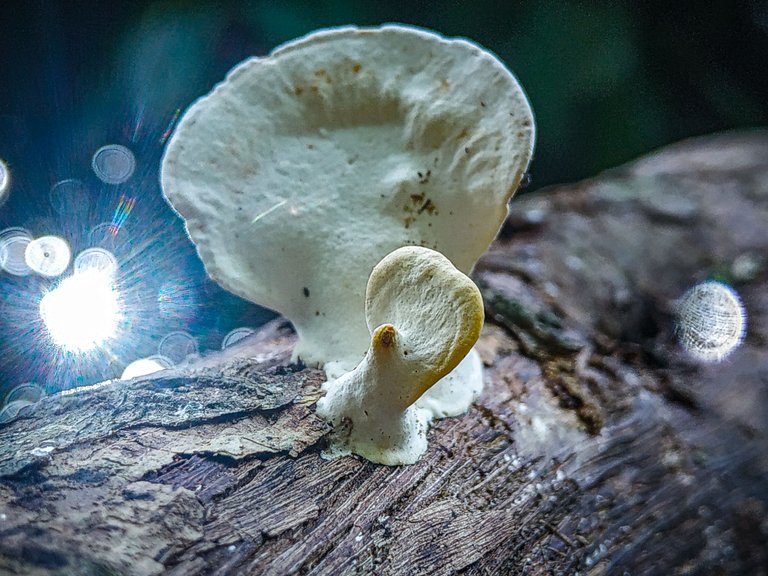 ---
This type of fungus is a fungus in the Polyporaceae family.
This species I found also grows on dry and rotten wood and grows two close together like a true friend like him.
---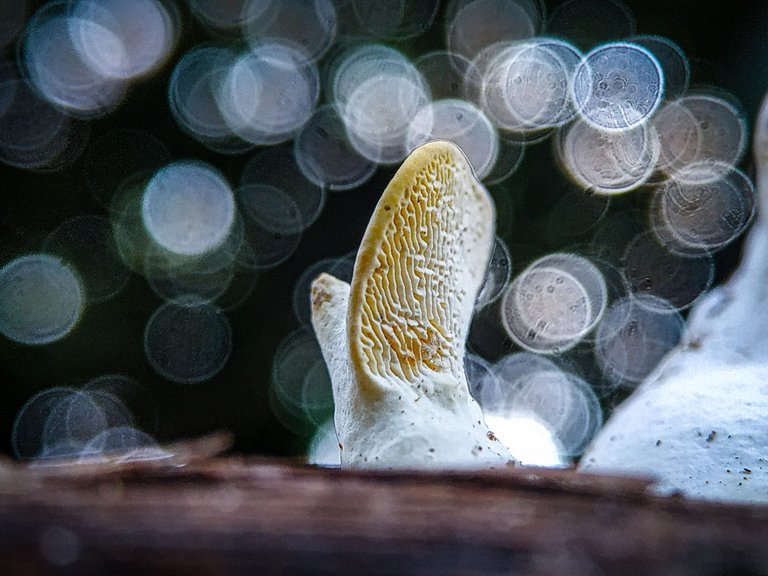 ---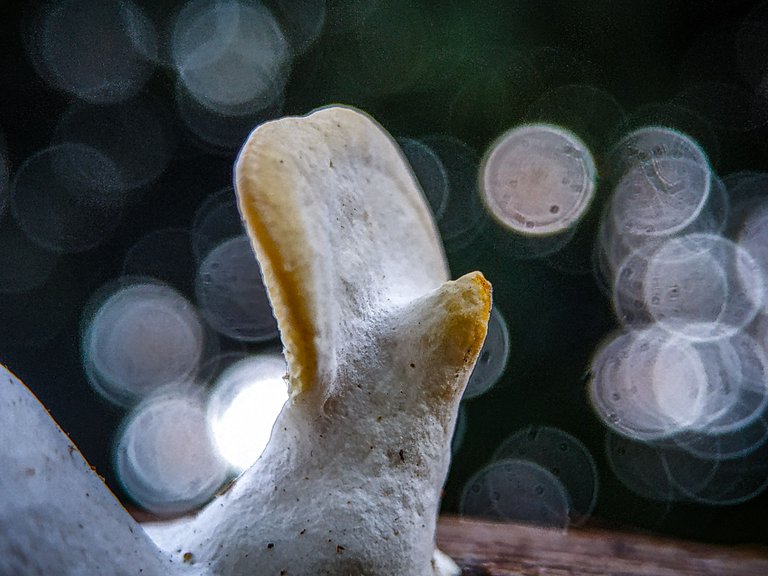 ---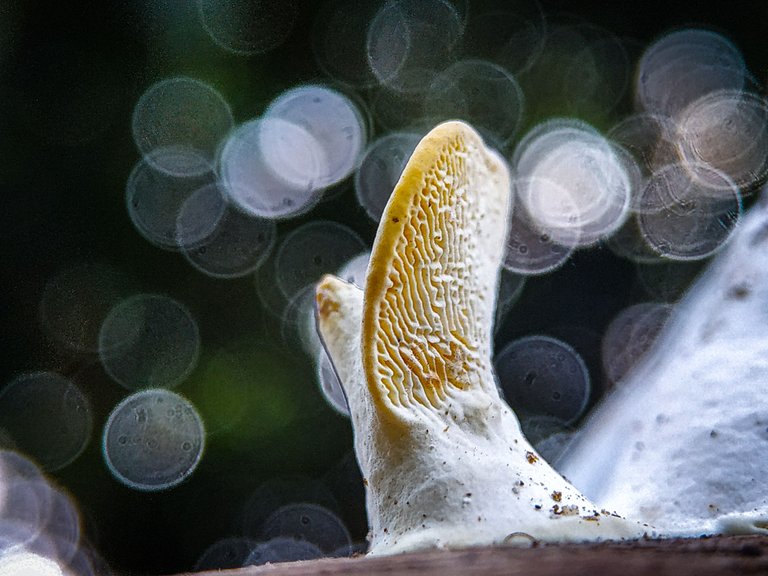 ---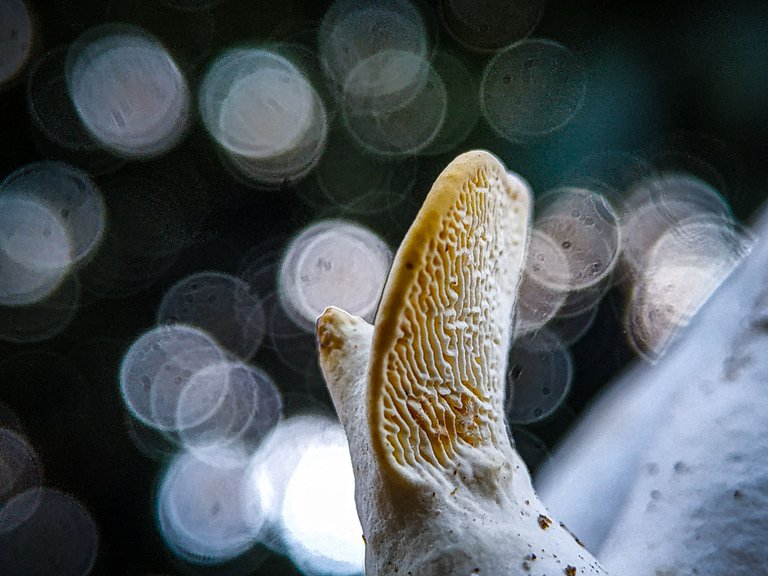 ---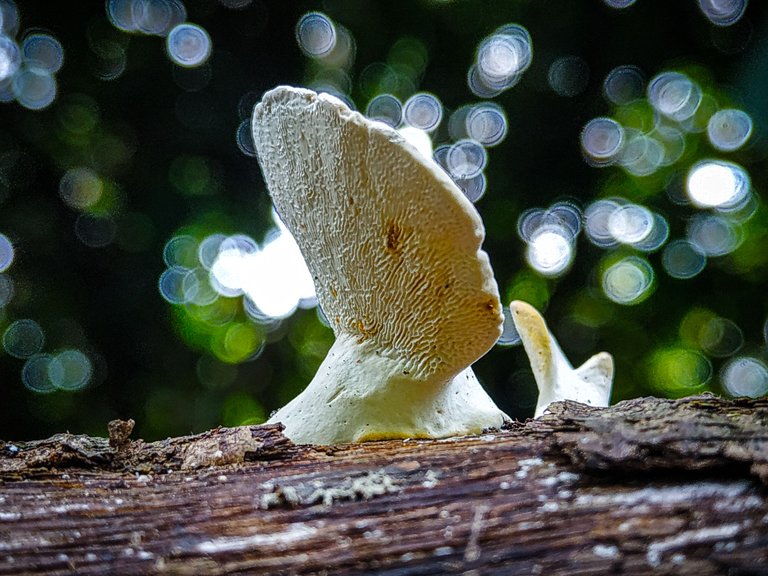 ---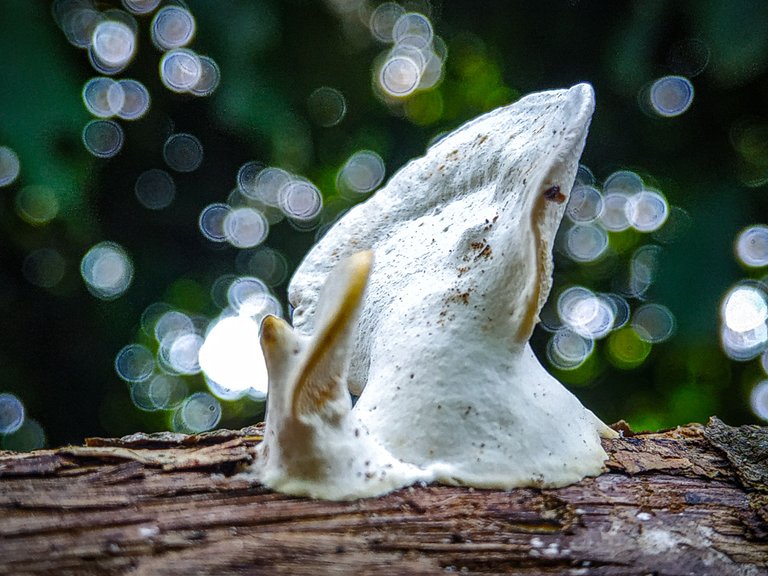 ---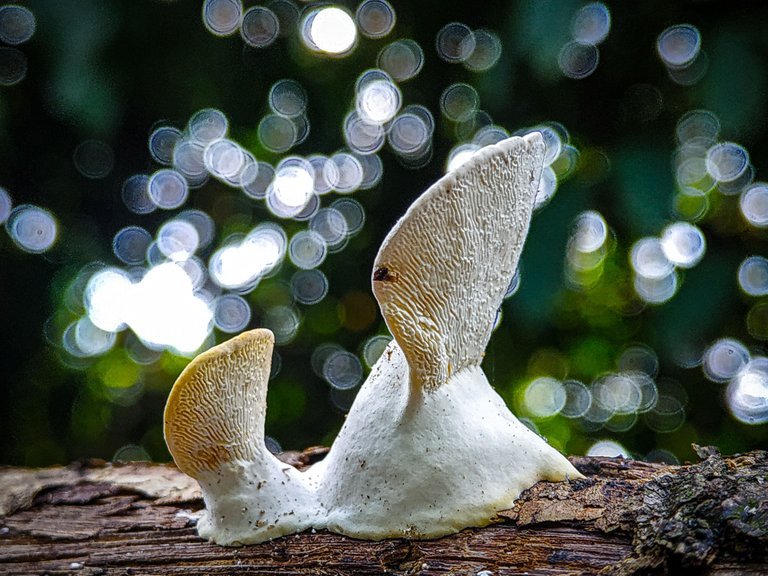 ---
---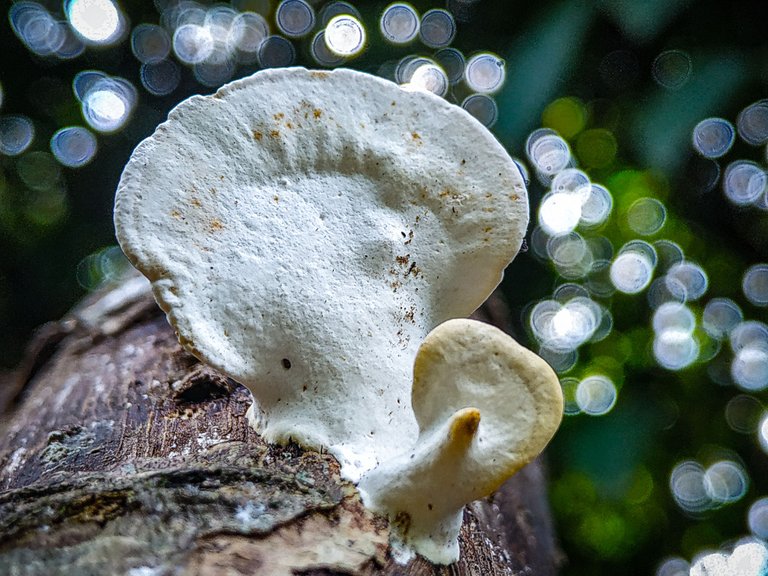 ---
The shape and size is small until it enlarges on the surface in the range of 6 - 10 cm and the other one which is small in size is like a palm, in my opinion, there is only a thumb, and has a milky white color on the front which is yellowish white like rust on the back and has small pores on the front and there are small pathways like a maze.
---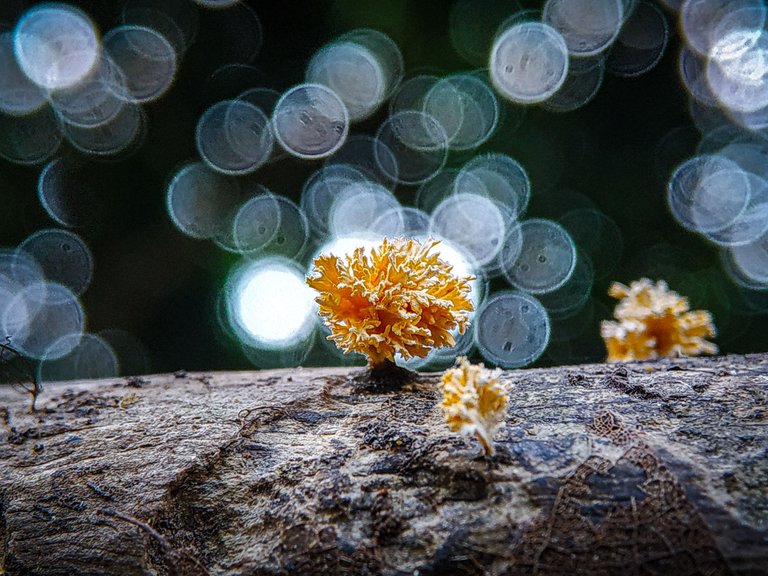 ---
This species, also known as cauliflower, is a genus of parasitic and saprobic fungi that are characterized by their unique shape and appearance, found all over the world. The appearance of this mushroom can be described as similar to that of a sea sponge, brain, or head of a cauliflower. This mushroom is usually cultivated because of its popularity and is sold in several countries such as Korea, Japan, USA and Australia.
---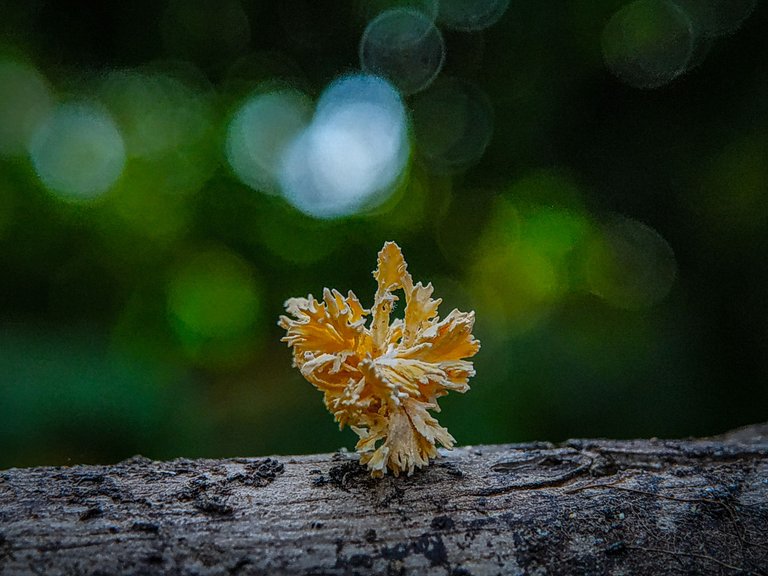 ---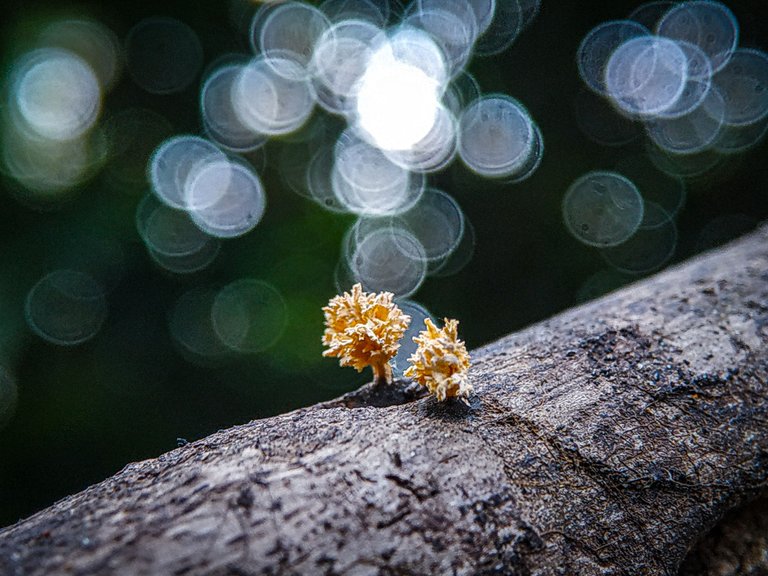 ---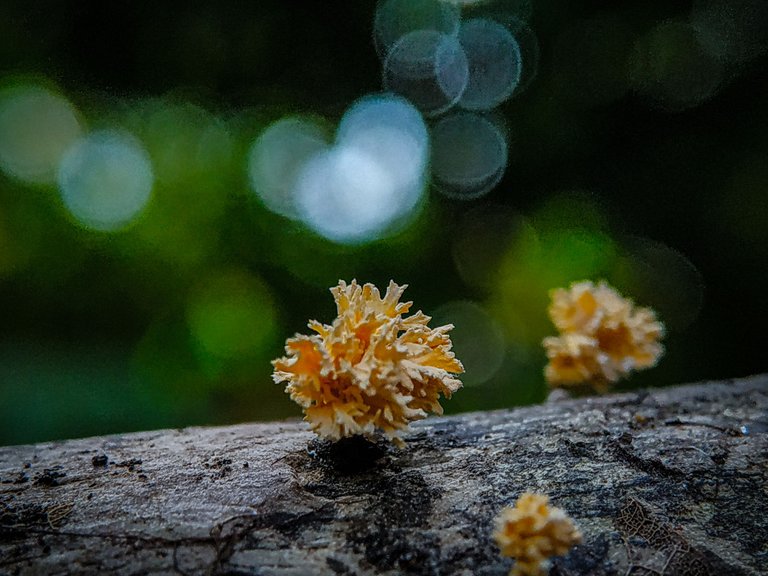 ---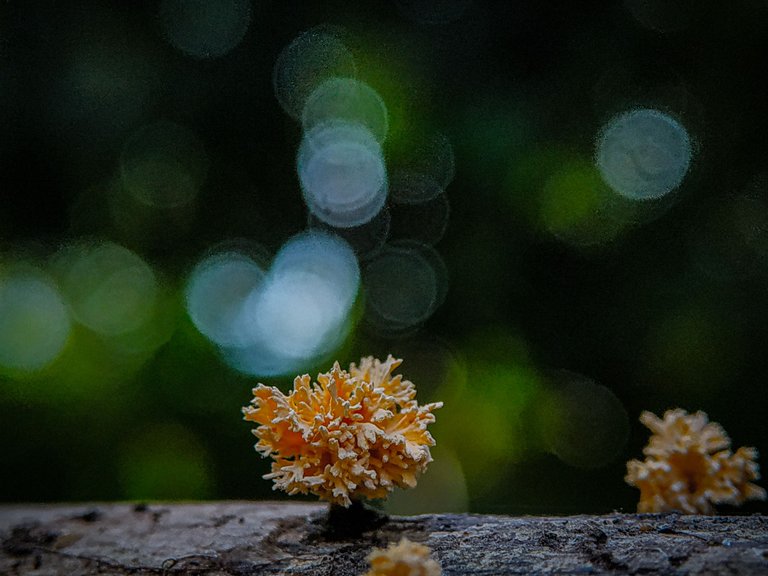 ---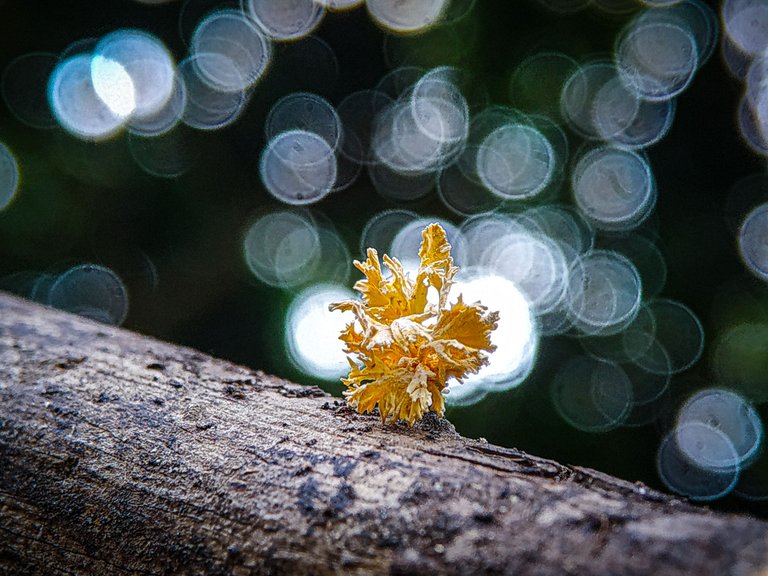 ---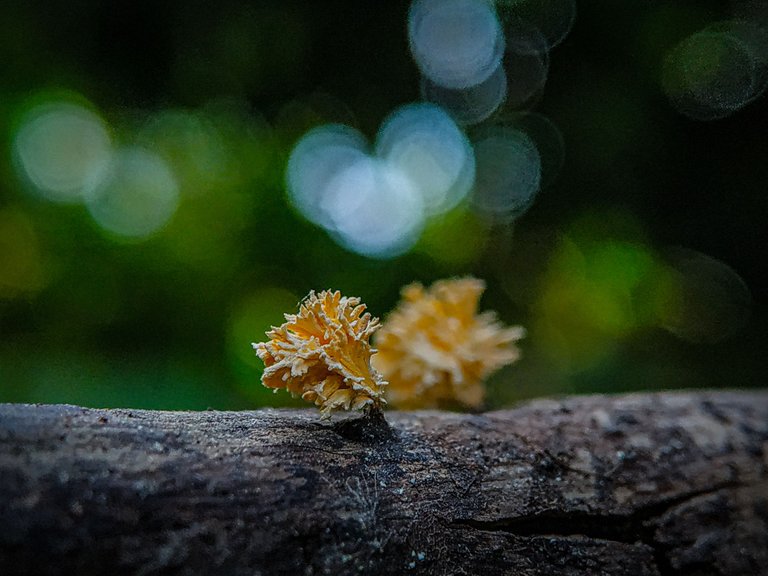 ---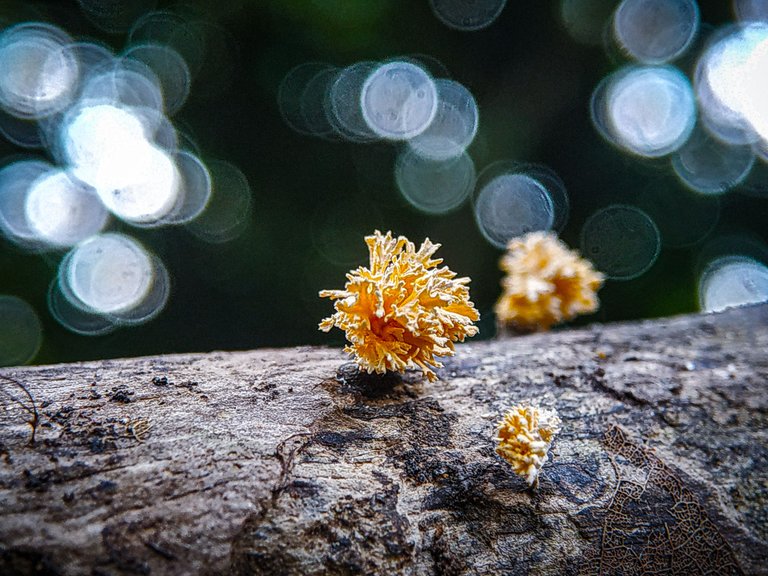 I found the fungus growing on dry rotten wood the same as the previous type above with the shape as I discussed and has a creamy yellow color and has a very small size ranging from 1-3 cm, and can be consumed by cleaning it before processing it because it has dirt as it grows.
Well, this is the discussion that I can share this time, hopefully it can be useful for all of you friends and of course can add more insight, and if there is a writing error or something like that from me, I hope friends can understand it, because I am still having language problems and using Google Translate for this writing.
FOR INFORMATION
| CAMERA | XIAOMI REDMI NOTE 5 |
| --- | --- |
| TOOL | MACRO LENS |
| CATEGORY | MACROPHOTOGRAPHY |
| OBJECT | MUSHROOM |
| PROCESSING | MOBILE LIGHTROOM |
| LOCATION | ACEH-INDONESIA |
| PHOTOGRAPHED | @ghosthyper29 |
---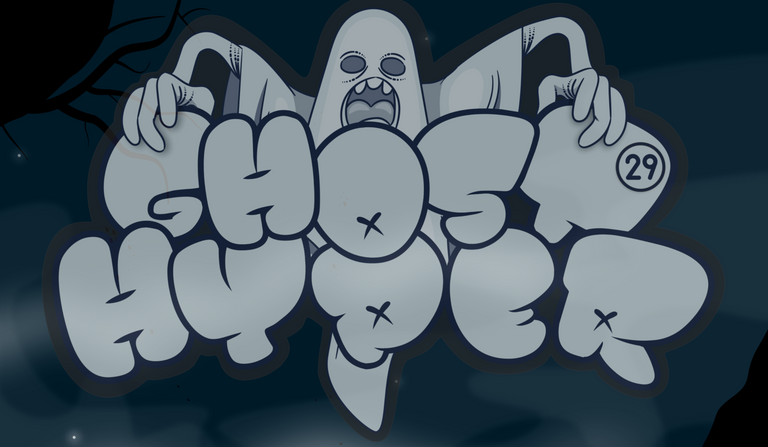 ---
---
---