Whale Watching at the Gulf of Thailand
Hello Hive! It's been a while since I went somewhere or did something exciting but with the regulations in Thailand loosening up I couldn't wait no more. The first activity we went to was totally worth it and a real unique experience. Turns out whales migrate through the Gulf of Thailand and stay here for around a month to feast. Since the pier to get us to this activity is about an hour drive from home, it was something we couldn't miss seeing.
Whale Seeing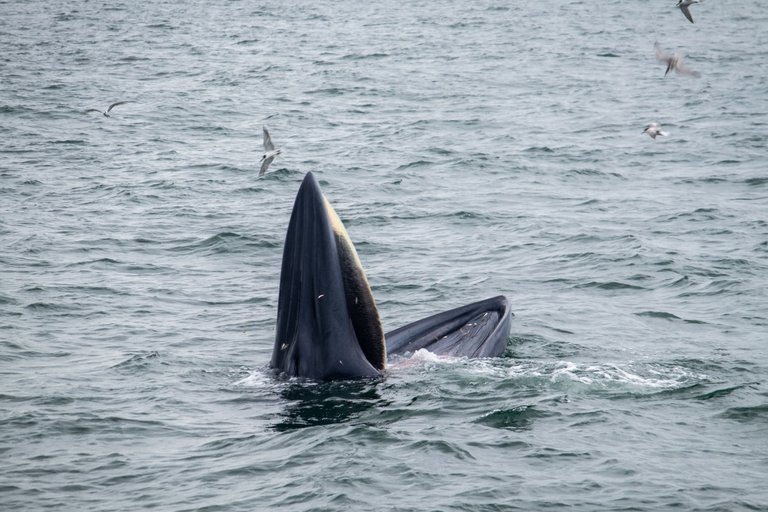 For this activity we had to wake up pretty early. We had to arrive at the Pier at 6:30 to get a covid test and board on the boat at 8. We also had to pick up our friends on the way, so our day started at around 4:00 AM. I usually wake up at 5:30 (or get woken up by Nyx) but Nat has difficulties in the mornings. Anyways we pulled through that and got to the Pier.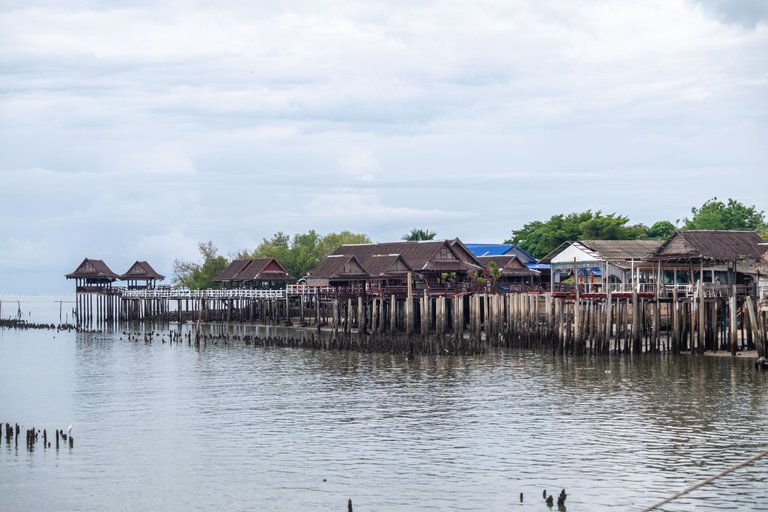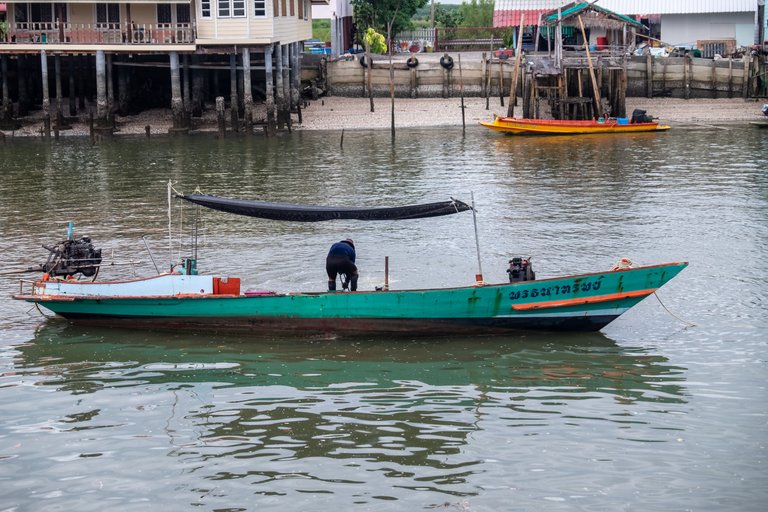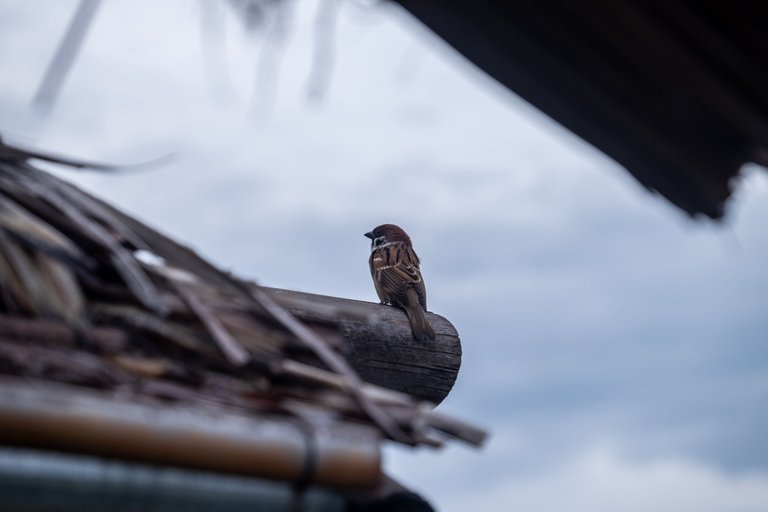 The weather was gloomy but it was somehow fitting the place. I had over an hour to kill so I spent some time looking around, taking some random photos.
There were 2 boats that left at the same time with around 10 people in each one. We left at 8:00 Am dead on. The boat was pretty nice. Had an air conditioned room, two toilets, plenty of water to wash up and enough space outside to spread around and take nice photos.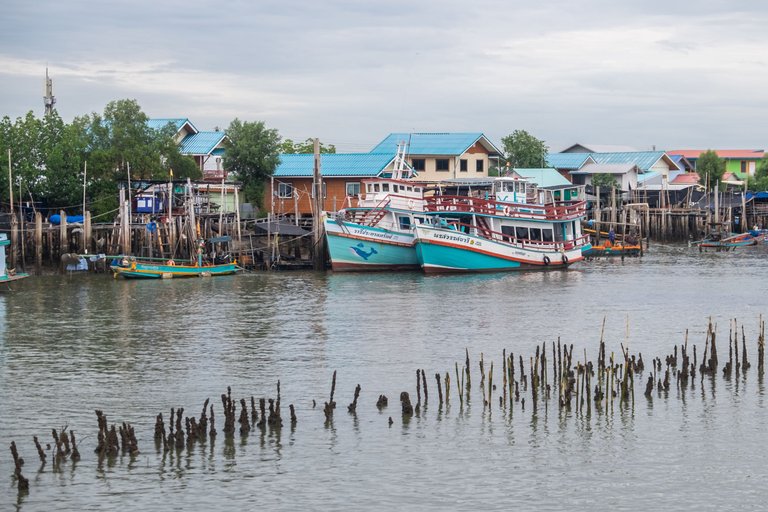 This is what our boats looked like.
The trip started with the crew leader gathering us at the closed room and giving a short presentation, talking about safety features, what the activity would be like and information about the whales.
It took an hour and a half until we found some of the whales and we slowly started approaching them. Even from afar I started seeing them moving, poking out of the water and splashing water.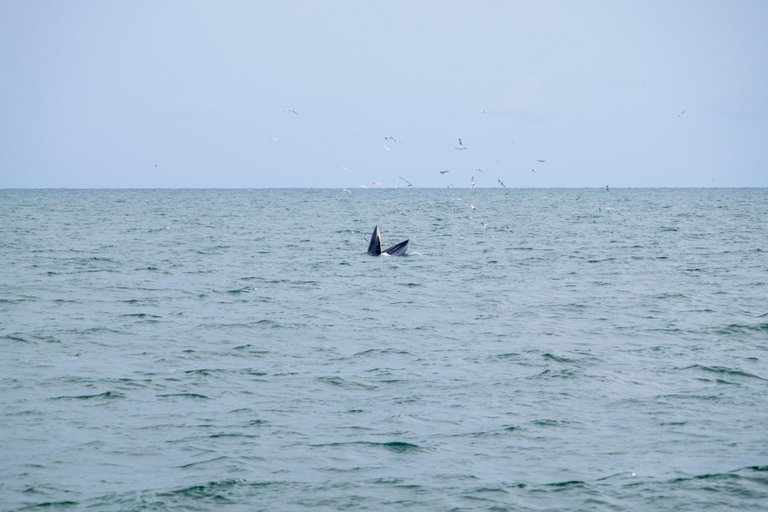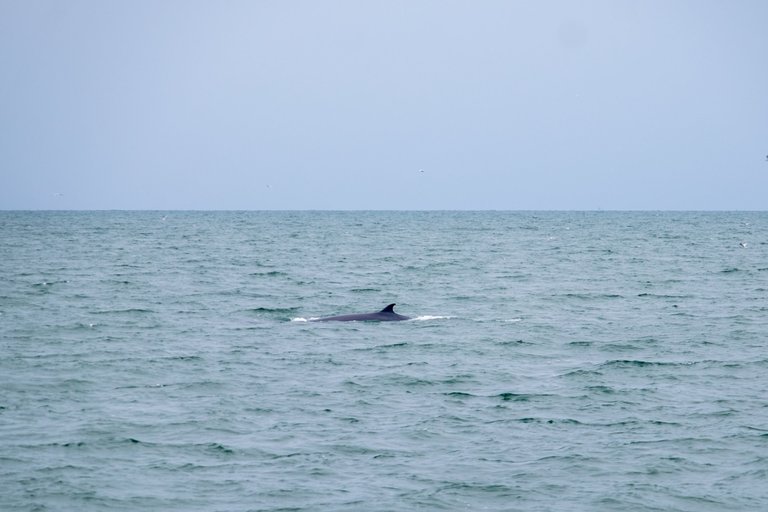 This was the very first one we saw far away in the distance.
I was sure it was going to rain on us but I really hoped it would do so before or after we reached the Whales. Unfortunately the rain caught up to us pretty quickly.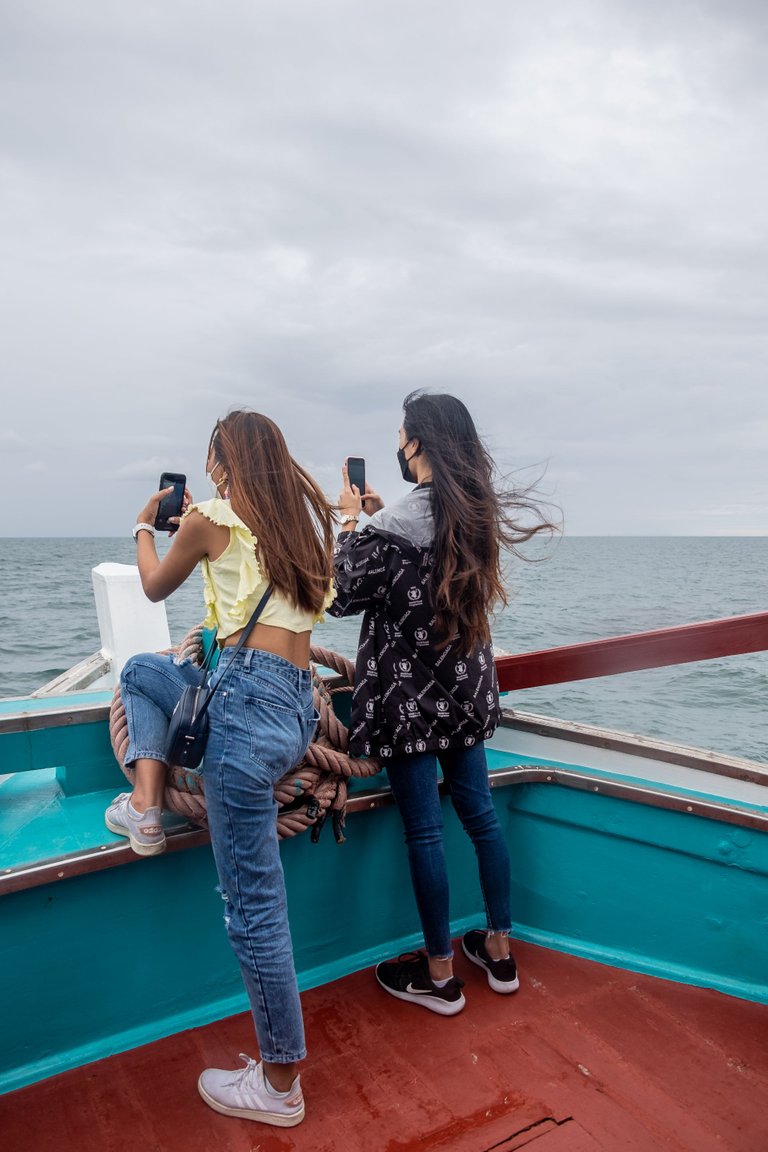 The girls quickly occupied the front spot of the boat. As always Nat stole my jacket because she didn't bring one.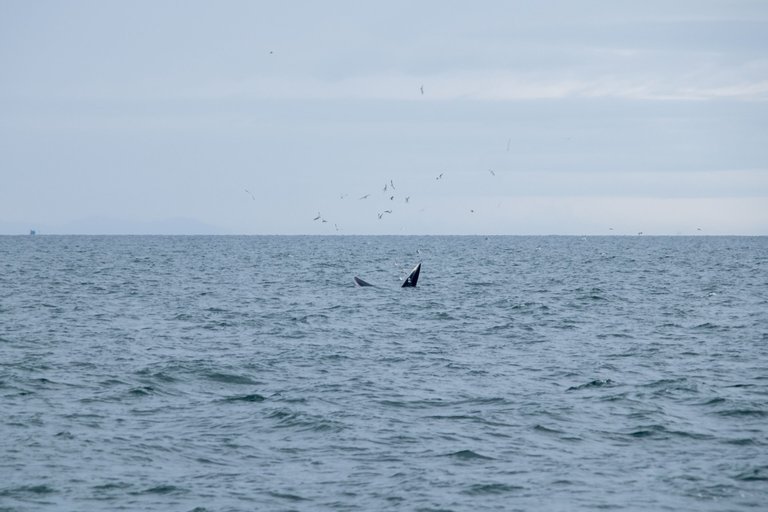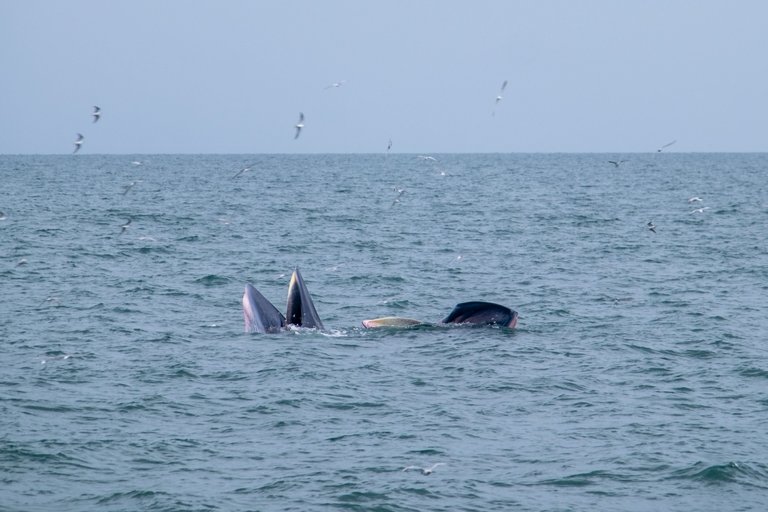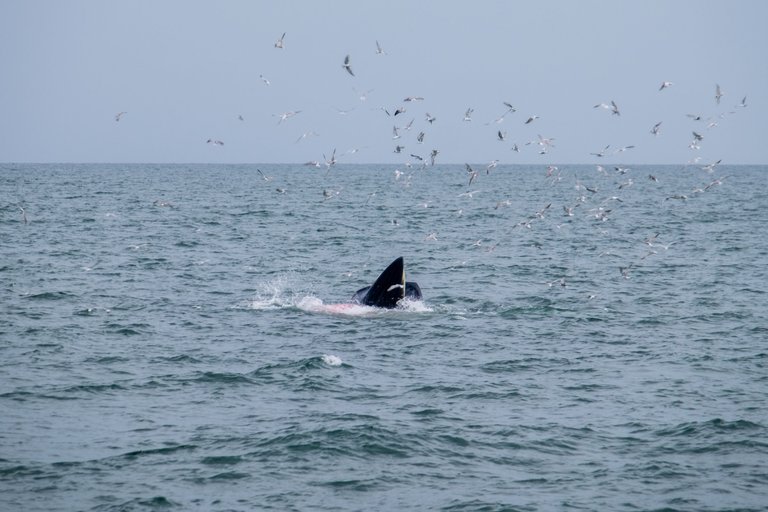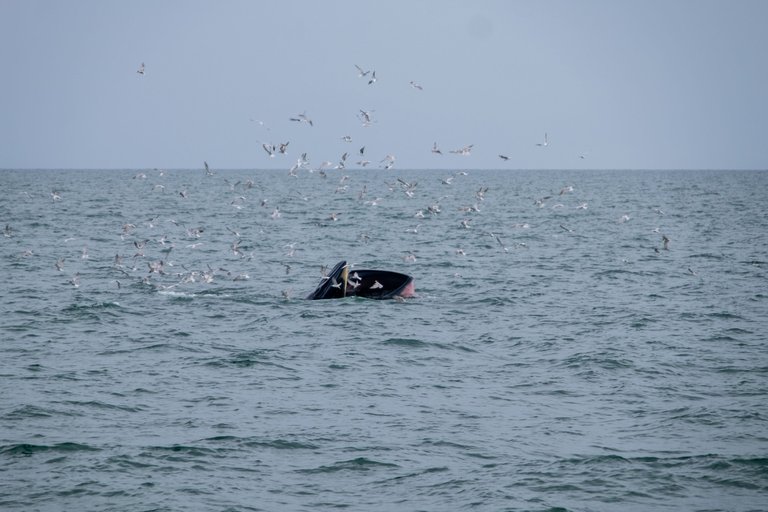 It's pretty interesting when the whales get out together. We saw it on multiple occasions and the crew told us that they saw 5 whales feast at the same time the day before. They stay very close to each other and circle around as they dive back in.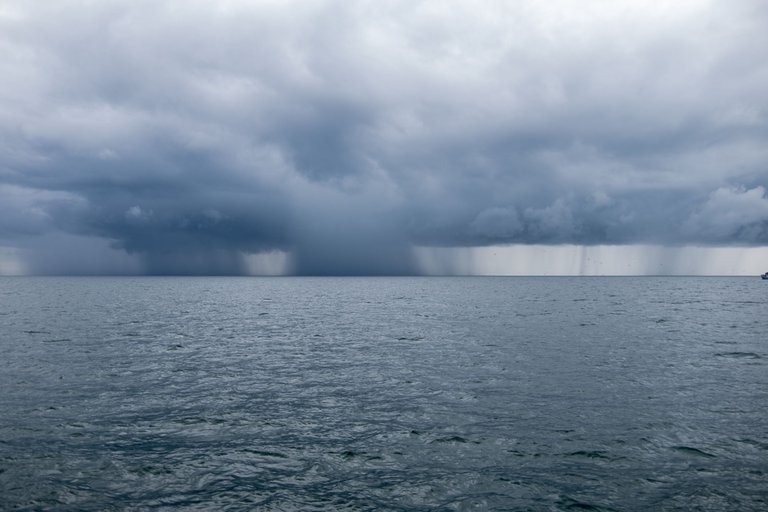 We were slowly moving towards that and soon we were right underneath the storm.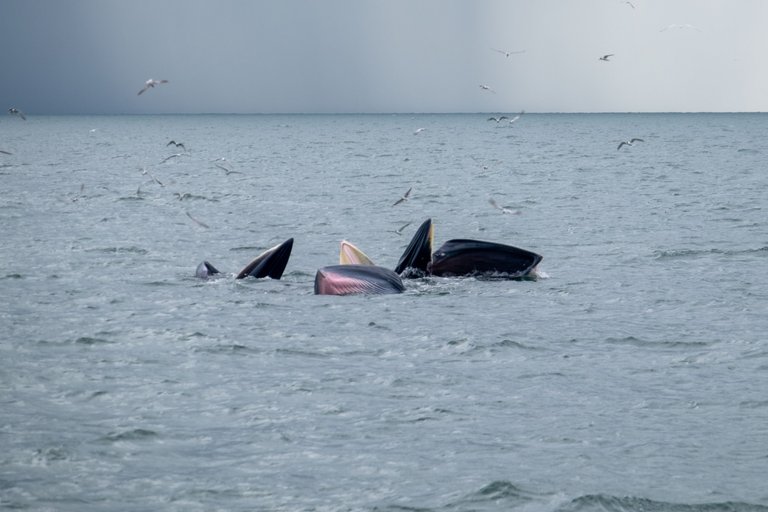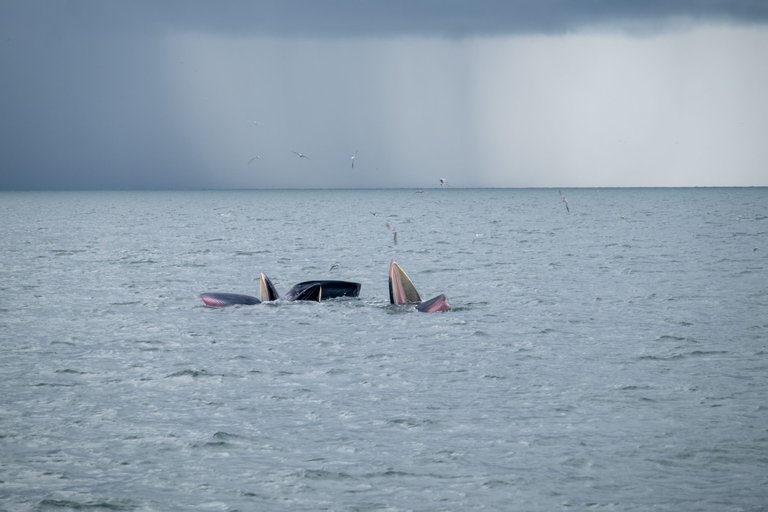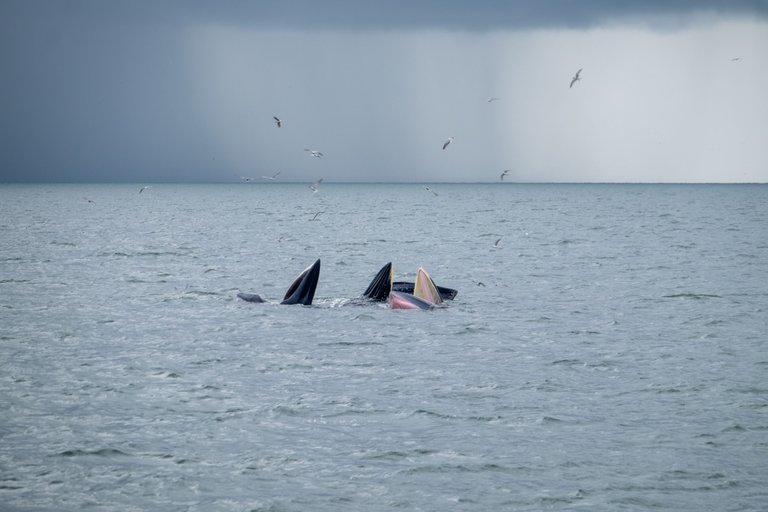 Before the rain started though we saw 3 whales coming out at the same time for the first time.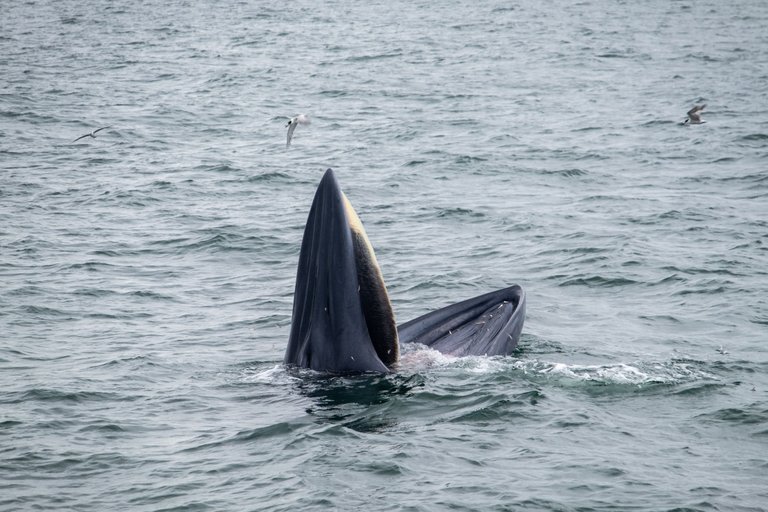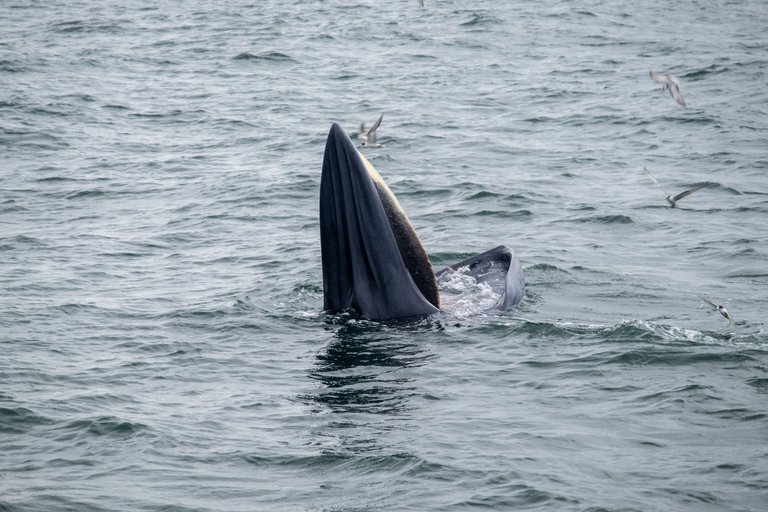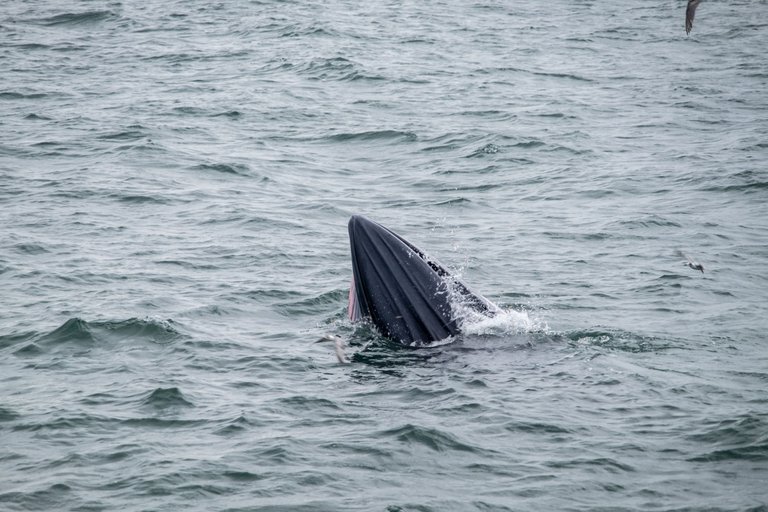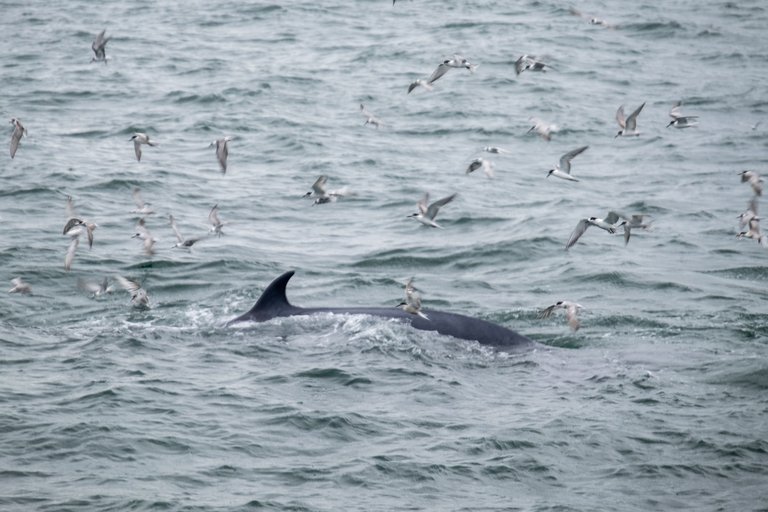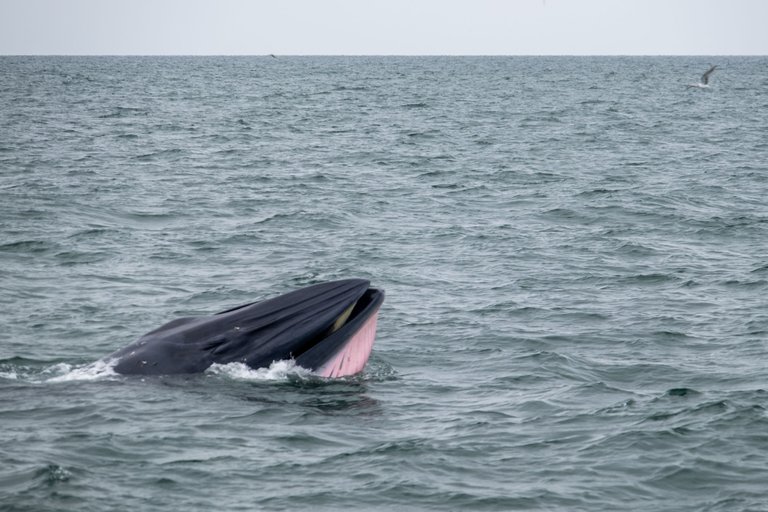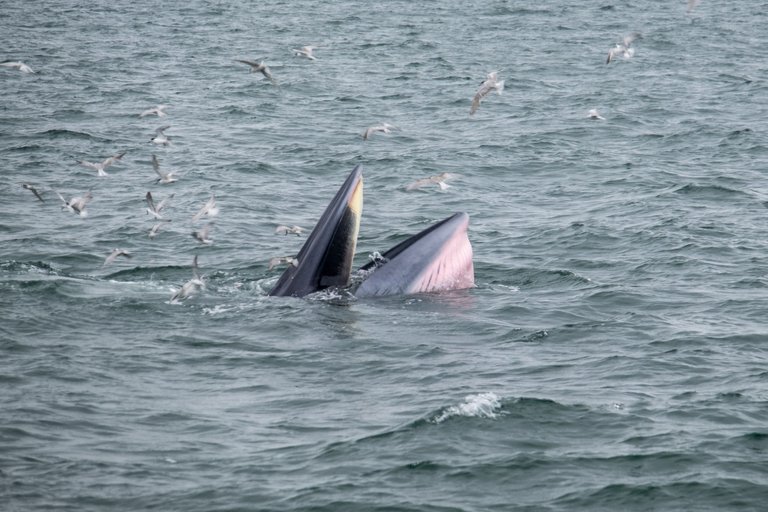 This one came very very close to us. It was probably 10 metres away. I think it was a smaller, younger whale (from what I've read the Bryde's Whales get up to 12-15 metres long).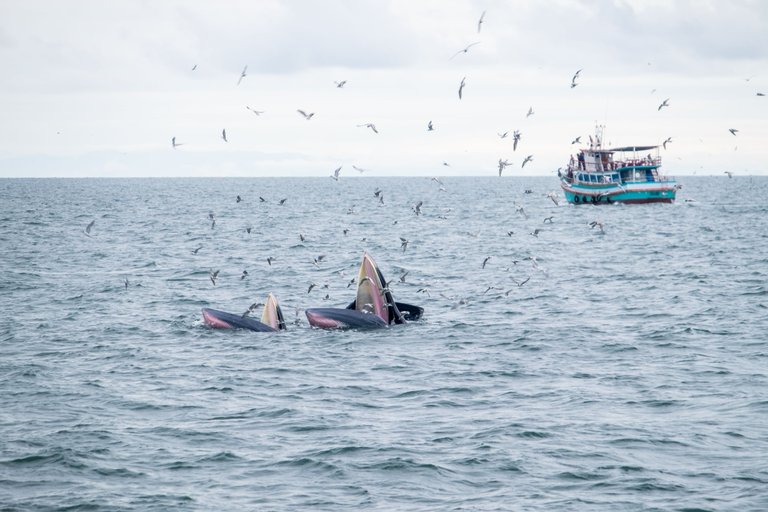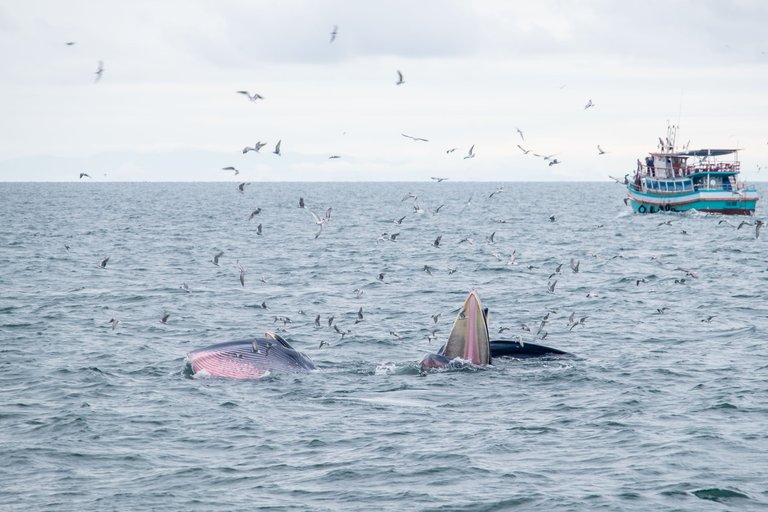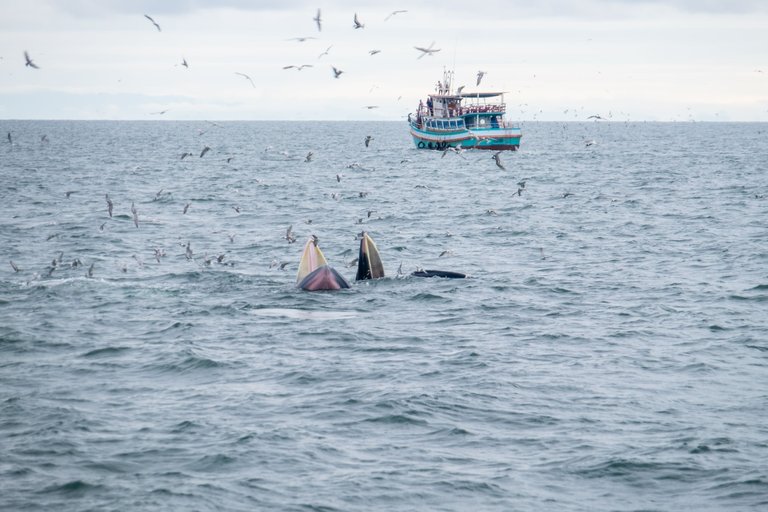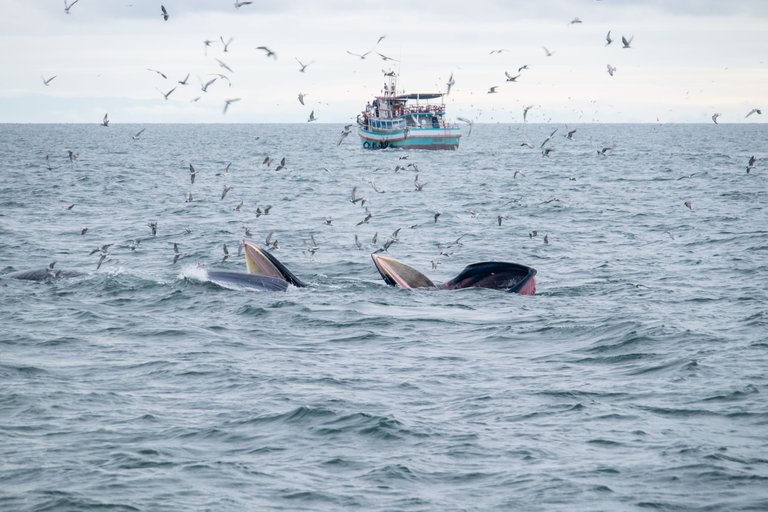 These 3 were also quite entertaining even though one of them showed up briefly. The two that stayed outside for longer were so well synchronized.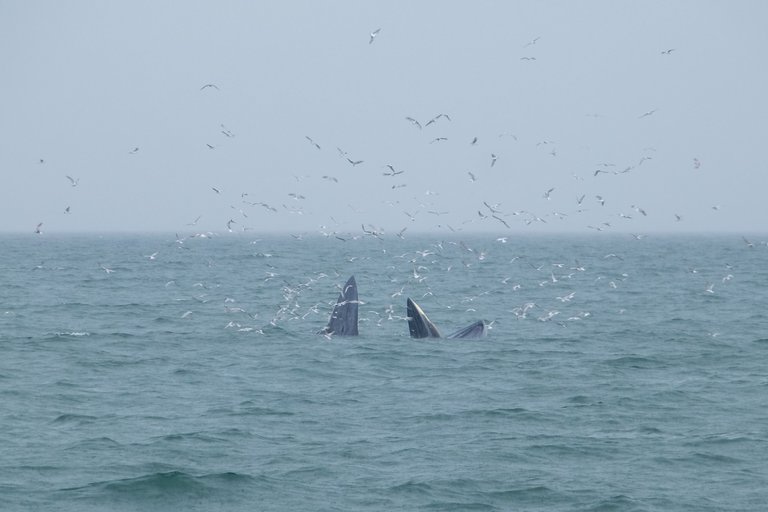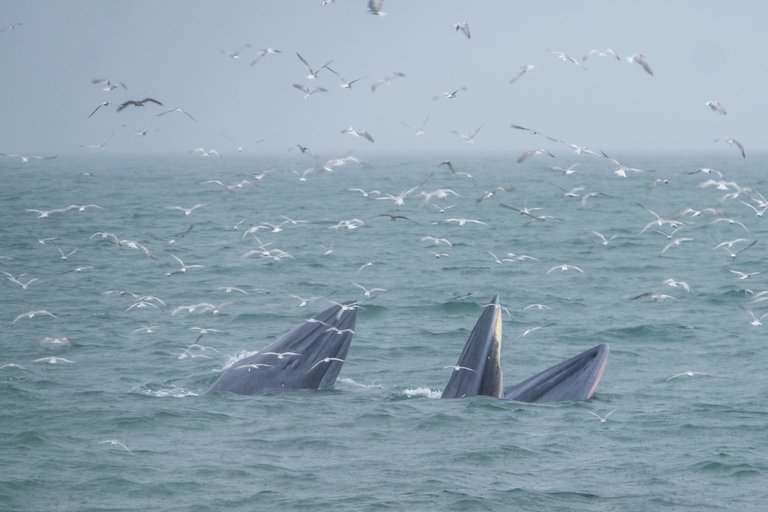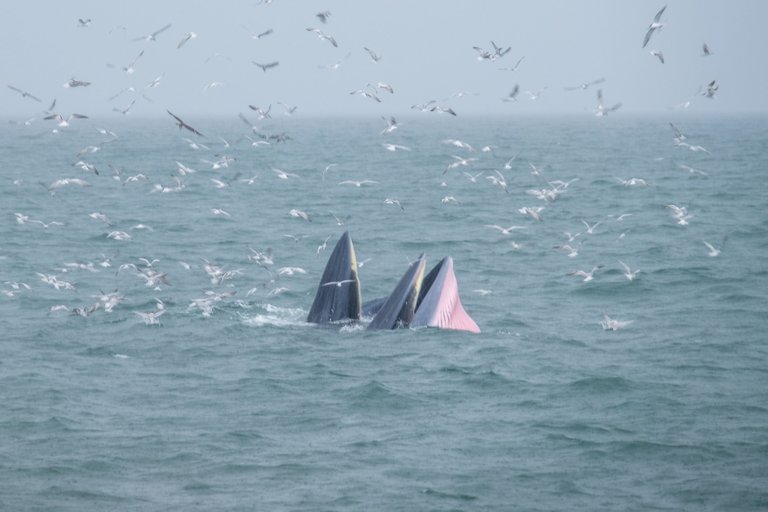 Soon the rain became pretty heavy but we still kept chasing the whales around. I felt so much more like I was a part of an adventure and the whales looked even more grand.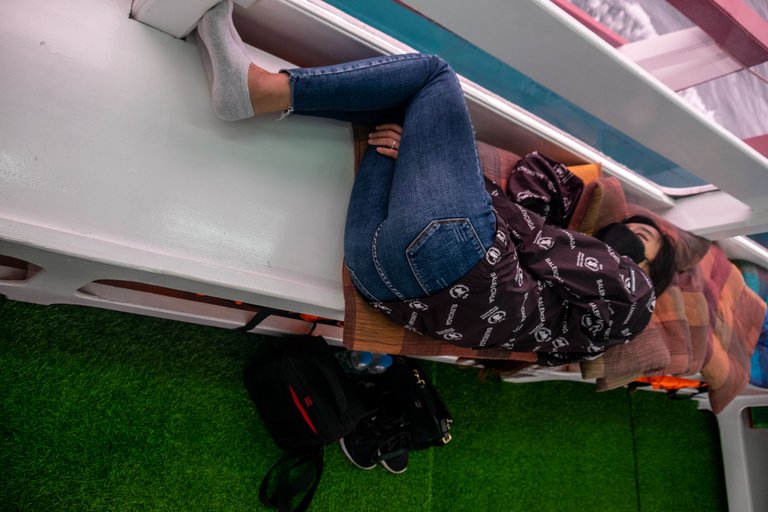 I came back soaked from the rain and quite cold, only to see Nat sleeping with my jacket. She's so lucky she has me.. 😀
I had some lunch while waiting for the rain to stop and once that happened I went back out for some more photos.
This time there weren't that many whales around us. I could see 2 maybe 3 and the boat was focused on following 1 of them. I did manage to take some more good photos since he did swim pretty close by.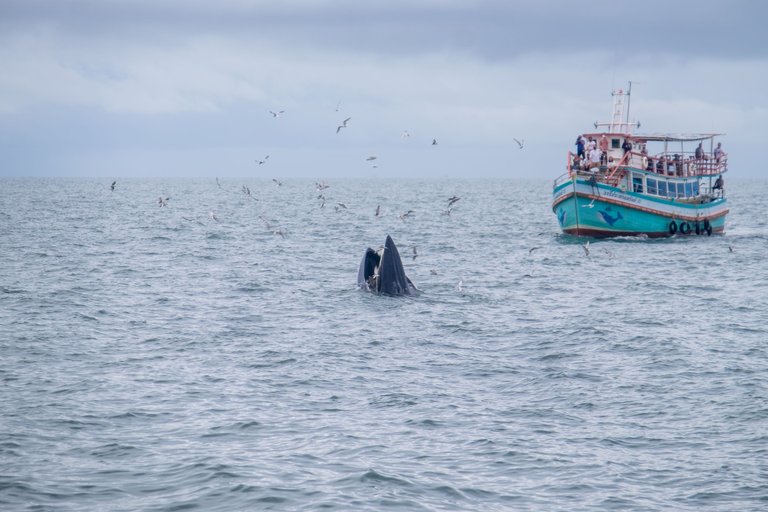 The second boat was always close by. As the whales got more used to us, the boats were sailing closer together as well.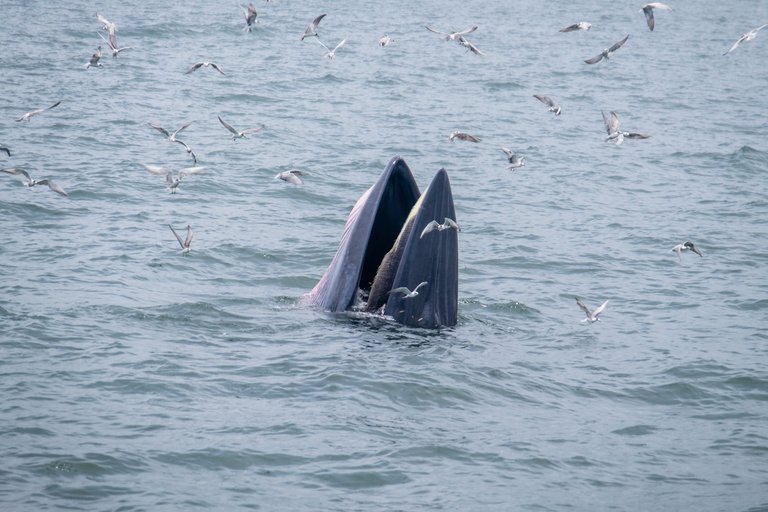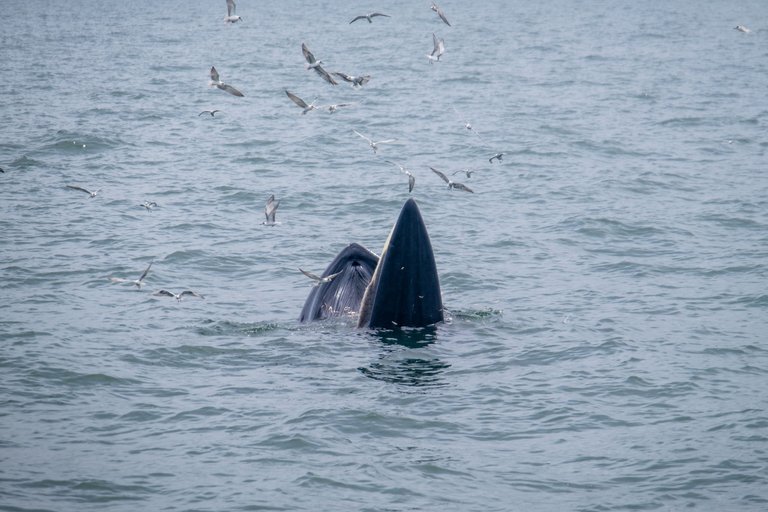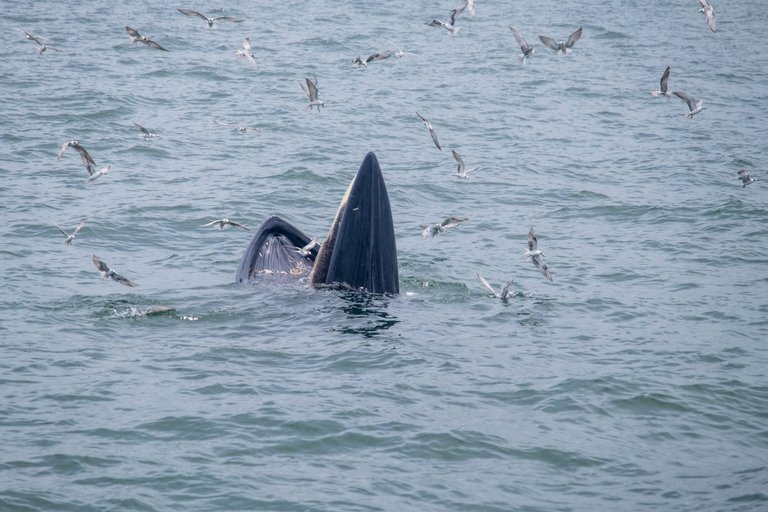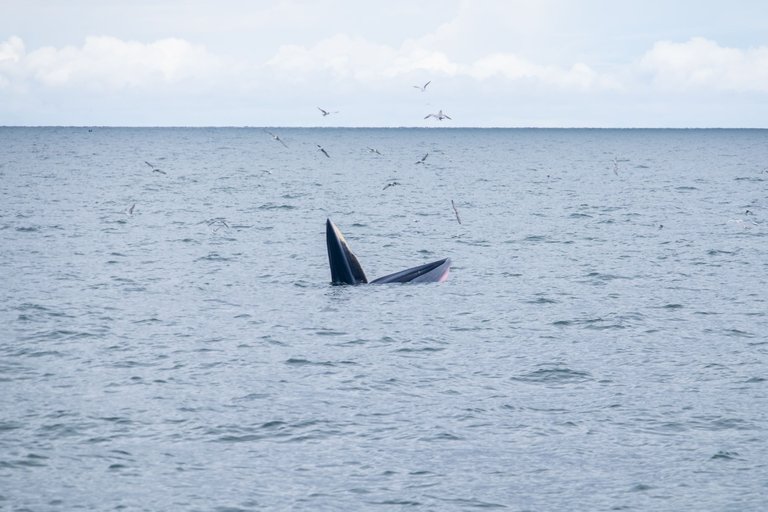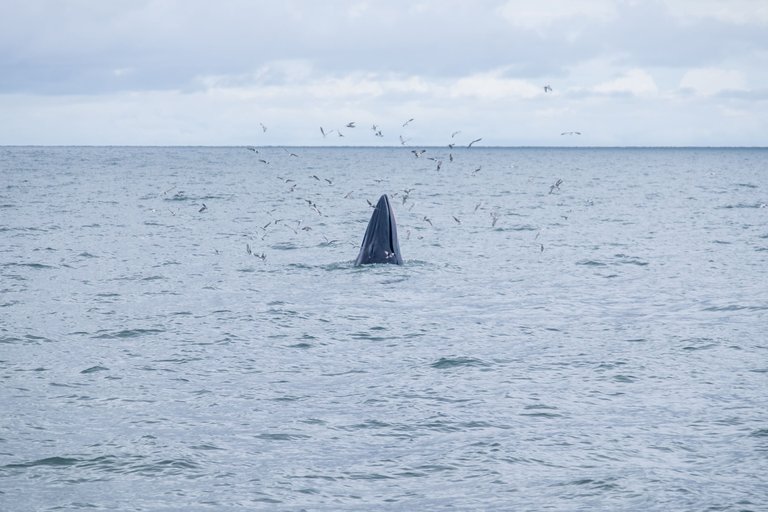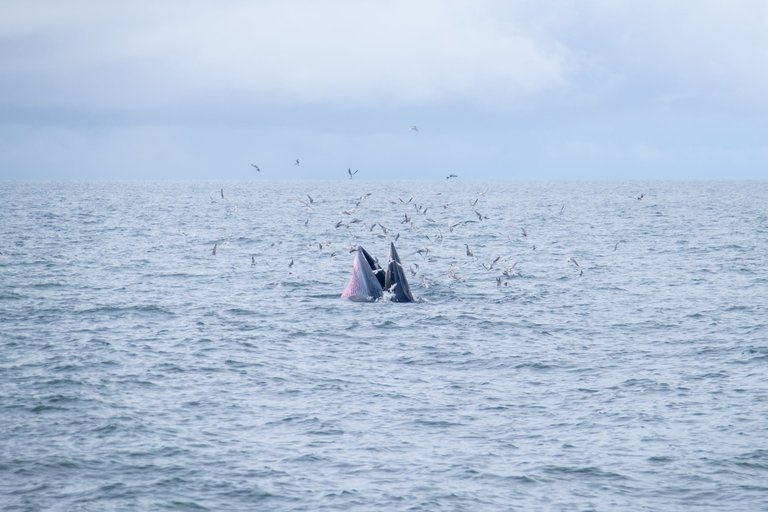 I was using burst shots so much for the first time. I went through half my memory card so quickly. The boat was quite shaky and the whales were popping up on either side, sometimes for a brief moment so timing was key for some of these shots. I hope the photos aren't too identical.. I edited over 160 photos from this trip..(Lots of horizons cropped and fixed..)
Anyways as we came back we had some cute local dogs waiting for us at the pier.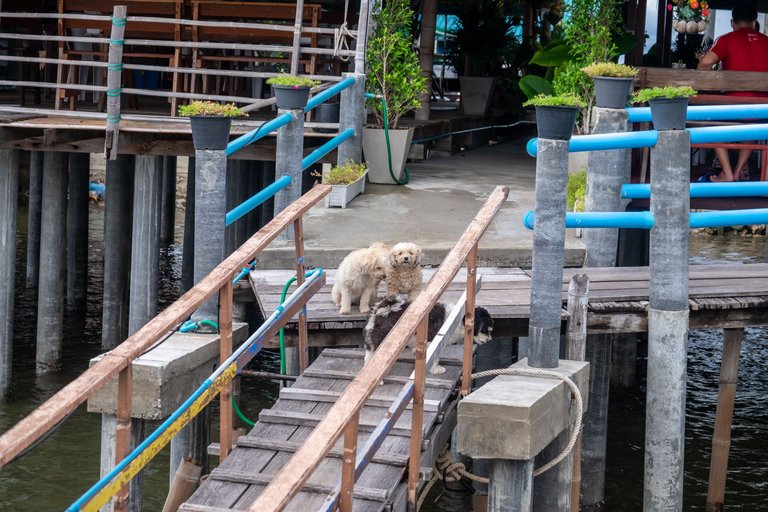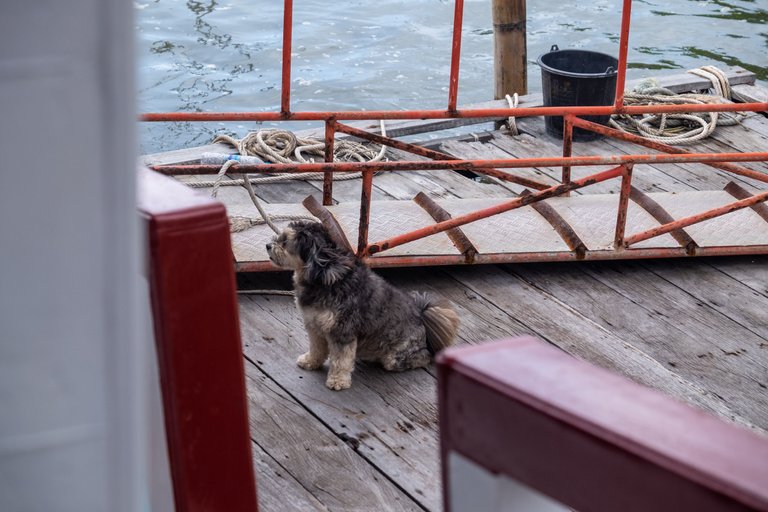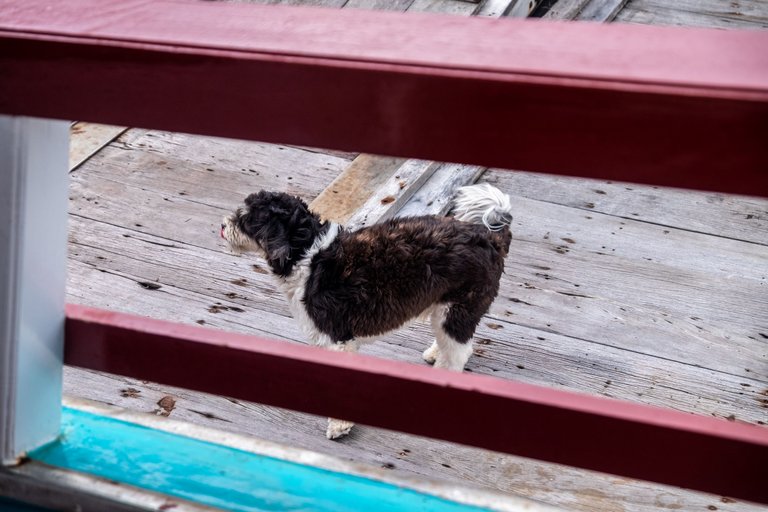 It was a long tiring and very exciting day. A lot of the people on board were photographers that were taking this trip often in order to capture better photos. I was a bit restricted with my gear because of the weather conditions but I'm happy with the photos I got in the end. I keep getting amazed at the things you can see here in Thailand. I've been around for almost 3 years now and I feel I've barely scratched the surface when it comes to seeing all the beatiful and interesting places in the country. We also went to Koh Samet this weekend. Last minute decided, short trip that was well needed after 4 months of staying at home. I'll be editing the photos from it next and hope to post about our experience there soon.
Thanks for reading and hope to see you in the next one!
---
---