Is my keloid genetic?
The first time I heard the word 'keloid', I thought it was a mispronunciation of 'Kellogg'. Not knowing it has to do with a health condition that directly affects my person. For someone that loves food, every damn thing sounds, looks, or feels like food.
For the purpose of simplifying things, I will define keloids as 'raised scars' on the body of humans. Scars are often gotten from wounds during the healing process. One of the stages of wound healing requires that the injured area is rebuilt with new tissues which are largely made up of collagen. This happens during the proliferative phase.
However, it is believed that when excessive collagen is produced during this, phase, the injured area becomes raised after healing. In some cases, keloids even grow beyond the injured area. This is one of the few hypotheses that have been developed in relation to the phenomenon.
In other words, there are no scientifically proven causes of keloids. What currently exists are mere hypotheses. This is more so because keloids have been found to not only be from wound healings. They have been found to develop on skin areas with no history of injury. This is exactly what is applicable in my own case.
While growing up, I observed a little outgrowth on the skin around my stomach. This outgrowth grew bigger with time. It got to a particular stage, I could not bear it any longer and I decided to cut it off myself. I felt a bit confident about getting it removed without any help because it appeared only small flesh connects the outgrowth to the skin.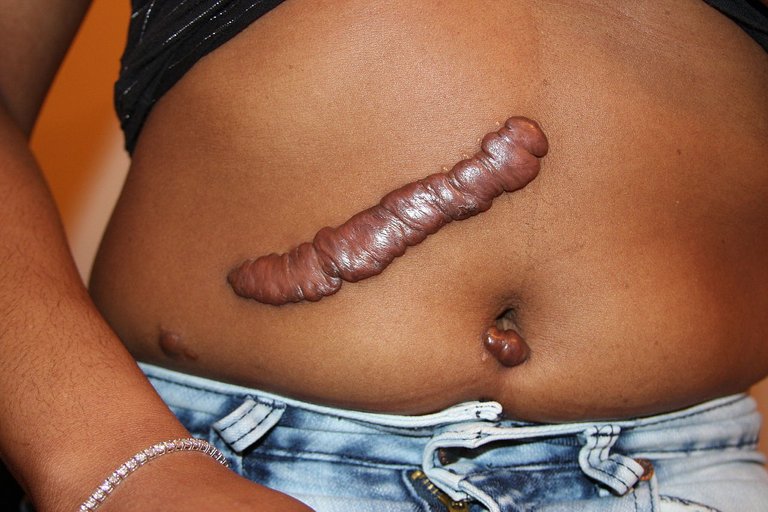 A keloid on the stomach. By Htirgan - Own work, CC BY-SA 3.0, https://commons.wikimedia.org/w/index.php?curid=32782658
So, one day, I picked up a blade and decided to perform surgery on myself. I expected to cut off with minimal effort and pain but it was not meant to be. The excruciating pain I felt made me abandon the quest. Since I have cut through outgrowth halfway, I decided to let a tiny string finish the job.
I tied the string firmly around the root of the outgrowth, where it connects with the skin. Luckily for me, but not without pain, the outgrowth fell off a few days after. Good riddance to bad rubbish.
I felt free and the wound area healed quite fast. A few weeks after the outgrowth started growing back, even bigger than before. It was at this point I knew that it will not just go away by cutting it off. Had it been that this outgrowth, what I later learned to be a keloid, is not located on a rather sensitive part of my body, I would have shared an image of it.
The interesting thing, however, is that, despite having a few natural keloids on my body, none of the wounds I sustained while growing up resulted in the formation of keloids. I also noticed that the natural keloid on my body is also present on different parts of my old man's body. It would be logical to infer that I inherited mine from my dad, right?
I suspect that the type of keloid on my body is what Jfri and Alajmi (2018) referred to as spontaneous keloids in their literature review about the subject. However, in my own case, there is no associated genetic abnormality as revealed in their works.
According to research, you are more likely to develop keloid from your wound if you are black, under the age of 30, and have a family history of the abnormality. If I am prone to develop keloids, why then didn't some, if not all, the wounds I had while growing up result in keloids?
The answer may not be that simple. It is believed that adequate care of wounds may prevent the formation of keloids, even if one is genetically prone to it. It could also be that keloids that develop from would scar and spontaneous keloids are controlled by different genes in the body of man.
Keloids generally do not hurt. The main problem with them is the nuisance they contribute to the skin. Although my own keloids are quite small and in parts of the body where clothes usually cover them, many people are not as lucky. They constitute aesthetic problems such as forming at the back of the head, where it connects with the neck. Unlike what many people think, keloids are not contagious.
There are different forms of treatments available to either get rid of or prevent keloids from growing bigger. As in my own case, getting rid of keloids is without a guarantee that they will not grow back. Although researches are ongoing towards finding a lasting cure to their recurrence, the best treatment is to prevent it.
Thank you all for reading.
Posted with STEMGeeks
---
---