How to be a better writer
I am probably far from being the best version of myself as far as writing is concerned. However, when I compare some of the writings I published here when I joined as a noob and now, the gap in quality is like the difference between the day and the night.
Even when it comes to writing on Hive, I am probably not fit to lace the shoes of some authors. Many on here are professional writers that anyone hoping to improve on their writing is better off taking their advice.
Nevertheless, there are some basic, practical tips that a noob writer can benefit from, which have helped me personally. Oftentimes, I have heard people complaining of how difficult writing is and that being one of the reasons they do not think they can be successful as content creators on a blog to earn a platform like Hive.
I have discussed joining hive with real-life folks that come across to me as having a good level of creativity. Artisans, artists, designers, shoemakers, hardware engineers, and a host of other creative folks are just some out of the people I have tried to convince to join this platform. They sometimes appear enthusiastic at first but lose it fast when I show them my blog and other good blogs as examples.
How do I write like that?
You are a pro, I can't be like you!
You wrote one thousand words? Waoh!
It is because you are in academia
All these and more are usually the statements that come from them whenever I show them some of my writing just so they can have an idea of how things work. A few of them usually end up creating accounts but never blog, while some of the few manage to make one or two short posts before abandoning the account when rewards are not forthcoming. Still yet, a tiny fraction of those that sign up keep trudging along somehow in high hope that things will ease off with time.
Thus, my tips for today are for those that are struggling to string words together to put down their thoughts. These tips are not written in stone and might not work for everyone, but essentially represent my path towards improvement as far as writing is concerned.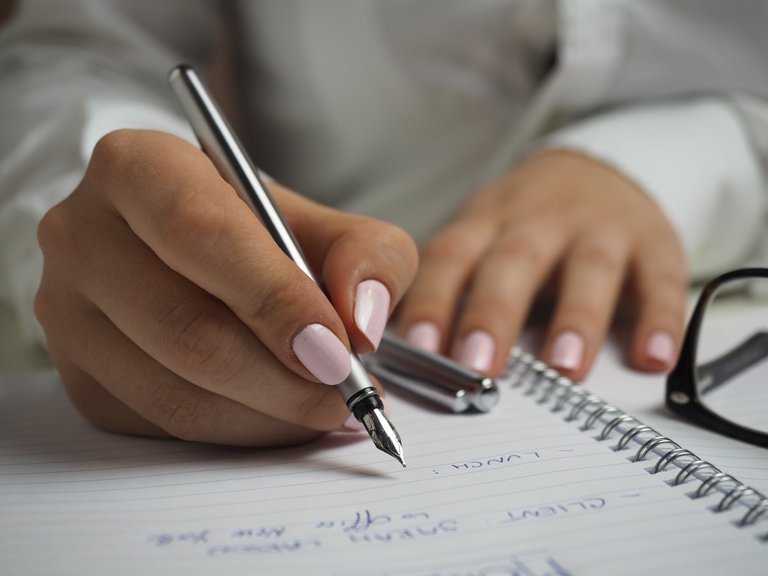 source: pxhere
Write as if you are talking to someone
Except for those with impaired speech, many individuals can probably go a few minutes or even hours discussing a topic. It seems easy because we are thinking and talking simultaneously. All that you need to do is pretend as if you are discussing the topic with someone face to face and then write down your words. If it helps, you can record your discussion with an invisible discussant in an audio format and then transcribe it into text.
Read other people's works
One of the best ways to improve your writing is by reading other people's submissions. As a Curator on Hive, I read nothing less than 10 posts per day on average. Reading will naturally improve your use of words and you can even get inspiration for your own topics from other people's works. Don't just read anyway, ensure that you read with attention and leave meaningful and relevant comments on every post that you read.
Write on topics you have knowledge in
No one knows it all. Just as you will rather shut up when certain topics are being discussed in real life just because you do not have adequate knowledge in them, do not write on topics you are not familiar with. If you must write on topics you are not familiar with, do not try to write on it like a pro. Write in such a way that you are writing an open letter to people that are knowledgeable in the topic. Like a silent cry for help.
Respond to comments on your post
Many noob writers, especially on Hive do not bother to respond to comments on their posts. This often comes off as arrogant or sock puppet behaviour. Responding to comments will give an insight into your works and where you will need to improve or correct your writing.
Write in small volumes
Trying to write a lot of words at a go in your articles might be overwhelming and intellectually draining. You are better off writing your thoughts as they come. Sometimes, there will be a flow, other times, there will be droughts. You do not have to write one or two thousand words articles each time. Short posts might actually be more relatable and educating than long posts with no meaningful content.
Communicate clearly
Clarity of thoughts is a key ingredient of good writing. The secret is to write in such a way that it empathizes with readers. In other words, position yourself in the shoes of readers and see if your writing effectively communicates your thought. I am not grammar police but try as much as possible to avoid blatant grammatical errors if you are writing in English. You can achieve this by asking someone to proofread your works before publishing or use a tool like Grammarly to minimize typo and grammatical errors.
Be consistent in writing
Consistent writing will naturally improve your writing skills and always put you in the mood for writing. Consistency will make you miss writing when you are on break and inspirations will always come naturally.
These tips have been what took me this far and I hope someone has or will benefit from them. Feel free to add what helped or has been helping you become a better writer in the comment section.
Thank you all.
---
---