Do you live in bubbles?
Some years back, I had a rather weird conversation with a friend of mine. We were just getting acquainted with one another then since we had both just resumed our postgraduate programs. I was admitted for master of science degrees while he was in for master of business administration. We were both staying in the postgraduate hostel and usually have a lot of fun activities together.
On this particular day, I was totally broke and had no option but to voice out when a shared bill between myself and my friend came.
"Mhen, I'm broke." I blurted out
"How can you be broke? Why don't you just go home for reinforcement?" My friend responded.
"You don't get, even there is nothing at home. If I go home, I will come back empty-handed."
"What do you mean? Don't you have parents?"
"I do. They are simply broke."
"How come? Don't they work?"
At this point, I just suspended the conversation because my responses were not making sense to him and I think I knew why. He grew up without lacking anything at every point in his life. He went to a private university where millions were spent as tuition and upon graduation, he was gifted a new car by his parents. He's has never experienced hunger or being broke in his entire life and could not just fathom how or why someone would be broke. He was living in his own bubble.
Many people are like my friend
Many people are living in bubbles created by a blend of their upbringing and the society where they grew in. They find it difficult to imagine that there are people who simply live in complete contrast to their own lives and when they manage to do so, blame them for their misfortunes.
The conversation I had with my friends opened my eyes to the reality that this is the way many people think. We actually grew up in the same town but with totally different upbringings. Just as many people have no atom of knowledge of what poverty is, people also exist that do not know what wealth or riches look like because all they have seen and feel in their lives in poverty.
Whatever the case may be, it is good to once in a while grow out of one's bubble and try to understand other people's plight and where they are coming from.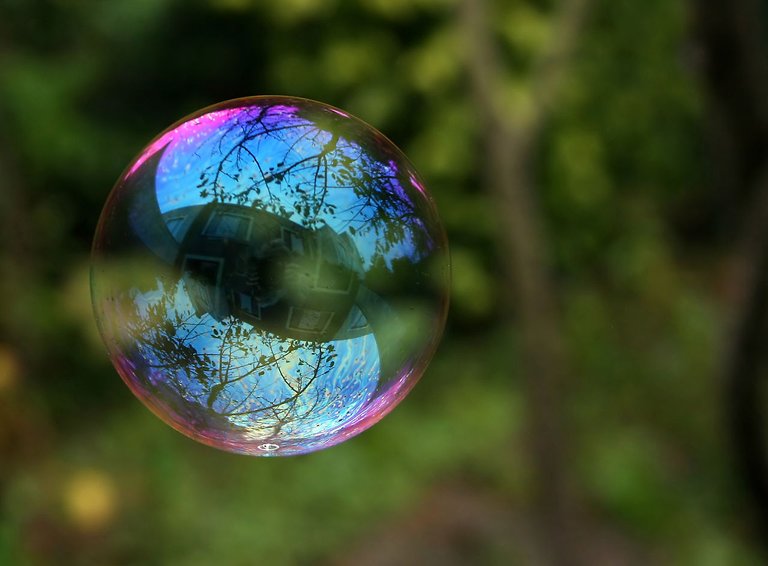 By Brocken Inaglory. The image was edited by user:Alvesgaspar - Own work, CC BY-SA 3.0, https://commons.wikimedia.org/w/index.php?curid=3779509
Even on hive, people live in bubbles
Here on hive, I have seen new users being nuked because their first posts contain a few lines of plagiarism. Apart from the obvious actions such as identity theft or trying to arrogate someone else's complete work, some folks genuinely do not k ow that copying/pasting someone's work is plagiarism even if you are referencing the person.
Instead of nuking such users on their first post, what I normally do is to explain to them what plagiarism is, how some parts of their posts are plagiarised and how this can get them into trouble with the community. Many people see this my action as being sympathetic towards plagiarisers but that's far from the truth. We have different levels of upbringing and expecting everyone to be at our level is simply living in one's bubble.
People can be crucified for committing the same offense twice, I'll totally buy into that.
I have also seen people complaining about users from developing countries bleeding hive ecosystem dry by always cashing out and not powering up their earnings. Some even go as far as not supporting the contents of those that do not power up their earnings irrespective of the quality of their contents. I also see this as living in one's bubble. While what to eat is never a problem to some folks, a dollar here and there from this blockchain is what puts food on the tables of some families. Would you rather they die starving instead of cashing out their honest earnings?
Thank goodness that there are many others that understand how important every user is in the ecosystem and will never commonize anyone as long as they are giving value to the ecosystem. I mean, if everyone is powering up their earnings and no one is selling, what do you think will happen?
In conclusion
Irrespective of our backgrounds or upbringings, we should try to get a peep into the lives of others before judging them. If we use our own standards to measure everyone, we will simply be living in a bubble.
Thank you all for reading.
---
Posted via proofofbrain.io
---
---