Adansoni Monstero Rastrera Plant for closed spaces and shadow.
​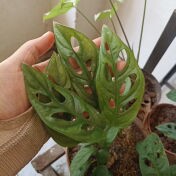 Hello Happy afternoon To all the gardening community
Today I am extremely excited since I am going to make a new publication regarding one of the plants that I particularly love and it is the monstera adansoni it is a type of plant that belongs to the hanging family what grow in big trees in the big mountains Where there can be a lot of humidity and little sunlight there is the perfect place for them to reproduce without any kind of problem.
I particularly like this type of plants since they adapt to closed spaces and internal environments that we may have in our homes, offices, offices, among others.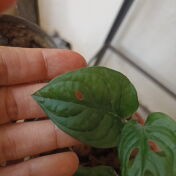 By being able to have this type of particularity, the plant becomes more attractive to all nature lovers, since without a doubt you can create a totally beautiful and natural environment inside your house, thus allowing it to develop in an environment in which it does not like it. It does not cause any type of problem, but you do have to take into account some types of care so that she can grow healthy and strong and among them I can mention some.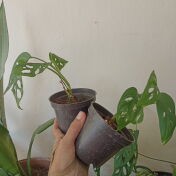 It likes to be in a place that has shade. In addition, when watering it, it must be done only when the substrate is completely dry, since in this way we avoid rot in its roots and the total loss of the plant. These cares are basic for any gardener. And I think that it applies to any type of plant, since it is true that there are some plants that like water much more than others, we must be careful not to overdo it because this ultimately harms the plant.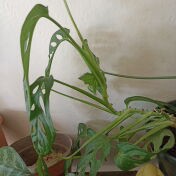 The monster specimens that I show you in the photograph are several of the ones that I have inside the house. It regularly grows an elongated stem with leaves with holes and allows it to withstand, when it is in that natural environment, the strong mountain breezes since the air crosses the leaf and without problem it keeps it firm in the treetops, particularly it reproduces it through the stem cutting it, I have placed it in water for a few days until the root comes out and after that I can sow it in the ground without problem and it reproduces wonderfully.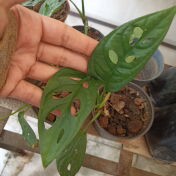 so dear friend if you like plants you should take this type of species into account to start your collection since it is very noble it adapts well to closed environments and it is easy to care for beginners I particularly love it and that is why I have many at home and my collection has increased and I have more than 6 recently transplanted potted plants waiting for their absolute growth that I will soon be showing you. For me it was a real pleasure to talk to you a little about what I am passionate about in terms of plants.
---
---