Hive Distributed At Least $10,640,212 As Content Rewards In 2021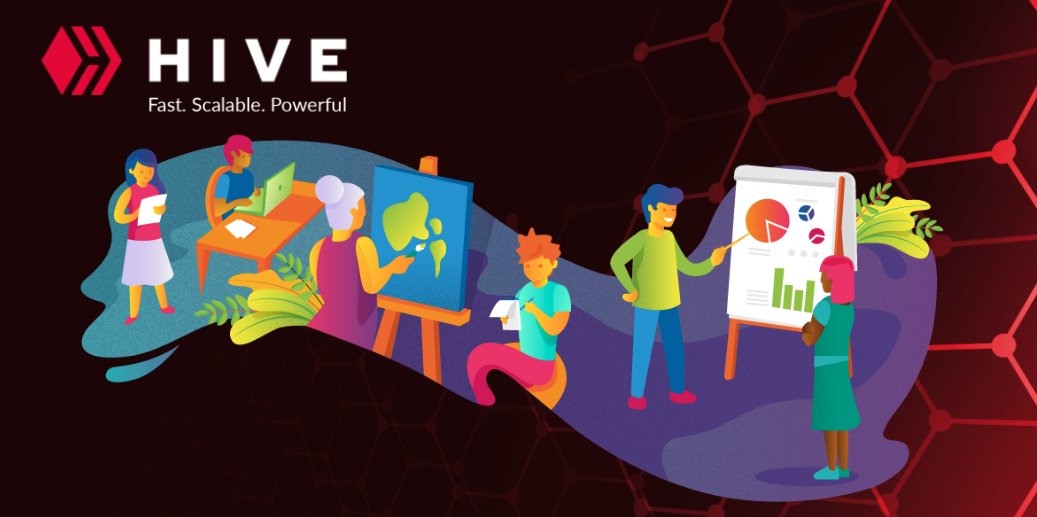 We are hours away from welcoming a New Year, 2022. What an amazing year 2021 has been for Hive, Hive people, and Hive communities. Wandering through the Hive network, sense of pride, community, and belonging to innovative space resonates with each engagement, conversation, post, comment, and spirit of building. With all the accomplishment we have collectively and individually achieved, we look forward to creating even brighter future for the network. This game-changing technology we embrace gives us all the tools needed to continue building and sharing with the world, in hopes of changing lives for better.
The foundation of the Hive blockchain is its unique rewards distribution system for content created by talents all over the world. Being an open network and welcoming everybody from all walks of live, and continuous community building efforts makes Hive one of the most, if not the most, decentralized networks. Proof of Brain methodology in combination with DPoS system, makes distribution of rewards more meaningful. Perhaps, this is the true proof of work distribution system. Proof of work by humans, that is.
In 2021, Hive blockchain distributed total of $10,640,212 as content rewards. Content rewards consist of author rewards and curator rewards. Author rewards were $4,898,447, and curator rewards were $5,741,765. Normally author and curator rewards are split 50/50. I am not really sure why the curator rewards are higher than author rewards. It could be because of beneficiaries uses or other reasons.
These numbers only represent native coins: Hive and HBD. Of course, Hive economy is much bigger than the native coins distribution. Hive tribes and Hive-engine based token project rewards and their values increased a great deal and distributed great amount of value. Value generated and distributed in only one game like Splinterlands is just incredible. I did not get a chance to gather data on layer 2 tokens, economies, and distribution. I hope to acquire more skills in 2022 to be able to that as well.
In collecting this data, I used HiveSQL. It makes is super easy to get all the author and curator payouts. However, since the price of Hive fluctuated between $0.11 and $3 in 2021, and only stayed above $1 price last couple of month of the year, the true value of distributed native Hive coins is much higher than $10.6 million. Since most of the rewards are distributed in Hive coins and normally most participants tend to build their equities and reinvest in the network, chances are most of the rewards recipients have earned much more than the post/comment payouts have recorded. For this reason, I say, Hive distributed at least $10.6 million in content rewards. I would assume this number is $25+ million at the current prices.
Hive journey is the best with its communities. Hive communities played a big role in distributing these rewards, driving engagement, and encouraging participation. The role Hive communities has played in rewards distribution can simply be demonstrated using the same methodology. Data from HiveSQL shows Hive communities distributed total of $8,680,323, which is about 85% of total rewards distributed on Hive in native coins. Authors rewards were $4,263,160 and curator rewards were $4,417,162. This seem to be closer to 50/50 distribution between authors and curators than we saw previously.
Aren't Hive communities the best? Among these communities GEMS and LeoFinance have been competing in who can distribute more in rewards. It is always great to see friendly competition for a good cause. Guess who ended up becoming the #1 Hive Community in rewards distribution competition in 2021? They all are #1 in my book. Keep up the great work of making Hive network a success story. Keep building communities, apps, and tools that make decentralization a reality. Never give up in building a better future for all and contributing to the financial freedoms of ordinary people for doing ordinary things in an extraordinary manner.
May the New Year - 2022 bring you all lots of health, peace, wealth, and success in all of your endeavors. Below you will find list of 150 communities who distributed the most in Hive rewards in native coins. May these number grow ten fold in 2022.
Happy New Year Hive People!
Top 150 Communities Ranked By Hive Rewards
| # | Community | Posts & Comments | Author Rewards | Curator Rewards | Total Rewards |
| --- | --- | --- | --- | --- | --- |
| 1 | LeoFinance | 673,389 | $428,123.26 | $425,472.23 | $853,595.48 |
| 2 | GEMS | 302,418 | $364,330.22 | $363,557.26 | $727,887.48 |
| 3 | Foodies Bee Hive | 155,915 | $194,452.57 | $196,389.60 | $390,842.17 |
| 4 | HIVE CN 中文社区 | 81,498 | $176,944.77 | $170,382.56 | $347,327.33 |
| 5 | Haveyoubeenhere | 102,747 | $160,131.42 | $161,639.58 | $321,771.00 |
| 6 | Hive Gaming | 78,471 | $119,503.49 | $138,845.60 | $258,349.09 |
| 7 | Photography Lovers | 120,451 | $112,578.09 | $113,747.02 | $226,325.11 |
| 8 | Actifit | 285,654 | $80,237.54 | $81,484.86 | $161,722.40 |
| 9 | MakeUp Power | 36,857 | $71,980.14 | $72,015.87 | $143,996.01 |
| 10 | OCD | 92,199 | $60,218.89 | $82,077.25 | $142,296.13 |
| 11 | DTube | 49,886 | $66,248.20 | $71,517.38 | $137,765.58 |
| 12 | Music | 50,920 | $60,924.67 | $65,574.85 | $126,499.52 |
| 13 | Splinterlands | 151,354 | $58,156.31 | $62,669.41 | $120,825.72 |
| 14 | Proof of Brain | 205,784 | $59,871.86 | $60,522.11 | $120,393.97 |
| 15 | Threespeak | 42,773 | $53,757.93 | $59,347.23 | $113,105.15 |
| 16 | Full Deportes | 23,668 | $54,033.93 | $57,375.20 | $111,409.13 |
| 17 | OnChainArt | 45,004 | $56,229.76 | $54,773.19 | $111,002.95 |
| 18 | Hive Open Mic | 45,517 | $53,553.30 | $56,763.92 | $110,317.22 |
| 19 | Black And White | 49,893 | $55,637.35 | $54,200.04 | $109,837.39 |
| 20 | Movies & TV Shows | 43,892 | $50,053.44 | $54,188.35 | $104,241.79 |
| 21 | Sketchbook | 50,555 | $51,151.42 | $50,799.66 | $101,951.08 |
| 22 | BDCommunity | 29,297 | $50,403.31 | $50,477.42 | $100,880.73 |
| 23 | Hive Diy | 27,223 | $47,483.40 | $48,462.77 | $95,946.18 |
| 24 | Cervantes | 35,579 | $44,755.57 | $44,565.84 | $89,321.40 |
| 25 | Hive Pets | 37,358 | $42,744.78 | $45,174.25 | $87,919.04 |
| 26 | Motherhood | 29,585 | $42,263.56 | $44,857.61 | $87,121.16 |
| 27 | Olio di Balena | 62,445 | $40,713.76 | $40,556.21 | $81,269.97 |
| 28 | Natural Medicine | 53,623 | $37,465.88 | $40,697.08 | $78,162.95 |
| 29 | Team Ukraine | 23,121 | $37,039.01 | $37,679.58 | $74,718.59 |
| 30 | Amazing Nature | 55,852 | $36,814.51 | $37,167.64 | $73,982.15 |
| 31 | Nerday | 28,170 | $34,204.71 | $32,866.48 | $67,071.19 |
| 32 | ASEAN HIVE COMMUNITY | 41,882 | $32,291.81 | $33,363.47 | $65,655.28 |
| 33 | Alien Art Hive | 25,909 | $31,354.69 | $33,899.22 | $65,253.91 |
| 34 | ecoTrain | 24,901 | $31,797.08 | $32,874.53 | $64,671.61 |
| 35 | Deutsch D-A-CH | 79,342 | $31,076.40 | $31,579.14 | $62,655.55 |
| 36 | Sports Talk Social | 60,780 | $29,870.09 | $29,873.75 | $59,743.84 |
| 37 | NeedleWorkMonday | 33,443 | $28,944.99 | $30,165.68 | $59,110.67 |
| 38 | Freewriters | 50,564 | $27,363.58 | $27,582.16 | $54,945.74 |
| 39 | Build-It | 19,681 | $27,377.08 | $27,216.29 | $54,593.37 |
| 40 | THE WEEKEND | 51,605 | $26,991.51 | $26,882.99 | $53,874.50 |
| 41 | Architecture+Design | 22,631 | $24,886.57 | $25,561.12 | $50,447.69 |
| 42 | MCGI Cares (Hive) | 17,879 | $24,890.25 | $25,170.70 | $50,060.95 |
| 43 | Feathered Friends | 45,062 | $24,615.44 | $25,038.50 | $49,653.94 |
| 44 | VIMM.TV - Streaming | 15,875 | $21,474.18 | $23,929.50 | $45,403.68 |
| 45 | Let's Make a Collage | 33,048 | $18,692.19 | $26,609.50 | $45,301.68 |
| 46 | StemSocial | 13,769 | $21,619.09 | $22,218.90 | $43,837.99 |
| 47 | Deep Dives | 14,150 | $21,604.22 | $21,246.13 | $42,850.35 |
| 48 | Ladies of Hive | 54,619 | $20,787.49 | $21,350.21 | $42,137.71 |
| 49 | D.Buzz | 246,695 | $20,920.49 | $20,639.69 | $41,560.18 |
| 50 | Catarsis | 12,254 | $18,629.69 | $20,666.62 | $39,296.31 |
| 51 | Aliento | 10,809 | $17,934.61 | $21,155.20 | $39,089.82 |
| 52 | Hive Book Club | 14,281 | $18,267.49 | $19,720.52 | $37,988.01 |
| 53 | CCH | 15,963 | $17,130.54 | $19,309.19 | $36,439.73 |
| 54 | Blockchain Gaming | 45,659 | $17,852.74 | $18,299.40 | $36,152.15 |
| 55 | Project HOPE | 24,184 | $12,445.30 | $22,269.95 | $34,715.25 |
| 56 | HiveDevs | 5,919 | $17,270.17 | $17,032.80 | $34,302.97 |
| 57 | Cinnamon Cup Coffee | 14,406 | $16,418.16 | $17,711.52 | $34,129.68 |
| 58 | Loving HIVE ❤ | 18,532 | $15,768.32 | $16,630.35 | $32,398.67 |
| 59 | Fascinating Insects | 21,500 | $16,185.36 | $15,858.59 | $32,043.96 |
| 60 | Blogging Challenge | 23,846 | $15,914.17 | $15,976.22 | $31,890.40 |
| 61 | Axie Buzz | 6,113 | $15,438.61 | $16,432.37 | $31,870.98 |
| 62 | Wednesday Walk | 20,941 | $14,750.94 | $14,759.53 | $29,510.48 |
| 63 | Musicforlife 🎶 | 62,320 | $14,266.69 | $14,514.45 | $28,781.13 |
| 64 | Literatos | 24,501 | $13,867.24 | $14,240.29 | $28,107.52 |
| 65 | Fungi Lovers | 18,518 | $13,377.94 | $13,580.88 | $26,958.81 |
| 66 | Gods On Chain | 5,341 | $12,508.87 | $13,629.27 | $26,138.14 |
| 67 | Shadow Hunters | 53,976 | $12,335.08 | $13,565.27 | $25,900.35 |
| 68 | EspaVlog | 4,891 | $10,835.81 | $14,805.86 | $25,641.66 |
| 69 | Live Hive Music | 6,449 | $12,266.66 | $12,652.94 | $24,919.60 |
| 70 | Silver Bloggers | 19,102 | $11,814.71 | $12,167.64 | $23,982.35 |
| 71 | WeedCash Network | 22,458 | $11,474.99 | $12,397.71 | $23,872.70 |
| 72 | Photography | 11,041 | $11,991.62 | $11,691.91 | $23,683.53 |
| 73 | Urban Exploration | 6,957 | $11,698.68 | $11,532.01 | $23,230.69 |
| 74 | The City of Neoxian | 11,421 | $11,660.84 | $11,485.34 | $23,146.18 |
| 75 | Home Edders | 11,014 | $10,584.92 | $11,461.17 | $22,046.09 |
| 76 | Beauty of Creativity | 17,653 | $10,724.71 | $10,875.78 | $21,600.50 |
| 77 | Abundance Tribe | 9,250 | $9,371.28 | $12,062.84 | $21,434.12 |
| 78 | Education | 5,866 | $10,557.88 | $10,611.90 | $21,169.78 |
| 79 | Discovery-it | 11,019 | $10,739.40 | $10,332.03 | $21,071.44 |
| 80 | EXHAUST | 15,018 | $9,776.92 | $10,860.13 | $20,637.05 |
| 81 | Stock Images | 10,358 | $9,212.03 | $10,086.35 | $19,298.37 |
| 82 | Hive Statistics | 7,691 | $9,828.66 | $9,383.20 | $19,211.87 |
| 83 | Informationwar | 6,008 | $9,023.02 | $9,939.38 | $18,962.40 |
| 84 | Sound Music | 9,029 | $8,969.48 | $9,623.82 | $18,593.30 |
| 85 | The Anime Realm | 7,487 | $8,714.41 | $9,779.43 | $18,493.84 |
| 86 | TravelFeed | 6,922 | $9,020.82 | $9,158.32 | $18,179.14 |
| 87 | The LIFESTYLE LOUNGE | 15,413 | $9,112.81 | $8,920.99 | $18,033.80 |
| 88 | Rising Star Game | 56,855 | $8,721.84 | $9,000.40 | $17,722.24 |
| 89 | We Are Alive Tribe | 78,957 | $7,788.69 | $9,581.85 | $17,370.53 |
| 90 | STEMGeeks | 9,368 | $8,695.18 | $8,530.13 | $17,225.31 |
| 91 | PHOTOGRAPHY [DAC] | 10,441 | $8,214.73 | $8,823.02 | $17,037.74 |
| 92 | The Ink Well | 28,038 | $8,357.85 | $8,676.46 | $17,034.31 |
| 93 | hivemexico | 14,055 | $7,761.64 | $8,913.31 | $16,674.96 |
| 94 | Holos&Lotus | 9,126 | $7,260.02 | $8,148.19 | $15,408.21 |
| 95 | HiveVenezuela | 8,479 | $7,325.47 | $7,854.53 | $15,180.00 |
| 96 | Cross Culture | 10,198 | $6,523.20 | $8,488.64 | $15,011.84 |
| 97 | CELF Magazine | 11,989 | $7,281.81 | $7,564.29 | $14,846.10 |
| 98 | Qurator | 7,104 | $7,266.48 | $7,578.73 | $14,845.22 |
| 99 | Agricultural Mindset | 3,779 | $7,529.30 | $7,273.10 | $14,802.40 |
| 100 | HiveGarden | 6,864 | $7,237.40 | $7,368.66 | $14,606.06 |
| 101 | SkateHive | 6,790 | $7,074.74 | $7,433.56 | $14,508.30 |
| 102 | Writing Club | 5,656 | $7,087.35 | $7,267.10 | $14,354.44 |
| 103 | Ecency | 15,694 | $6,861.01 | $6,992.10 | $13,853.11 |
| 104 | BEER | 10,030 | $6,978.18 | $6,802.53 | $13,780.72 |
| 105 | The CTP Swarm | 20,437 | $6,512.19 | $6,857.54 | $13,369.72 |
| 106 | Palnet | 4,684 | $6,500.42 | $6,471.71 | $12,972.13 |
| 107 | Market Friday | 10,346 | $6,441.72 | $6,456.79 | $12,898.51 |
| 108 | Geek Zone | 2,662 | $6,168.83 | $6,563.83 | $12,732.66 |
| 109 | StreetArt | 10,369 | $6,407.83 | $6,260.66 | $12,668.49 |
| 110 | CineTV | 8,146 | $6,226.26 | $6,181.93 | $12,408.19 |
| 111 | Hive Motors | 4,004 | $5,889.83 | $6,236.75 | $12,126.58 |
| 112 | Rally | 914 | $6,177.32 | $5,611.30 | $11,788.62 |
| 113 | PhotoFeed | 8,850 | $5,740.93 | $5,790.74 | $11,531.67 |
| 114 | Feel Good | 11,323 | $5,515.49 | $5,997.51 | $11,513.00 |
| 115 | Ecency Bulgaria | 21,220 | $5,489.27 | $5,863.89 | $11,353.15 |
| 116 | DClub | 3,590 | $5,487.98 | $5,526.46 | $11,014.44 |
| 117 | Silver Gold Stackers | 7,731 | $5,550.92 | $5,448.23 | $10,999.14 |
| 118 | The Chess Community | 5,660 | $5,367.29 | $5,347.29 | $10,714.57 |
| 119 | SublimeSunday | 5,537 | $5,145.80 | $5,161.14 | $10,306.95 |
| 120 | Picture A Day | 12,692 | $4,997.02 | $4,992.15 | $9,989.17 |
| 121 | Hive Naija | 11,582 | $4,839.31 | $5,055.70 | $9,895.01 |
| 122 | Toys on Hive | 3,909 | $4,734.42 | $4,906.51 | $9,640.94 |
| 123 | HivePosh | 5,688 | $3,996.33 | $5,122.04 | $9,118.37 |
| 124 | Hive PH | 2,810 | $4,336.91 | $4,660.14 | $8,997.04 |
| 125 | Hive Bangladesh | 10,994 | $4,205.04 | $4,612.34 | $8,817.38 |
| 126 | HiveBloPoMo | 3,054 | $4,266.25 | $4,353.42 | $8,619.67 |
| 127 | ThoughtfulDailyPost | 6,090 | $4,192.97 | $4,331.34 | $8,524.30 |
| 128 | QUAC | 2,887 | $4,253.08 | $4,112.91 | $8,365.99 |
| 129 | News & Views | 1,038 | $3,815.53 | $4,172.82 | $7,988.35 |
| 130 | Polish HIVE | 6,530 | $3,875.93 | $3,839.12 | $7,715.04 |
| 131 | Planetauto | 4,322 | $3,925.97 | $3,778.44 | $7,704.41 |
| 132 | Insects Of The World | 5,210 | $3,574.58 | $3,615.03 | $7,189.60 |
| 133 | Bee on the Stage | 1,853 | $3,047.50 | $4,095.28 | $7,142.79 |
| 134 | DIYHub | 2,632 | $3,453.86 | $3,400.69 | $6,854.55 |
| 135 | Top Family | 3,605 | $3,250.70 | $3,565.17 | $6,815.86 |
| 136 | SEAPHOTOGRAPHY | 5,636 | $3,405.54 | $3,279.93 | $6,685.48 |
| 137 | Hive Mobile Games | 1,281 | $3,252.67 | $3,423.85 | $6,676.52 |
| 138 | Sunset Photography | 3,574 | $3,285.69 | $3,284.87 | $6,570.56 |
| 139 | Self Improvement | 3,158 | $3,329.16 | $3,193.26 | $6,522.42 |
| 140 | Plant Power (Vegan) | 2,800 | $3,061.25 | $3,460.52 | $6,521.77 |
| 141 | The Pew: Guns & more | 4,880 | $3,321.12 | $3,175.33 | $6,496.44 |
| 142 | ReggaeJAHM | 11,391 | $3,107.78 | $3,384.02 | $6,491.80 |
| 143 | Rant, Complain, Talk | 7,801 | $3,133.97 | $3,081.94 | $6,215.91 |
| 144 | PoliticallyIncorrect | 1,108 | $3,013.95 | $3,143.40 | $6,157.36 |
| 145 | Programming & Dev | 1,627 | $3,057.94 | $3,044.82 | $6,102.76 |
| 146 | Tabletop / DND | 913 | $2,944.59 | $3,076.15 | $6,020.74 |
| 147 | 1UP | 7,710 | $2,987.82 | $2,988.95 | $5,976.78 |
| 148 | Memehub | 6,701 | $2,958.02 | $2,977.18 | $5,935.21 |
| 149 | The Herbal Hive | 2,040 | $2,925.06 | $2,976.06 | $5,901.12 |
| 150 | Love The Clouds | 10,173 | $2,850.62 | $2,952.11 | $5,802.73 |
Posted Using LeoFinance Beta
---
---