We Elected Our Classroom Officers.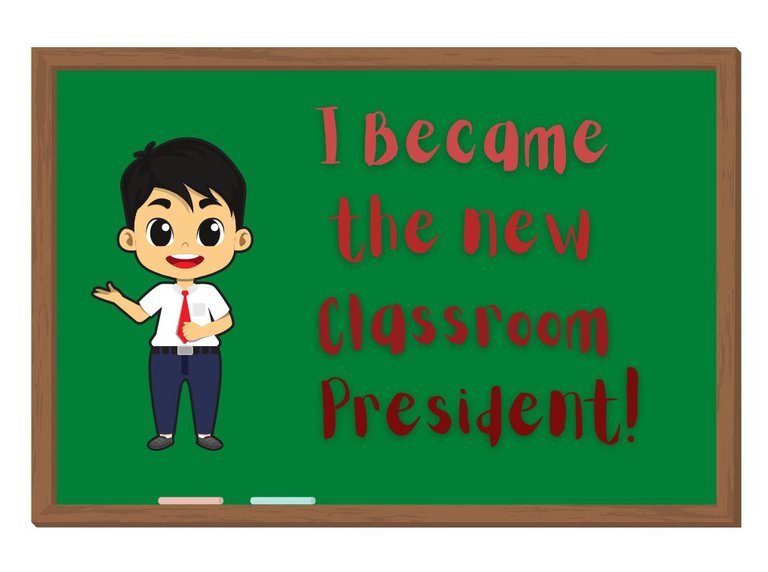 (Edited on Canva)
This story began during the first week of classes. The teacher made a sudden announcement, "We are going to elect our classroom officers." I was initially perplexed and had no idea what was about to happen. When the teacher asked, "If you want to elect someone just raise your right hand and nominate someone for that position." Everyone in the class knew except for me and my closest friend Ralph.
If you're wondering who Ralph is, let me tell you that he's the "smartest" student in the class and is very funny. Now, let's get back to the story now that you know who Ralph is.
What happened next shocked me.
"I'd like to nominate Kim Deaver for president," Ralph remarked, raising his hand.
Whoa! I never imagined he would nominate me. After some time had passed, a random dude nominated Ralph for president. Then, other names were added to the list, making a total of 10 of us candidates for president.
At that point, the nomination procedure was finished, and we proceeded to votation. The teacher said, "Bow your heads and close your eyes, and when I mention a name, simply raise your right hand if you wish to vote," and that made me nervous. What if I can't win? Well, life must go on, I think. But somehow, deep inside, I wanted to be a President. Why? Hmmm, 'coz its cool? Nah, it's just that my teacher said before that we have to nominate for president who is smart. And I feel that if I win, that would make me smart. 😎
By the way, our teacher told us that whoever got the second highest number of vote will automatically be our vice president. We were not also allowed to vote ourselves, so guess who I'm voting for? Funny but I voted for Ralph.
Now we're about to find out who won.
Then, our teacher told us to open our eyes after we voted. So, when I opened my eyes, again I was shocked. Me and Ralph got the same number of votes, which is 13. So our teacher decided to cast our vote again. Closing our eyes for the second time, I felt like I have the chance to win.
Then, I was extremely happy when I opened my eyes. I had 17 votes while Ralph had 16 votes. And that means Ralph is our Vice President and I am the President in our classroom! That time, I really wanted to jump for joy. Yes! I made it.
Its just that it felt strange when my classmates began referring to me as "President" shortly after the election, so I decided to tell them to call me on my first name instead. Will some of them had obeyed, but others still preferred to call me "President".
But being a president isn't an easy task. It has responsibilities that I should perform like giving cautions to noisy and dis-behaving students. And that I should be a role model for them in maintaining the cleanliness of our room, being early, most behave, smart and cool. Well, just kidding on the "cool" part. Whew! Just like Aunt May said, "With great power, comes also great responsibilities".
If you have reach this far, well thank you for reading it and I hope you enjoy my storytelling today.
Have an awesome week everyone. God bless you all.
Gamerboy2022
P.S.
Special thanks to my mom for checking my draft before I publish it.
*You may also check out my introduction post by clicking here.
---
---